Let's Not Rewrite the History of Suzanne Somers' Exit from Three's Company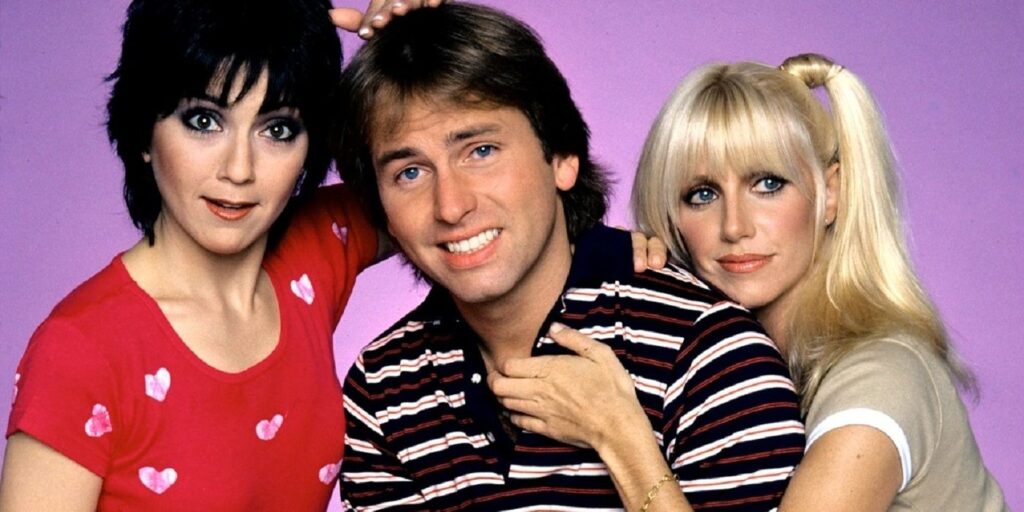 TV LEGEND: Suzanne Somers was fired from Three's Company for trying to negotiate a new contract when her initial deal was up, while she was getting a tenth of what male TV stars were making.
Recently, we lost the great Suzanne Somers, who was a talented comedic actor, most famous for her role as Chrissy Snow on Three's Company, one of the prototypical TV ditz roles that has left a mark on TV history, as Three's Company reruns are still popular to this day.
In the wake of her passing, though, there has been some celebrations that look to her exit from Three's Company and tend to try to buy into some self-mythologizing that Somers herself did over the years about what went down on the show in her exit during the fifth season of the series in 1980-81.
My pal Bill Walko (who knows more about Three's Company than most folks out there) sent me the following meme about Somers' exit: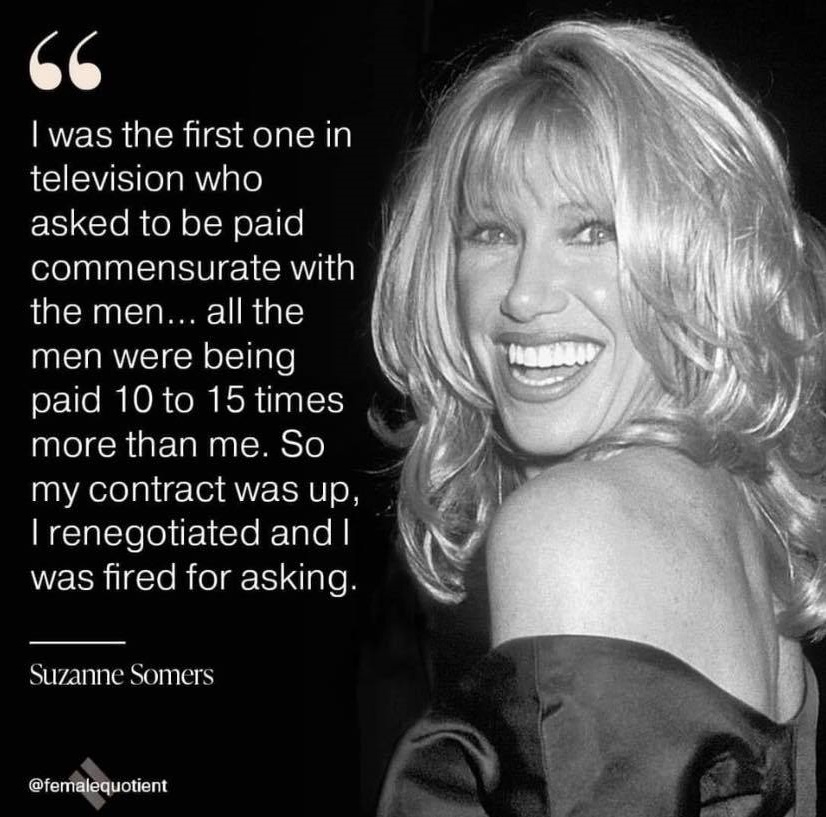 So, let's break this down to its three component parts – 1. Somers tried to get pay equity with John Ritter when her contract was up 2. Male actors were getting paid 10-12 times as much as Somers at the time and 3. The show fired her for asking for a new contract.
Right off the bat, let's note that the three lead cast members on Three's Company (John Ritter, Joyce DeWitt and Somers) signed seven-year contracts (perhaps Normal Fell and Audra Lindley also signed seven-year deals, but I really don't know), so Somers' contract was not expired when she and her manager/husband, Alan Hamel, decided that Somers wanted to make as much money as John Ritter at the start of the fifth season of the series.
Ritter was the highest-paid cast member on the series, but there is a dispute over HOW much money he was making at the time. In the greatest book about Three's Company that we have, Chris Mann's awesome (but sadly out of print), Come and Knock on Our Door: A Hers and Hers and His Guide to "Three's Company, Ted Bergmann, the producer of the series, said Ritter was making $50,000 per episode at the time, and didn't get a cut of the show's profits until the spinoff, Three's a Crowd.
Somers and Hamel believed Ritter was making $150,000 per episode, plus a cut of the show's syndication profits. Joyce DeWitt ALSO thought Ritter was getting points. Ritter pointedly refused to talk about his salary publicly, only acknowledging that his contract stated that he get paid the most on the show no matter what (and since he felt Somers KNEW that, he was mystified as to why she would try to get pay equity with him, when his contract said no one else COULD get pay equity with him). Whatever the actual number, it was probably south of $150,000 (although I bet Ritter hit those heights by the end of the show's run), so when the show countered by giving Somers a raise from $30,000 to $35,000 (which, due to a favored nations clause in DeWitt's contract, would require her to get a raise to $35,000, as well), it probably was not quite the insult that it seems like in later retellings of the story (Hamel even later noted that a request they made for Somers to get $150,000 an episode wasn't a serious request). So at WORST it was five times Somers' salary, but likely much closer than that.
In addition, note that Somers did not try to go in WITH DeWitt, but rather, by herself. DeWitt recalled to Mann that earlier on, "I told her there was no way in hell that we would ever get points in the show unless we stood together, because they only valued John. They would replace either one of us in the blink of an eye. But they couldn't lose both of us. And I genuinely believed, and still do, that Suzanne's and my contribution to the success of the show was worthy of having points in the show." DeWitt raises the main point, which is that the producers felt that the show was based around Ritter and two female roommates, and that Ritter was the central figure of the show, not the female roommates (Bill wanted me to add that there were three pilots for the series made, and Ritter was the only roommate who was in all three, so it was clear from the start that the network saw Ritter as the main focus of the series). The fact that the show continued to be a hit without Somers somewhat supported that belief.
Everything got messy early in Season 5 when Somers and Hamel apparently tried to get cute by having Somers miss episodes at the last minute due to injuries which didn't seem to prevent Somers from making other appearances (she would later insist that the injuries were all legit). Things got so weird that the show even began having different scripts depending on whether Somers would show up for an episode or not. The cast and crew grew so resentful of the disruption of the show's filming process that after Somers' commitment to the show was over, the crew did a mock funeral for Somers' character.
In her tellings of the story over the years, Somers also tended to gloss over the fact that she and Hamel had cut a deal with CBS that would begin whenever her contract with Three's Company ended. As it turned out, that was after Season 5, where the producers ultimately came to an arrangement where Somers would be paid out her previous $30,000 per episode rate, only she would only do a few cameo appearances throughout the season, with her final one done for the show's 17th episode (out of 22), with Chrissy written out of the show as going to stay with her parents to help her mother who was dealing with an illness, so that her appearances would come in phone calls which she would film separately from the rest of the cast (For Season 6, she was just written out entirely, without an explanation for why Chrissy never returned from her parents' home).
Now, did sexism play a role in this? Certainly, but mostly, this was just a failed negotiation by Somers and Hamel, who didn't get DeWitt's point that the show really felt that Ritter was the star of the show and the others were replaceable, but also were feeling secure with their CBS deal in their back pocket. Should the show have just paid Somers more? I'm not saying they shouldn't have, but it's weird seeing a pretty normal (if botched) renegotiation attempt be presented as this big noble fight in retrospect.
The legend is…
STATUS: False
Thanks to Bill Walko for suggesting I write about this. Thanks to Chris Mann for that excellent book.
Be sure to check out my archive of TV Legends Revealed for more urban legends about the world of TV.
Feel free (heck, I implore you!) to write in with your suggestions for future installments! My e-mail address is bcronin@legendsrevealed.com (or you can use brian@poprefs.com).