Why Wasn't Madonna Included In 'We Are the World'?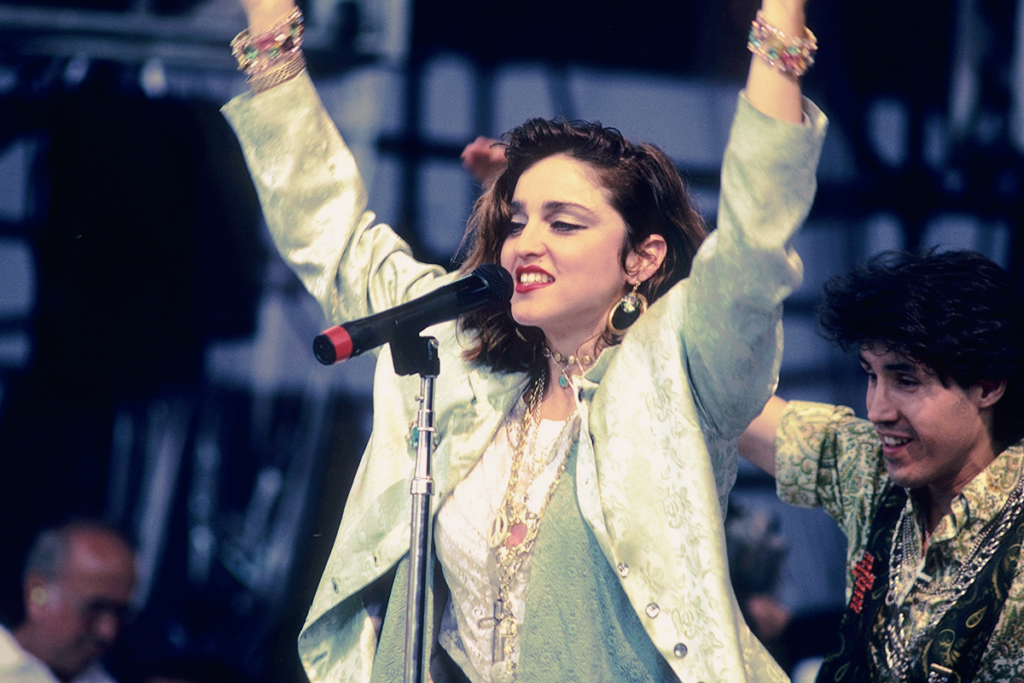 Today, we try to figure out why Madonna wasn't included in the collection of singers for "We Are the World."
In Pop Culture Questions Answered, I answer whatever questions you folks might have about movies, TV, music or whatever (feel free to e-mail questions to me at brian@pop culture references.com).
Reader Deanna C. wanted to know why, among all of the famous 1985 singers in the production of "We Are the World," Madonna wasn't included.
Madonna has never spoken on the record about the snub, so a lot of this is going to have to be supposition, mixed with a quote from one of her closest collaborators of the time.
There's a rumor that goes:
Madonna was invited to participate on the "We Are The World" record by Michael Jackson (who wrote the song) but she was doing her 41 dates north American "Virgin Tour" at the time and had concerts scheduled for the recording dates. She certainly wanted to be there as she always loved Michael Jackson (and they already shared the same manager at the time).

Since it was Madonna's first tour and she just had her first US #01 song ("Like a Virgin") it was decided to stick to the plan and not cancel 3 or 4 concert dates in order to travel and record the song. Her manager was Freddy DeMann, the former Michael Jackson manager (managed Michael Jackson from 1978 to 1983 during his "Off the Wall" and "Thriller" releases and kept managing him until the '88 or '89) – he managed Madonna career from 1983 to 1997 but she not always did what he told her to (her "Like a Virgin" performance at MTV Awards was nothing as he wanted and he even said that her career was over forever after that).
That makes no sense. "We Are the World" was recorded in an all-night recording session following the 1985 American Music Awards, under the theory that a lot of the people who would be performing in the song were there already as performers or presenters (like Lionel Richie, Cyndi Lauper, The Pointer Sisters, Huey Lewis, Hall and Oates, Kenny Loggins, Tina Turner, Diana Ross, Kenny Rogers, Al Jarreau, James Ingram, Quincy Jones and Stevie Wonder), and Madonna was a presenter at the award ceremony. So obviously, Madonna could have easily recorded the song and continued her concert tour.
No, the simple fact of the matter is that Madonna wasn't invited because she wasn't wanted. Nile Rodgers, who worked closely with Madonna on as the producer of Like a Virgin, revealed in an interview in 2020, "Madonna wasn't invited to sing on the recording and it was a slap in the face because everybody was in Los Angeles for the American Music Awards and it was really sort of not nice. I know she felt bad."
So, yeah, Lionel Richie, Quincy Jones, Michael Jackson and Ken Kragen (the main organizer of the group, USA for Africa) simply didn't want Madonna. There were some performers who actually asked to be included and were turned down, such as John Denver, but in the case of Madonna, she was never asked to be included and she never asked anyone else to BE included.
So that's really the answer – they just didn't think she made the cut. But hey, lots of other major artists weren't asked. The freakin' BEACH BOYS were at the American Music Awards, as well, and they weren't asked, and I think we can easily say that as of January 1985, the Beach Boys had had a bigger impact on American pop culture than Madonna.
However, I'd like to note that, timing-wise, it really WAS a weird period for Madonna. Her first album, Madonna, was obviously a hit, but it wasn't one of those hits where it was SUCH a big hit that she was a no-doubt-about-it pick to be included in a collection of artists like this. Like a Virgin changed things, making her a superstar, but it's fair to note that the singles "Like a Virgin" was released in early November 1984, with "Material Girl" released at the end of November 1984. "Like a Virgin" WAS the number one song in the country for a month at the time of the recording of "We Are the World" in January 1985, so she clearly would have been a reasonable choice to be included, but it was not yet obvious that she was going to have the same staying power as the other artists. The closest comparison to Madonna of the group was Cyndi Lauper, who had had a pair of huge hits in 1983 ("Girls Just Want to Have Fun") and 1984 ("Time After Time"), and had actually just defeated Madonna at the American Music Awards for Favorite Pop/Rock Female Artist.
But yes, it WAS a definite snub for them to not include Madonna, but not nearly as much of a snub as had they turned her down even a few months later, as 1985 was an even bigger year for Madonna than 1984. Hilariously, she WAS asked to perform at Live Aid in July 1985, and she agreed…
But she pointedly refused to join in for the singing of "We Are the World" at the end. Good for her, really (by the way, in the near future, I'll get into Prince's absence from the song. He WAS asked to do it).
Thanks for the question, Deanna! If anyone else has a question, drop me a line at brian@popculturereferences.com.