Die Another Day: One Homage Each For the First 20 Bond Films in the Franchise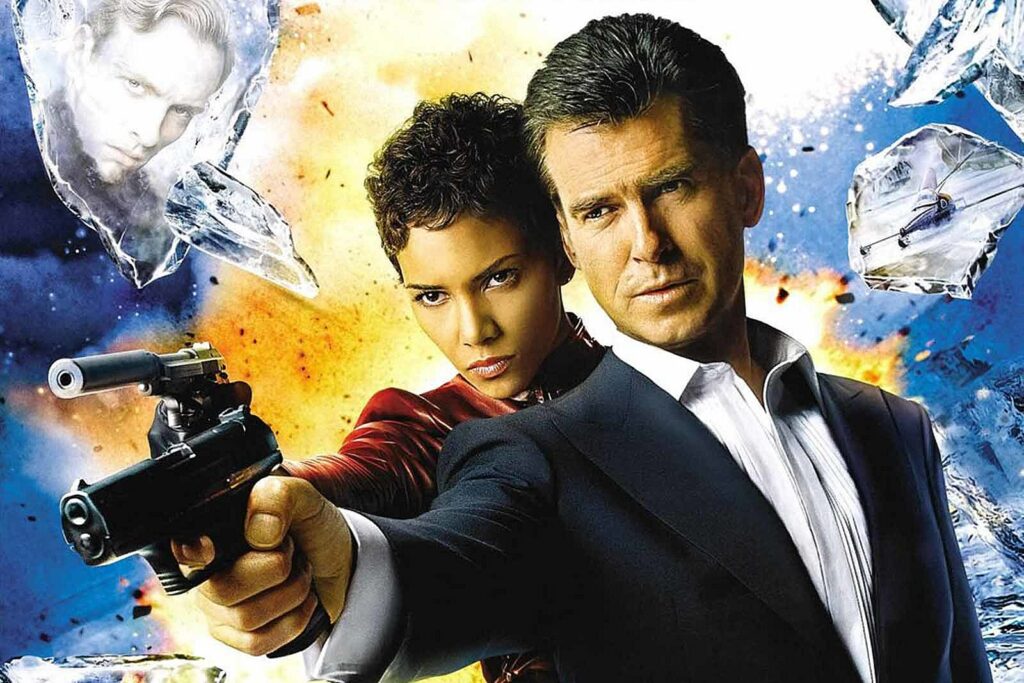 Today, we look at twenty references in Die Another Day, the 20th James Bond film, to the first twenty James Bond movies (made by Eon Productions, of course).
In Pop Culture Easter Eggs, I share with you pop culture "easter eggs." An easter egg is a joke/visual gag/homage/in-joke that is hidden in works that you are meant to find (just like an easter egg). They range from the not-so-obscure to the really obscure. So come check 'em all out and enjoy!
Die Another Day was the 20th James Bond movie produced by Eon Productions, and as such, the 2002 film featured homages to the previous 19 films in the James Bond series as well as a special homage to its own place as the 20th film in the series. There's more than one for most of the films (especially the early ones), but I'm just going with one per film. A couple of these are a bit of a stretch, but when you consider that they specifically intended to do these homages, I think they make sense. Most of them are no-doubt-about-it references.
DR. NO (1962)
This is, if not the MOST obvious one, probably the most publicized one. Ursula Andress made a stunning entrance in Dr. No as Honey Ryder…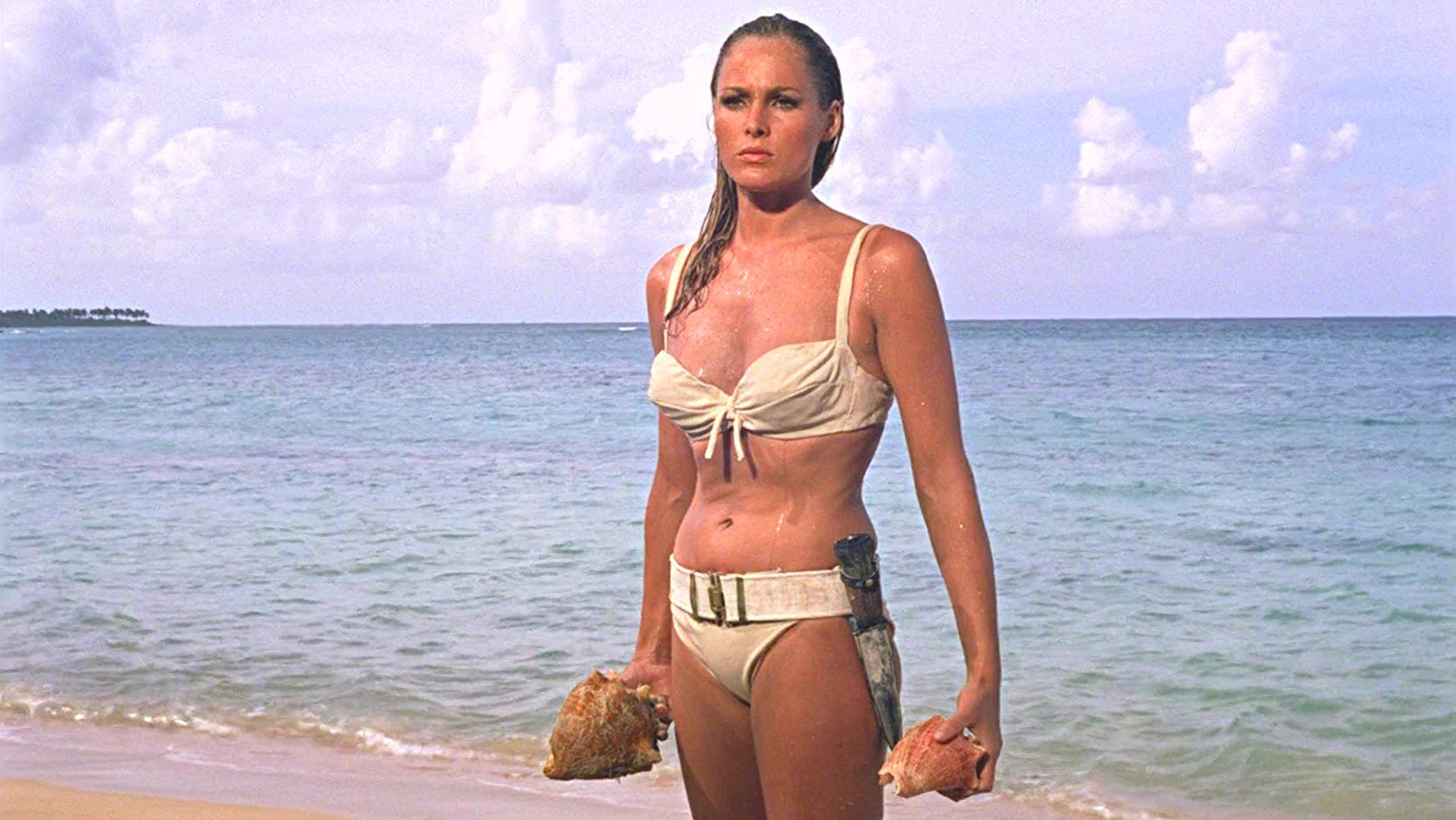 and Halle Berry echoed her entrance as Jinx…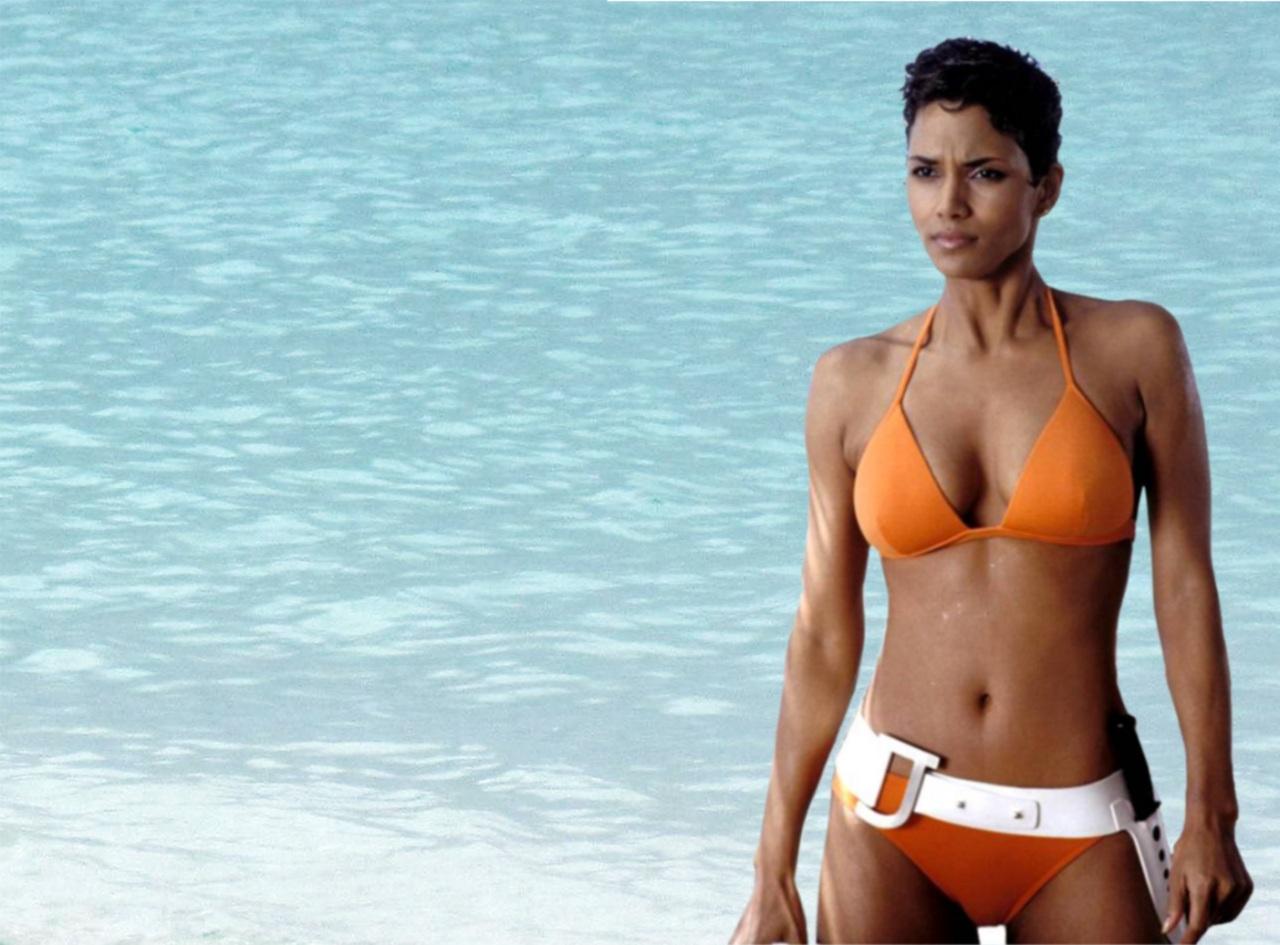 FROM RUSSIAN WITH LOVE (1963)
This is another simple one. In From Russia With Love, Colonel Rosa Klebb uses a shoe that has a blade hidden in it…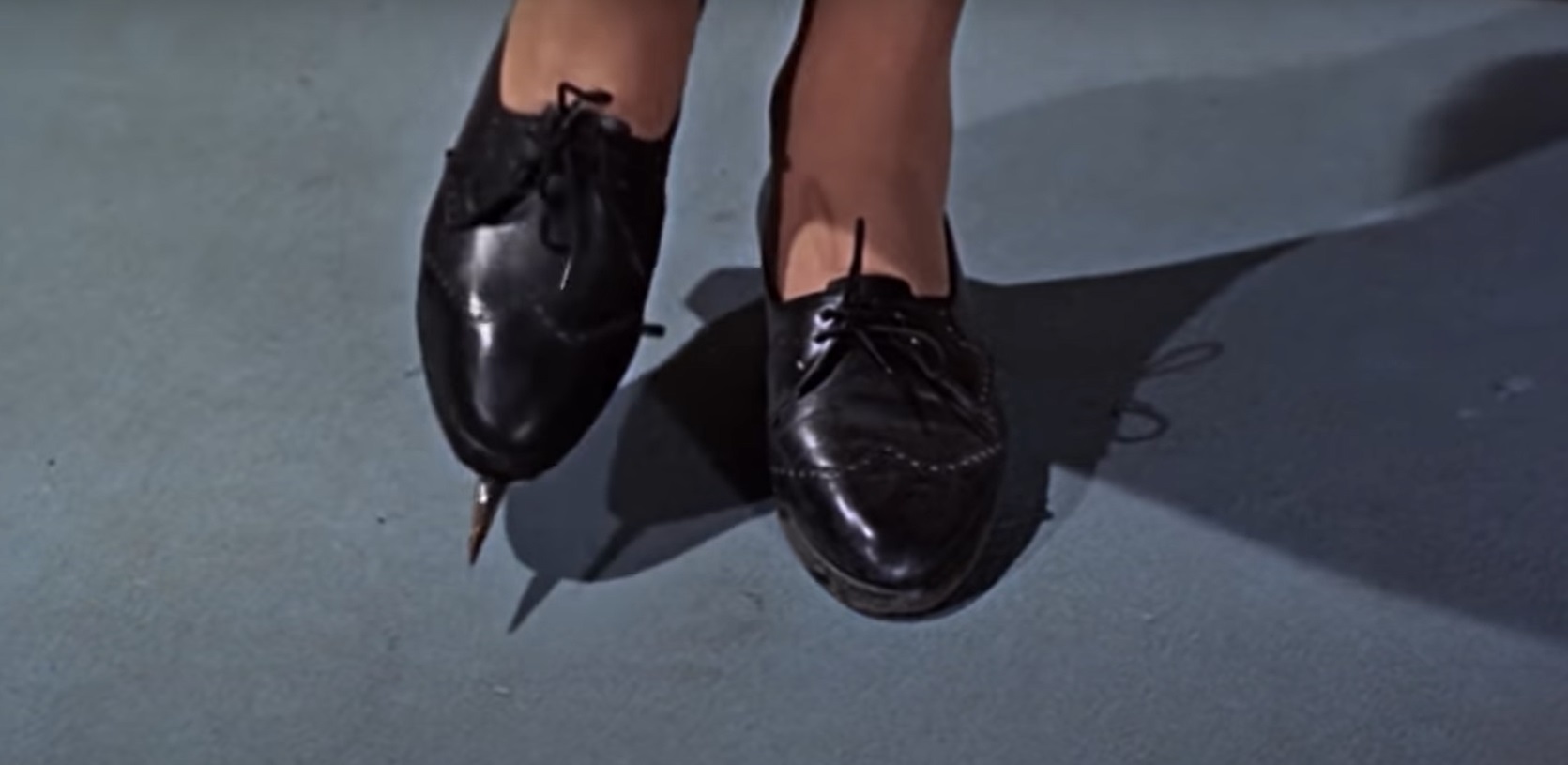 In Die Another Day, Bond visits Q (now played by John Cleese) and Q takes him to his laboratory where there are tons of old gadgets lying around and Bond picks up the shoe blade…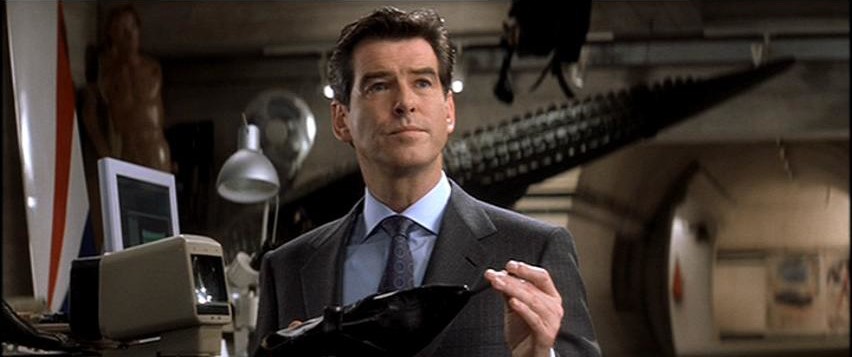 GOLDFINGER (1964)
One of the most homaged films in Die Another Day is Goldfinger, but I'll pick the iconic scene where Goldfinger has Bond strapped to a table with a laser about to slice him in half…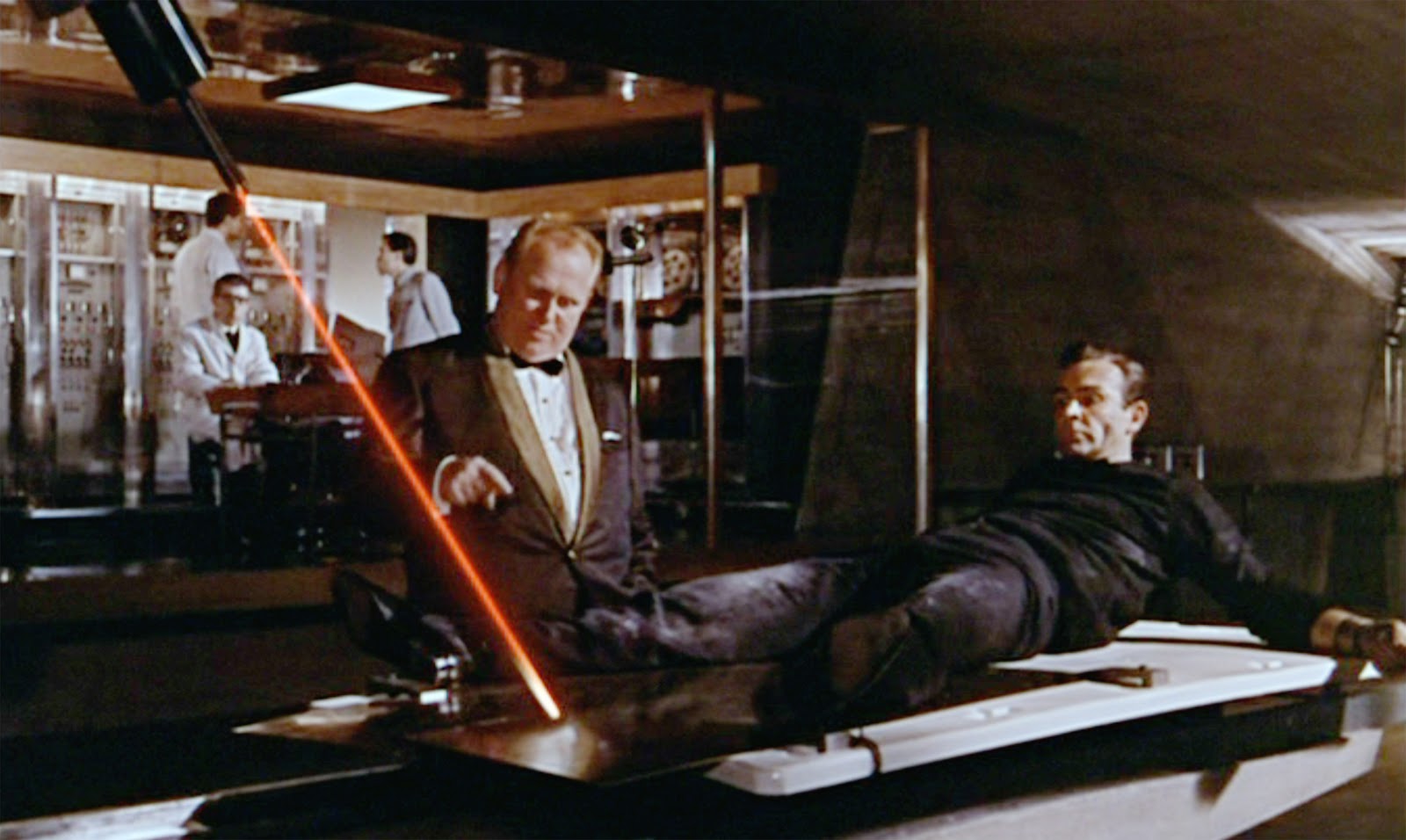 which is taken to an absurdist level with Jinx in Die Another Day…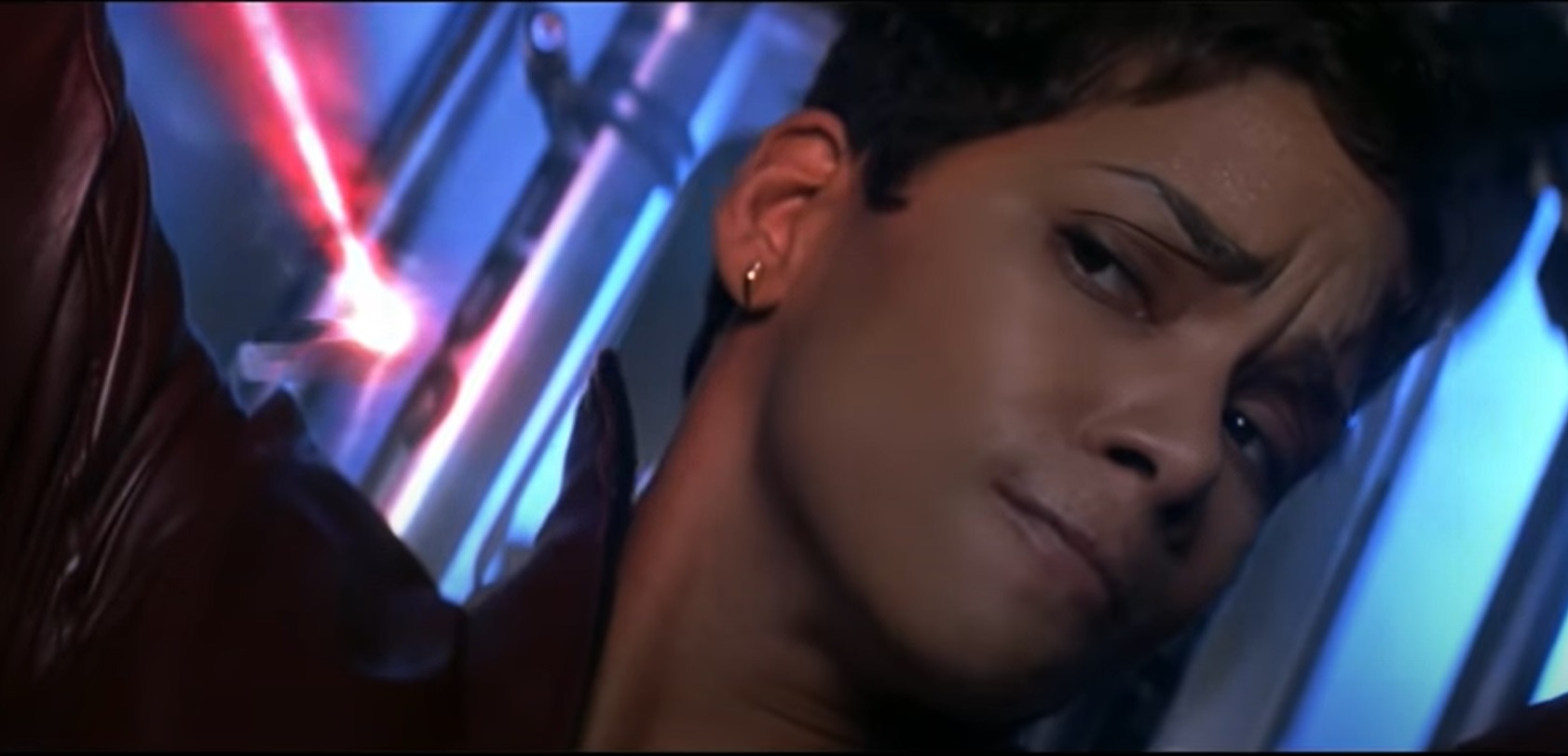 THUNDERBALL (1965)
Another one of the most prominent references is the jetpack from Thunderball…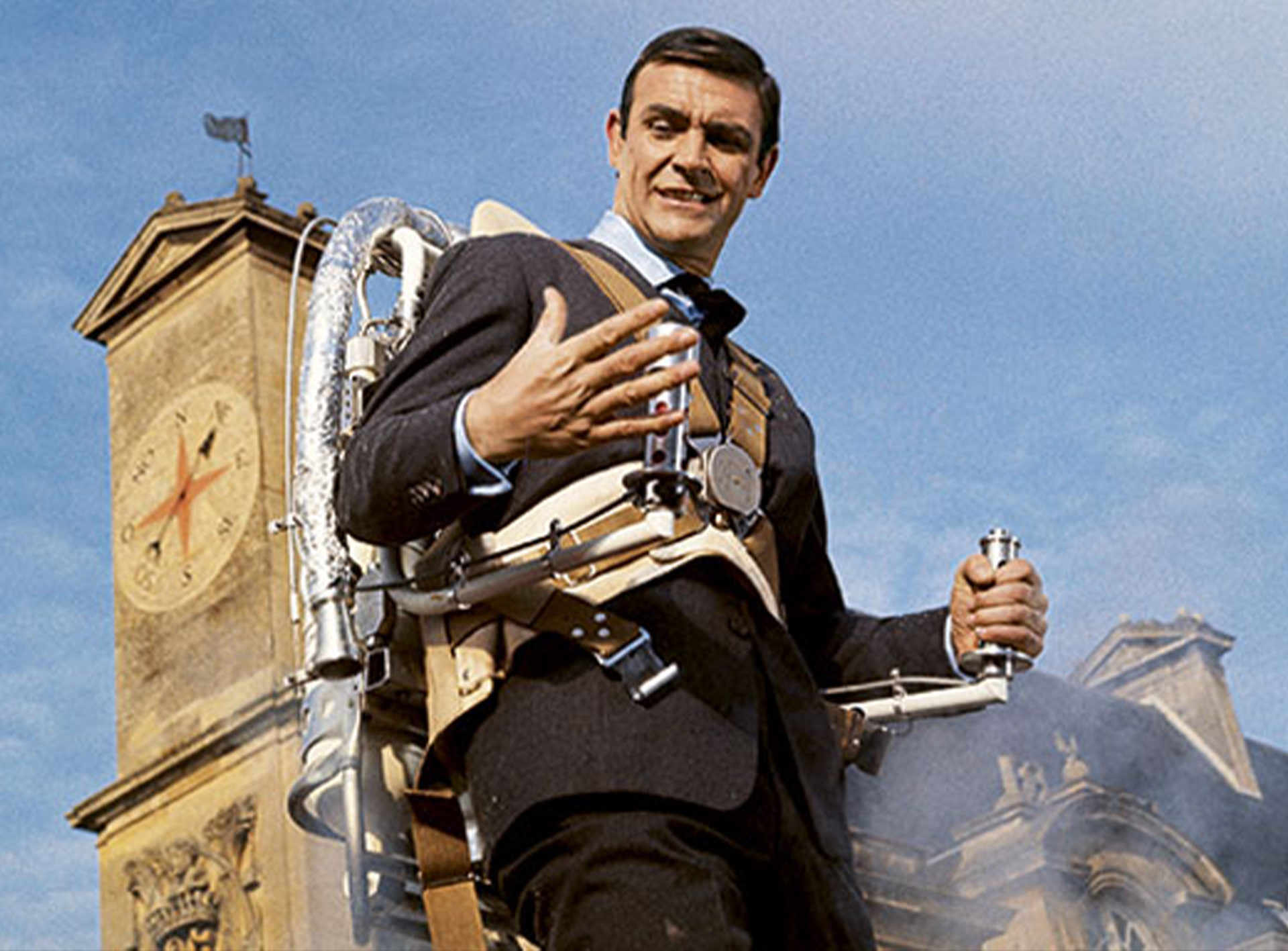 which Bond sees in Q's lab in Die Another Day…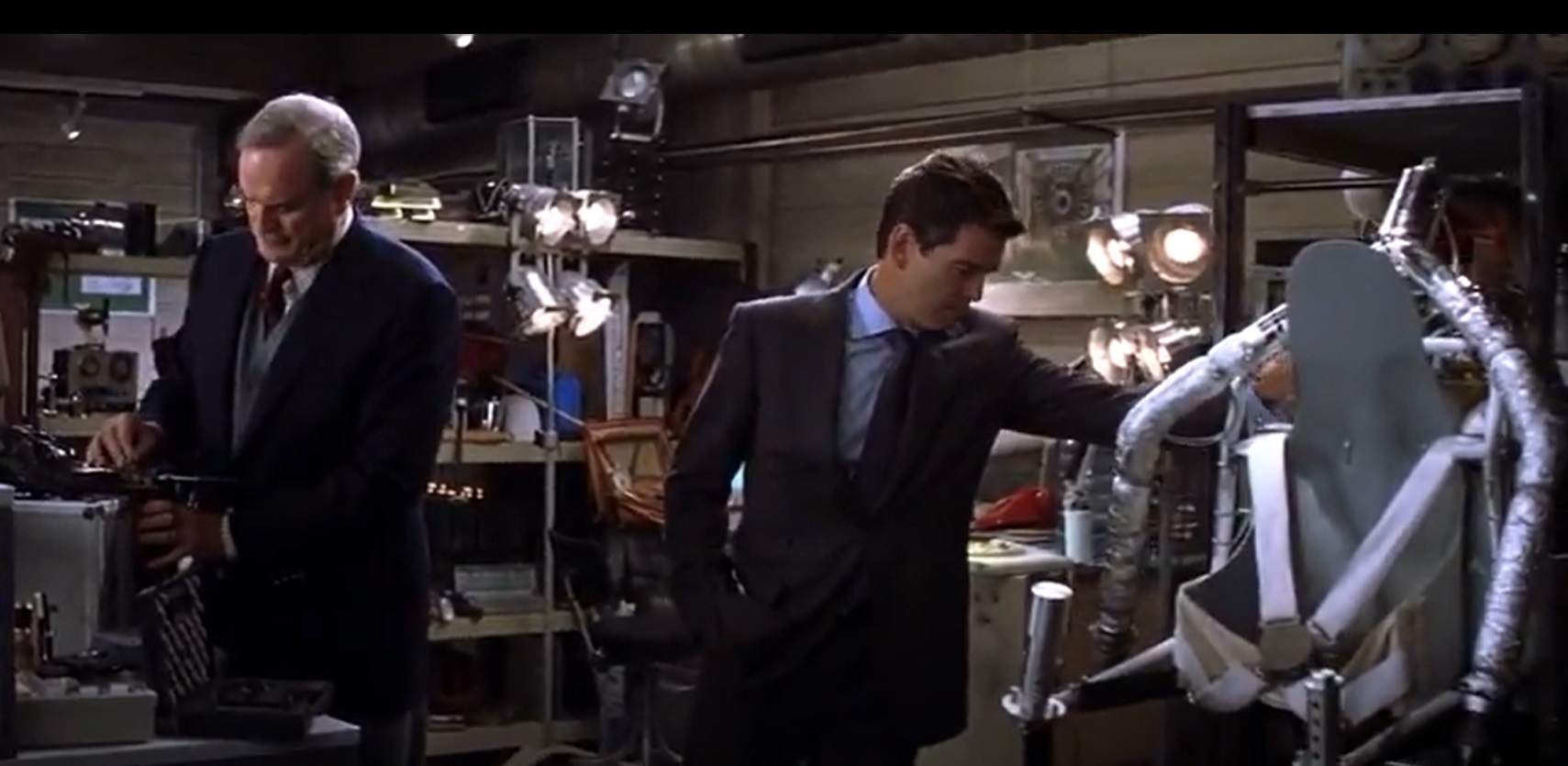 YOU ONLY LIVE TWICE (1967)
This is one of the weirdest ones, because people insist online that the boat that Bond is on in Die Another Day, after he is recovered from the North Koreans, is named the Tenby, as in the HMS Tenby, where Bond has his fake funeral at sea in You Only Live Twice. I have scoured the movie, though, and I see no mention of Tenby in there anywhere. Honestly, I think you could still make a good case for the fact that Bond's death is faked on a boat off the coast of Hong Kong in You Only Live Twice and then he fakes his own death on a boat in the harbor of Hong Kong in Die Another Day to escape custody.
However, there's an even more direct connection between the two films.
One of the most absurd plot points of ANY Bond film is the bit in You Only Live Twice where Bond gets surgery to go undercover as a Japanese man…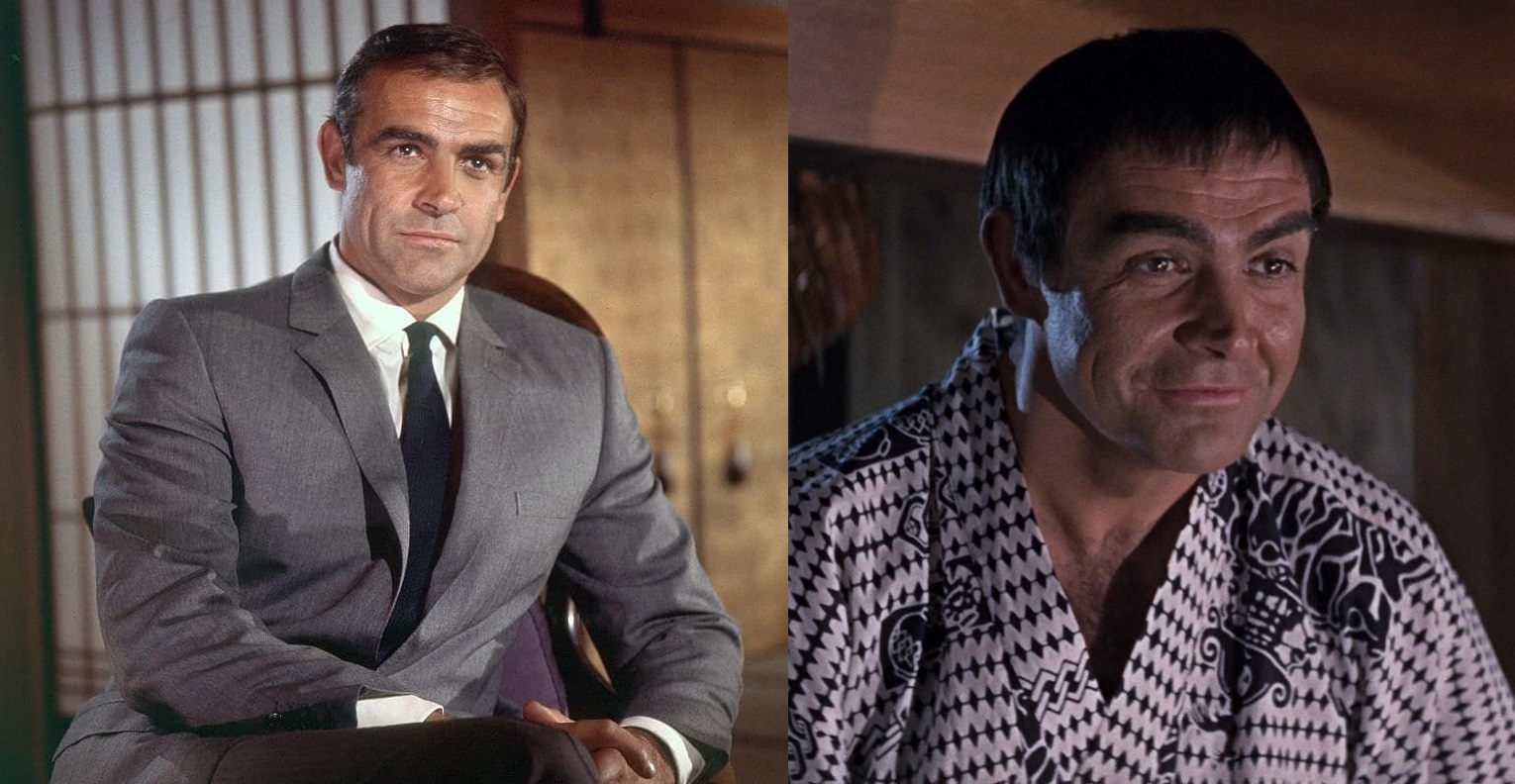 Well, in Die Another Day, the villain is a Korean man who gets surgery to pose as a White English man…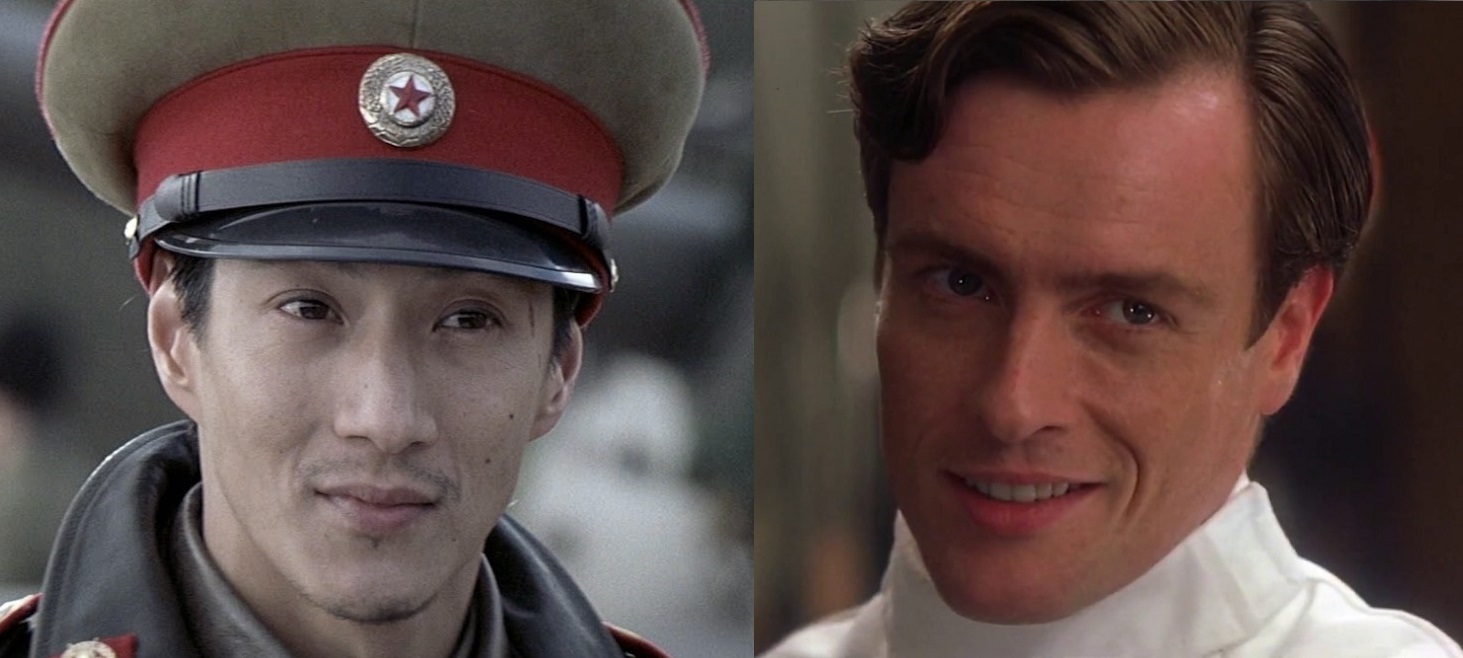 That's far too on point to just be a coincidence.
ON HER MAJESTY'S SECRET SERVICE (1969)
An interesting note about On Her Majesty's Secret Service (the first Eon film with an actor other than Sean Connery and the first and last film with George Lazenby as Bond) is that it is the first film to show Bond's office, and Die Another Day is the second. Could that be a reference? I have no idea.
You'll often see people claim that the letters OHMSS are written on a CD on Moneypenny's desk, but I'll be damned if I can see it anywhere, unless you can somehow read it here, at the end of the film (when Moneypenny is using the virtual reality simulator for some private fun)…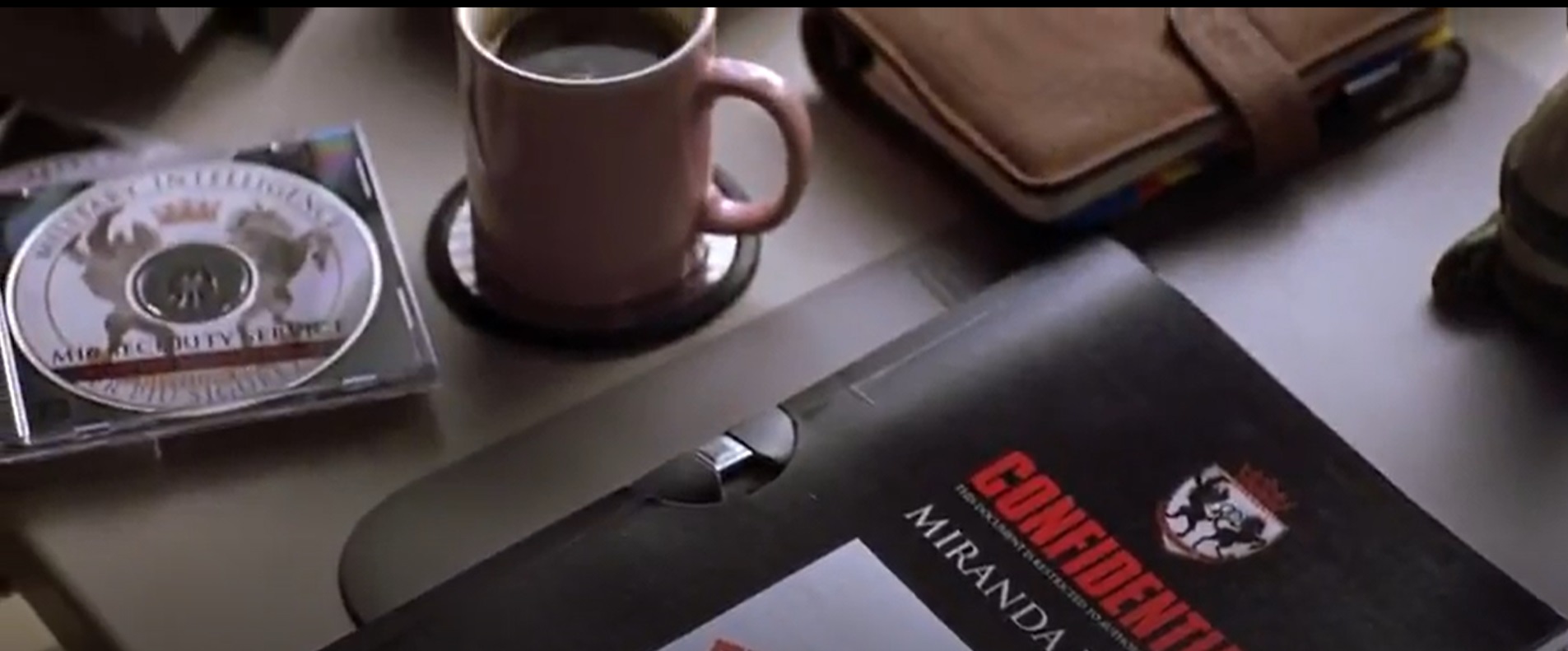 (click here to enlarge the image)
or earlier in the film (when Bond is using the virtual simulator for a training exercise)…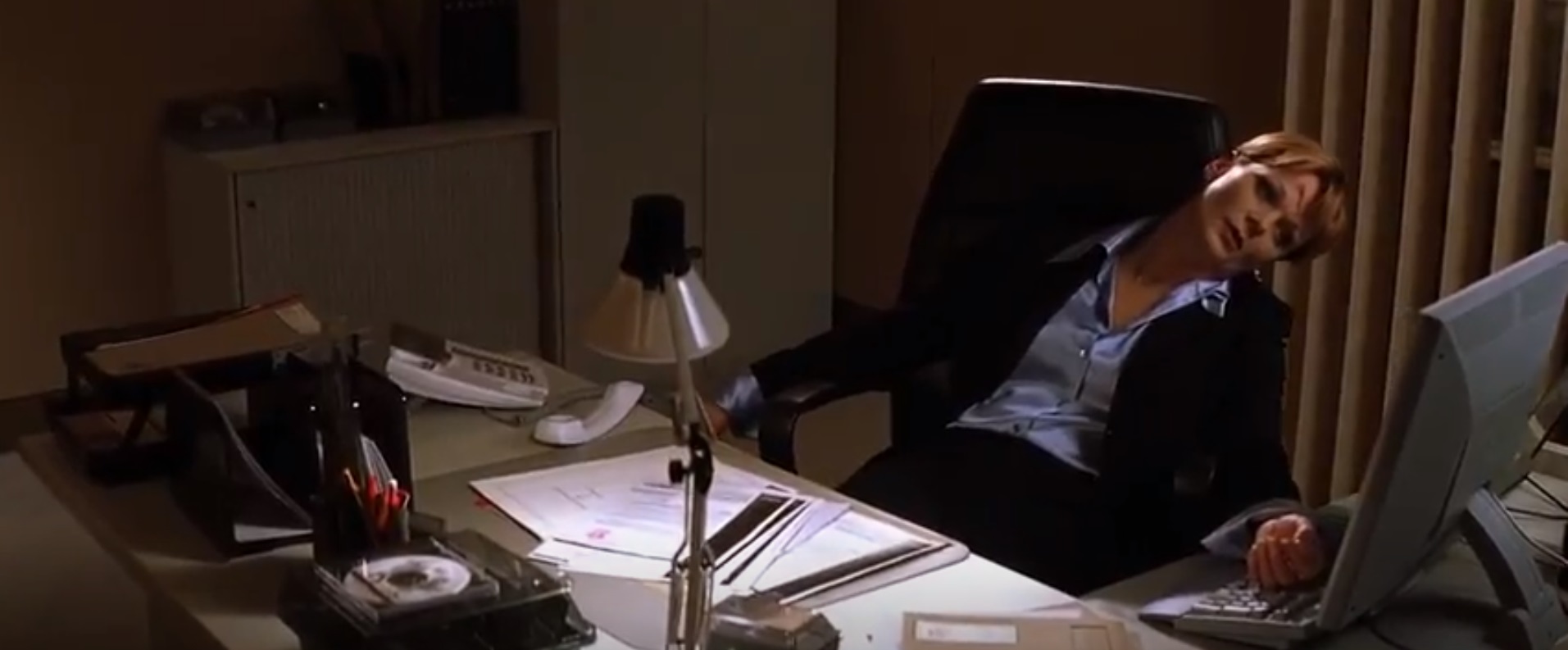 (click here to enlarge the image)
I can't see it in either of those scenes. I think people are just mistaken (or perhaps someone on the film said it was and people just went with it without being able to demonstrate it?).
Since I don't think that other fact is true, then I will instead note that in the scene in Cuba where Zao is escaping…
They clearly play part of the excellent theme to On Her Majesty's Secret Service.
So that's a direct connection.
DIAMONDS ARE FOREVER (1971)
There are a few references to Sean Connery's final Eon film, Diamonds Are Forever, in Die Another Day, but the one I will go with is when James Bond reads a magazine article about Gustav Graves that uses the line "Diamond are forever"…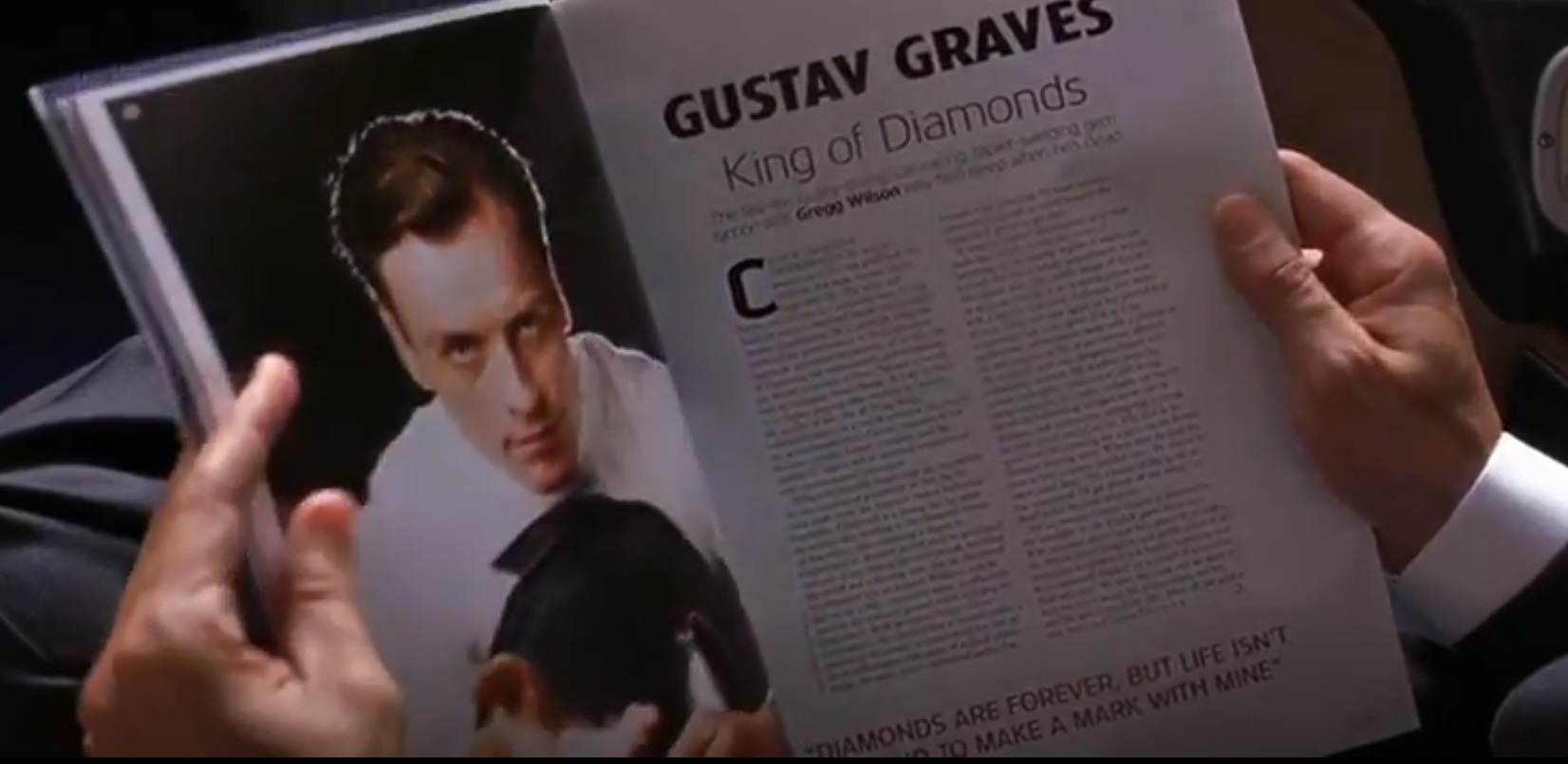 Don't get much more direct than that!
LIVE AND LET DIE (1973)
This is a nice and obscure one. In Live And Let Die, James Bond uses his Walther PPK, just like he does in all of the other Bond films, but in that film, for the first time, he uses a Smith & Wesson Model 29 .44 Magnum revolver for the first time in the film series…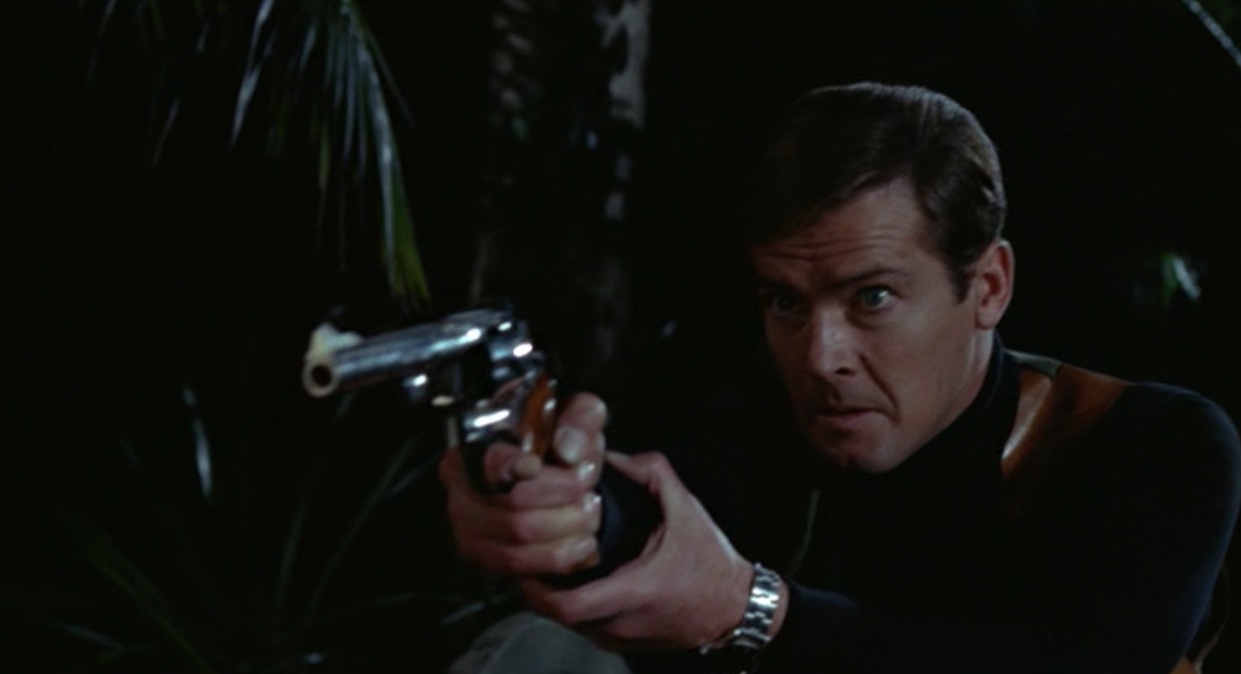 And in an early sequence in Die Another Day, Bond uses a Smith & Wesson .38cal revolver, the first time he used a Smith & Wesson gun since Live and Let Die.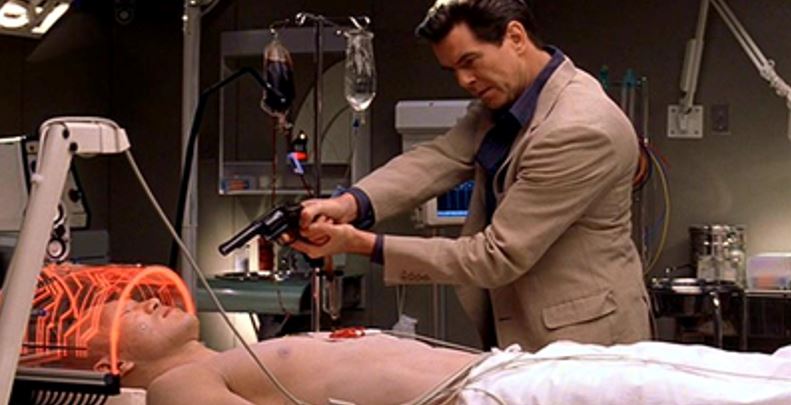 It's less obvious than the other references, but I think it still counts.
THE MAN WITH THE GOLDEN GUN (1974)
An easy connection is the fact that the weapons in both The Man With the Golden Gun and Die Another Day are solar-powered space lasers.
However, I like the odder comparison that they both involve Bond removing valuable items from a beautiful woman's belly button. In The Man With the Golden Gun, Bond removes a golden bullet from the belly button of the belly dancer, Saida….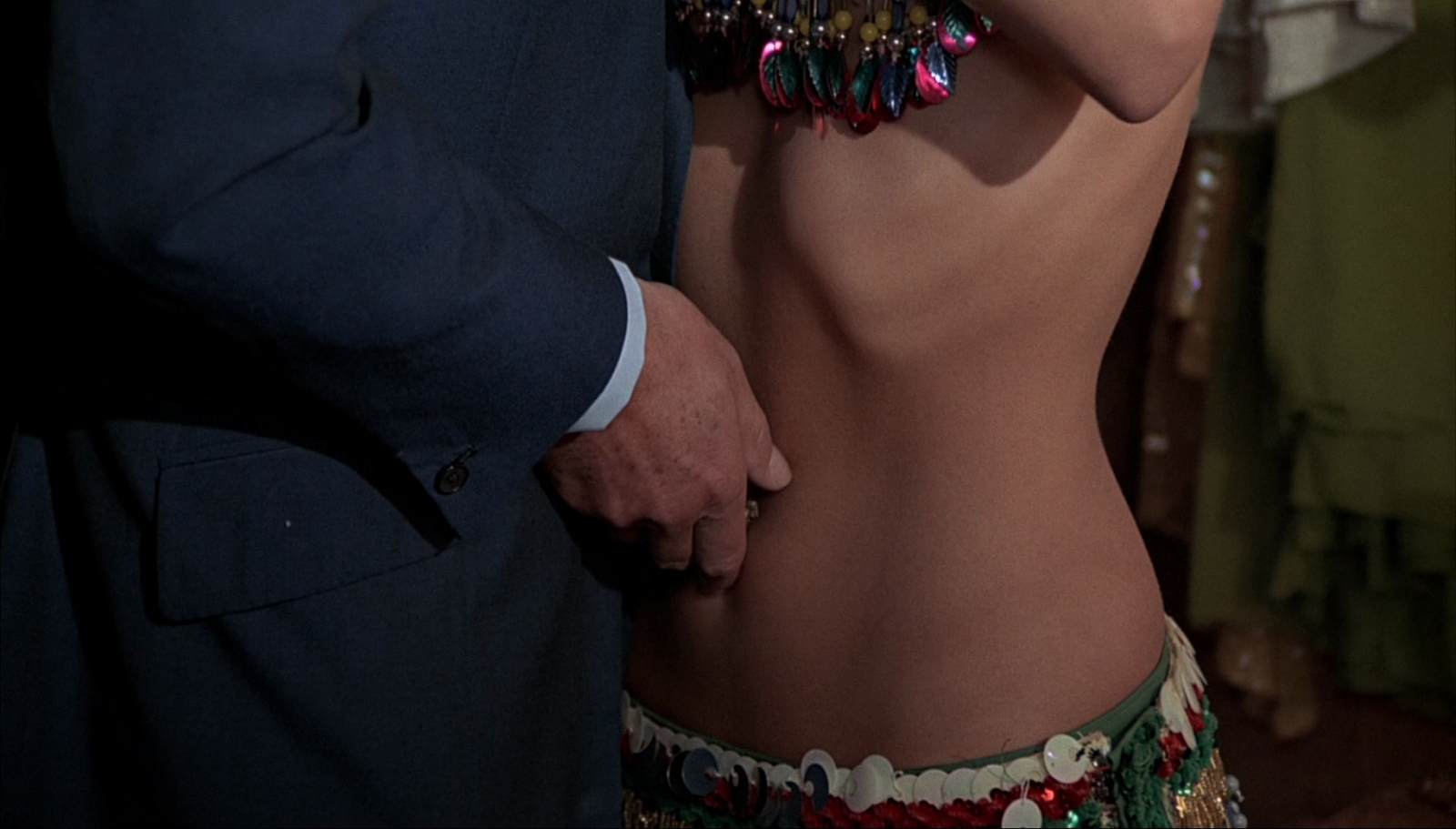 Later, in Die Another Day, Bond removes a diamond that has fallen into Jinx's belly button…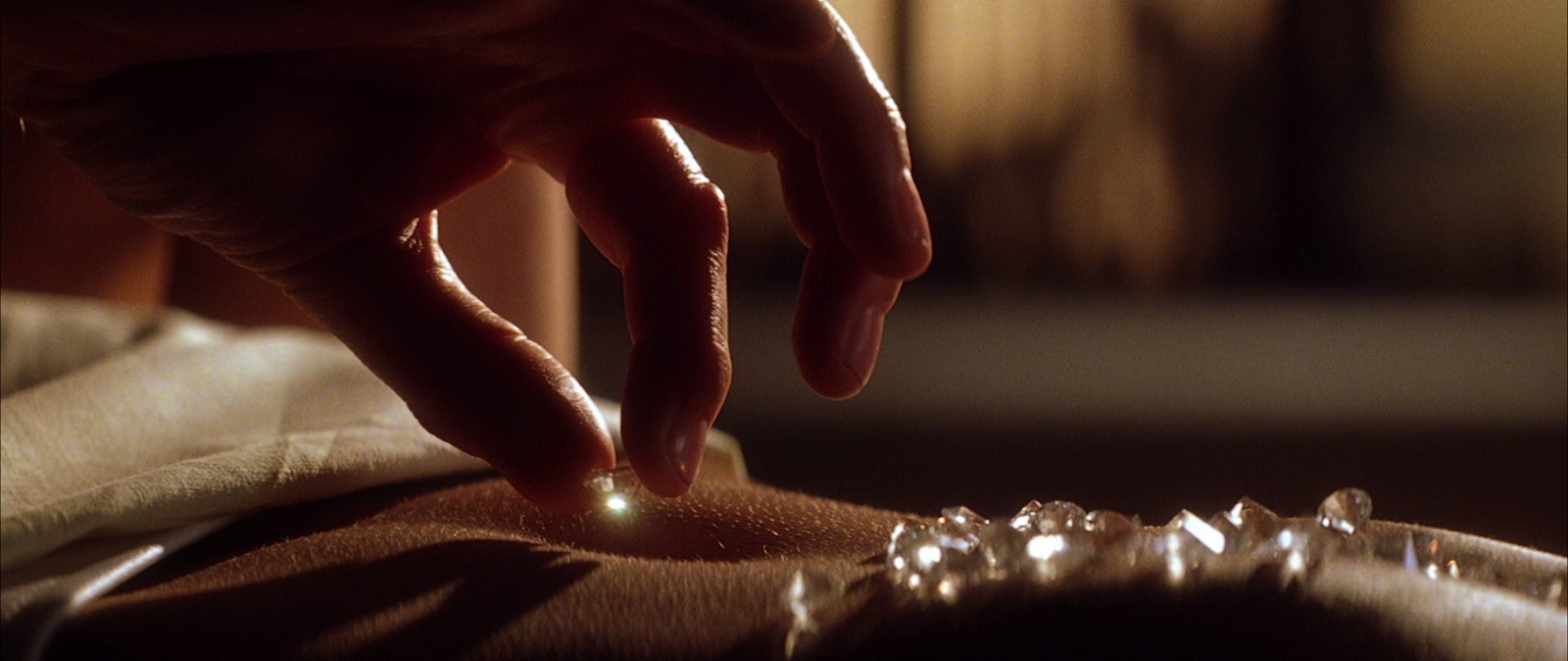 What a weird little bit.
THE SPY WHO LOVED ME (1977)
Right up there with Dr. No bikini scene and the Thunderball jetpack is the repeat of the iconic Union Jack parachute scene from The Spy Who Loved Me (4K UHD)…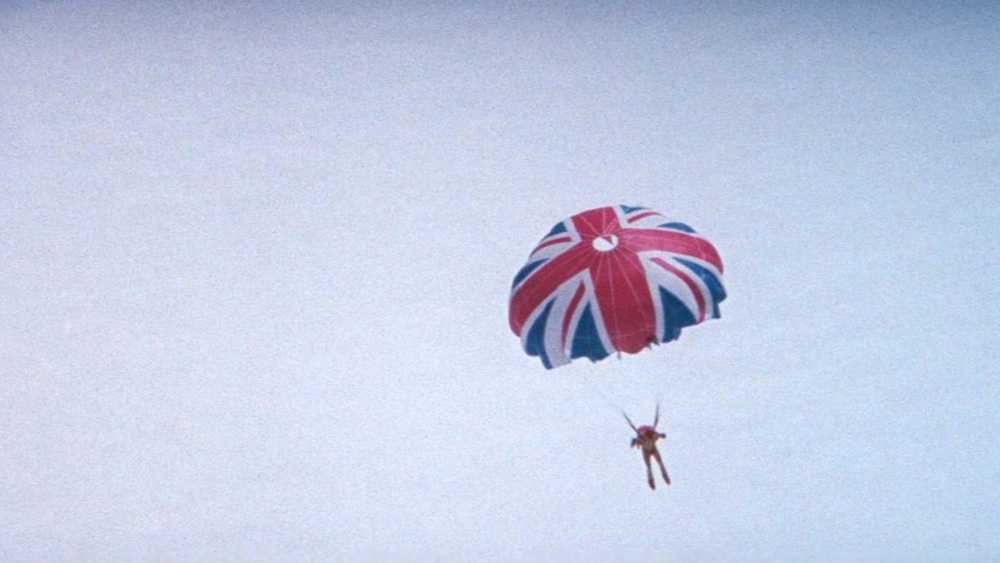 in Die Another Day, only with Gustav Graves in place of Bond…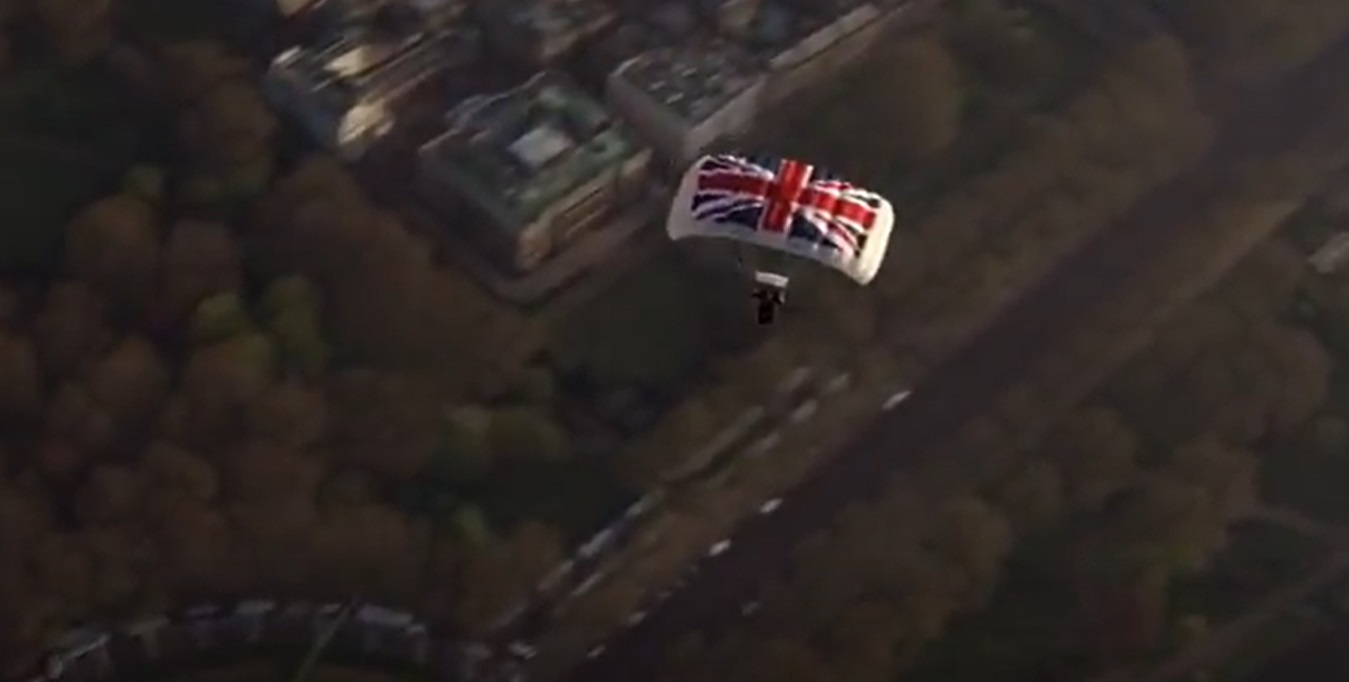 This was a pretty notable one.
MOONRAKER (1979)
This one is a bit of a stretch, but in Moonraker, Bond has a fencing battle against one of the villains where they trash a glass shop throughout the extended sequence…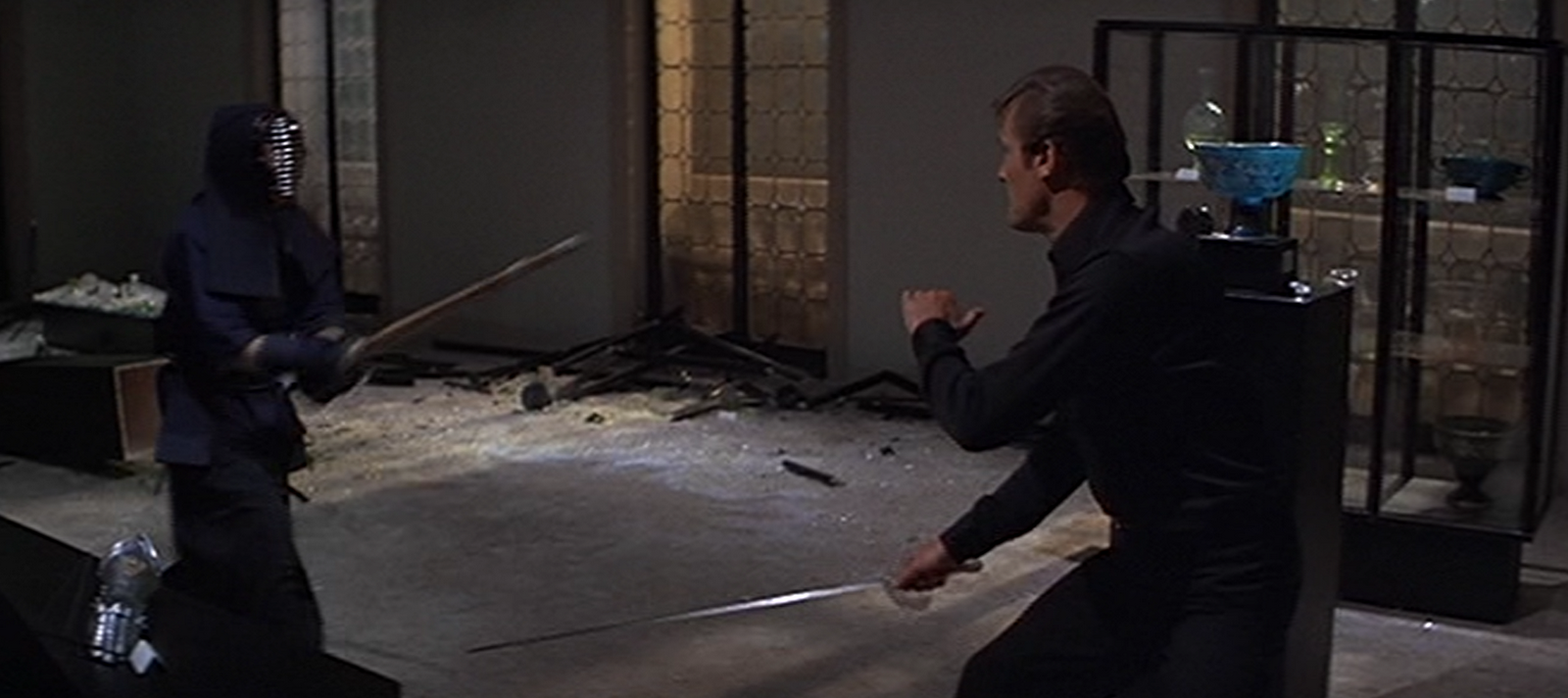 And in Die Another Day, Bond and Graves start fencing and then it turns into an elaborate sword fight all through a country club in an extended sequence…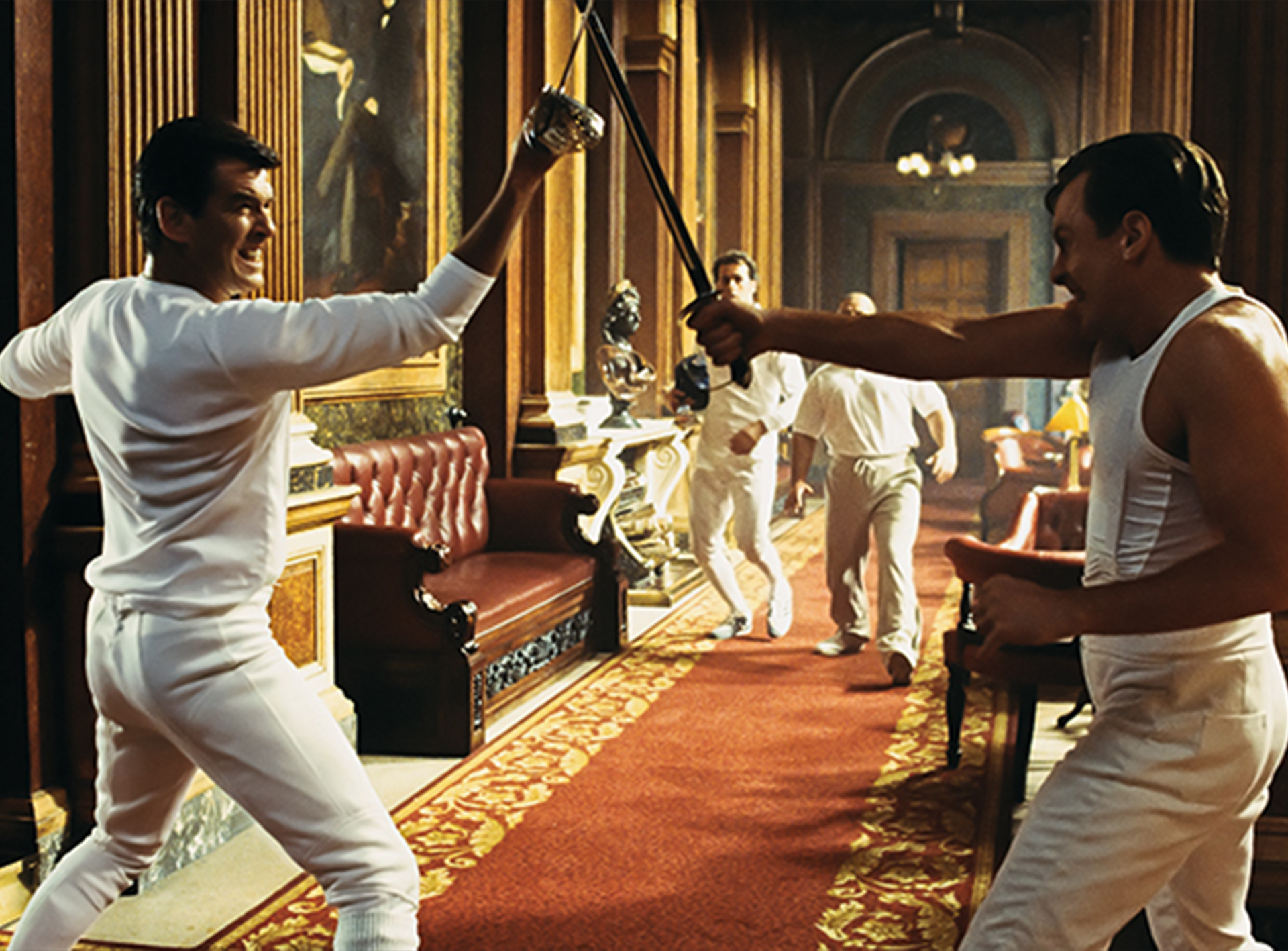 Not the most obvious connection, but I think it counts.
FOR YOUR EYES ONLY (1981)
A clear, but pretty obscure one from For Your Eyes Only, involves a yellow diver's helmet that Bond used in that film…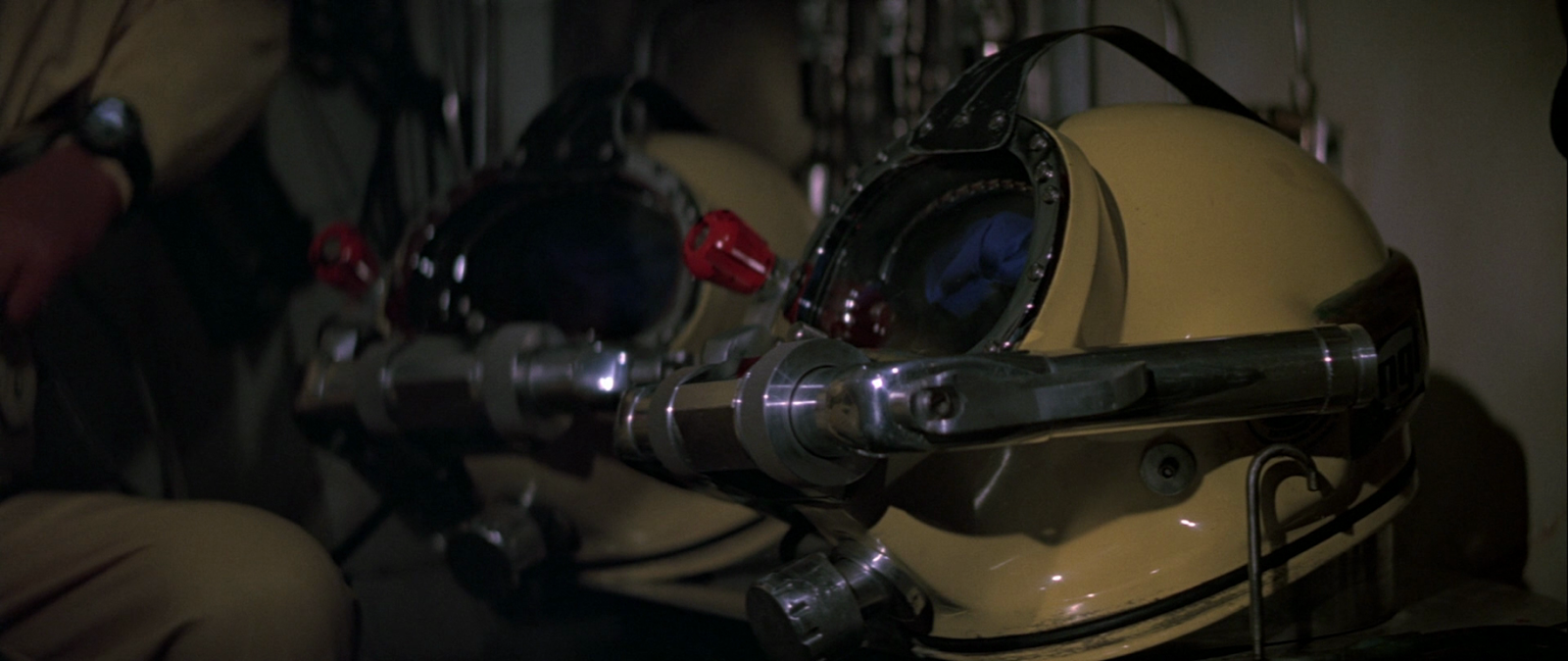 that is on one of the shelves in Q's workshop in Die Another Day…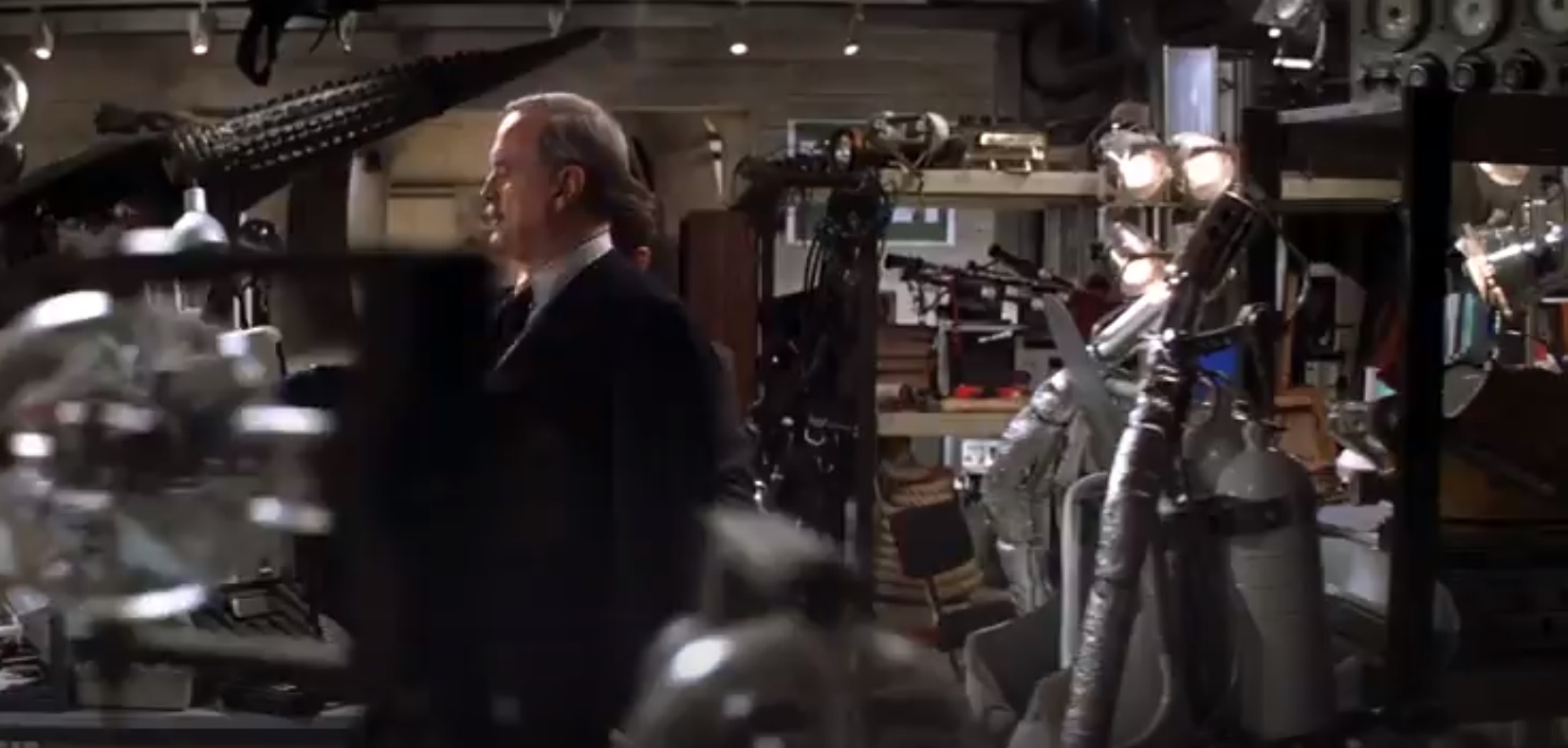 Not one of the more high profile ones, but it's clearly there.
OCTOPUSSY (1983)
The 1980s were not exactly what you would call an "iconic" period for the Bond films, and as a result, most of the references for the 1980s films are relegated to Q's laboratory.
For instance, the crocodile submarine from Octopussy…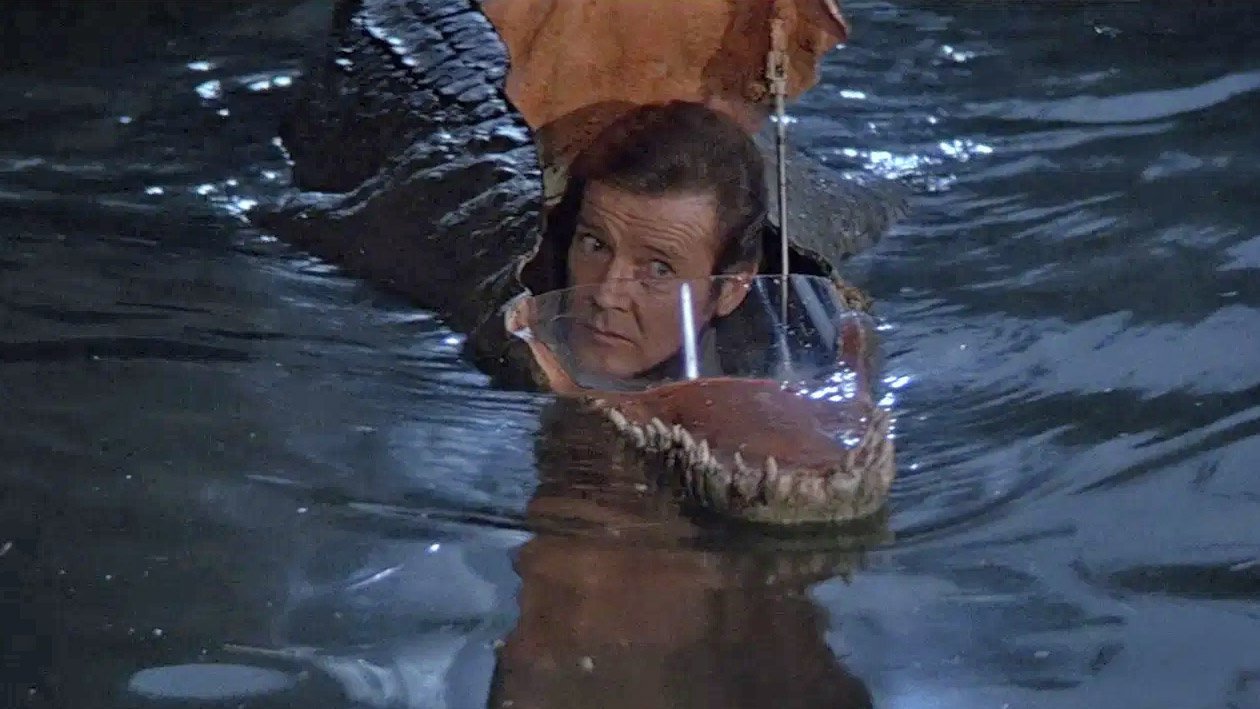 is prominently displayed in the background.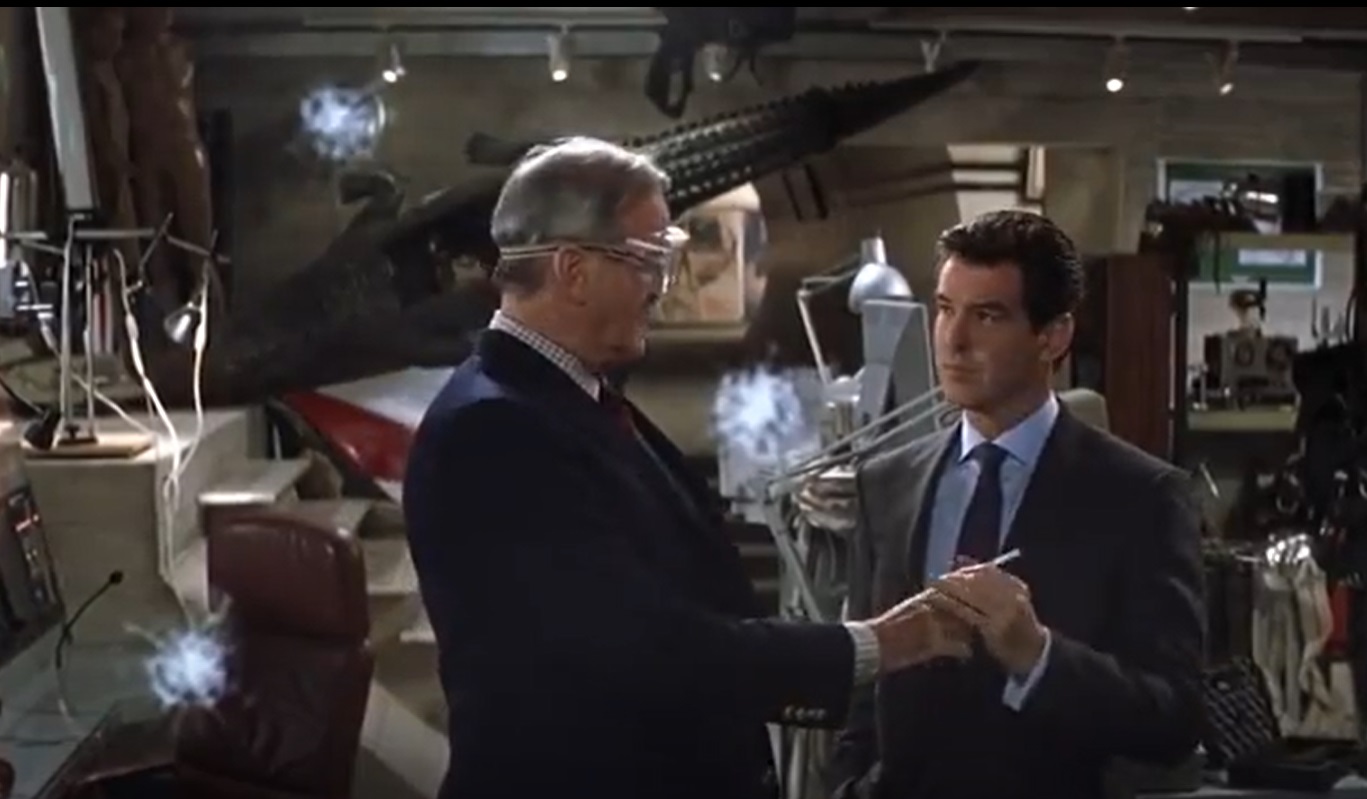 At least it got a big spot (you can see it in multiple scenes in the lab).
A VIEW TO A KILL (1985)
Similarly, the electronic snooper from A View To A Kill…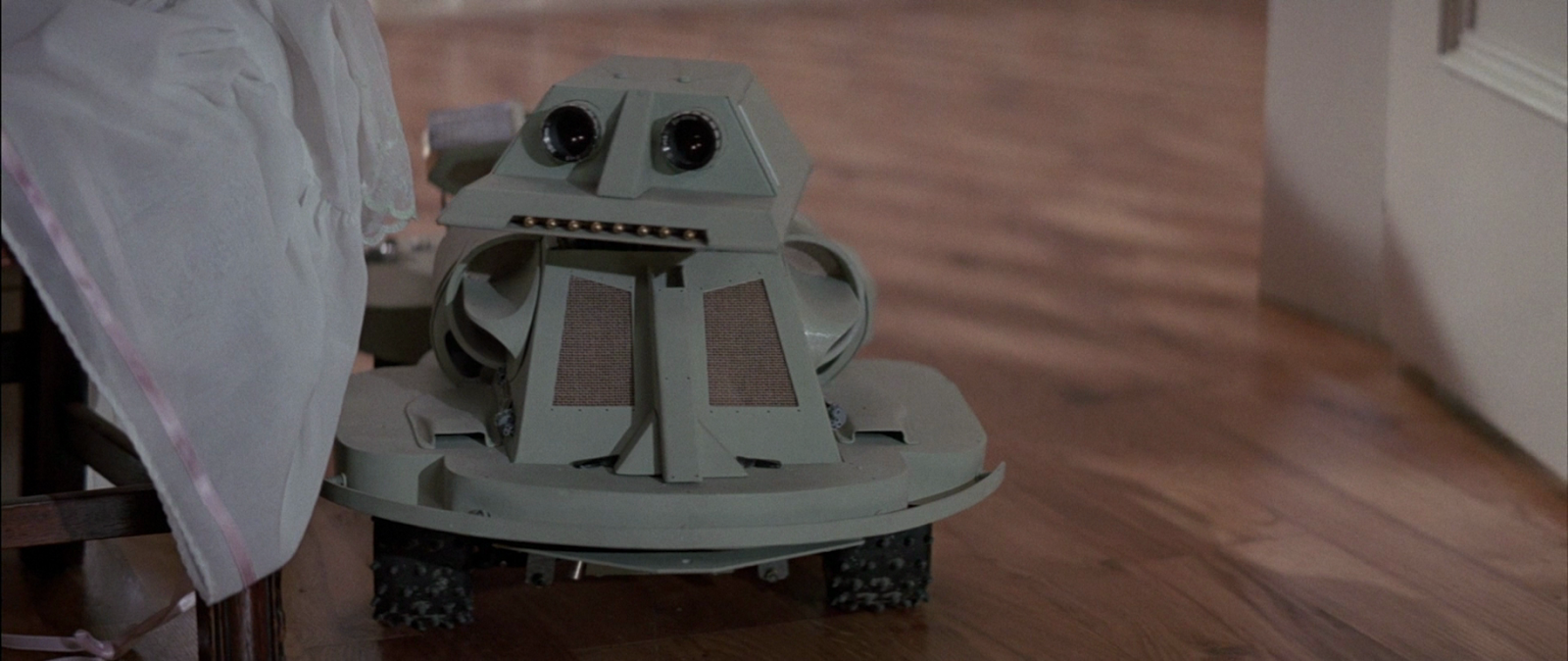 is there in Q's lab, as well…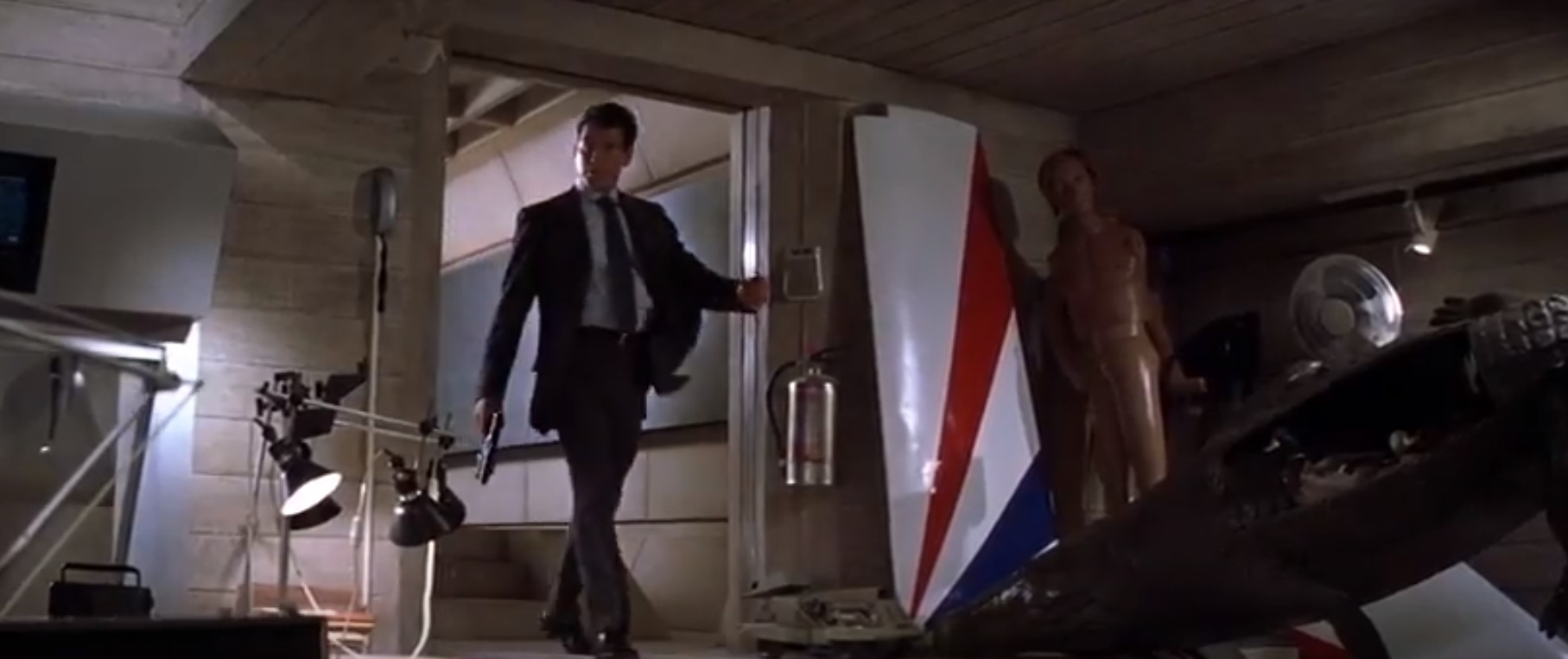 If you missed my Top Five Worst James Bond Puns from earlier today, I excused lines from characters OTHER than Bond, or else the bit at the end from Q might qualify, as Q operates the snooper and discovers Bond and Stacey Sutton in the shower together.
Q: 007 alive.

M: Where is he? What's he doing?

Q: Just cleaning up a few details.
Then it cuts to Stacey exclaiming, "Oh, James!" and that closed the book on Roger Moore's storied career as James Bond. Ooph.
THE LIVING DAYLIGHTS (1987)
In Timothy Dalton's first Bond film, The Living Daylights, Bond and his love interest, Kara Milovy, escape from a plane through the cargo hold in a jeep before the plane explodes…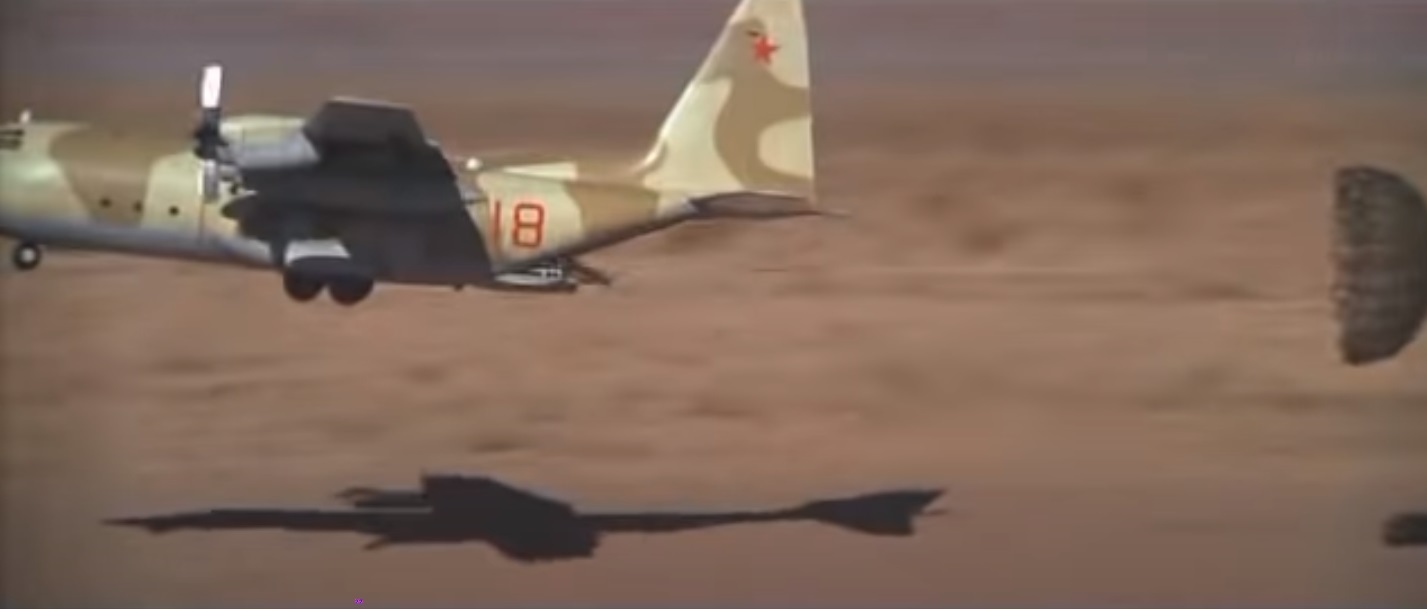 In Die Another Day, Bond and his love interest, Jinx, escape from a plane through the cargo hold in a helicopter before the plane explodes…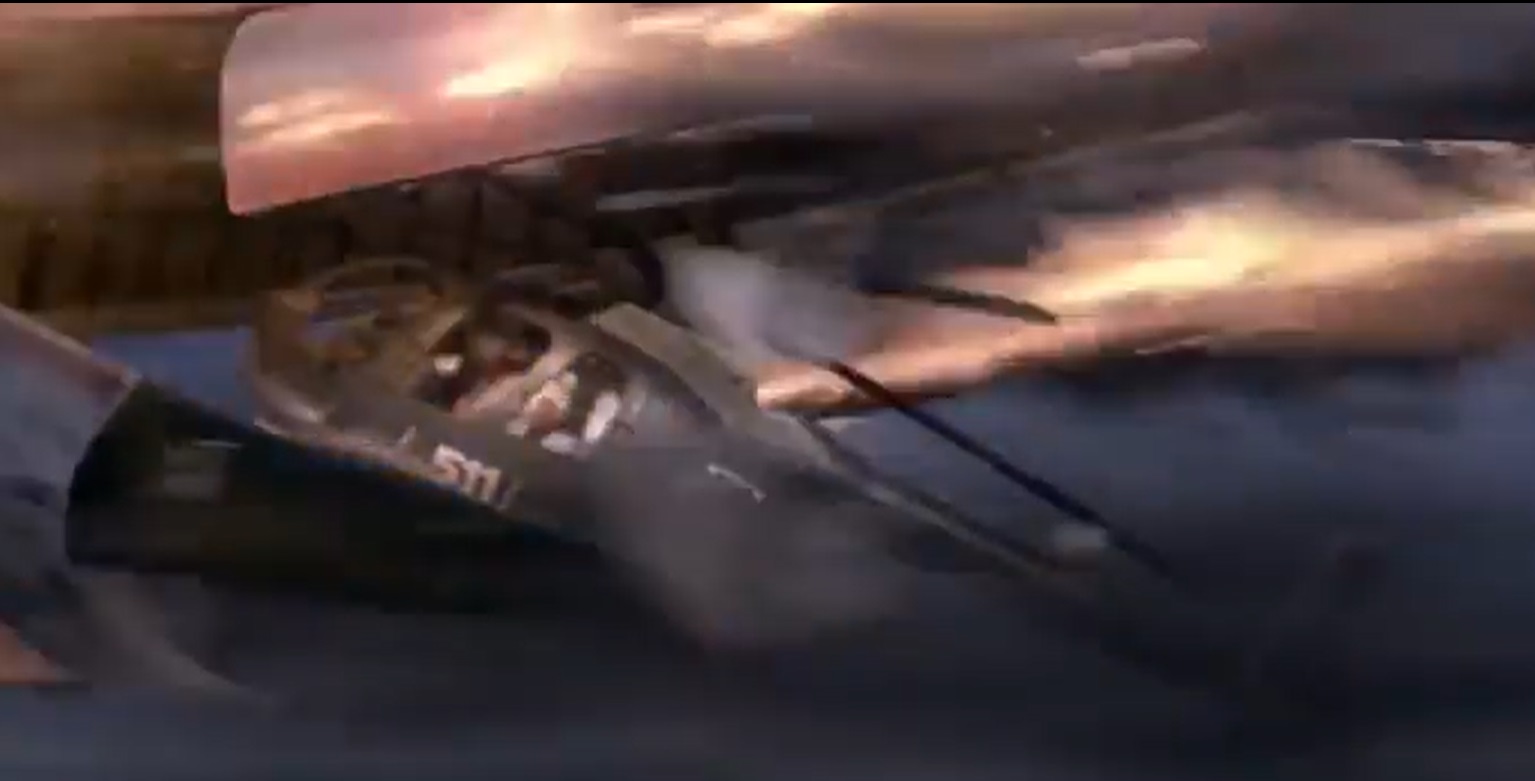 LICENSE TO KILL (1989)
Timothy Dalton's second (and final) Bond film, Licence To Kill, is based on the idea of Bond getting his 00 status and his license to kill pulled…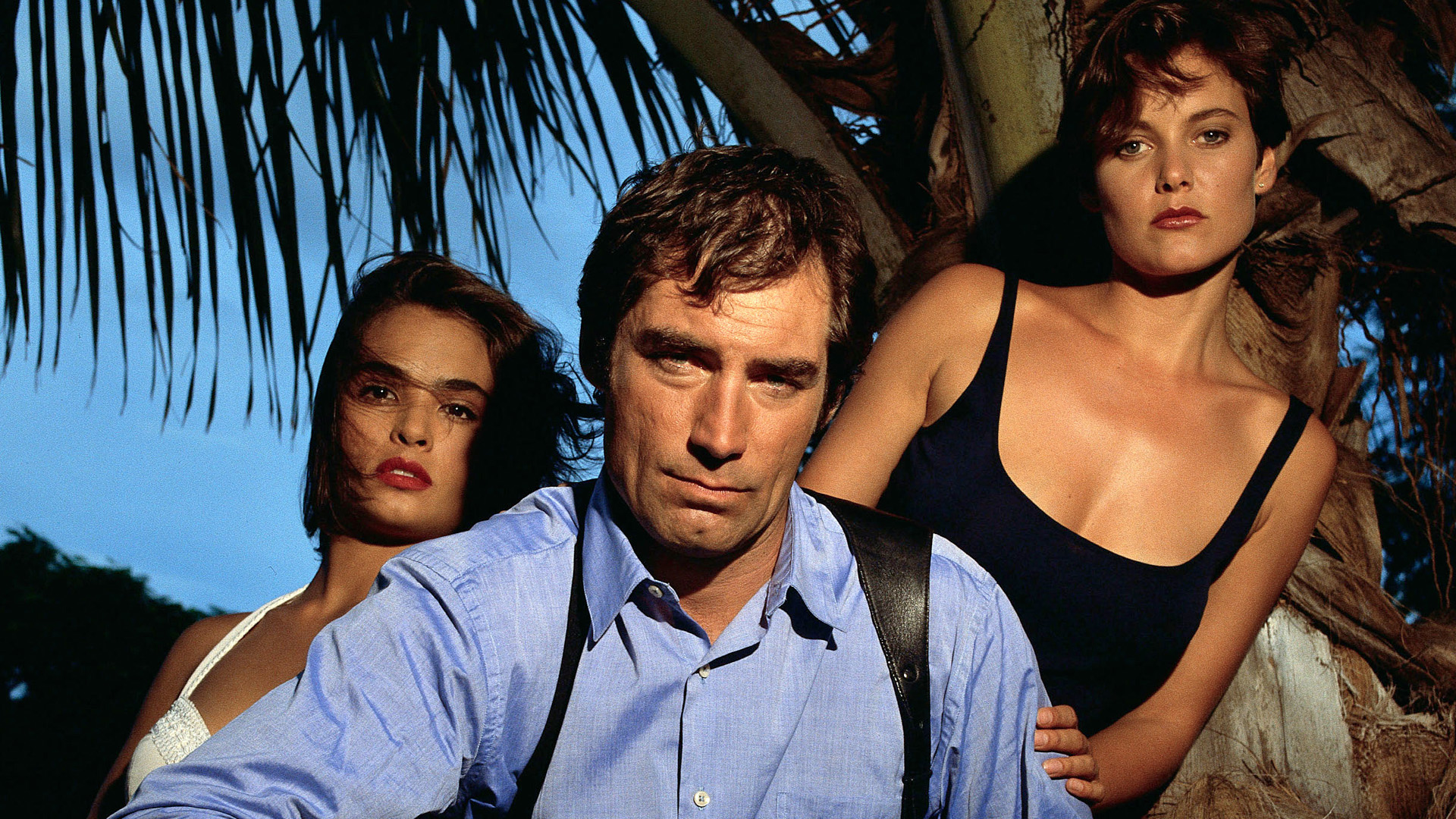 Early in Die Another Day, when Bond is suspected to be a traitor, M visits him and tells him the same thing, that his 00 status is revoked and his license to kill was pulled…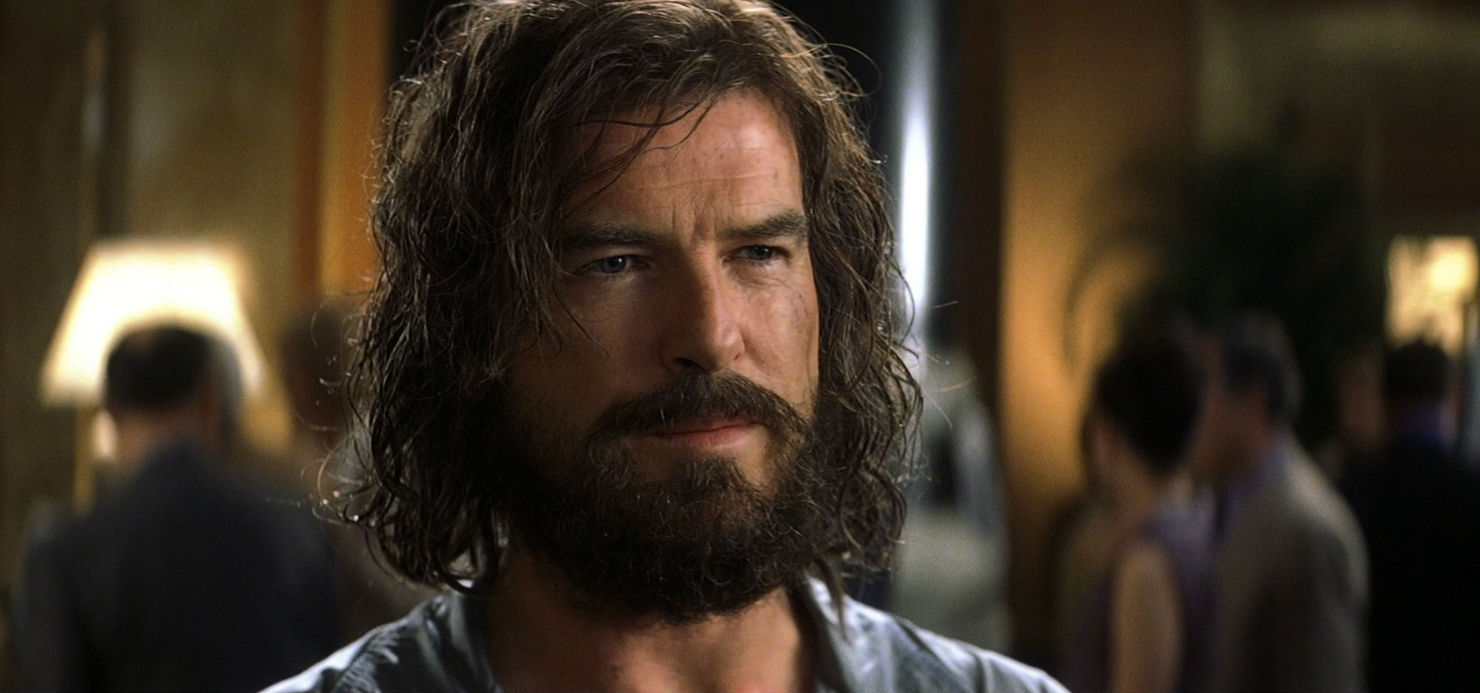 It's not a DIRECT comparison, but pretty much a direct comparison.
GOLDENEYE (1995)
Now that we're into the Pierce Brosnan films, it is more a case of repeating stuff outright, like for instance, the laser watch that Bond uses in Goldeneye…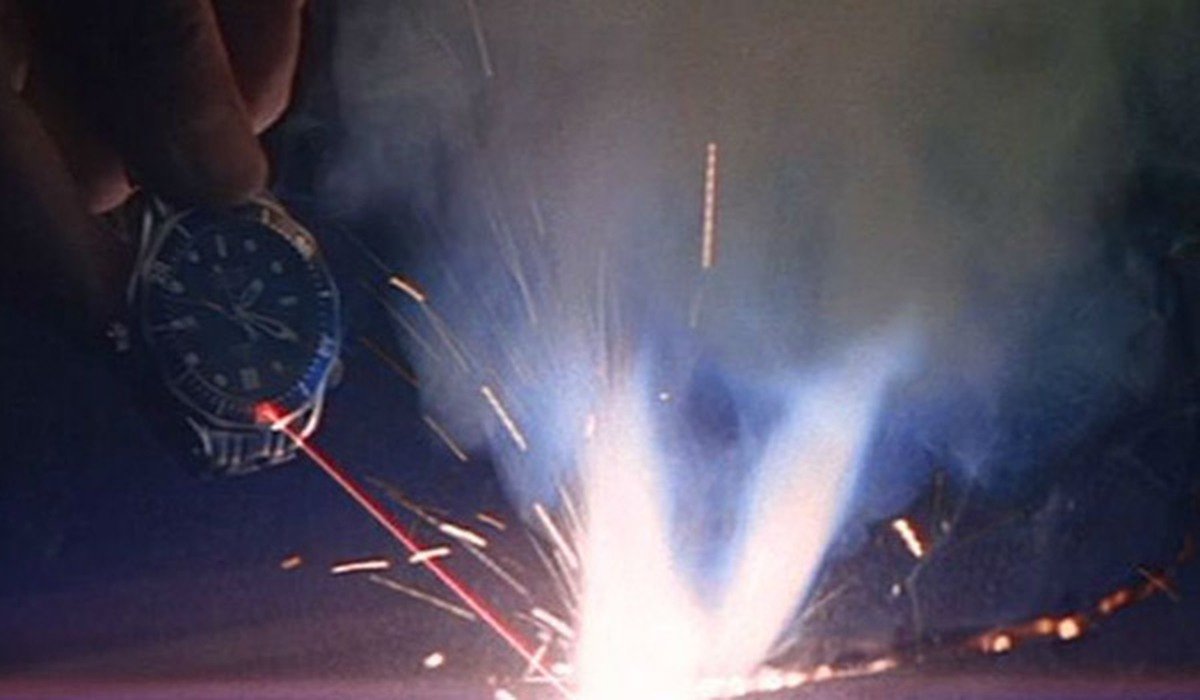 is also used in Die Another Day….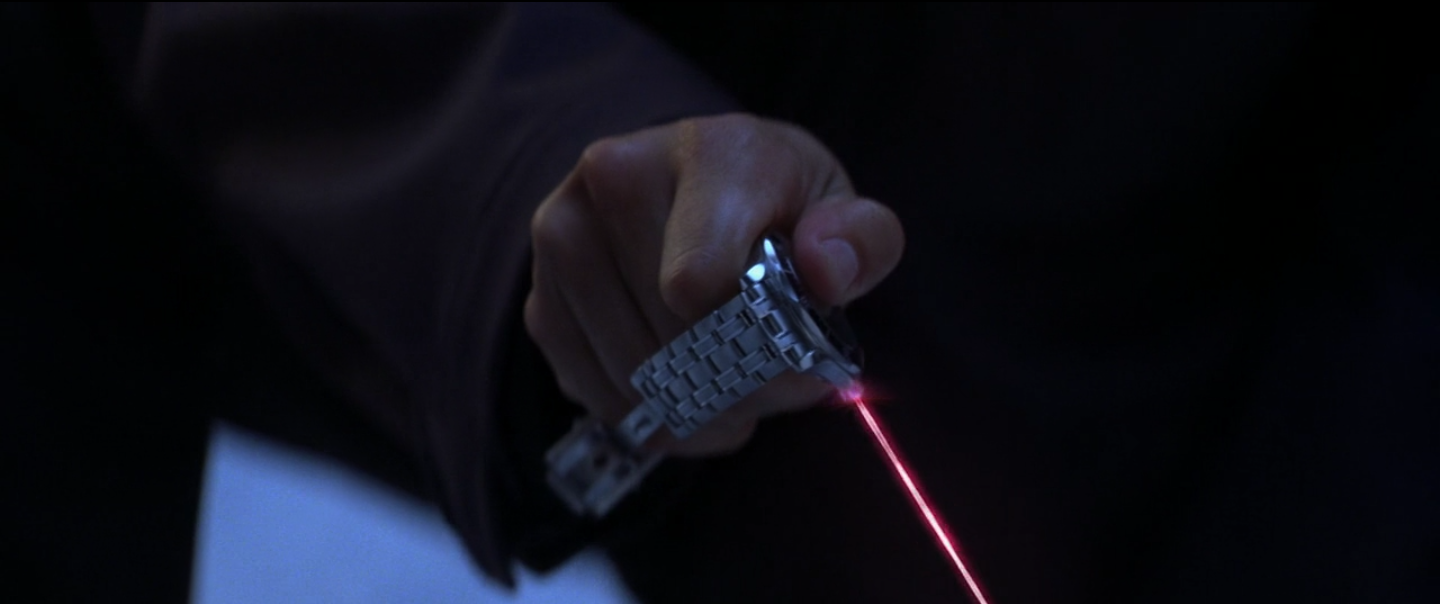 Pretty simple one.
TOMORROW NEVER DIES (1997)
Similarly, the remote control car that Bond uses in Tomorrow Never Dies…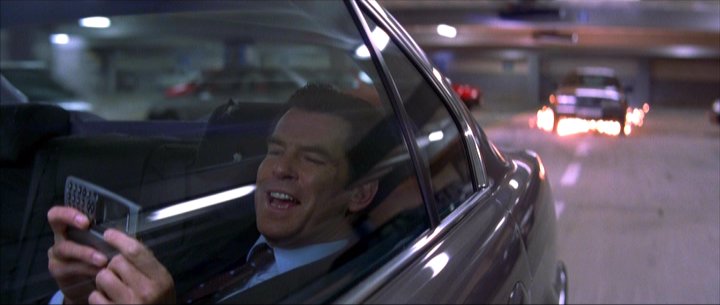 returns in Die Another Day…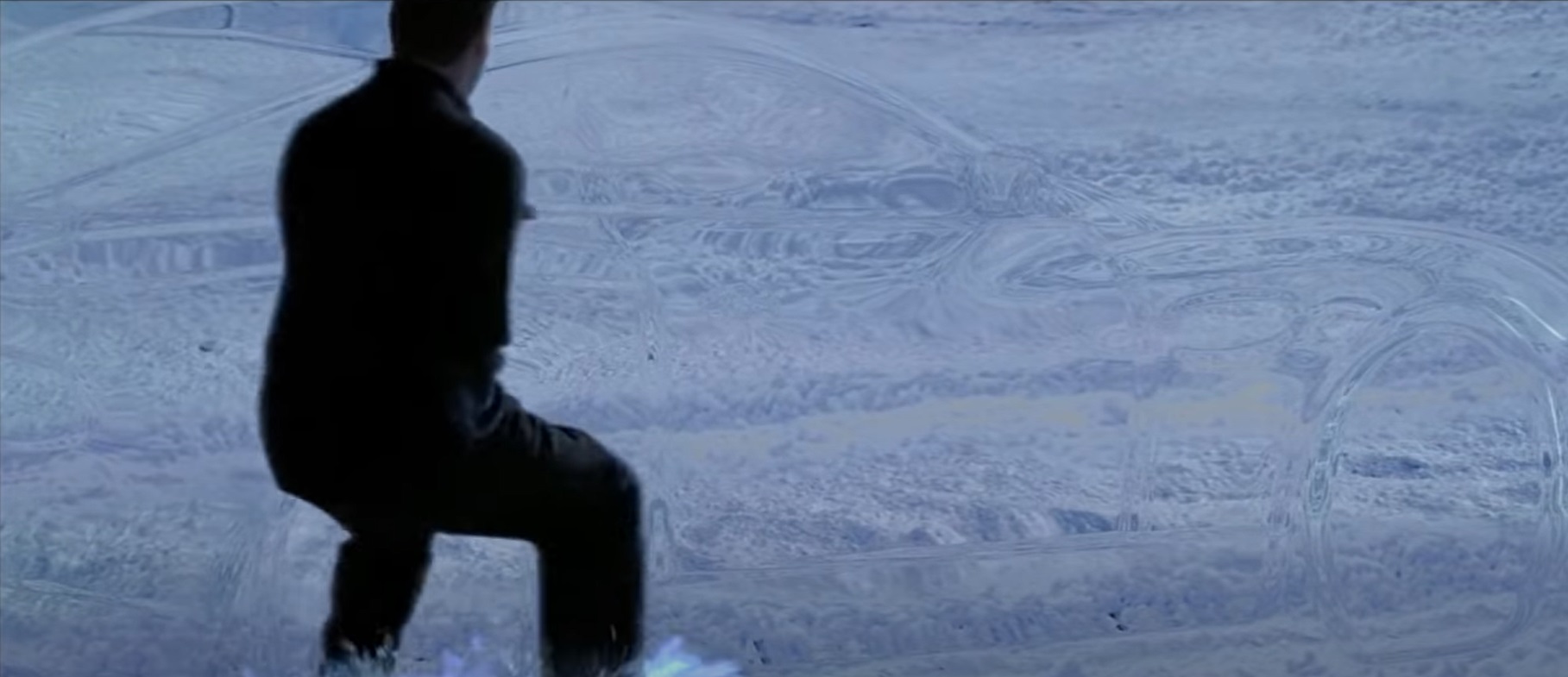 Although, of course, like everything in Die Another Day, it was made even more outlandish and over-the-top, with invisible stealth mode (which could ALSO be a Tomorrow Never Dies homage, since that film had a stealth ship play a key role).
THE WORLD IS NOT ENOUGH (1999)
One of the odder ones is how there is a geodesic dome in The World Is Not Enough…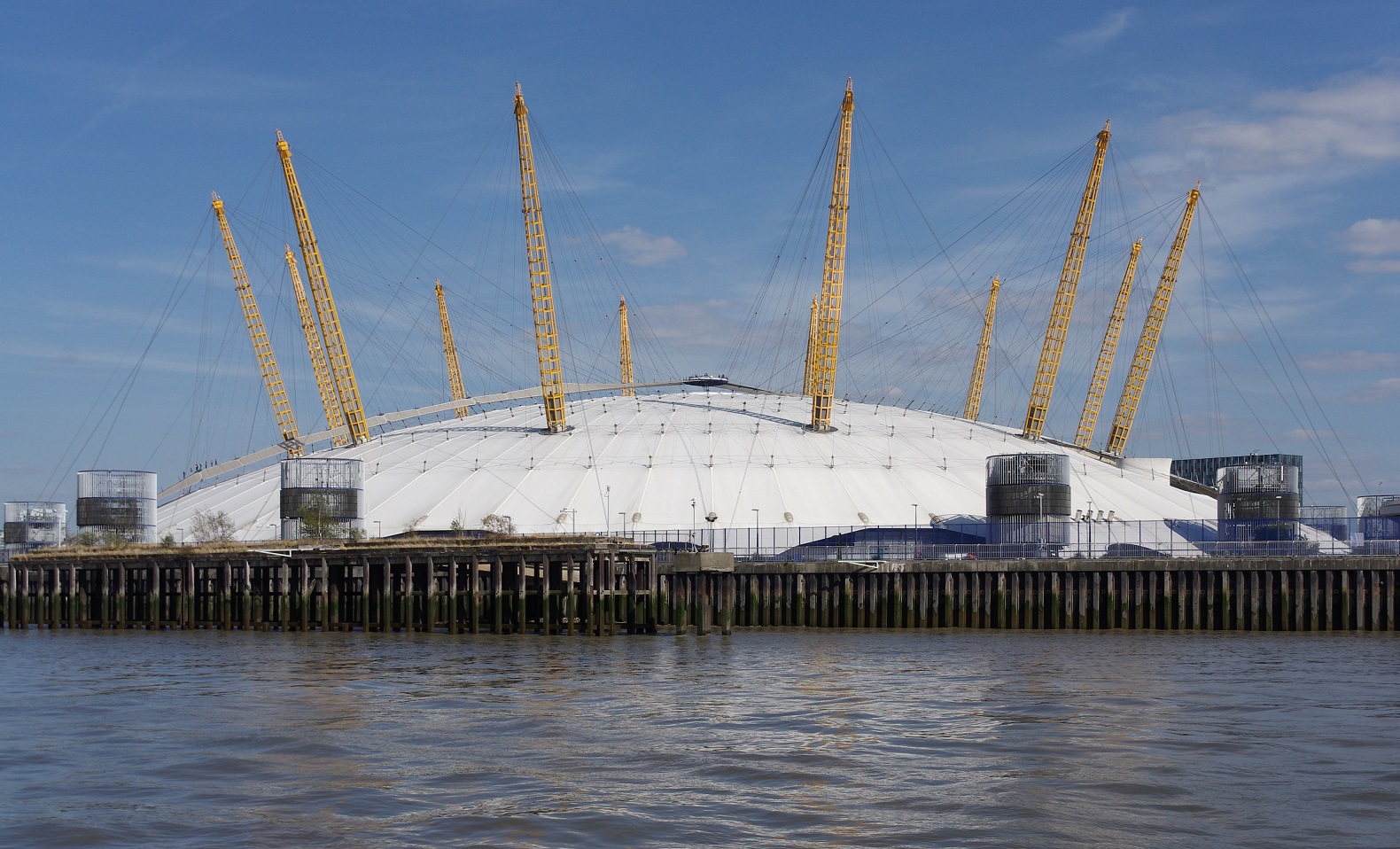 and also in Die Another Day…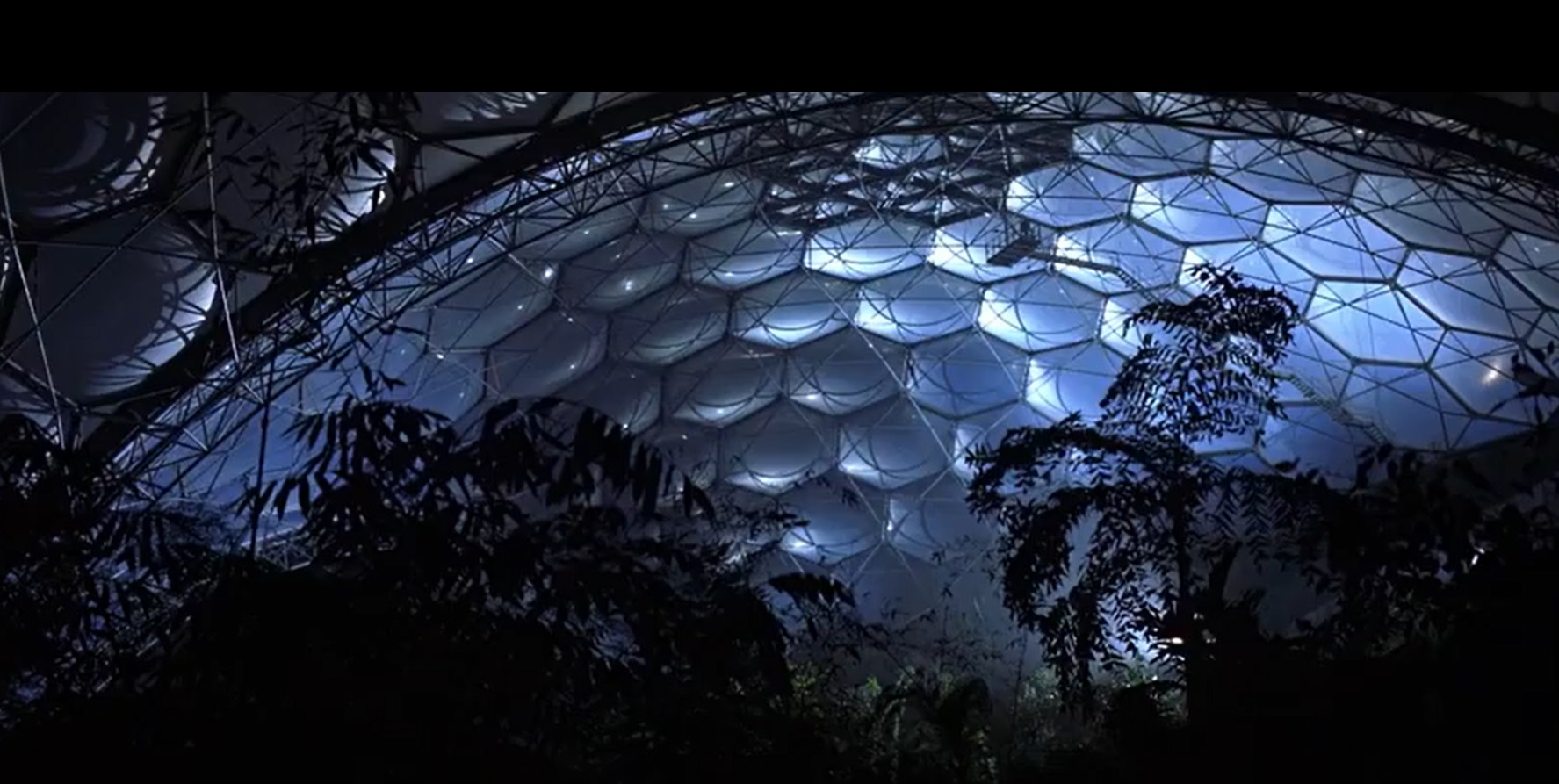 I wish that there was a better example than that, as that is pretty weak, but I think it truly WAS done on purpose for the sake of a connection.
DIE ANOTHER DAY (2002)
Finally, Die Another Day has an homage to, well, itself, as Q gives Bond a new watch and notes that it is Bond's 20th watch that he has received…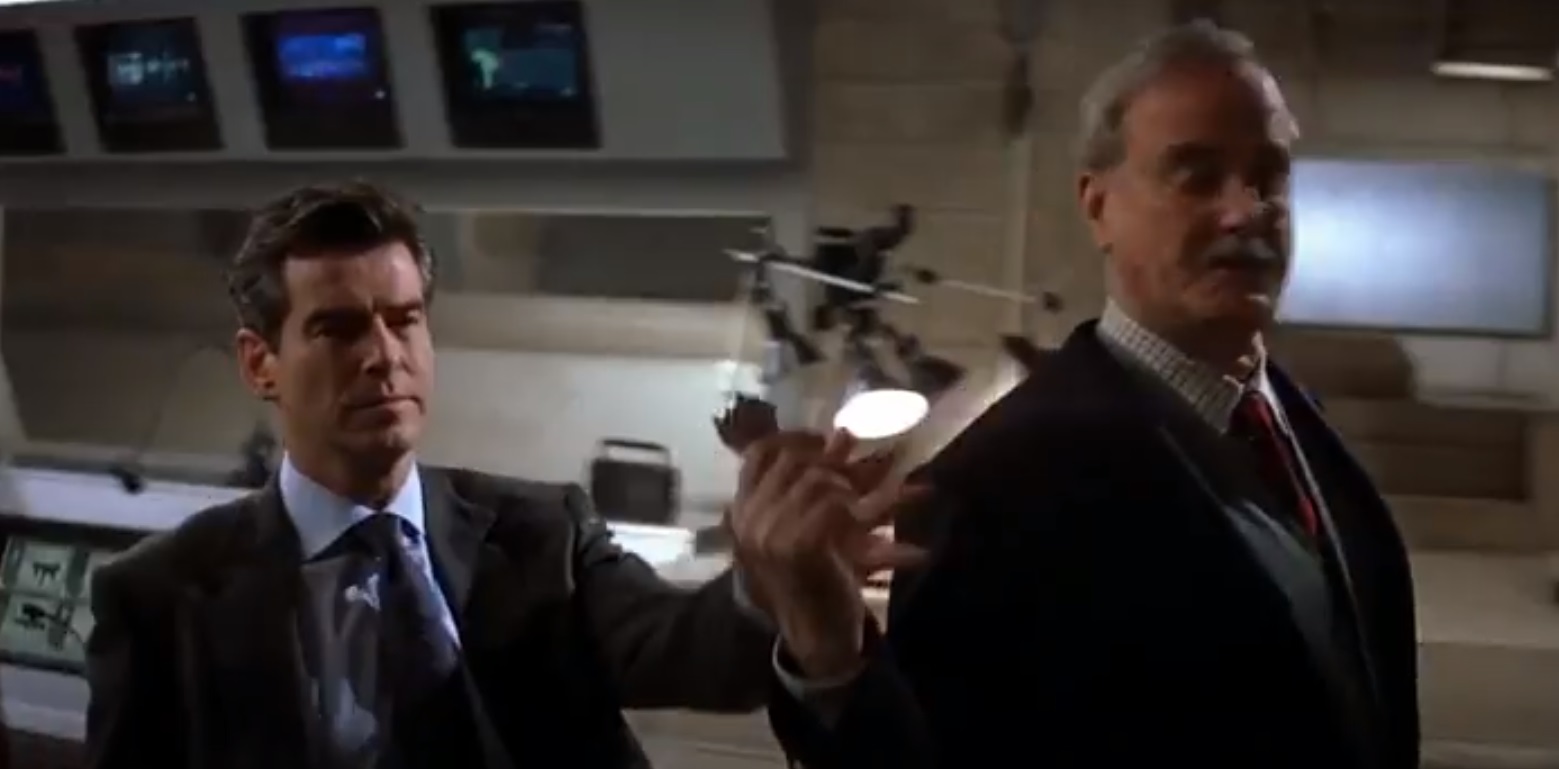 If you have suggestions for a future Pop Culture Easter Eggs, feel free to drop me a line at brian@popculturereferences.com.