What Seinfeld Episode Involved Jerry's Date Having 'Man Hands'?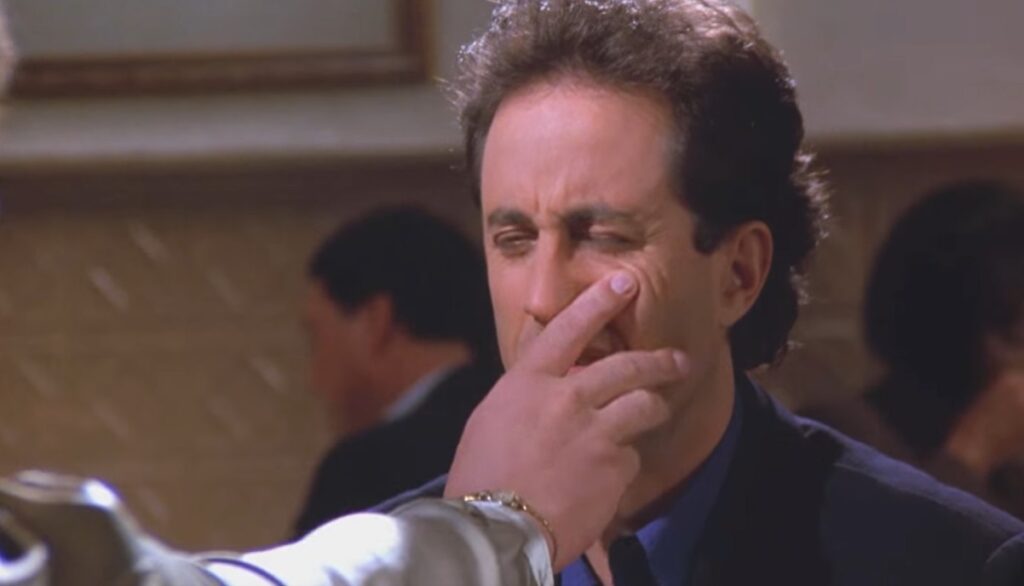 Today, we look at which episode of Seinfeld involved a woman with "man hands."
In Pop Culture Questions Answered, I answer whatever questions you folks might have about movies, TV, music or whatever (feel free to e-mail questions to me at brian@pop culture references.com).
As noted the last time around, the classic TV sitcom, Seinfeld, is now available on Netflix, and so a lot of new fans are checking the episodes out, but at the same time, some of those same new fans want to know which episodes had certain famous plot points in them, especially since the episode names don't match the plot, so reader Dave S. wrote in with three questions about episodes. This time around, he wanted to know which episode had "Man Hands" in it.
That would be Season 8 Episode 3's "The Bizzaro Jerry," written by David Mandel. The main plot of the episode is that Elaine breaks up with her boyfriend, Kevin, but decides to remain friends with him (just like how she remained friends with Jerry after they also broke up) and she is struck by how much NICER Kevin and his friends are than Jerry, George and Kramer. She realizes that Kevin is essentially the "Bizarro" version of Jerry.
Anyhow, one of the subplots of the episode is Jerry dating a woman who has very manly hands (they, of course, used a male stand-in for her hands in her scenes)…
There ya go, Dave! I'll get your last question answered soon!
If anyone else has a pop culture question, drop me a line at brian@popculturereferences.com