What Seinfeld Episode Involved Elaine's Crazy Dancing?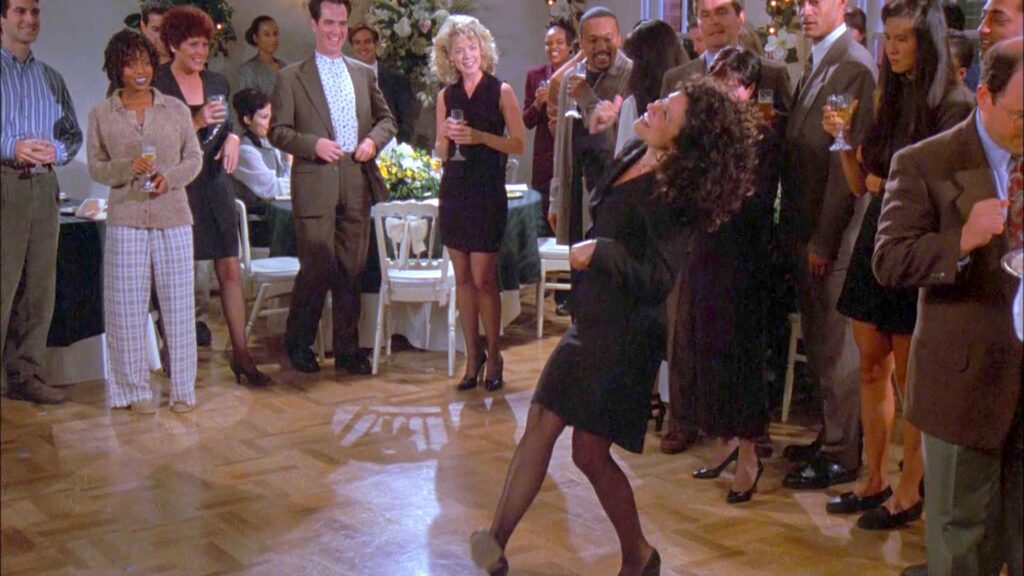 Today, we look at what episode of Seinfeld involves Elaine's embarrassing dance moves.
In Pop Culture Questions Answered, I answer whatever questions you folks might have about movies, TV, music or whatever (feel free to e-mail questions to me at brian@pop culture references.com).
As noted the firt time around, the classic TV sitcom, Seinfeld, is now available on Netflix, and so a lot of new fans are checking the episodes out, but at the same time, some of those same new fans want to know which episodes had certain famous plot points in them, especially since the episode names don't match the plot, so reader Dave S. wrote in with three questions about episodes. This time around, we're tackling his final one of the three requests, which was which episode had Elaine's awkward dancing in it.
That would be Season 8 Episode 4's "The Little Kicks," which, oddly enough, is just one episode after the "Man Hands" episode that I wrote about last time! The episode was written by Spike Feresten.
In the episode, Elaine invites George to a company party where she then embarrasses herself by dancing bizarrely…
The twist is that Elaine assumes that George's presence is what made her persona non grata around her colleagues, so she tells her co-worker that George had been hitting on that she needs to stay away from George (which, of course, then makes the co-worker become interested in George because he is apparently a "bad boy").
Okay, Doug, that's all three!
If anyone else has a pop culture question, drop me a line at brian@popculturereferences.com