When Did Quantum Leap Jump the Shark?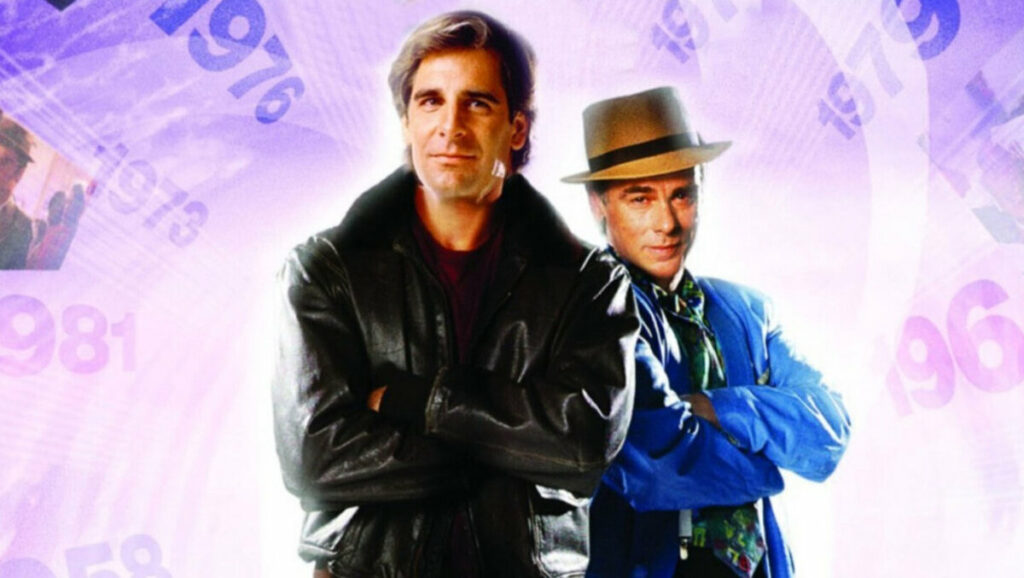 Today, we look at when (or if) you folks believe that Saved By the Bell "jumped the shark."
This is "Just Can't Jump It," a feature where we examine shows and whether they "jumped the shark." Jumped the shark (coined by Jon Hein) means that the show had a specific point in time where, in retrospect, you realize that show was going downhill from there (even if, in some rare occasions, the show later course-corrected). Not every show DOES jump the shark. Some shows just remain good all the way through. And some shows are terrible all the way through. What we're looking for are moments where a show that you otherwise enjoyed hit a point where it took a noticeable nose dive after that time and if so, what moment was that?
Quantum Leap was an acclaimed science fiction series that ran five seasons from 1989-1993 (Season 1 was a midseason replacement, hence the show only lasting four years), about a scientist, Sam Beckett (Scott Bakula) who swaps places with people throughout his lifetime, putting right what once went wrong in those instances (like, in his first leap, he leaps into a test pilot who died in a plane crash, which caused his wife to go into premature labor and lose their daughter. Sam manages to survive his test flight and then get to the hospital in time to prevent the man's wife from going into premature labor). People all see Sam as the person whose life he swapped places with, while the only person who can see Sam as himself (outside of little children and animals) is Al (Dean Stockwell), a Navy Admiral who worked with Sam on the Quantum Leap project and appears to Sam as a hologram who can tell Sam what he needs to make right in any given timeline before he "leaps" to the next life, in the hopes that eventually he will leap back into his own timeline again. It was an excellent, well-written show with outstanding chemistry between the two leads, as their friendship was a ton of fun to watch (Sam was a sort of "Aw shucks" type of guy, with his catchphrase literally being "Oh boy," and Al was a Lothario).
So first…DID IT JUMP THE SHARK? I say no.
WHEN DID IT JUMP THE SHARK Here's the trick with stuff like this. Almost every TV show, even the amazing ones, typically get worse over time. The issue is that the best shows do so gradually (on rare occasions, there's truly no dropoff from start to finish), so the final season is still quite good, even if it is not as good as the show's peak (which is usually around the third season). With jumping the shark, the idea is there is a STEEP dropoff. Shows can even RECOVER from jumping the shark, I think, like Homeland and ER, but that steep drop is still "jumping the shark." Quantum Leap is unusual in the sense that its dropoff in its final season WASN'T gradual, it was abrupt, as show creator Donald Bellisario was doing anything he could to keep the show on the air, which meant lots and lots of gimmicks and the introduction of an EVIL leaper who was trying to put wrong what Sam had put right (after originally going wrong). There was definitely a major quality drop, so this is naturally the time when people would say, "The show jumped the shark." My problem with that, though, is that Season 5 is still good. It's gimmicky as heck, and the Evil Leaper plot was very ill-considered, but the show was still GOOD. So I say that the show never jumped.
Let me know what you think in the comments or on social media!
Feel free to e-mail me at brian@popculturereferences.com for suggestions for shows for us to do in future installments!