Classic 1960s Christmas #2 – Window on Main Street "Christmas Memory"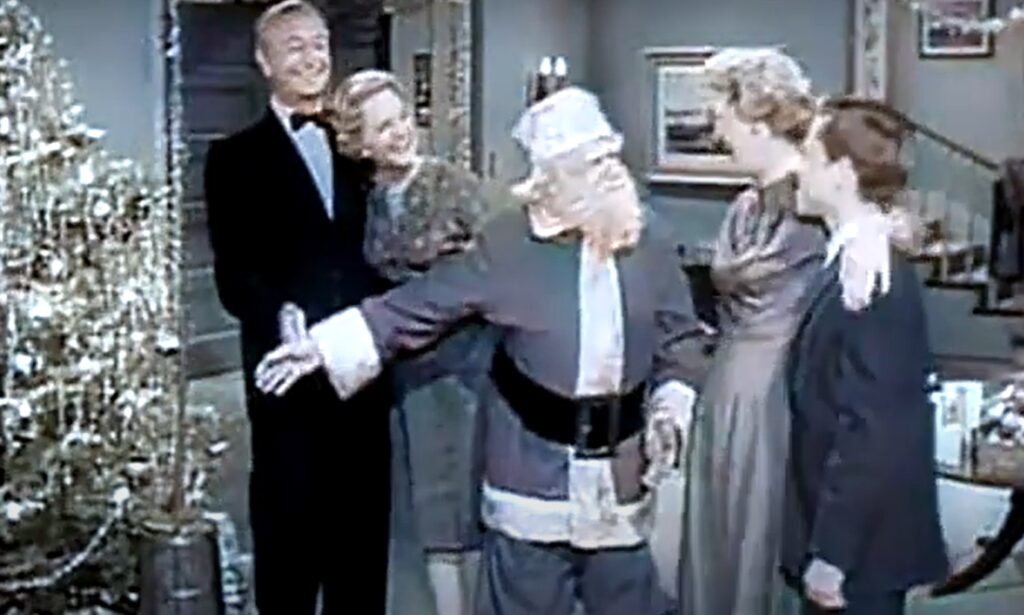 We continue our countdown of Brian's favorite 1960s Christmas TV episodes with 1961's "Christmas Memory" from Window on Main Street.
It's funny, I assure you, I'm not a guy who's heavily into preachy TV shows, but at the same time, I think that there is something about Christmas stories that just sort of lend themselves to that type of story, and as a result, when I did my 1950s Classic Christmas countdown, Robert Young's iconic (and very preachy) Father Knows Best did very well on the countdown, placing TWO episodes in my top five.
The fact of the matter is, whether preachy or not, Roswell Rogers was just a damn fine television writer. His sitcom scripts were fairly impeccable. He hit every note basically perfectly. Both of his Father Knows Best Christmas scripts were excellent, and one of them even had a dream sequence and I normally HATE dream sequences, but it was the platonic ideal of what a dream sequence should be (a dream where you can see a character working through a dilemma in their head through the dream. That's what a lot of sitcom dream sequences TRY to be, but they often fail).
Okay, so Robert Young stopped Father Knows Best in 1960 after just six seasons, with it still being one of the most popular series on TV. RERUNS of the show remained one of the most popular TV series on primetime television after it ended. A year after it went off the air, though, Young decided to return to sitcoms with a new series, working with all of the behind-the-scenes people from Father Knows Best, including Roswell Rogers (director Peter Tewksbury was the lone exception, he had just started his own show at the time).
This new series was called Window on Main Street, and the tone was pure Father Knows Best, but outside of a family setting, thus allowing Rogers to expand the types of stories that he could tell. The concept of the series was that Young played a man named Cameron "Cam" Brooks, who left his small hometown in the 1930s to make it as a writer. He now returns decades later, never having made it as a writer, and suffering from some personal tragedies. He decides to return home to take up a hotel room with a window on Main Street, and he will write a novel about his hometown, with each episode being a chapter in the novel. His old girlfriend, Chris Logan (Constance Moore) is now an assistant to the editor at the local newspaper and she is a widow with a young son (the editor is an old friend of Cam's, as well).
In this Christmas episode, Cam ponders old Christmas memories of his dead wife, and adjusting to Christmas without his wife and young child, who were both lost in a tragic accident. His wife got him an old fashioned butter churn one year, and he couldn't understand why she thought he would like that, and began teasing her about it, but he struck a nerve and she got upset, and he felt guilty. When he saw an old butter churn at Chris' home, where he was about to spend Christmas, he freaked out, and left the party abruptly.
He then ran into the store's department store janitor, who plays Santa Claus every year at the department store. He is despondent, as well, because now that the holidays are over, he feels useless. When he is Santa Claus, he feels proud. Now that he isn't, he's just some janitor. Earlier, Ludwig had made a comment to a little kid about the importance of keeping the Christmas spirit in your hear all year round, and now, Cam reminds him of that same sentiment. He realizes that the same holds true for him. Both he and Ludwig have been so wrapped up in their own self pity that they've missed the Christmas spirit entirely, it's about spending time NOW with people, not wallowing about what you had BEFORE. He takes Ludwig to Chris' house and they all have a fine Christmas, with the immigrant janitor leading them in a rousing rendition of "Oh Tannenbaum."
The chemistry between Cam and Chris was great, although it didn't really make sense why they wouldn't just get together by this point. They're both single, they're both into each other, he's now apparently past his grief holding him back, so what gives?
Here's a colorized version of the episode…
Come see #1 on the countdown tomorrow!