That Time Matlock Defended One of the Doctors on Diagnosis: Murder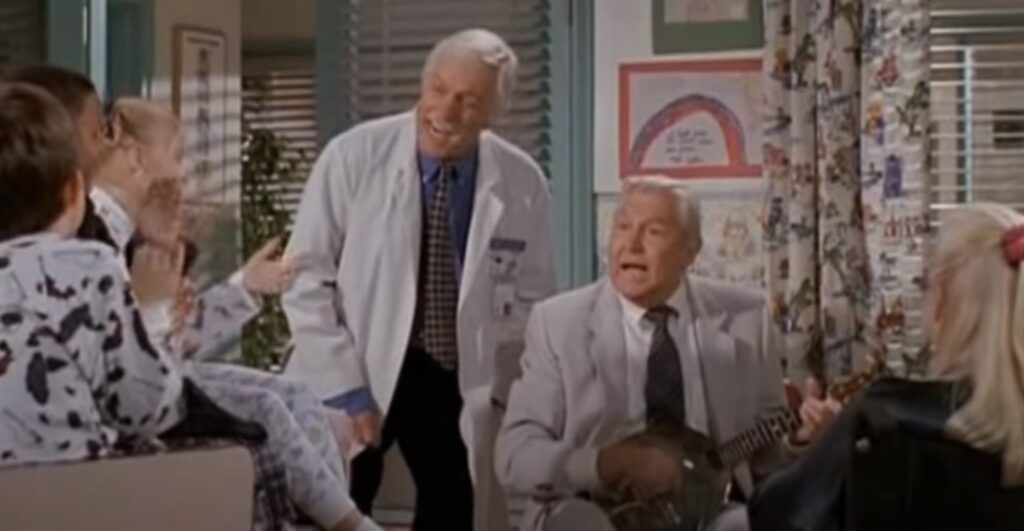 Today, we look at the time that Ben Matlock helped defend one of the doctors on Diagnosis: Murder from murder charges (while also singing to some sick kids).
This is Somewheres in This Universe, a feature examining when characters from TV shows make guest appearances on other TV shows (in non-crossover stories), thus establishing that the two shows share a universe.
November is Someewheres in the Universe month!
Andy Griffith and Dick Van Dyke are two of the rare mega-stars who later had a SECOND hit TV series, with Griffith following up his star turn as Sheriff Andy Taylor on The Andy Griffith Show with the hit 1980s legal drama, Matlock, with Griffith playing renowned defense attorney, Ben Matlock.
Van Dyke, for his part, three decades after his hit sitcom, The Dick Van Dyke Show, then starred in the long-running medical mystery drama, Diagnosis: Murder, as Dr. Mark Sloan, a brilliant doctor who was also really good at solving murders.
In Season 4 of Diagnosis: Murder, Dr. Sloan's protege, Dr. Jesse Travis (Charlie Schlatter, who replaced Scott Baio as Sloan's younger doctor protege on the series after Baio left the show), was accused of murder, and luckily, in 1997's "Murder Two: Part 1 and Part 2," Ben Matlock was hired to defend him on the murder charges and help prove who the REAL murderer was!
Plus, Ben and Mark got to sing for some sick kids in the hospital!
Very cute.
This would be the last time that Griffith ever played Ben Matlock before he passed away in 2012.