That Time Ross and The Single Guy Both Thought Each Other Was Gay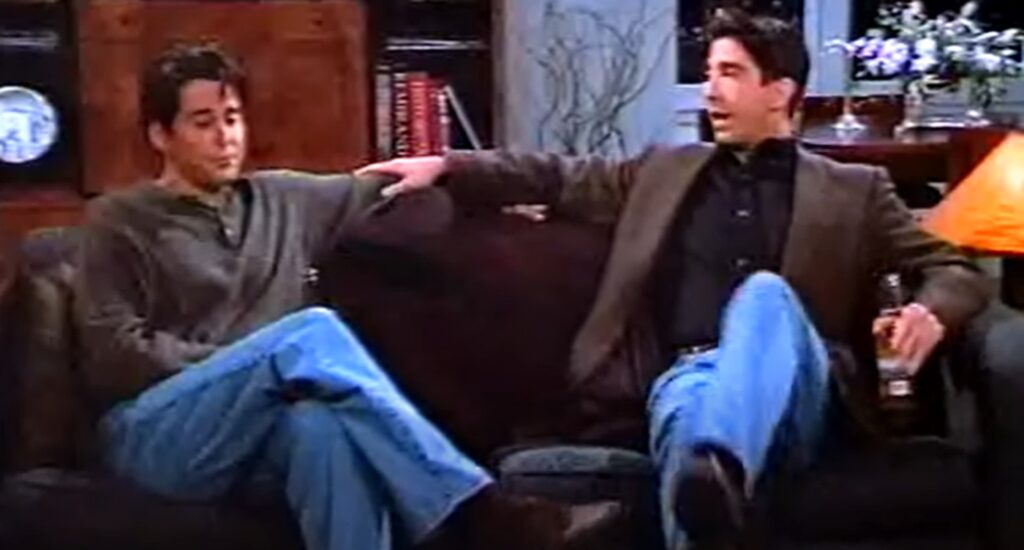 Today, we look at the time that Ross Geller and Jonathan from The Single Guy thought that each other was gay.
This is Somewheres in This Universe, a feature examining when characters from TV shows make guest appearances on other TV shows (in non-crossover stories), thus establishing that the two shows share a universe.
November is Someewheres in the Universe month!
The Single Guy was a sitcom starring Jonathan Silverman that was the first show to get the coveted 8:30 PM time slot between Friends and Seinfeld (in Friends' first season, it aired at 8:30 PM, with Mad About You kicking off NBC's Must See TV Thursday lineup). Silverman played Jonathan Elliot, a writer whose best friends are all settled down and keep trying to set him up next.
Jessica Hecht (who played the wife of Ross Geller's ex-wife on Friends) played one of Jonathan's married friends, and Joey Slotnick played the other (they were married to characters played by Mark Moses and Ming-Na Wen, respectively).
Early in Season 1, in Episode 6's "The Neighbors," Hecht's character, Janeane, has Ross Geller (David Schwimmer) over for dinner, and he and Jonathan hit it off. Jonathan had been given a pair of tickets to see a production of Hamlet that one of his neighbors was appearing in, and he asked Ross to go to the show with him.
Long story short, they both get the mistaken impression that the OTHER guy is gay (in Ross' case, Jonathan is staying at his gay neigbors' apartment after his apartment was flooded, and so when Ross comes by his place to meet up before the show, the apartment is clearly the apartment of a gay person), and neither one wants to be seen as homophobic, so they just try not to make a big deal out of it, but obviously, eventually the truth comes out (they accidentally touched each other's arm on the coach, freaking each other out).
In a cringey coda at the end of the episode, Ross and Jonathan just finished playing tennis with Sam (Slotnick) and Sam keeps fawning over Ross' sweater. Ross asks Jonathan if Sam is gay, and Jonathan says that yes, he is.
Okay, folks, if you have suggestions of times characters made guest appearances on other shows (in NON crossovers), drop me a line at brian@poprefs.com!