That Time That Lucy Loved That Bob on Here's Lucy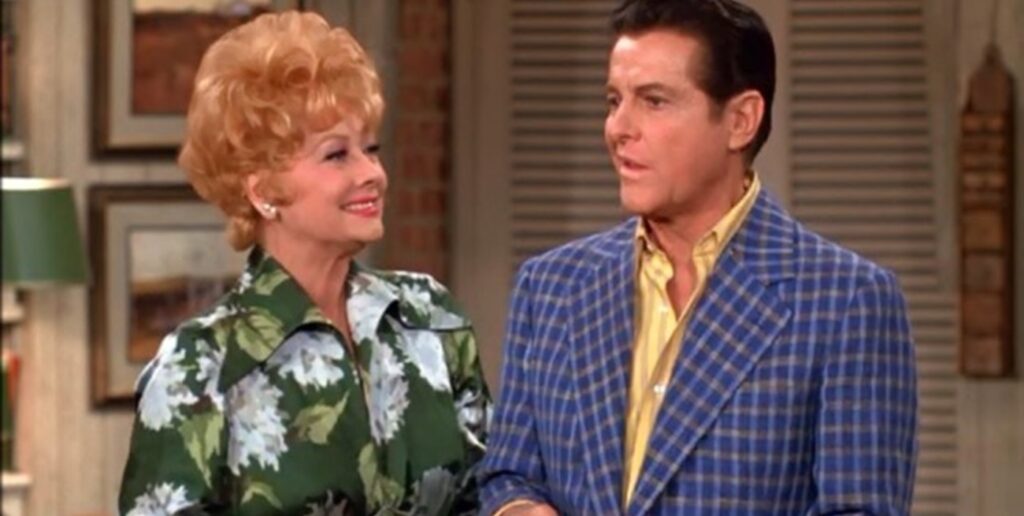 Today, we look at the time that Bob Cummings seemingly brought back his iconic Bob Collins character for a 1972 episode of Here's Lucy
This is Somewheres in This Universe, a feature examining when characters from TV shows make guest appearances on other TV shows (in non-crossover stories), thus establishing that the two shows share a universe.
November is Somewheres in the Universe month!
Desi Arnaz wanted to cut back on his I Love Lucy commitments in 1957, so he worked out a deal where instead of an eighth season of I Love Lucy, the cast would instead launch The Lucy-Desi Comedy Hour, a series of thirteen one hour specials that would air sporadically from 1957-1960 (this was still basically lumped in as the eighth-tenth seasons of I Love Lucy). Lucille Ball and Desi Arnaz would file for divorce literally the day after the final episode was released.
The penultimate episode of the series saw the gang run into Bob Cummings in Japan. Cummings was the star of the popular The Bob Cummings Show (later syndicated as the hilariously titled Love That Bob), where he played Bob Collins, a Hollywood photographer who was quite a ladies man…or at least he WANTED to be a ladies man, the problem was that his lothario ways would always be interrupted by the other people in his life, including his assistant, Schultzy (played by a young Ann B. Davis, who won two Emmys for the role. Cummings also won an Emmy for his leading role), and his nephew, Chuck (played by Dwayne Hickman in a precursor to his own hit series, The Many Loves of Dobie Gillis). In any event, I mention it mainly just to note that Cummings and Ball went way back.
So it was not a surprise to see Cummings show up in an episode of Ball's third sitcom, Here's Lucy, in 1972, as a rare love interest for Ball's widow character on the series, Lucy Carter.
In Season 4's "Lucy's Punctured Romance," Lucy meets Bob Collins, and the two begin dating. However, Lucy's brother-in-law/boss, Harry Carter (Gale Gordon), and her daughter, Kim Carter (Lucie Arnaz), learn that Bob is a playboy, and so they come up with an elaborate scheme to break Lucy and Bob up, including telling Bob that Lucy is an alcoholic with six ex-husbands and having Kim try to seduce Bob to prove he's a sleazeball.
Here's Lucy was set in Los Angeles, which is where Bob Collins lived on The Bob Cummings Show. However, the fact that he played "Bob Collins" didn't NECESSARILY mean that Cummings was playing the same Bob Collins as his TV show. For instance, Bob Collins in this episode is a cosmetics field representative, while he was a fashion photographer back in the 1950s. Of course, over a decade has passed by this point, and those fields are pretty darn similar, ya know? When Bob Cummings appeared later on in Here's Lucy, he played a separate character, Bob Henning (named after Paul Henning, the creator of The Bob Cummings Show, which launched Henning's career in TV. He would become a very successful producer).
However, it is fair to note that Cummings had used the Bob Collins name for one of his earliest hit films, 1945's You Came Along (it couldn't be the same character as the TV show since the Bob Collins in that film was dying), so just in case you want to say that the Bob Collins of this Here's Lucy episode isn't the same Bob Collins as from The Bob Cummings Show, here is a bonus instance of Bob Collins showing up on another TV show (this one is less interesting, which is why I'm spotlighting the Here's Lucy one).
In the Season 7 episode of The George Burns and Gracie Allen Show, "A Marital Mix-Up," Gracie stops by a photography studio to give two models that her son is friends with the makeup they left at the Allen household. The photographer for the session is Bob Collins! Gracie meets the ad representative at the photoshoot, and tries to set her up with the father of the girls.
The George Burns and Gracie Allen Show was produced by the same folks who did The Bob Cummings Show.
Okay, so either way, you got a Bob Collins guest appearance!
Feel free to e-mail me at brian@poprefs.com for suggestions for other good non-crossover guest appearances by TV characters!