The Odd Story Behind Bobby Brady's Emotional Jesse James Episode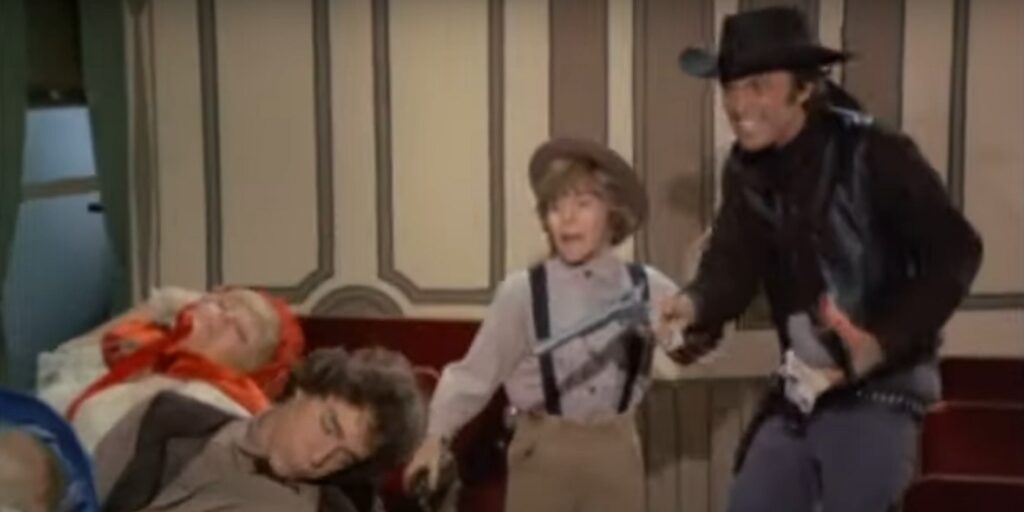 Today, I explain how Mike Lookinland was able to give such a strong reaction to the murder of his family by Jesse James in a nightmare sequence in a Brady Bunch episode.
This is "Pull Back the Curtain," a feature about when TV shows and movies (I guess music could count, too) are affected by behind the scenes maneuvering (often by the stars of the shows/films, but not always).
In the Season 4 Brady Bunch episode, "Bobby's Hero," Bobby Brady (the youngest of the three boys in the family and the second-youngest child in the family period next to Susan Olsen's Cindy Brady) gets into some trouble at school for writing a report about how Jesse James was his hero. The principal of the school calls Bobby's parents to explain that he thinks it is concerning that Bobby thinks a murderer like Jesse James was his hero.
Mike and Carol Brady try to get Bobby to ease up on his love of James, but Bobby thinks they're crazy (there's a weird bit where they decide to let him see a violent movie about James, but the movie has been so heavily edited for television that the film makes James look like a swell guy). Finally, Mike gets a hold of an old man (played by the great old man character, Burt Mustin, whose acting career STARTED when he was 67) who had written a book about Jesse James and whose father had been murdered by James and he talks to Bobby about the reality of Jesse James.
Remember him most from Sex and The Single Girl as the slow driver and his appearance on The Brady Bunch setting Bobby straight that his hero was no hero pic.twitter.com/l9FYY92fTU

— Robert Hoover (@MinyaJr327) August 4, 2020
That night, Bobby has a nightmare where Jesse James murders the entire Brady clan…
It's an oddly intense sequence (Jesse James says "Bang" instead of actually firing a gun because the producers felt it would have freaked the audience of the episode out too much otherwise). Bobby freaks the heck out, and when he wakes up, he tells his parents that he no longer is interested in Jesse James and doesn't want anything to do with guns period.
Lookinland gave an oddly emotional performance in the dream sequence, and as it turns out, producer Lloyd Schwartz took the young actor aside before the scene (which they had intentionally not rehearsed with Lookinland yet) and told him to imagine all sorts of horrible things, like his family being murdered in front of him, and then put him into the scene and got the reaction on the first take. He then took Lookinland off the set and let him decompress following the scene.
It seems to have worked for the scene, but boy, I don't think it makes a whole lot of scene to essentially emotionally torture a 12-year-old just to get a good reaction for a scene on the Brady Bunch.
If you have any other good examples of behind the scenes stuff affecting shows and films, drop me a line at brian@popculturereferences.com (my pal, Kelvin, already sent in a good one I'll be using soon!).