When Did Moonlighting Jump the Shark?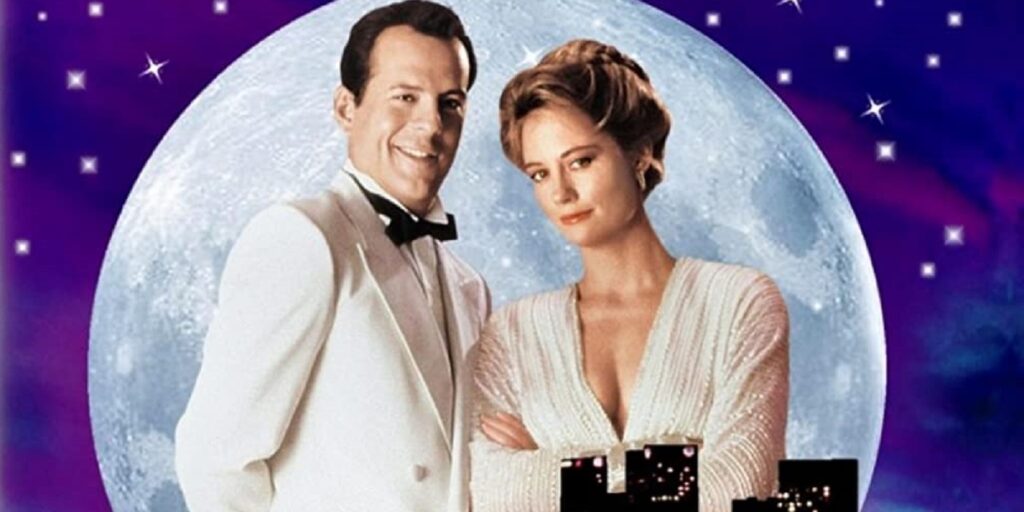 Today, we look at when (or if) you folks believe that Moonlighting "jumped the shark."
This is "Just Can't Jump It," a feature where we examine shows and whether they "jumped the shark." Jumped the shark (coined by Jon Hein) means that the show had a specific point in time where, in retrospect, you realize that show was going downhill from there (even if, in some rare occasions, the show later course-corrected). Not every show DOES jump the shark. Some shows just remain good all the way through. And some shows are terrible all the way through. What we're looking for are moments where a show that you otherwise enjoyed hit a point where it took a noticeable nose dive after that time and if so, what moment was that?
Moonlighting was an acclaimed TV mystery/romance dramady that made one of its leads, Bruce Willis, a star, and kept its other lead, Cybill Shepherd, a star. Shepherd is Maddie Hayes, a former model who has fallen on hard times after her accountant stole all of her liquid assets from her. One of her few remaining assets is a detective agency she purchased among other small businesses as a tax write-off. She now needs the agency to turn a profit, and so she takes control of things, which puts her at odds with the agency's lead detective, David Addison. Hilarity and romance ensued.
So first…DID IT JUMP THE SHARK? Definitely.
WHEN DID IT JUMP THE SHARK Here's one of the great debates in TV history, because historically, people tend to say it is when David and Maddie got together, and that myth has been so powerful that we've now seen DECADES of showrunners pointing to David and Maddie sleeping together as the reason why they won't get together the "Will they or won't they?" characters on their show, and that's such crap. The show didn't fall apart because of Maddie and David getting together, it fell apart because of behind-the-scenes reasons that led to Maddie and David being separated for most of Season 4 (Shepherd was having twins and Willis was filming Die Hard), and when they finally get back together, Maddie spontaneously married another man, ostensibly to add tension to the show, but instead just made it a big ol' "What are you DOING?" situation. Maddie then having a miscarriage of her baby with David at the start of Season 5 was rough, too, but I think the abrupt marriage to another man was the point the show jumped the shark. It got even worse in Season 5, but that's the shark-jumping moment for me.
Let me know what you think in the comments or on social media!
Feel free to e-mail me at brian@popculturereferences.com for suggestions for shows for us to do in future installments!