We Don't Need Authorial Intent to Know Who Red Reddington Was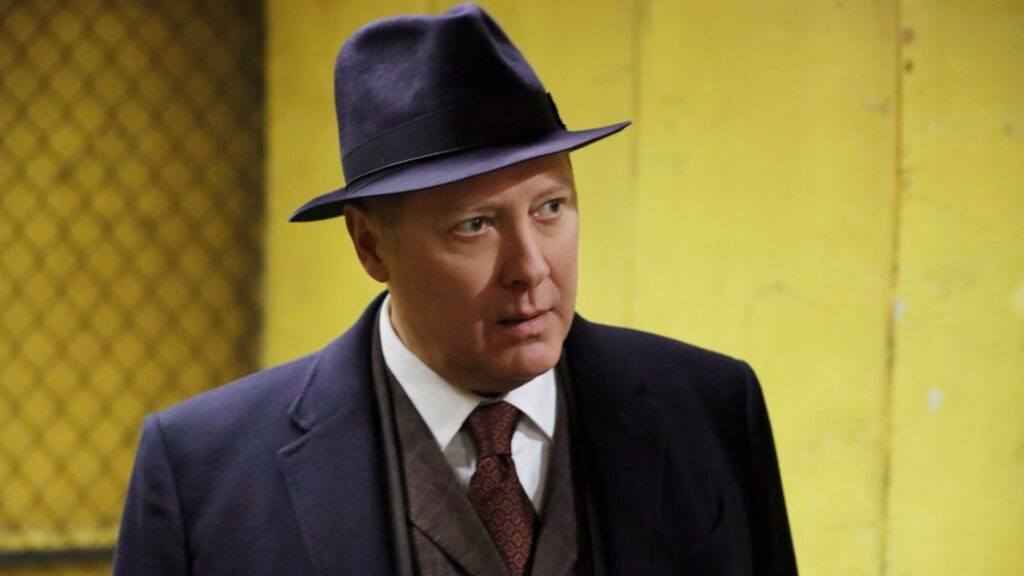 Today, I explain why authorial intent doesn't even need to play into determining the true identity of Red Reddington on the long-running (and recently finished) TV drama, The Blacklist.
Knowledge Waits is a feature where I just share some bit of pop culture history that interests me that doesn't quite fit into the other features.
Spoiler Warning for 10 seasons of The Blacklist!
Recently, I did a post as part of my Cronin Theory of Pop Culture series about authorial intent, namely that while there's nothing WRONG with it, it is not the final word on any subject. The topic came up because of a recent post by Daniel Knauf, a talented TV and comic book writer who was part of the writer's room on The Blacklist early in the series' run. Knauf confirmed that the intent of the writing staff on The Blacklist (specifically chow creator and co-shownrunner Jon Bokenkamp and John Eisendrath, co-showrunner for the first eight seasons, and then solo showrunner in the final two seasons) was that the Red Reddington (James Spader) that we followed on The Blacklist for ten seasons was born Katarina Rostova, the mother of Elizabeth Keen, the FBI agent who was the co-lead on the series with Reddington until her actor, Megan Boone, chose to leave after Season 8.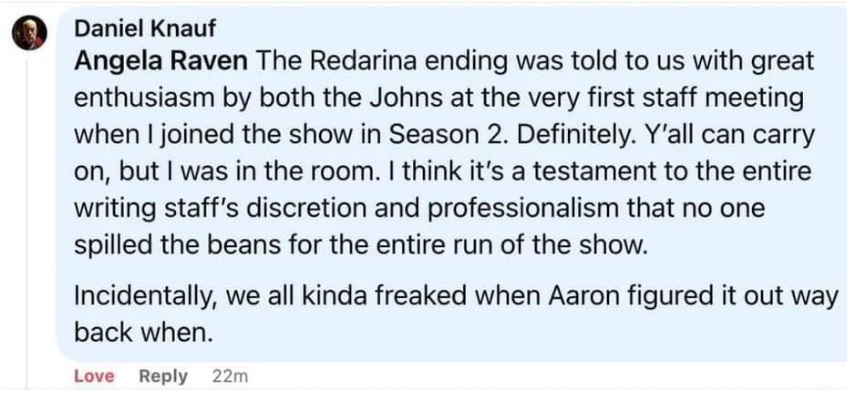 Now, as I noted earlier, Knauf "confirming" it, while interesting, doesn't actually mean anything definitive. It all depends on what was put on the actual "page" (here, I guess "the screen").
However, I mean, come the heck on, folks, they clearly revealed it on the screen, as well, just without ever having Reddington say the literal sentence, "I was born Katarina Rostova." Any reasonable reading of the series tells you the same thing that Knauf said here, that Red was born Katarina Rostova. The arguments for that being the case are overwhelming, while the arguments against it are just some sloppy "drag out the mystery" lines from early in the series. Stacked against each other, it is so absurd to even consider it an actual debate anymore.
For many years, it WAS a legit debate, and believe you me, I think the idea that Katarina Rostova somehow got effectively magic plastic surgery to pass as a man four inches taller than her is obviously silly. The whole idea of it is silly. Not only that, with trans people already having to deal with so much nonsense in this world, having a character "become a man" as a disguise is borderline…if not offensive, it's definitely an ill-considered idea. I hoped for years that it wouldn't be the answer, but, well, come on, people, it's obviously the answer.
The key clues over the course of the series are as follows:
1. Obviously, Liz is the child of the man who calls himself "Red Reddington." There's no doubt about that. The show has made that explicitly clear with far too many examples to list. Even people who still won't concede that Red is Katarina will concede that Red is clearly Liz's parent (and thus, Agnes' grandparent). It's just a question of whether Red is Liz's birth father or birth mother.
2. Katarina Rostova's husband, Constantin Rostov, later takes the name Alexander Kirk. Since Katarina gave birth to Liz (then called Masha) when married to Constantin, he was Liz's legal father, and he believed that she was his biological daughter. In Season 4, that is proven to be untrue. He took multiple DNA tests that showed Liz was not his kid. Red gives himself up to Kirk to protect Liz, and Kirk asks Red if Liz is Red's daughter. Red says yes. Kirk is going to kill Red when Red asks Kirk how he met Katarina. Kirk tells the story, and then Red whispers something into Kirk's ear, and Kirk no longer wants to kill Red, and instead lets Red go. Obviously, Red explained to Kirk that he was actually Katarina. That was the first MAJOR clue.
3. One of the biggest episodes of the series in terms of filling in backstory was Season 4's "Requiem," which showed the life of Kathryn Nemec, the woman known as Mr. Kaplan, who betrayed Red in Season 3 to help Liz fake her death so that she could get away from Red. Red then shot her in the head in response. Kaplan survived, though, and tried to take Reddington down with her vast knowledge of his criminal empire, but also dug up some bones. Those bones were later proven to be the skeleton of the REAL Red Reddington. Kaplan wanted to prove to Liz that she couldn't trust Reddington, as he wasn't even the real Reddington. Before that point, though, we saw a long episode filled with flashbacks to Nemec becoming Kaplan, and we see that she was Liz's nanny as a baby. Kaplan says that she put Liz in Red's arms 30 years earlier, and in the flashbacks, we see that it was Katarina. Kaplan only dealt with Katarina until "Reddington" showed up, and Red tells Kaplan that he is not actually unfamiliar to her, and wants her to be his trusted advisor the same way she was to Katarina. Again, you can poke holes in errant dialogue here or there (like Kaplan referring to Red and Katarina distinctly at times), but this is blatant stuff here.
4. Dominic Wilkinson, the father of Katarina Rostova, and Red have clearly had dialogue throughout the series that only makes sense if Red is Katarina. At one point, they even had Dom imagine Red WAS Katarina when talking to a memory of her, where he tells her that she is N-13 (an intelligence asset who we learn Reddington is) AND that Reddington is N-13. There was only one N-13. Again, this stuff was as explicit as you can get.
5. Season 6's "Rassvet" has Dominic explain to Liz precisely what happened to create the man we now know as Red Reddington. First, Katarina did not die (as had been hinted at earlier in the series), but instead Dom explains how Katarina had put a lot of money into accounts for Red Reddington to try to frame the Naval officer as a traitor. She then changed her mind, since Red was the father of her daughter, but her people killed him anyways (and framed him as a traitor), and Katarina was now on the run. In that episode, Dom says that Katarina's longtime friend, Ilya Koslov, agreed to receive magic plastic surgery (one thing you have to remember is that in the world of The Blacklist, there's lots of stupid science fiction stuff. Liz, for instance, had her memories literally erased TWICE on the show. So magic plastic surgery is both stupid, but within the boundaries of this ofttimes silly show), to become Reddington so that he could access the accounts, and that that money (and the intelligence from N-13) were used to form the criminal empire of Red Reddington, built to help protect Liz by making sure Reddington was powerful enough to always keep her safe. Okay, but then we later meet present day Ilya Koslov and, well, obviously, he did not become Reddington. So someone else had to, and, well, once more, come on, people!
6. Season 8's "Nachalo" is the episode that came the closest to OUTRIGHT telling us without specifically having Reddington say "I am Katarina Rostova." It opens with Red telling the story of Katarina, but as he begins to talk, his voice changes to Katarina, who becomes the narrator. He opens with, "To understand why I came into your life…" and then there is overlap with Red and Katarina talking, and it ends with her now speaking, "…you need to hear my story." That whole episode was essentially "Red is Katarina!" without actually saying it. It got so detailed with various little things that I'm not even going to bother to list them all, but there are a lot.
7. Neville Townsend blamed Katarina Rostova for the death of his family, and he then blamed Red, but Red explained that he was right the first time. Townsend then wanted to kill Liz in front of Red, to make Red feel what Townsend felt (come onnnnn, people!)
8. Finally, Red gives Liz a letter from her mother that she is only to read AFTER she kills Red (it was part of a plan to protect her by having her take over Red's criminal empire. To do so, she would have to murder Red in front of witnesses, so that people would believe she took over his empire in a coup). However, she seemingly is murdered before she reads it. In Season 9, though, we learn that Liz read it BEFORE she died (which amusingly really drove Red nuts), and she even told the details of the letter to her daughter, Agnes, who knows that Red is from Russia. One of the things people have clung to are Red's various stories over the years about his life growing up in the Midwest, but those stories are obviously all BS, as he is not from America, he is from Russia, which Agnes confirms, and which fits tightly with the Katarina stuff.
The main defenses against Red being Katarina are various inconsistent statements over the years, especially early on, like Diane Fowler referencing that she knows what happened to Red's family and Red being interested in that (it doesn't make sense if Red is Katarina, but it also doesn't make sense if Red is somehow the "real" Reddington, which is really the only other possible argument left for people who say that Reddington isn't Katarina). And I'll certainly admit, there are a number of weird lines like that one that don't quite fit. But when everything else is overwhelmingly saying X for ten seasons, having a handful of minor things saying Y here and there just can't reasonably be used to disprove the mountain of evidence that Red is Katarina. Ultimately, the objections to Red as Katarina end up a bit like gish gollop, lots of little minor inconsistencies thrown together as if it means a lot, while the Red as Katarina confirmation stuff are all major plot points that have whole episodes devoted to them. Like gish gallop, you're wasting your time trying to come up with explanations for all of the minor inconsistencies. You have to just concede that the writers screwed up. If you want to try to No-Prize them away, go for it, but I don't think it's particularly worth it.
The only reasonable reading of The Blacklist is that Red Reddington was once Katarina Rostova, even though the idea is pretty silly. That it is also the intent of the show's writers is interesting information to have, but not dispositive – what we saw on the screen for ten season, though, was.
If anyone has any pop culture bit that you'd like me to discuss, drop me a line at brian@poprefs.com