Carnage Just Happens to Attack the Specific Night Club Mary Jane Is At…Because of Course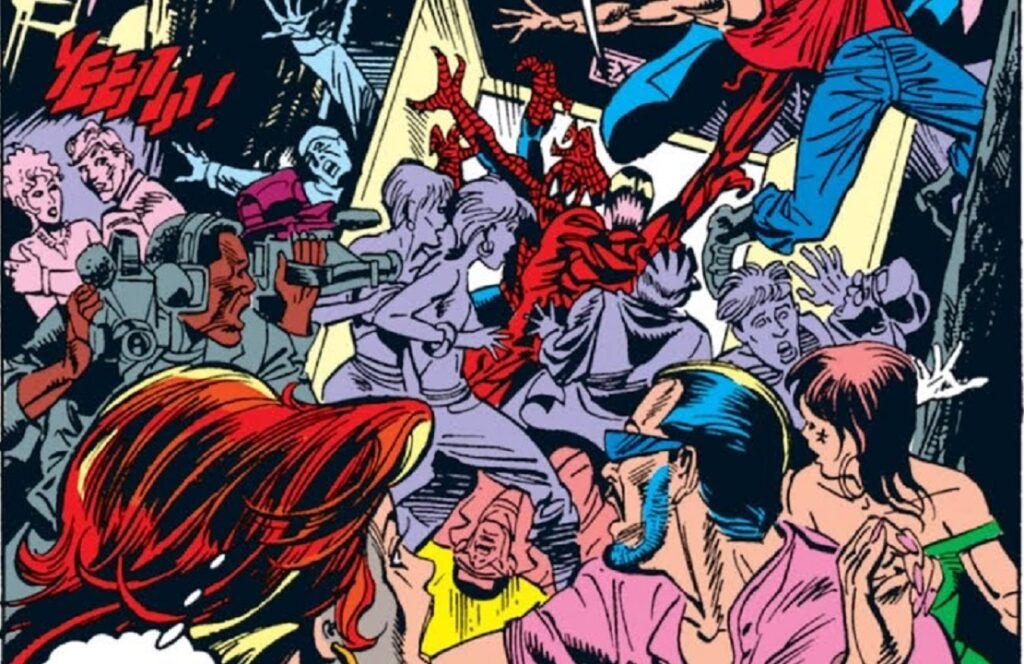 Today, I continue our reader discussion of the Maximum Carnage comic book crossover.
This is "We Better Talk This Over," a feature where I discuss a comic book series with other people. Back in 2020, I started doing twice-weekly reader chats about notable comic book crossovers, storylines or miniseries. Click here to see the CBR coverage of the chats about Secret Wars, Knightfall and the first five chapters of Maximum Carnage.
When last we checked in, we were discussing the start of Web of Spider-Man #102, "Sinking Fast," Maximum Carnage Part 6, by Terry Kavanagh, Alex Saviuk and Don Hudson, with letters by Steve Dutro and colors by Jim Hoston. Danny Fingeroth edits, with Rob Tokar as his assistant and how Morbius was now involved in the crossover.
We now head to a night club where Mary Jane is blowing off some steam. I wonder if it'll be attacked by Carnage?
Brian Cronin How terrible is Saviuk and Hudson's drawing of Peter in pain?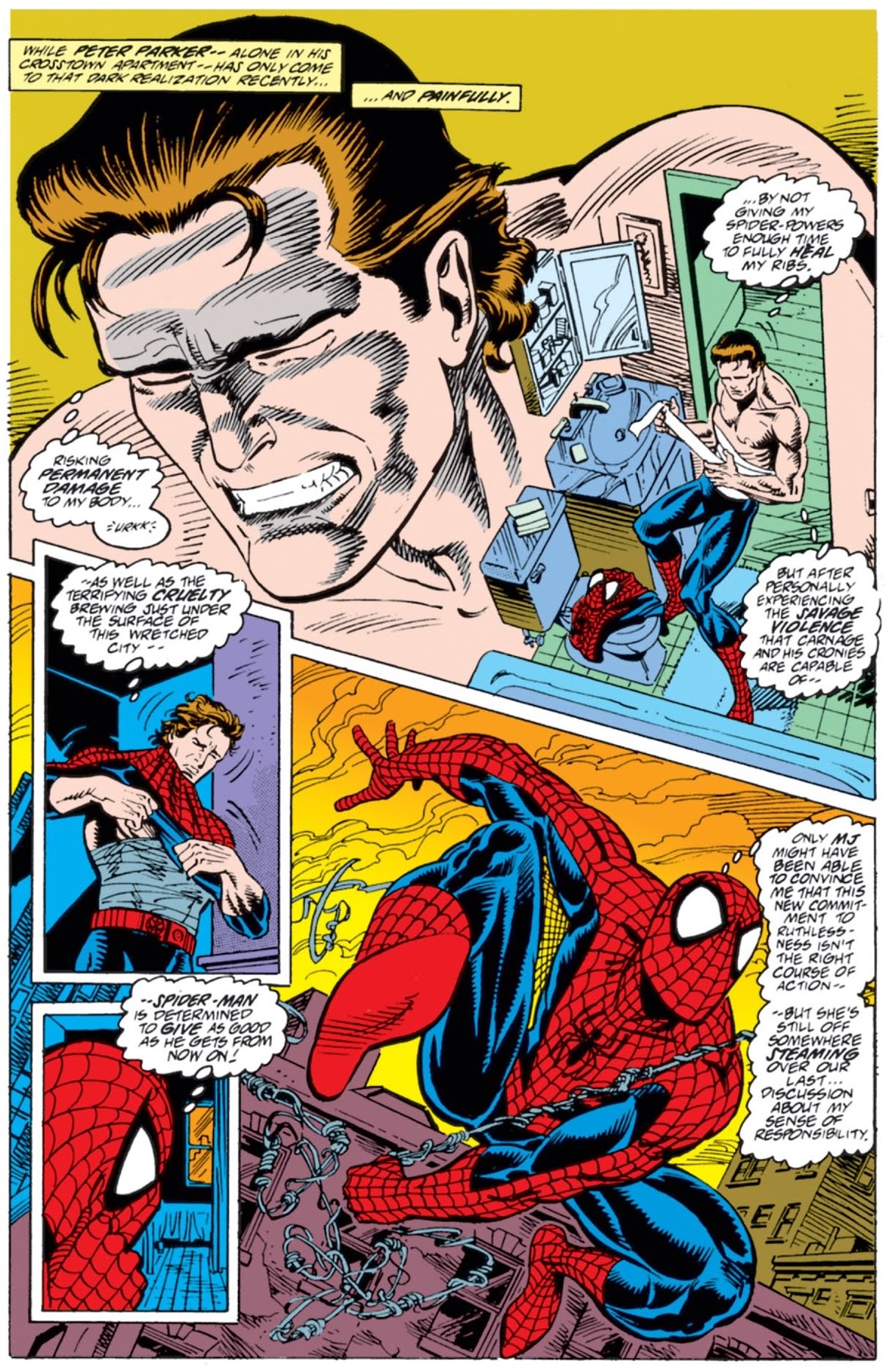 Brian Cronin We now see pretty much the first and ONLY reference to Spider-Man's new "NO MERCY!" position.
Tom A. Yeah, I expected more after last issue ended with that splash page.
Brian Cronin "After seeing how bad humanity is, I'm now going to give as good as I get." Should you not have ALREADY been doing that against a homicidal maniac, Spider-Man?
Sean Whitmore Weird choice to put the "I'm a badass!" exposition on the same page as the "Owie, my rubs hurt!" scene
Flavio Sette Yeah, later on Peter gets pretty wishy washy and he's no longer "I won't hold back anymore" and more "Okay, I'll fight dirty, but I don't have to like it".
Flavio Sette "Wretched city". Heh, Pete's sounding more and more like his dad.
Brian Cronin "Only MJ would keep me from this new commitment to ruthlessness." What are you yammering on about, Spidey?
Sean Whitmore It's a dreadful scene. Like Peter keeps MJ around only to talk him out of going apeshit every other night
Flavio Sette Speaking of MJ…
Tom A. Next scene isn't much better.
Brian Cronin Yep, it's all really bad. This is not a good comic book. I don't even blame the writers, as this has been uniformly bad so far.
Flavio Sette
It being the '90s, MJ is almost certainly rolling, right? I'm thinking she had at least half a Molly. Break out the glow sticks, MJ's high as a kite.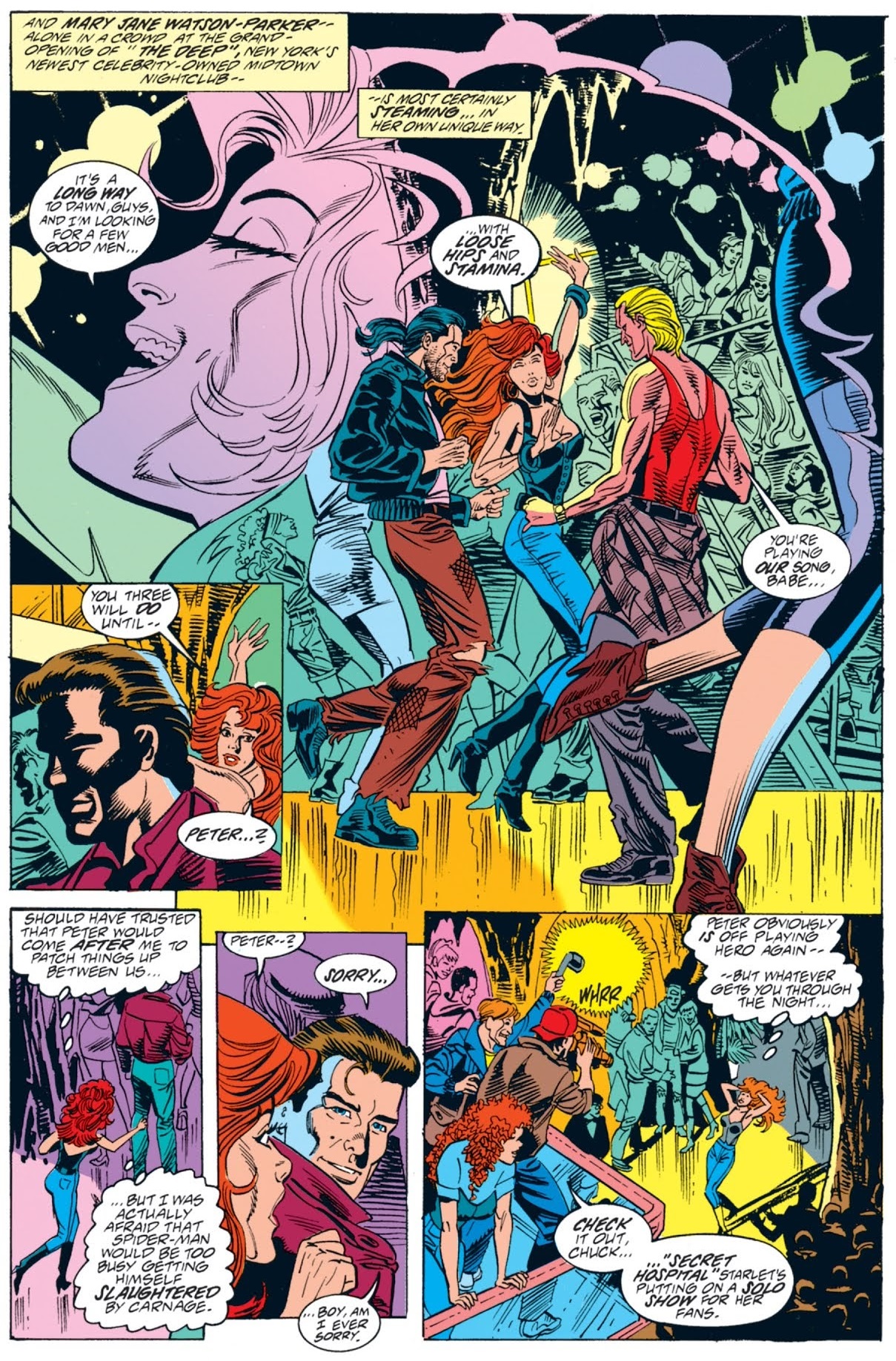 Sean Whitmore And in his new "No mercy" mode, Spidey spends more time rescuing people this issue than fighting
Brian Cronin I'm glad to know that there's another person out there with Peter's bizarre fashion style. Tight jeans and a bomber jacket at the club. High waist line tight jeans
Flavio Sette He looks like he tucked the jacket into his pants.
Brian Cronin It does, Flavio. That's a very Peter thing to do, actually, dress like his jacket is tucked into his jeans. That's how high Peter's jeans normally are. Since superhero comic book artists seem only able to draw spandex
Tom A. Not sure why the paparazzi folks assume that MJ is putting a "solo show" for her fans. I doubt soap opera fans even go to places like this.
Sean Whitmore I guess I should feel fortunate my trade couldn't cut out these MJ scenes
Sean Whitmore Actually, was "The Deep" in the previous issue?
Flavio Sette Yep.
Tom A. The "media heroes" line to force in the "where there are heroes there are always villains" feels really forced.
Flavio Sette Wait a second. The Deep has a bunch of stalactites. According to the narration, it's celebrity-owned. Holy crap, does Bruce Wayne own this nightclub? I'm betting Bruce invited MJ to this club so he can try and get her to run away with him like he did right before her and Peter's wedding…
Brian Cronin That's my new head canon, Flavio.
Sean Whitmore Now for the distraction of seeing Demogoblin's arms colored like sleeves
Tom A. The colorist got a lot of things wrong.
Tom A. Black Cat's gloves were colored like skin at one point.
Brian Cronin And poorly colored. They got the half assed coloring teams How in the world does each book have its own colorists? It makes no sense. They each have their own colorists, and the quality of work is widely different from book to book.
Flavio Sette I kinda dig Saviuk's take on MJ. He sticks a little closer to the classic MJ look, and yet manages to keep some bits from her modern design.
Brian Cronin I do agree, Flavio, that I think Saviuk's design for MJ is good.
Flavio Sette How does Team Carnage just so happen to attack the nightclub MJ is in? I swear to god, she's a magnet for trouble. Can MJ even get out of the house without almost getting murdered?
Tom A. Nope, MJ suffers from Lois Lane syndrome.
Sean Whitmore Black Cat now wanting to stop hunting for Carnage and help people on the street, because the writers from issue to issue apparently had a court order to keep them from talking to one another.
Brian Cronin It's crazy that we're six chapters in. And Carnage still doesn't speak consistently.
Flavio Sette Yep.
Sean Whitmore Or Venom, for that matter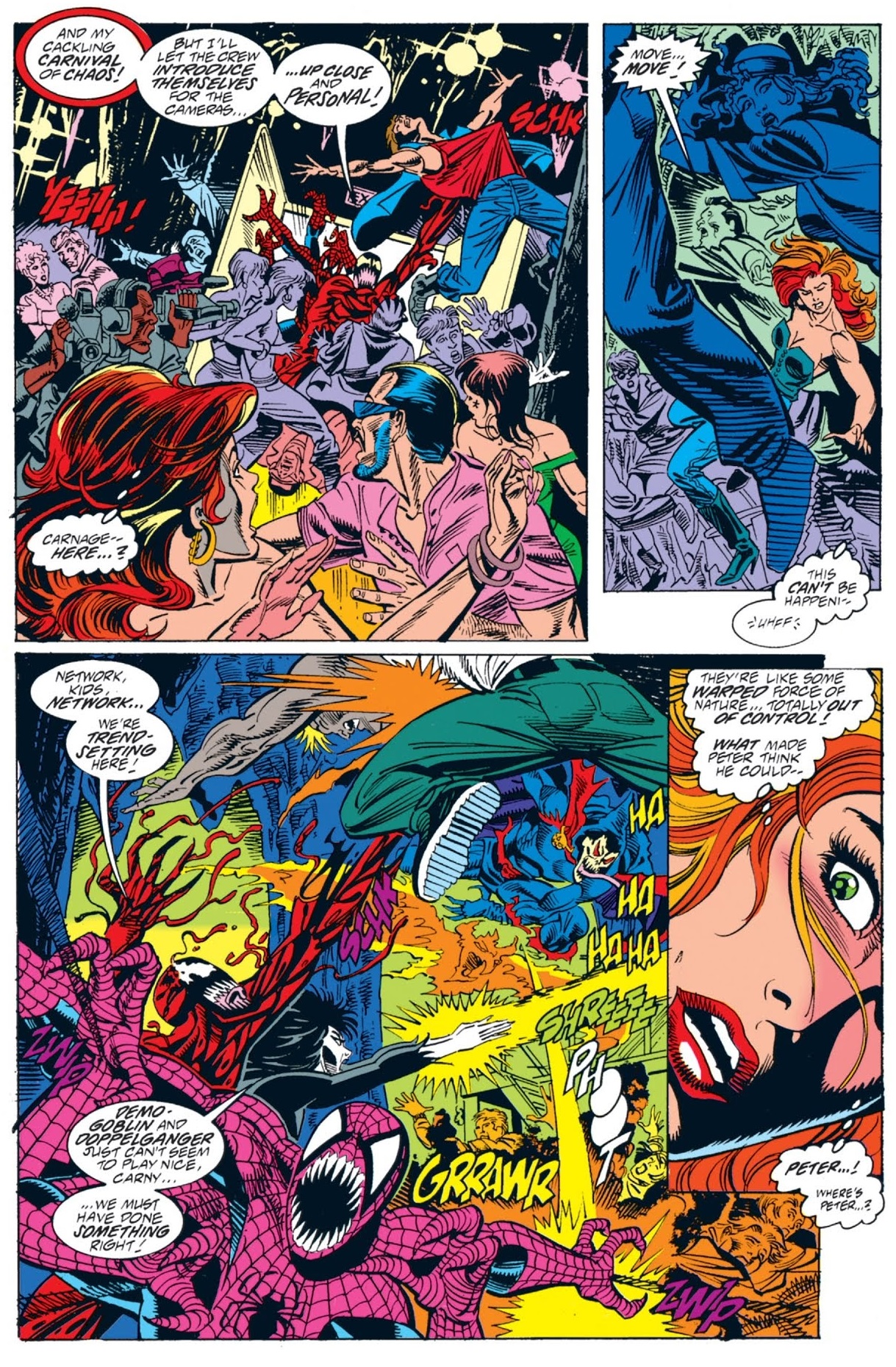 Brian Cronin How is THAT not consistent? How is "How the main villain talks" not something they explained to everyone?
Flavio Sette "Your pathetic arrogance, fools… will be your very downfall!" That's how Carnage talks, sure.
Sean Whitmore I mean, I remember the comic around this story, and I'd go so far as to suggest maybe Kavanagh was just not that great period.
Flavio Sette I liked Kavanaugh's X-Man run. That's pretty much where I know him from, that and Spider-Man.
Sean Whitmore Though he's capable of better than this, a lot of the weird dialogue and personality tics shined through in other work
Brian Cronin He's definitely a lot better than this. All of the writers on this crossover were.
Tom A. Did Venom really have to lick MJ's face? Ew.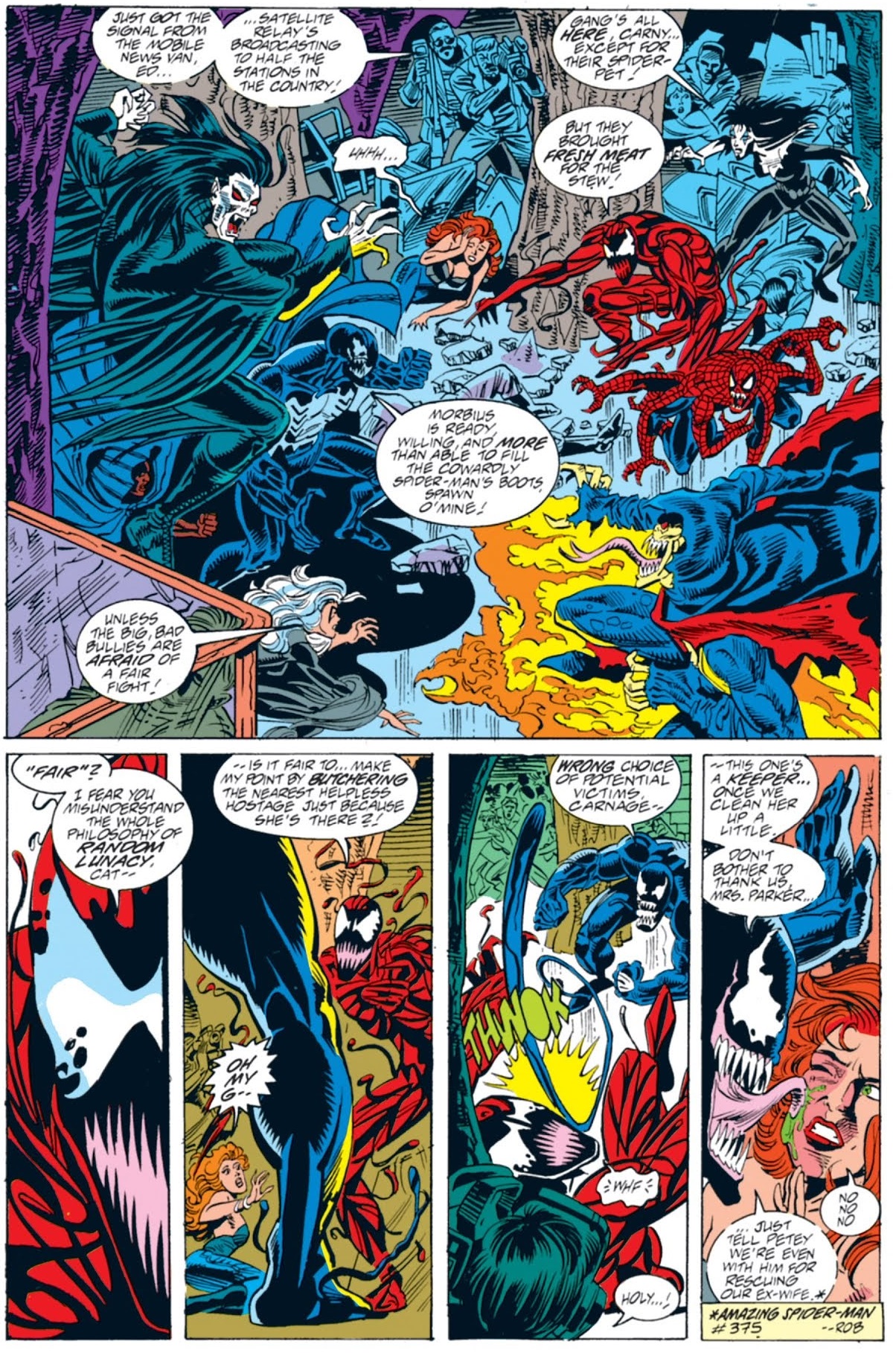 Flavio Sette And Peter's apparently okay with working with the guy who did that to his wife. Yikes.
Sean Whitmore Everyone do a shot whenever someone starts a quippy sentence and someone else finishes it. Do two shots when it's someone who shouldn't be quipping in the first place.
Brian Cronin She once again is oddly cool with Venom now all of a sudden
Flavio Sette She does mutter "no no no" to herself. She seems practically paralyzed with fear.
Brian Cronin Well, he's LICKING her, ya know?
Flavio Sette Yeah, exactly.
Tom A. "The Times Square video bulletin" is such an odd trope. Like, why the hell would they be broacasting a live nightclub massacre there?
Flavio Sette I mean, can we agree that those two panels of Spider-Man in Carnage's mouth and then the reveal that it's just a jumbotron are freaking amazing. Kudos to Saviuk for the great idea (I assume it was his idea, anyway) and the great execution.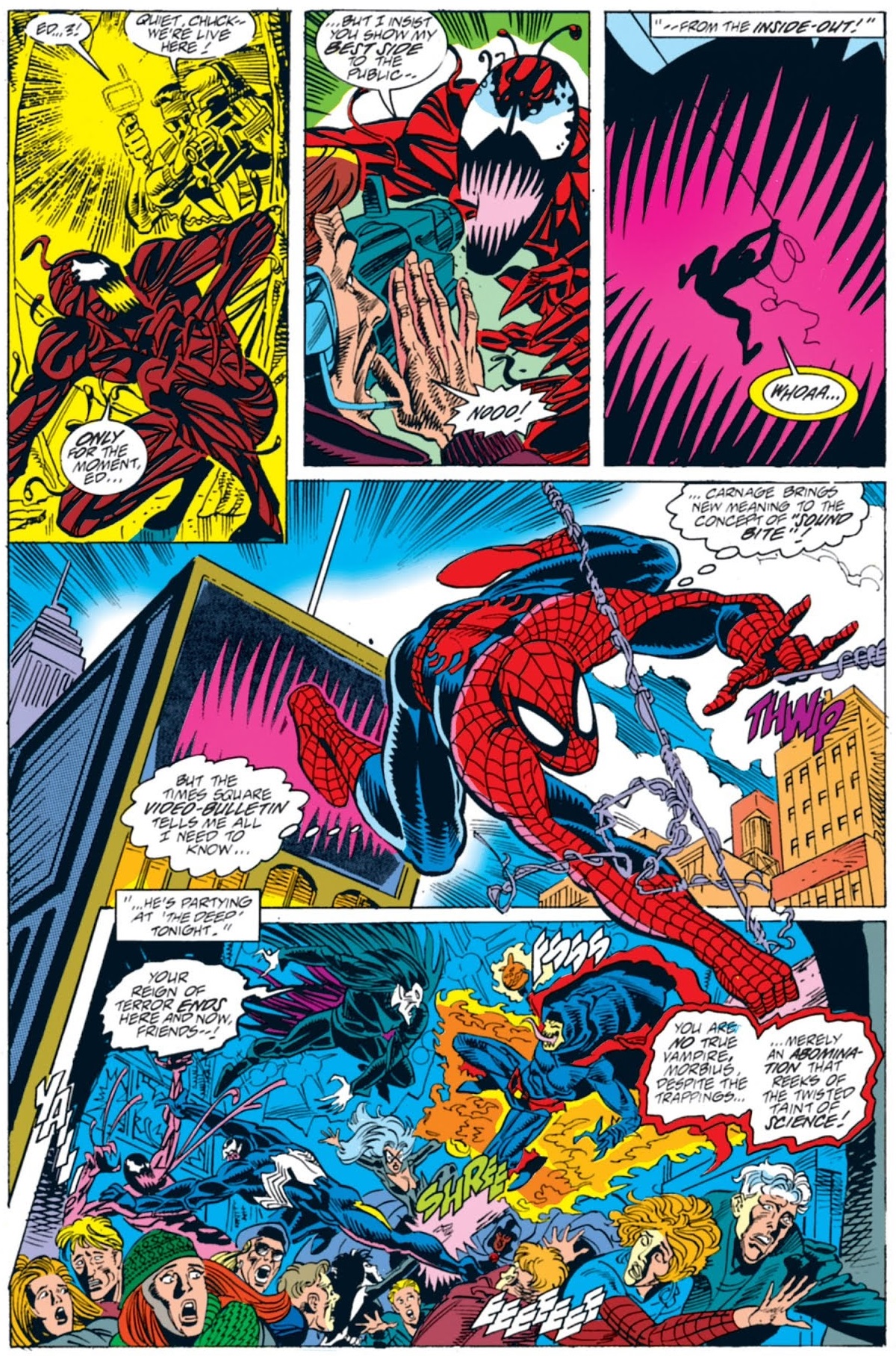 Brian Cronin Yeah, that worked really well.
Brian Cronin I assume the Deep is a new club? And its opening was being covered by the media?
Flavio Sette Yeah, it's mentioned it just opened. "The grand opening of the Deep"
Brian Cronin So that tracks.
Brian Cronin Honestly, the bare bones plot stuff is fine by Kavanagh. It's the dialogue and the captions that don't work as well.
Flavio Sette The plot's definitely way better than the dialogue.
Okay, that finishes up this installment. When we check back in, everybody makes like the Kool-Aid man and bursts through walls for the heck of it!