The Mansion Assault in Beverly Hills Cop is Insanely Stupid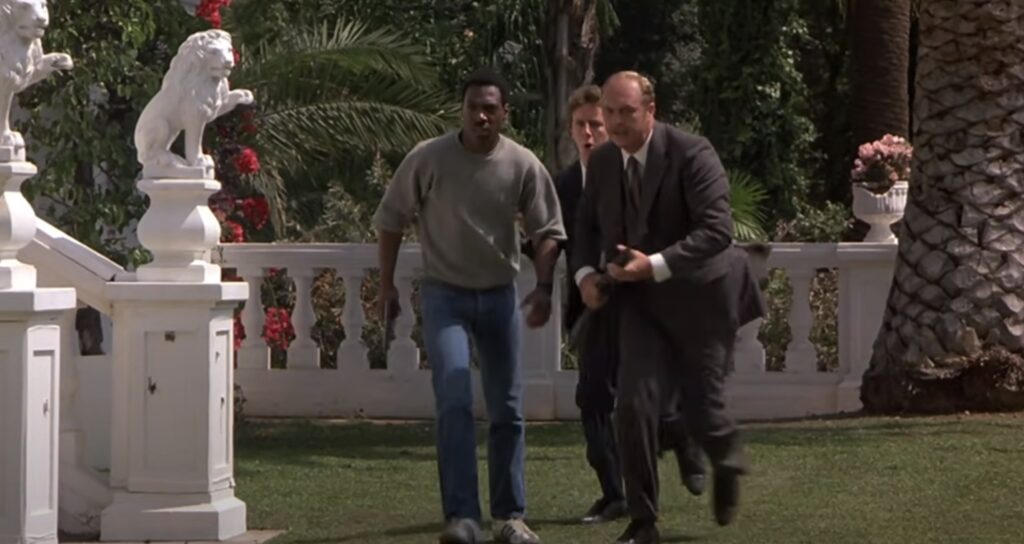 Today, I marvel at just how awful the assault on Victor Maitland's mansion in Beverly Hills Cop was.
This is "How Can I Explain?", which is a feature spotlighting inexplicable plots.
In Beverly Hills Cop, the big bad in the film is Victor Maitland, a rich art dealer who is also smuggles drugs and all sorts of other stuff. When Axel Foley's childhood friend, Mikey, steals some bearer bonds from Maitland while working as a security guard, Maitland sends his goons to Detroit to murder Mikey and get the bonds back. Axel then travels to Beverly Hills to avenge his friend's death. He meets up with another one of his childhood friends, Katie, who runs one of Maitland's art galleries (she was the one who got Mikey his job).
By the end of the movie, Axel is finally able to prove Maitland's guilt, but that's not before Maitland has kidnapped Katie and plans to kill her. Axel doesn't have time to let the cops try to bring in Maitland, so he travels to Maitland's palatial estate with his Beverly Hills cop friends, Sergeant John Taggart and Detective Billy Rosewood (Taggart and Rosewood were initially adversaries, but Axel proved himself to them).
So they storm the estate and man…look, I'll give BIG allowances for 1980s action movie shootout scenes, like how machine gun fire never seems to hit the heroes (or moreover, how machine gun fire is always aimed BEHIND the heroes, allowing them to run ahead of it, rather than fired ahead of the hero, giving them nowhere to run to). That's just normal movie stuff. What's NOT normal movie stuff is just how stupid Axel, Taggart and Rosewood are in this assault. They walk into a number of just bizarrely obvious traps and even after they are shot at from the sky, they later walk around, NOT EVEN LOOKING UP!!!
Look at Rosewood and Taggert here. They had JUST been shot at from above, but they're not even looking up!!!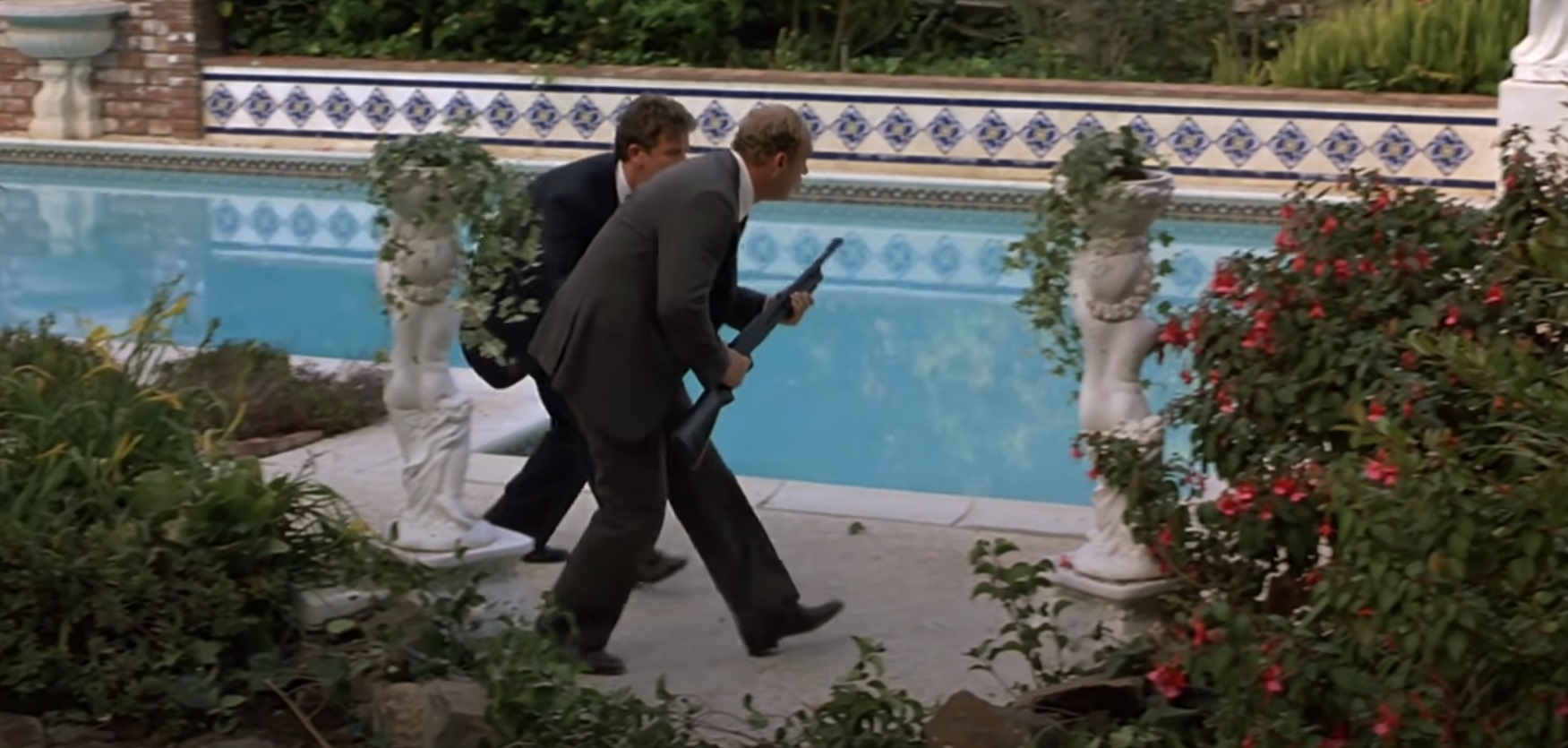 Multiple times they are saved only by the bad guys being insanely terrible shots. It's just such an inexplicably poorly planned assault.
Later, Axel kills Maitland's chief goon (played by a young…er Jonathan Banks, way before Breaking Bad) and then Axel, despite his police training, just stands there admiring his kill before Maitland shoots him from behind (luckily just a flesh wound, of course).
Here's the mansion assault…
Just too silly.
If anyone else can think of a good inexplicable plot, write me at brian@popculturereferences.com!