Maximum Carnage Continues as Morbius Joins Team Venom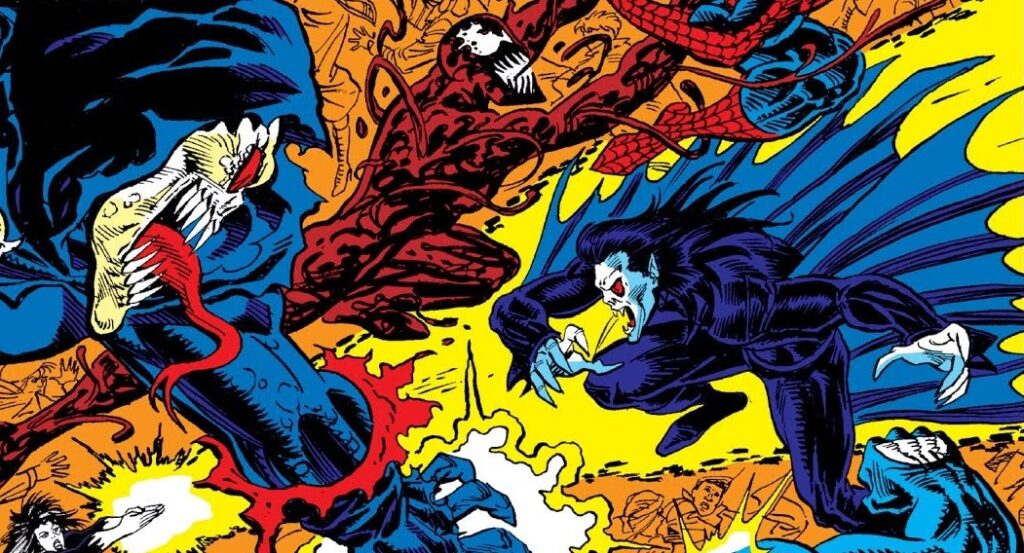 Today, in honor of the first anniversary of Pop Culture References, I bring a feature over from CBR, a discussion of Maximum Carnage!
This is "We Better Talk This Over," a feature where I discuss a comic book series with other people. Back in 2020, I started doing twice-weekly reader chats about notable comic book crossovers, storylines or miniseries. Click here to see the CBR coverage of the chats about Secret Wars, Knightfall and the first five chapters of Maximum Carnage.
Last year, CBR decided they didn't want me to post the chat transcripts anymore. When I started Pop Culture References, I didn't want to really do much comic book content, since I do so much at CBR.com, but now that I'm a year in, I figure I can pepper in some stuff when it comes to topics that CBR specifically told me that they didn't want (I checked last week to make sure they didn't want them anymore. Their main issue is that they're not really features and they're not really interviews, so they don't quite fit at the site), so I thought it would be fun to post them here, as I know a lot of folks wanted to see these discussions continue (and to everyone else, well, hope you like it, and if you don't, then feel free to skip these posts).
When last we discussed Maximum Carnage, Spider-Man vowed that he was no longer going to follow the rules of society and would do whatever it took to stop Carnage. Let's see how that goes in Web of Spider-Man #102, "Sinking Fast," Maximum Carnage Part 6, by Terry Kavanagh, Alex Saviuk and Don Hudson, with letters by Steve Dutro and colors by Jim Hoston. Danny Fingeroth edits, with Rob Tokar as his assistant.
Brian Cronin: "Sinking fast" sounds like the quality of this crossover.
Flavio Sette: Heh.
Tom A.: And the quality of this cover.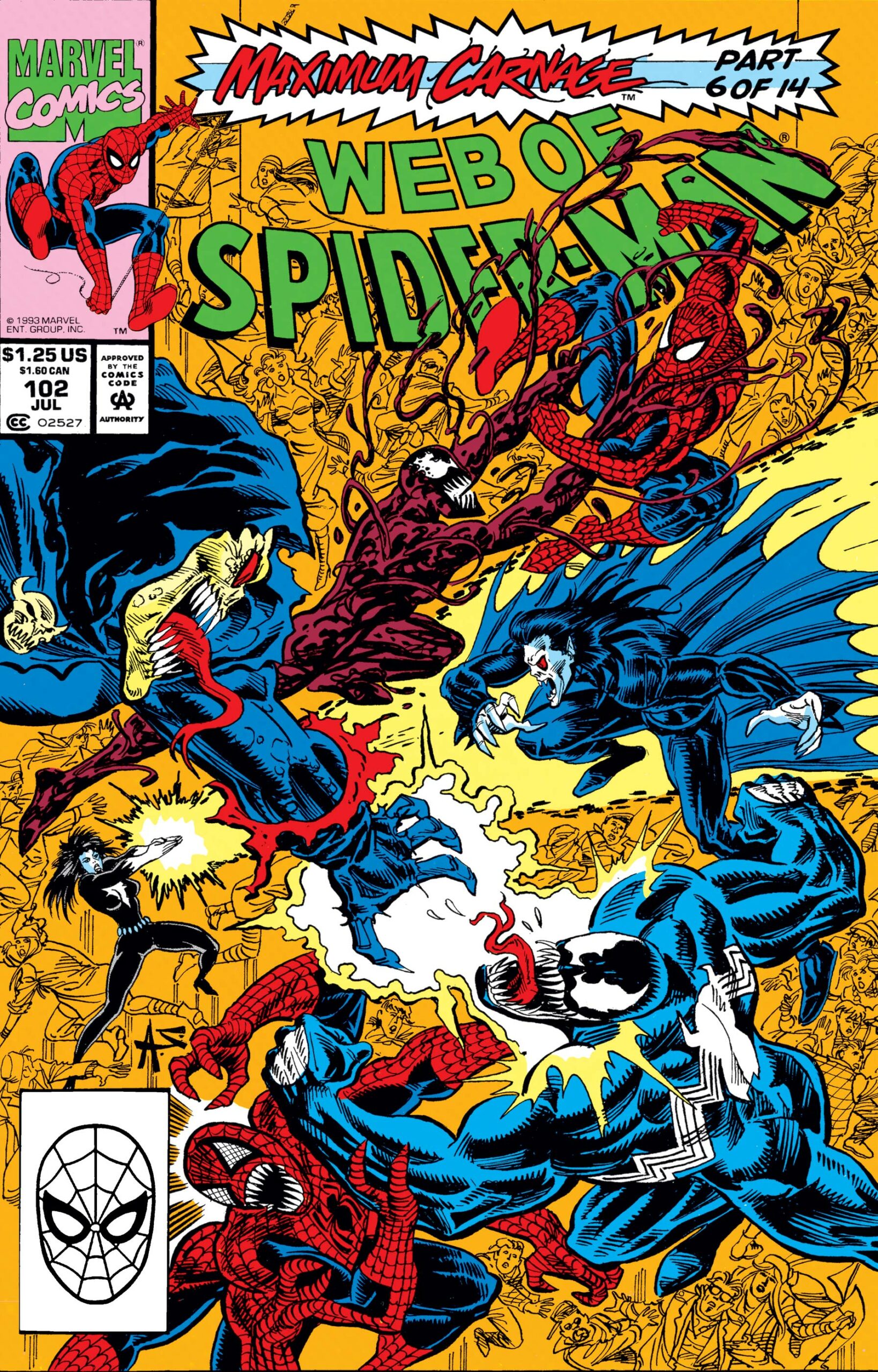 Tom A.: They didn't bother with the civilians. Just orange for them.
Flavio Sette: I actually thought this issue was better than the last one. Stuff actually, y'know, happens. But man, the timeline for this event really is bizarre, isn't it? Peter fought Doppelganger and Shriek, then he fought Carnage, Doppelganger and Shriek alongside Cloak and Dagger, then Venom somehow caught a plane from San Francisco to New York and arrived BEFORE HE LEFT, then he arrived at Pete and MJ's doorstep at dawn and then Demogoblin joined Team Carnage and Spidey's team and Carnage's team fought that night… and yet the narration says this all happened over the course of one day! HOW?? I mean, it's perfectly understandable for people to mess up every now and then. So the sequence of events in Knightfall was a little confusing, other than maybe one issue towards the end, you could make it all fit. But this… it doesn't make any sense. Other than the first couple of issues, it's never made sense.
Sean Whitmore: Does stuff really happen, though? They recruit Morbius, that's about the only lasting change
Tom A.: Yeah, once again Spider-Man fights Team Carnage, the battle is inconclusive and Team Carnage blasts off again.
Flavio Sette: Compared to last issue where, no progress is made, really…
Sean Whitmore: MJ is mad at Peter, Spidey is mad at Venom, Spidey's ribs hurt…got the whole laundry list checked off.
Flavio Sette: Don't forget Cloak wants to avenge Dagger!
Brian Cronin: Last issue, though, DeMatteis at least got into some character stuff.
Sean Whitmore: Yeah, it was like everyone just restated their personal thesis
Brian Cronin: Speaking of the ribs thing, how freakin' stupid is this rib thing? NO ONE CARES THAT HIS RIBS HURT! Why is this a thing? Why do they think we care so much about his ribs hurting?!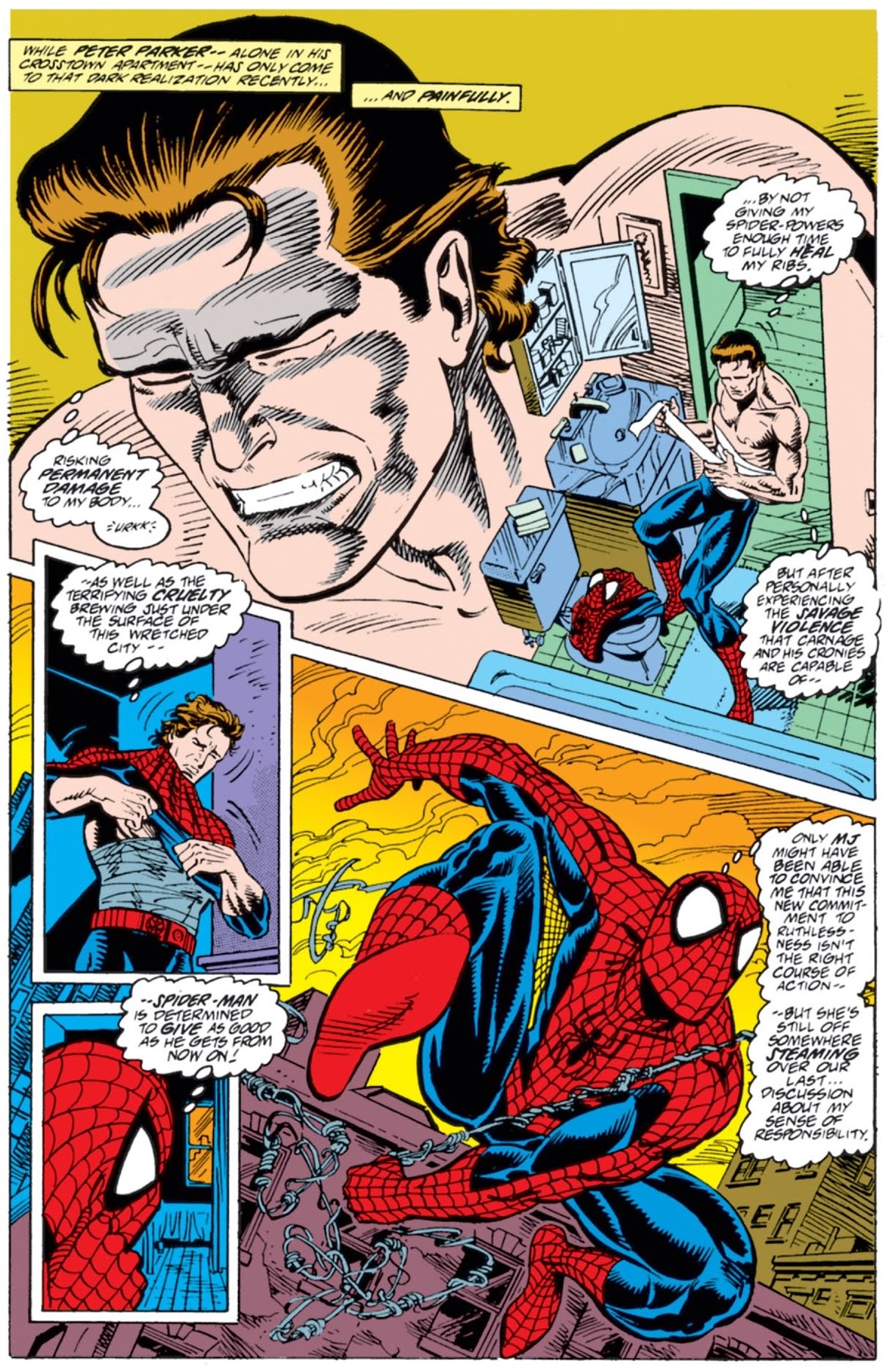 Tom A.: I guess they really wanna show how much this crossover affects Peter physically and mentally?
Sean Whitmore: Was it meant to explain why Peter isn't doing a better job at fighting anyone?
Brian Cronin: That's what I hoped, Sean. But it doesn't seem like it. He doesn't really fight any worse because of it. He just grimaces and then does what he's doing anyways. This isn't like Batman's exhaustion in Knightfall. There's no real story purpose being served by Peter reminding us that he's hurt every issue. It's just kind of THERE. "By the way, my ribs hurt." Okay, Spidey. Like, I guess if he broke his arm or something, it might mean something. But "my ribs hurt"? "Not so much that it really keeps me from doing anything…but just so you know – they hurt. Look, I'm taping them every third issue. They definitely hurt…..Ow."
Flavio Sette: I really do feel like it would've worked if he got injured further down the line. But because he got hurt in the very first issue, Peter ends up complaining about it every. single. issue. Every other issue he tapes us his ribs again.
Sean Whitmore: Very true
Tom A.: And Carnage was already established as being stronger than Spidey anyway, so Spider-Man being limited by the rib injury is not needed to make him seem weaker than Carnage.
Sean Whitmore: In the old days, when Spidey would have his arm in a web sling for a couple issues, it at least clearly impacted him. This tape is some magical stuff
Flavio Sette: Oh, man, I loved that run of issues back in the 60s where Lizard broke Peter's arm and he's running around with that sling. Classic. Just classic.
Tom A.: This opening page shows a lot more devastation than was shown last issue. So many fires.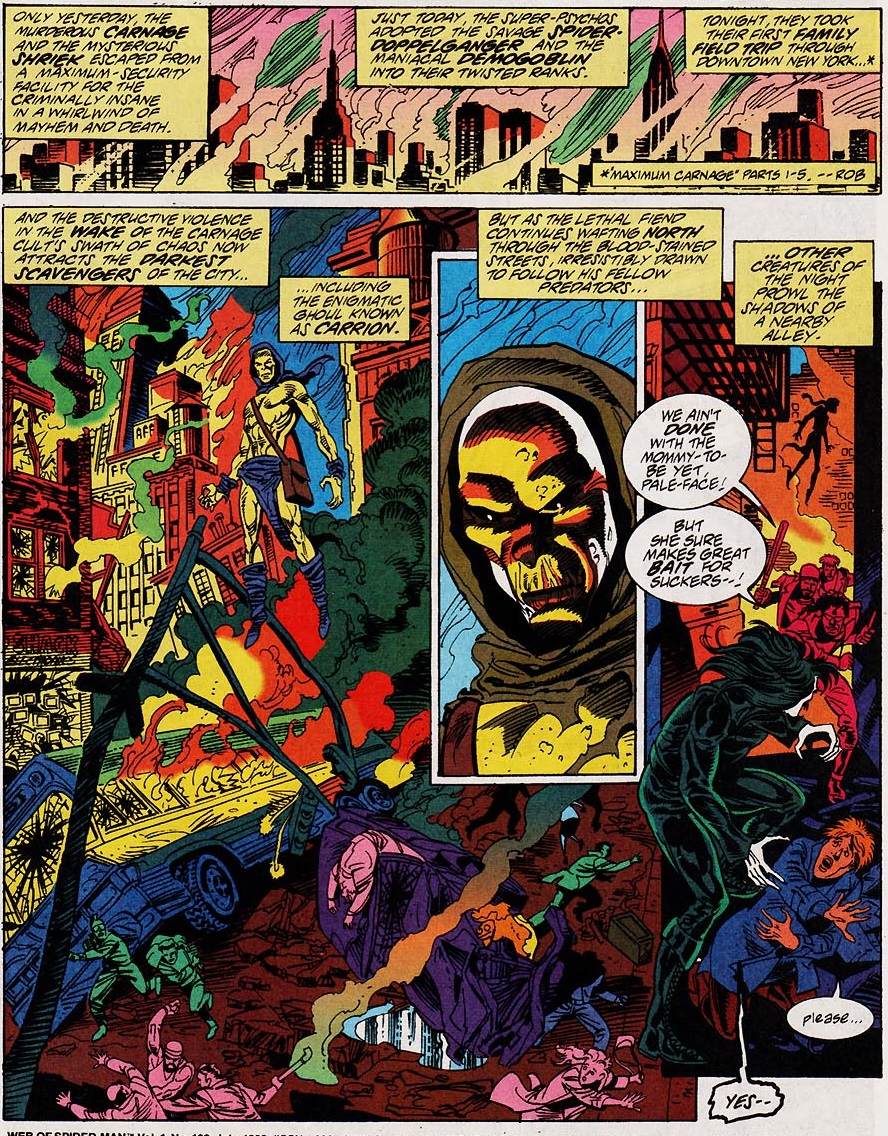 Brian Cronin: Yeah, the opening makes every hero involved looked so, so bad. Morbius is out there stopping an attack in an alley, while people are being slaughtered in Manhattan.
Tom A.: And every hero that doesn't even bother showing up period even worse.
Flavio Sette: The first page also feels off. Is the entire city on fire? Why does New York look like something from the opening scene of Watchmen #12? Has Team Carnage really done that much damage?
Brian Cronin: Yeah, it really IS very similar to the aforementioned Watchmen #12 scene. Or Moore's other famous carnage scene in Marvelman.
Flavio Sette: Saviuk draws more modern and cool looking crooks this time (other than the guy with ribbons in his hair, I don't know what that's about).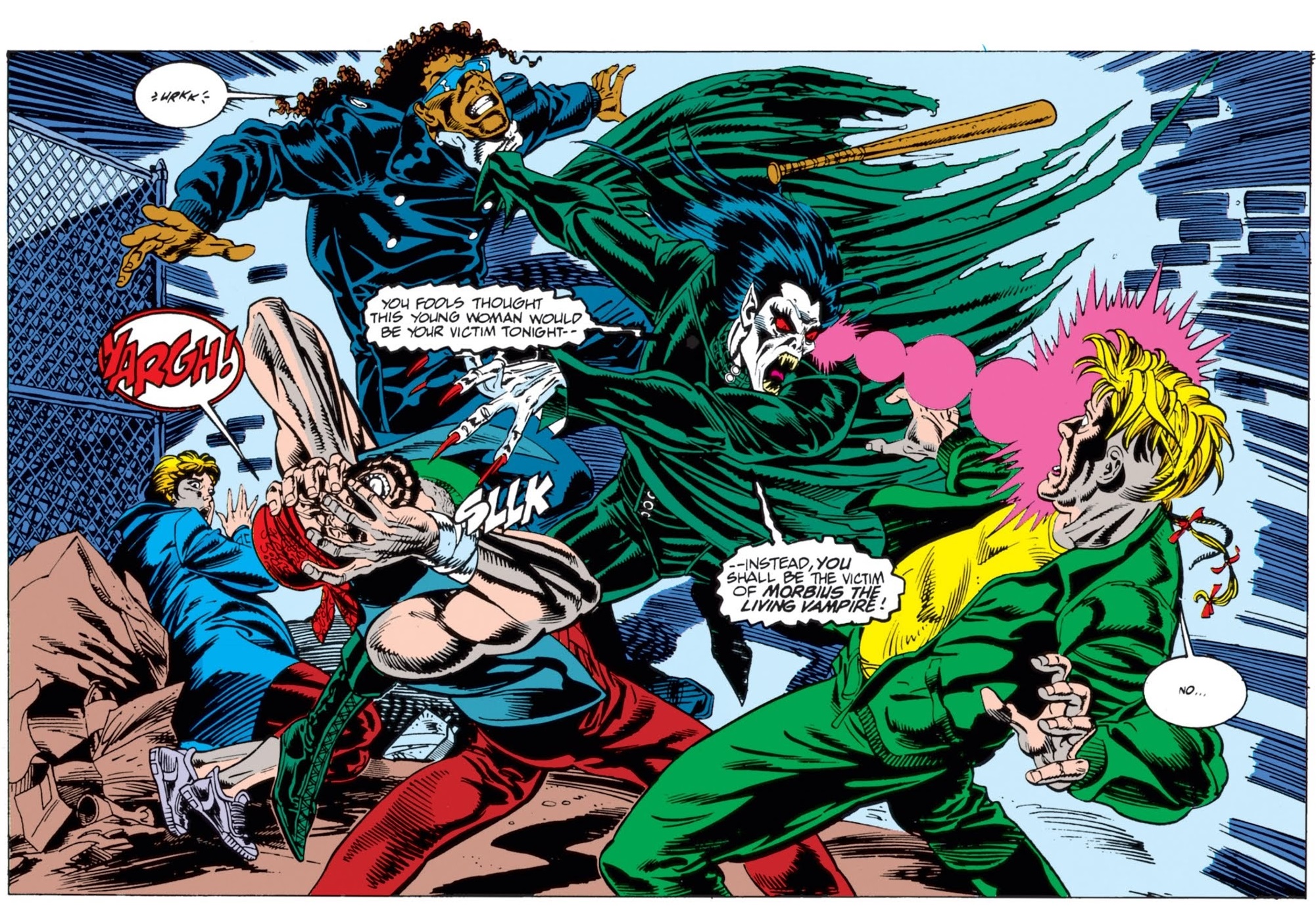 Brian Cronin: It's always weird when classic artists draw modern style haircuts.
Flavio Sette: "Hey, buddy, I was gonna go roam the streets looking for pregnant women to murder." "Kay, man, just lemme get my ribbons".
Tom A.: Morbius is attacked by yet another one of "those politically correct, multi-ethnic gangs that only rob people on bad TV shows" as Nico Minoru once put it.
Tom A.: Had Morbius had a solo series yet at this point?
Brian Cronin: Yeah, his outfit he is wearing here is the one he started in his solo series.
Brian Cronin: How WEIRD is Venom's dialogue when he starts clapping for Morbius following Morbius sucking some blood of the neck of one of the attackers.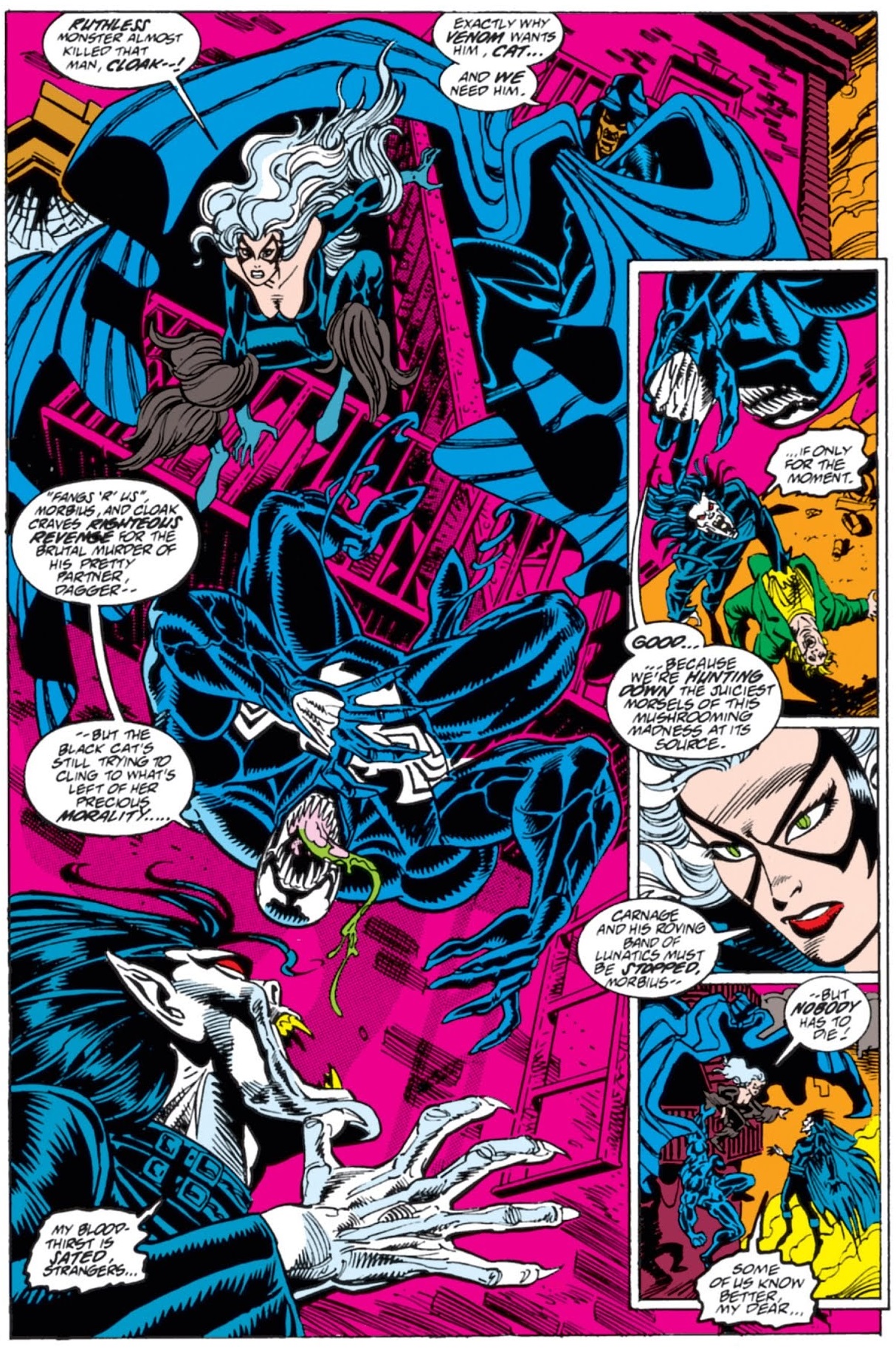 Sean Whitmore: Everyone's dialogue is sooooooo bad
Tom A.: "Fangs R Us" is a weird "joke."
Brian Cronin: I was just typing that. What does it even mean? Seriously, what does it mean there?
Tom A: "It's funny because instead of Toys R Us, it's Fangs R Us, because he's a vampire, see? SEE? LAUGH AT THE REFERENCE"
Sean Whitmore: I think he's introducing them all one by one. The "Fangs R Us" meaning just him (Eddie and the symbiote). Like, "I've got fangs, Cloak wants revenge, and Black Cat is a wussy." As the Black Cat has now done a complete 180 on her previous "ends justify the means" philosophy
Flavio Sette: Black Cat's gone from wanting to kill Carnage before she even laid eyes on him to acting as if she's sworn an oath not to kill at her parents' grave.
Brian Cronin: I think we're somehow meant to read Venom's dialogue first. Despite Black Cat and Cloak's dialogue being at the top of the panel, right?
Flavio Sette: Yeah, that's weird placement
Brian Cronin: Morbius says, "Who?"
Sean Whitmore: No, but doesn't Venom's dialogue have to come after Cat whining about Morbius being too violent?
Flavio Sette: Maybe Venom's first balloon should be first, then Black Cat, Cloak and then Venom's second balloon.
Brian Cronin: Yeah, pretty much. That really is it. That's the only way it makes sense
Sean Whitmore: Maybe, but it'd be weird for them to break up Venom's infodump like that
Flavio Sette: It is, Sean, but it still works better than this.
Brian Cronin: Fangs are us comes first, then Black Cat and Cloak say stuff. And then Venom continues. It's still rough dialogue even if you break it up accordingly.
Tom A: Funny how even though Morbius just drank blood, there's no blood on his mouth or his fangs.
Flavio Sette: "Plasma", Tom, please. This is a family establishment.
Tom A.: Right, he feeds through his fingers, not his fangs, silly me.
Brian Cronin: How freaking weird is it that Team Venom just coincidentally is made up of Spider-Man related characters?
Flavio Sette: Punisher would be all over this.
Brian Cronin: It's not like Venom knows these people.
Tom A: All the non-Spider-Man related characters conveniently skipped town and are ignoring news reports.
Sean Whitmore: That'll sure change, though
Brian Cronin: When it stops being Team-Venom, it changes, Sean. But for now, Team Venom somehow only encounters Spider-Man related characters.
Sean Whitmore: Y'know, if Morbius could really sate his thirst by not killing a guy, you'd think he wouldn't be so bad off
Tom A: Yeah, he could just get blood from the blood bank.
Sean Whitmore: "Oh no, I must almost kill a guy, I am cursed!"
Flavio Sette: By the way, is this in character for Morbius? Has he ever seemed like the "take no prisoners, no quarter given" type?
Brian Cronin: Morbius' character was all over the place at this point in time. Morbius has had drastically different takes by different writers. Some turned him into an outright supervillain. And others, an anti-hero.
Okay, that finishes up this first installment. When we check back in, Spider-Man complains about his ribs some more, and Mary Jane goes to a dancing club. How much do you want to bet that Team Carnage happens to attack that specific night club? Keep your money, no bet! No bet!
I'm glad that I've been able to do this site for a year, I look forward to many more!