Five Songs With Twist Endings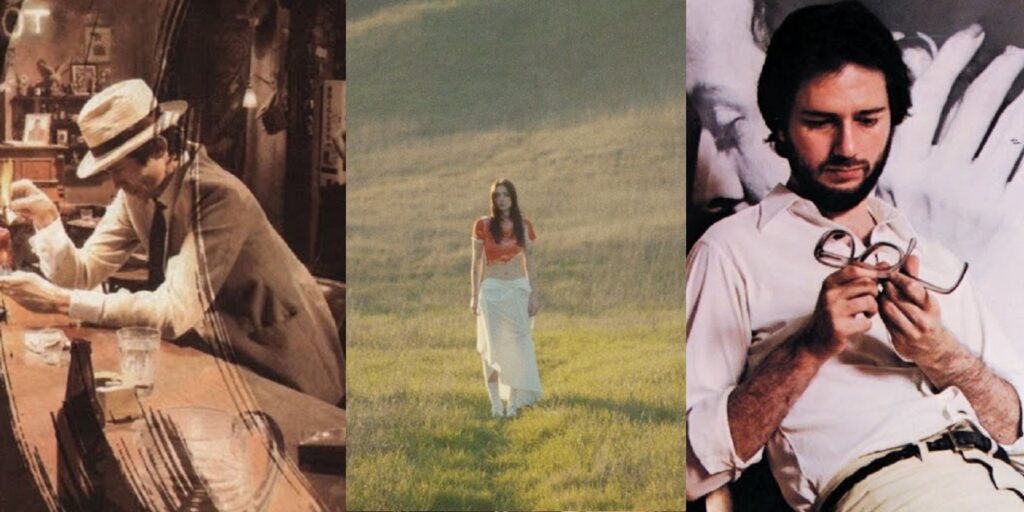 Today, we look at five songs that have twist endings.
In Drawing Crazy Patterns, I spotlight at least five things from pop culture that fit under a specific theme (basically, stuff that happens frequently enough to be worth pointing it out). Note that these lists are inherently not exhaustive. They are a list of five examples (occasionally I'll be nice and toss in a sixth). So no instance is "missing" if it is not listed. It's just not one of the five examples that I chose. You can always feel free to suggest ANOTHER example that fits the theme, if you'd like, but nothing is "missing" from this list.
September is a month of Drawing Crazy Patterns!
Generally speaking, story songs tend to be autobiographical, and they tend to be pretty linear. So there usually isn't enough plot in most songs for them to pull off twist endings or anything like that, but a number of songs over the years HAVE been able to pull that off. Here are five of them.
"ONE TIN SOLDIER"
This is a funny one, because it's really more of a morality play than anything else, but, I mean, I guess those have twist endings, right?
In "One Tin Soldier," there is a mountain kingdom that apparently had this great treasure. The people in the valley become jealous, and sent a message to the mountain people, that they must give them the treasure or else the valley people would attack them, kill them and take the treasure. The mountain people said they can't give it to them, but they can share it with them.
The valley people attack, killing all of the mountain people. They then found the treasure, and it was a stone saying "Peace on Earth."
I imagine the valley people all said, "D'oh!" at that point.
"FOOL IN THE RAIN"
"Fool in the Rain" debuted on the eight and final Led Zeppelin album, In Through the Out Door, and it was clearly a case of Zeppelin trying to mix up their writing style to try to remain current with the times. It is a much poppier tune than most Zeppelin songs. In it, a man is standing in the rain, stood up by his girlfriend, a "fool in the rain," and he goes through the ups and downs of their relationship, while wallowing over the fact that she stood him up.
It ends, though, by revealing he is a "fool in the rain" for a whole OTHER reason…he was waiting on the wrong block!
"Ooh now my body is starting to quiver
And the palms of my hands getting wet, oh
I got no reason to doubt you baby
It's all a terrible mess
And I'll run in the rain till I'm breathless
When I'm breathless I'll run 'til I drop, hey!
And the thoughts of a fool's kind of careless
I'm just a fool waiting on the wrong block, oh yeah"
"ESCAPE (THE PINA COLADA SONG)"
Amusingly, both this and "Fool in the Rain" were released in the same year, 1979. In this Rupert Holmes tune (by far the biggest hit of his career, and the dude has won a Tony Award for Best Musical, so that's saying a lot), "Escape (The Pina Colada Song)," a man is bored in his relationship, and sees a personal ad that attracts his attention (it catchily opens with "If you like Pina Coladas, and getting caught in the rain…"). He responds to the ad with his own, similar ad, and he sets to meet this mystery person who has the same views of him about champagne, health food and times of day for making love (midnight is their shared preference) and, well, guess who it is?
So I waited with high hopes
And she walked in the place
I knew her smile in an instant
I knew the curve of her face
It was my own lovely lady
And she said, "Oh, it's you"
Then we laughed for a moment
And I said, "I never knew"
"That you like piña coladas…
I suspect that that relationship is likely not in great shape, but hey, maybe this works for them.
"HUMAN"
This is a fun one, as throughout the song, "Human," by Human League, the male singer is apologizing to his love for cheating on her while they were separated from each other. He insists that:
I'm only human
Of flesh and blood I'm made
Human
Born to make mistakes
So in the end, she forgives him, but not before the twist, while they were separated, SHE cheated on HIM, too!
The tears I cry aren't tears of pain
They're all to hide my guilt and shame
I forgive you, now I ask the same of you
While we were apart, I was human too
They should double date with the couple from "Escape (The Pina Colada Song)."
"CEILINGS"
Lizzie McAlpine is one of the hot new singer/songwriters making waves in that Olivia Rodrigo-type approach (all, of course, inspired by Taylor Swift), and her first big hit, "Ceilings," is seemingly about a number of vignettes in a romantic relationship she is having, like the opening verse:
Ceilings, plaster
Can't you just make it move faster?
Lovely to be sitting here with you
You're kinda cute but it's raining harder
My shoes are now full of water
Lovely to be rained on with you
It's kinda cute but it's so short
However, after a whole song's worth of discussing the romance, she shocks us in the last verse by revealing that this has all just been in her imagination!
But it's not real
And you don't exist
And I can't recall the last time I was kissed
It hits me in the car
And it feels like the end of a movie I've seen before
Before
Okay, folks, if you have suggestions for a future Drawing Crazy Patterns, drop me a line at brian@poprefs.com! I don't have 30 topics just yet, so I could use the suggestions!