Five Songs That Were Reworked After a Number of Years to Become Hits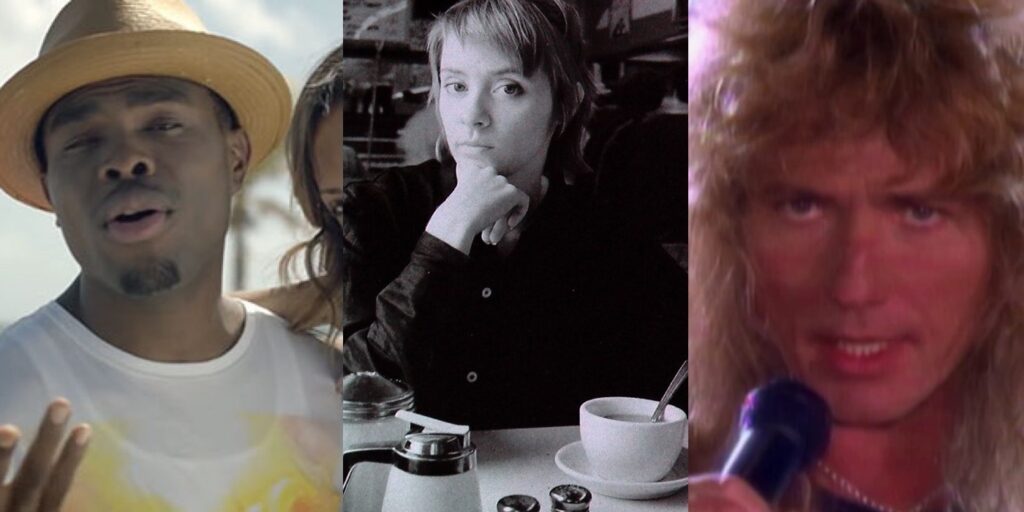 Today, we look at five songs that were released, weren't big hits, then after a few years were reworked, re-released and became hits.
In Drawing Crazy Patterns, I spotlight at least five things from pop culture that fit under a specific theme (basically, stuff that happens frequently enough to be worth pointing it out). Note that these lists are inherently not exhaustive. They are a list of five examples (occasionally I'll be nice and toss in a sixth). So no instance is "missing" if it is not listed. It's just not one of the five examples that I chose. You can always feel free to suggest ANOTHER example that fits the theme, if you'd like, but nothing is "missing" from this list.
Obviously, it is hard to get a song to become a hit, and sometimes, your first attempt doesn't work. Often, the adjusted version of the song that becomes a huge hit happens pretty quickly after the song is released (for instance, the remixed version of Lil Nas X's "Old Town Road" that added Billy Ray Cyrus to the song happened just a few months after "Old Town Road" was first released), but sometimes, it takes a few years for the song to be successfully re-worked. Here, then, are five songs that were rereleased at least two years after they were initially released, only with a reworked version that became a major hit (so I'm specifically NOT talking about songs that didn't become hits until they were simply re-released, I mean songs that were specifically revamped into new versions of the original song).
"Here I Go Again"
The British band, Whitesnake, released the song "Here I Go Again" in 1982, even doing a music video for the song…
However, it only had a very minimal impact on the charts in a few countries, and didn't chart at all in the United States.
Five years later, a revamped Whitesnake released a re-recorded version of "Here I Go Again," now with a faster tempo and memorably changing the chorus from:
And here I go again on my own
Goin' down the only road I've ever known
Like a hobo I was born to walk alone
to the more familiar:
And here I go again on my own
Goin' down the only road I've ever known
Like a drifter I was born to walk alone
Amusingly, David Coverdale had originally had "drifter" in the song instead of "hobo," but he felt that too many other songs used "drifter," so he wanted to stand out. The re-recorded version was a massive hit.
"Boys Don't Cry"
The original version of "Boys Don't Cry" by The Cure was released in 1979, and didn't make much of a wave in the mainstream…
Now here's the weird thing, in 1986, to promote a collection of singles, The Cure released a re-mixed version of the song with new vocals by Robert Smith, but the new version ("Boys Don't Cry (New Voice Club Mix 1986)") was ONLY a single, and only the original version appeared on the album! How weird is that? When the new version of the song was what became a hit!
The song was not included on an album until The Cure released an album of mixes in 2018!
"Red Red Wine"
Okay, this one is a tricky one, since here, the "remix" was a case of reverting to the ORIGINAL version of the song! But I think it counts!
Last year, I wrote about how UB40 thought that "Red Red Wine" had always been a reggae song, since the first time they heard the Neil Diamond song, it was a reggae cover of the tune.
In any event, they released the song in 1983, and it was a hit in the UK and moderately popular in the U.S….
However, the version of the song that was used as a single AND as a music video was an EDITED version of the album track of the song, which included Astro of the band rapping (or "toasting"). The released single cut that part out of the song, assuming that people wouldn't want to hear rapping on a pop song.
It wasn't until UB40 performed the song at Nelson Mandella's 70th birthday in 1988 that the song blew up in the United States, with radio stations now playing the FULL version of the song, including the roasting parts by Astro…
However, oddly enough, the "official" music video is still the edited version, which is so weird to me, because it was the "remix" (back to the original) album track that made the song a hit!
"Tom's Diner"
Suzanne Vega only released "Tom's Diner" as a single because her first single, "Luka," did well enough that her label said she should release "Tom's Diner," as well, but only in Europe. It was an unusual choice for a single, since it was, you know, an a cappella story song…
Three years later, DNA (a British DJ/producer duo) remixed "Tom's Diner," adding a new beat to it, and it was a surprise hit (DNA did the song without asking for permission, which is kind of hilarious)…
Obviously, they LATER got permission.
"Cheerleader"
Omi first released the song, "Cheerleader," in 2012, on an independent label, with a pretty slow tempo…
It was a hit in Jamaica, but not many other places (although, oddly enough, Hawaii and Dubai were both places that played the song a lot). An executive from the larger record label, Ultra, heard the song on vacation, and signed Omi to a recording deal in 2013, and the label set out to re-mix the song, offering it up to a couple of producers to work their magic on it, and a young German producer named Felix Jaehn did a compelling remix of "Cheerleader," speeding up the tempo a bit, and adding an awesome trumpet by Leonard Bywa, and the song became a major hit in 2015…
Okay, folks, if you have suggestions for a future Drawing Crazy Patterns, drop me a line at brian@poprefs.com!