Five People Who Won Emmys For Friends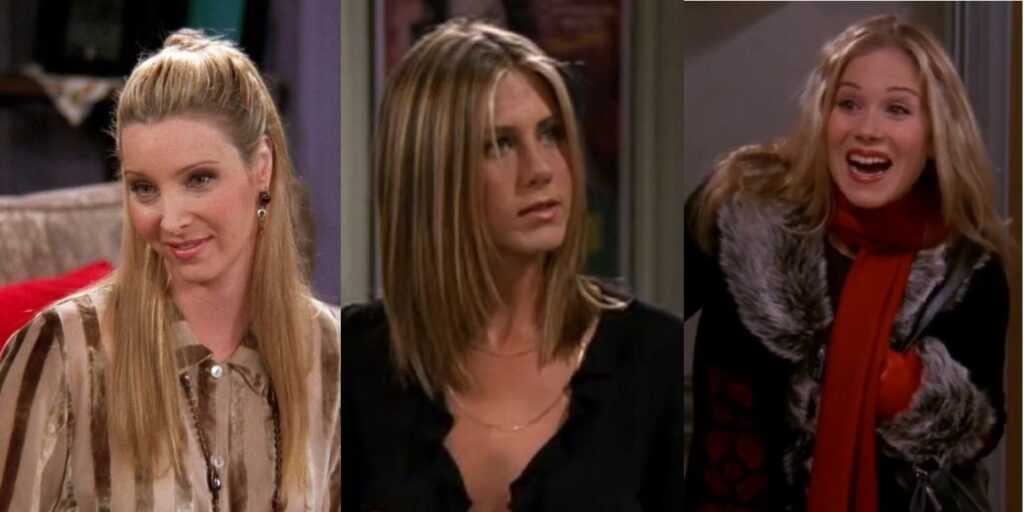 Today, we look at five people who won Emmy Award for their work on Friends.
In Drawing Crazy Patterns, I spotlight at least five things from pop culture that fit under a specific theme (basically, stuff that happens frequently enough to be worth pointing it out). Note that these lists are inherently not exhaustive. They are a list of five examples (occasionally I'll be nice and toss in a sixth). So no instance is "missing" if it is not listed. It's just not one of the five examples that I chose. You can always feel free to suggest ANOTHER example that fits the theme, if you'd like, but nothing is "missing" from this list.
September is a month of Drawing Crazy Patterns!
Friends was one of the most popular sitcoms of the 1990s, and is one of those rare shows that has remained very popular in the decades since, being a major force on streaming services and syndication in recent years. However, it wasn't exactly the most successful show with critics. It was overshadowed by its NBC peers, like Seinfeld and Frasier. However, the show DID win six Emmys over its ten season run. One of those was for Best Comedy Series for Season 8 of the show. While technically that award would nominally count as an Emmy won by people (the producers get the award), I think it's fair to say that that is a bit more of a group award, ya know? However, here are the five people who won Emmys for their work on Friends.
MICHAEL LEMBECK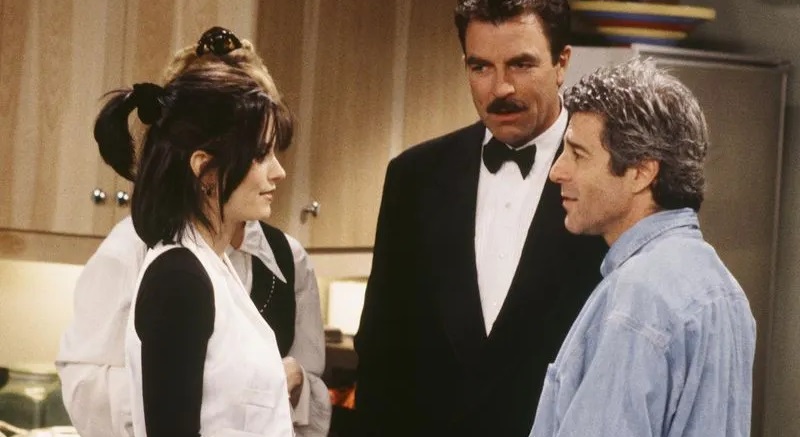 The first Emmy won by Friends went to former TV actor, Michael Lembeck (best known for his time as a cast member on One Day at a Time when he was a young man), who has since become a prominent TV director. Lembeck directed the hour-long episode of Friends that aired after the Super Bowl during Season 2 of the series (it's typically considered a two-part episode, even though it aired as a single episode that night in January 1996).
Lembeck directed 20 episodes of the series, and garnered two more Emmy nominations for the series, for the Season 5 classic, "The One Where Everyone Finds Out," and the Season 6 episode, "The One That Could Have Been." The Season 2 episode is currently Lembeck's lone Emmy win so far in his career.
LISA KUDROW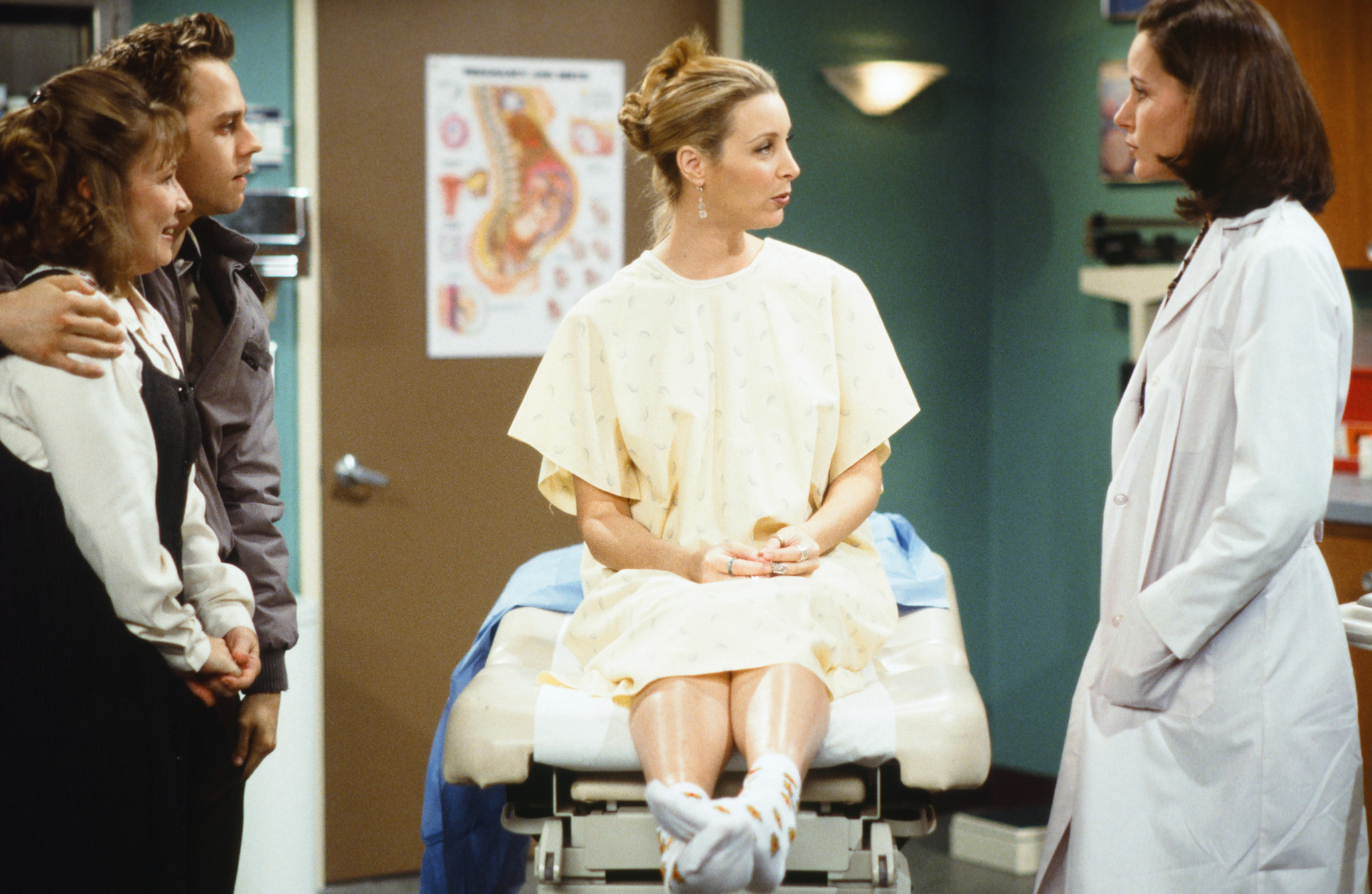 Early on, the Friends stars all submitted themselves as a supporting actors and actresses as some sort of statement. In the first season, only Lisa Kudrow and David Schwimmer were nominated. No one got a nomination for Season 2 of the show. Kudrow was the lone nominee in Season 3, and then she won for her performance in Season 4, where Phoebe serves as a surrogate for her half-brother and his much older wife (she gives birth to triplets). Kudrow was nominated again in Seasons 5-6, but was never nominated again as the cast changed their minds and decided to start submitting themselves for LEAD Actor and Actress.
BRUCE WILLIS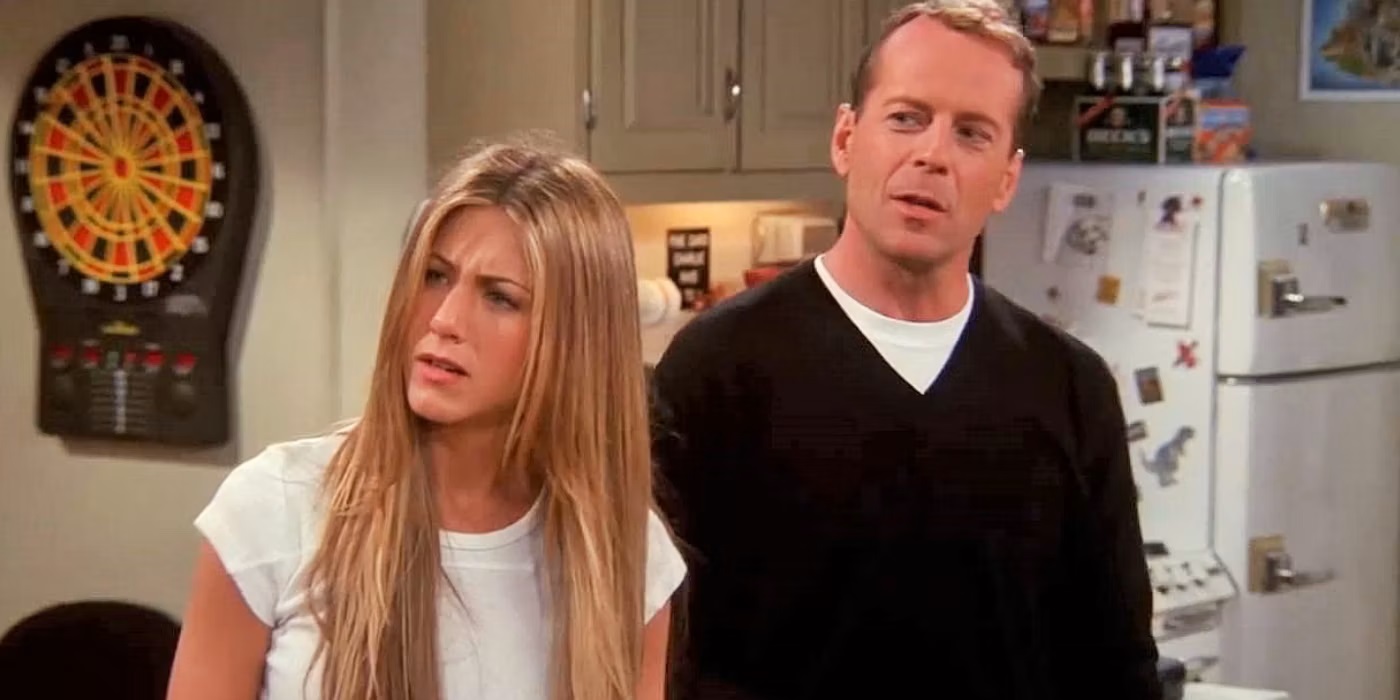 In Season 6 of Friends, Bruce Willis guest-starred on Friends after befriending Matthew Perry while shooting the film, The Whole Nine Yards. A while back, Willis seemingly confirmed that he only appeared on the show due to a bet he made with Perry, where Willis would guest on the show if the movie opened at #1, which it did. I did a legend on that, and I initially said it wasn't true, and I'll be frank, even after WIllis "confirmed it," I don't TRULY believe it, but whatever, he says it is true, so I guess I have to accept it (even though, again, I really don't personally believe it).
Willis guest stint as the father of the much-too-young girl that Ross was dating who then falls for Rachel, netted Willis an Emmy for Best Guest Actor in a Comedy Series.
JENNIFER ANISTON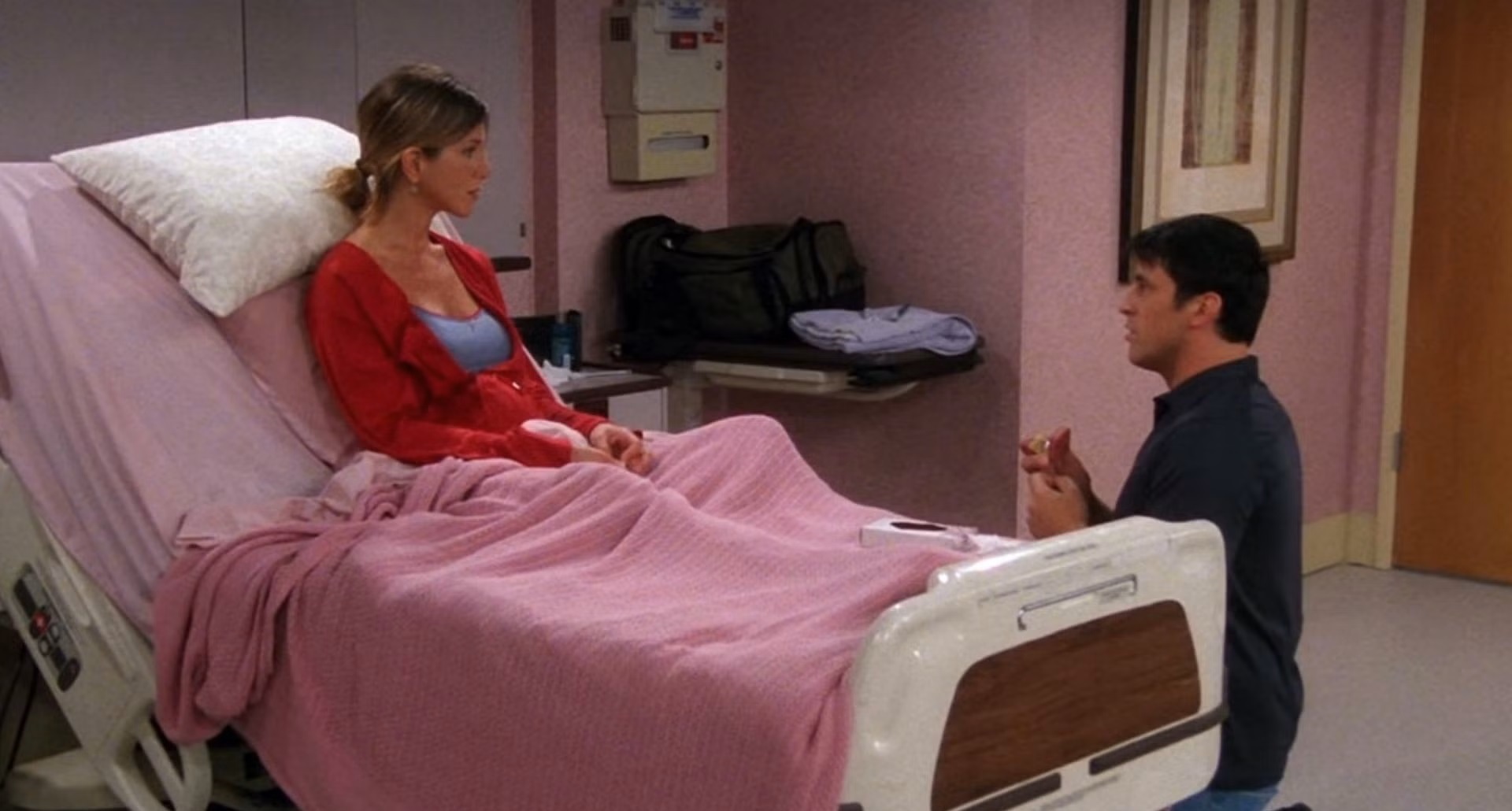 Jennifer Aniston finally got nominated along with Kudrow for Seasons 5-6 for Best Supporting Actor. In Season 8, though, after Aniston got a juicy season-long plotline with her dealing with being pregnant from a one-night stand with Ross, she decided to go for Lead Actor, and she won. As noted, the rest of the cast ALSO submitted for leads now that the dam was broken, and Matthew Perry and Matt LeBlanc were both also nominated for Lead Actor (but lost). Aniston would be nominated for Best Lead Actor for the next two seasons, as well, as would Matt LeBlanc (whose character, Joey, had a juicy – if bizarre – romance plot with Rachel). Courteney Cox was the only Friends cast member never to get a single Emmy nomination for the series.
CHRISTINA APPLEGATE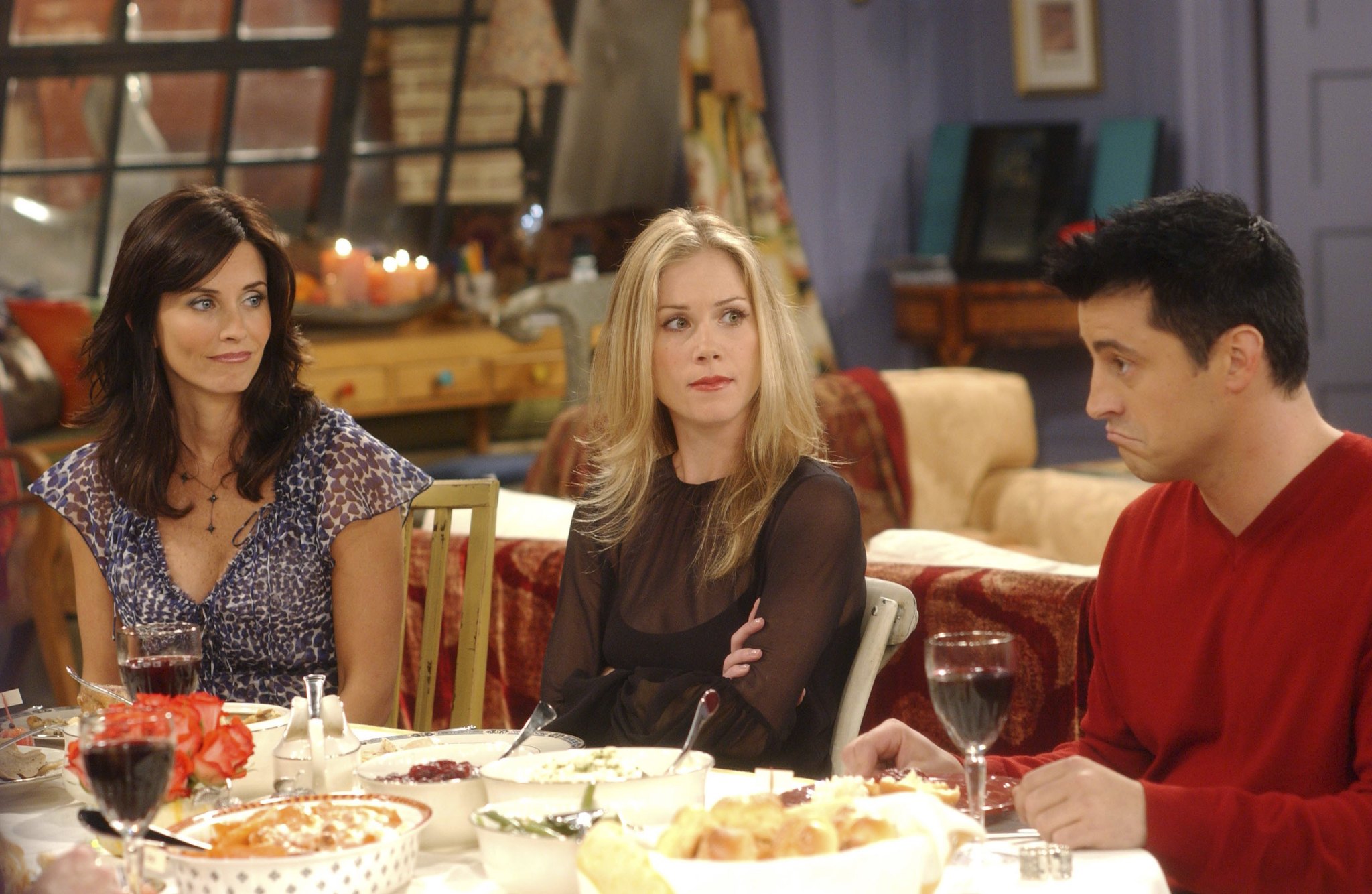 In Season 9, Christina Applegate (who had starred in, Jesse, a short-lived sitcom from the Friends creators that aired after Friends in 1998 and went through a drastic revamp in its second season) guest-starred as Rachel's sister, Amy. Her hilariously off-kilter performance won Applegate her first Emmy for Best Actress in a Comedy Series. Applegate returned in the final season, and earned another nomination.
Okay, folks, if you have suggestions for a future Drawing Crazy Patterns, drop me a line at brian@poprefs.com! I don't have 30 topics just yet, so I could use the suggestions!