That Time Frasier Ruined Helen's Life on Wings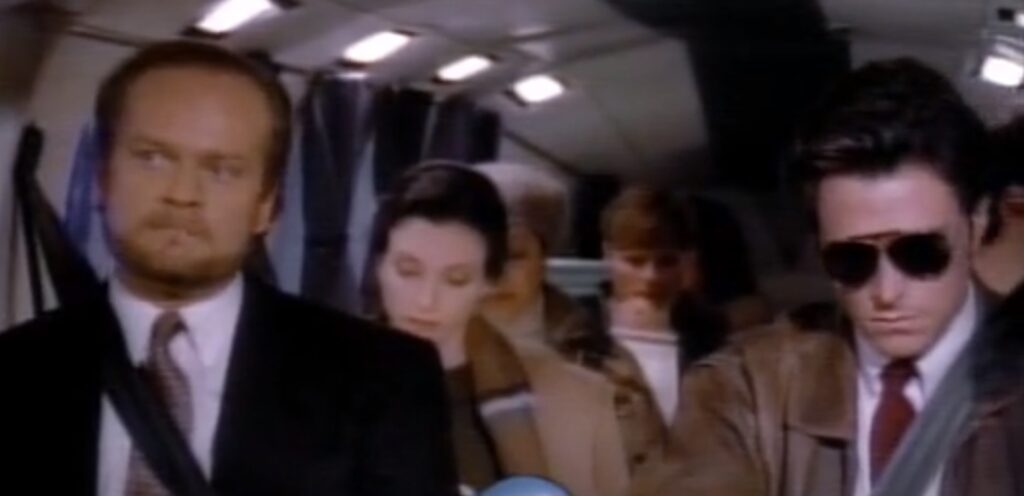 Today, we look at how Helen alleged that Frasier Crane ruined her life on an episode of Wings.
This is Somewheres in This Universe, a feature examining when characters from TV shows make guest appearances on other TV shows (in non-crossover stories), thus establishing that the two shows share a universe.
November is Somewheres in the Universe month!
David Angell, Peter Casey, and David Lee were veteran writers on Cheers who then launched Wings in 1990 about two brothers who own a small commuter airline on Nantucket, flying tourists back and forth from the mainland and the small New England vacation island. Therefore, due to the connection between Cheers and the fact that Cheers was set in Boston, it was only natural that some Cheers characters would guest-star on Wings.
There was actually an example in Season 2, but I'm going to look at Season 3's "Planes, Trains and Visiting Cranes," written by Cheers veteran writers Ken Levine and David Isaacs, where Frasier (Kelsey Grammer) and his then-wife, Lilith (Bebe Neuwirth) travel to Nantucket for a seminar that Frasier is running for people with low self esteem. This was February sweeps 1992, so Cheers was near the end of its penultimate season.
However, when Frasier and Lilith arrive in Nantucket, they encounter Helen Chapel (Crystal Bernard), who had taken Frasier's seminar in New York and she blames him for ruining her life. She wants a refund of her seminar fee. Frasier instead offers to let her attend this current seminar (which he is also taping for a home video release), something that Lilith encourages because she figures that having a skeptic there will test whether Frasier's pop psychology actually does any good.
Anyways, Helen keeps disrupting the seminar, until Frasier just brings her on to the stage and talks to her about her issues, which ultimately turn to her blaming her breakup from Joe Hackett (Tim Daly) as the real root of her problems. Joe, in the audience, objects, and soon he is on stage, as well, explaining how HIS problems were due to his screwup brother, Brian (Steven Weber). This leads to BRIAN getting involved and the whole thing melts down and Frasier loses all of his customers (and his video tape scheme).
While the episode was funny, what I think really stood out was how well it showed that Frasier could really sustain an episode on his own outside of the confines of Cheers, and sure enough, the creators Wings, David Angell, Peter Casey, and David Lee, then created Frasier's acclaimed spinoff series from Cheers, Frasier.
Feel free to e-mail me at brian@poprefs.com for suggestions for other good non-crossover guest appearances by TV characters!