The Accidental Verisimilitude of 127 Hours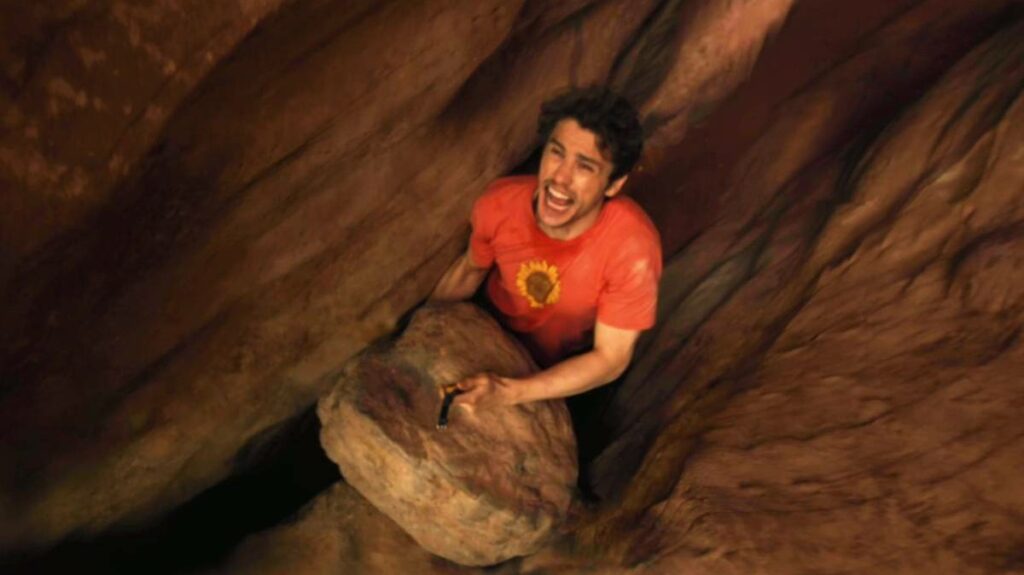 Today, we look at how 127 Hours ended up being more realistic than it intended.
This is the debut of a new feature, "Never Did Plan," about interesting flukes, coincidences and happy accidents in the world of pop culture. Instances where "mistakes" actually helped the final product (this is different from my feature, Won't Repeat That Mistake, which is about the traditional kind of accidents that are actually bad).
The 2010 film 127 Hours starred James Franco as Aron Ralston, a canyon explorer who accidentally got trapped in a canyon for, well, you know, 127 hours. His arm was pinned by some rocks and the only way that he could escape was to uses a multi-tool to cut his own arm off (after first breaking the bones in his arm). It's an obviously grueling sequence in the film…
The fascinating thing, though, is that the filmmakers designed the prosthetic arms used for the film so that Franco wouldn't actually have to cut through them in one take, as they were designed to be VERY realistic. However, Franco actually DID end up cutting through them in one take by just refusing to stop.
From a Vulture article on the making of the film (the quote opens with Franco):
"It was emotionally and physically demanding role. I've done intense roles before and I thought it would be fine. But when I got to the scene where I do it, I lost it," he told us. The arm-cutting scene involved three prosthetic arms, one made to look exactly like the outside of Franco's own arm, and two filled with all the musculature and bone he had to chop through. "I actually have a problem with blood. It's only my arms; I have a problem with seeing blood on my arm," he told us. "So after the first day, I said to Danny, 'I think you got the real, unvarnished reaction there.'" The prosthetic had actually been made so that Franco wasn't supposed to be able to cut all the way through it. But in the moment, he said, "I just did it, and I cut it off and I fell back, and I guess that's the take that Danny used."
So therefore, the sweating and the intensity of the character cutting through the arm was actually that of Franco as he actually DID cut through the arm, and they captured that verisimilitude basically by accident.
I'm sure you all have examples of this sort of thing, so feel free to suggest ideas to me at brian@popculturereferences.com