The 'I Know' Scene in Empire Strikes Back Epitomized Han Solo's Convention-Breaking Character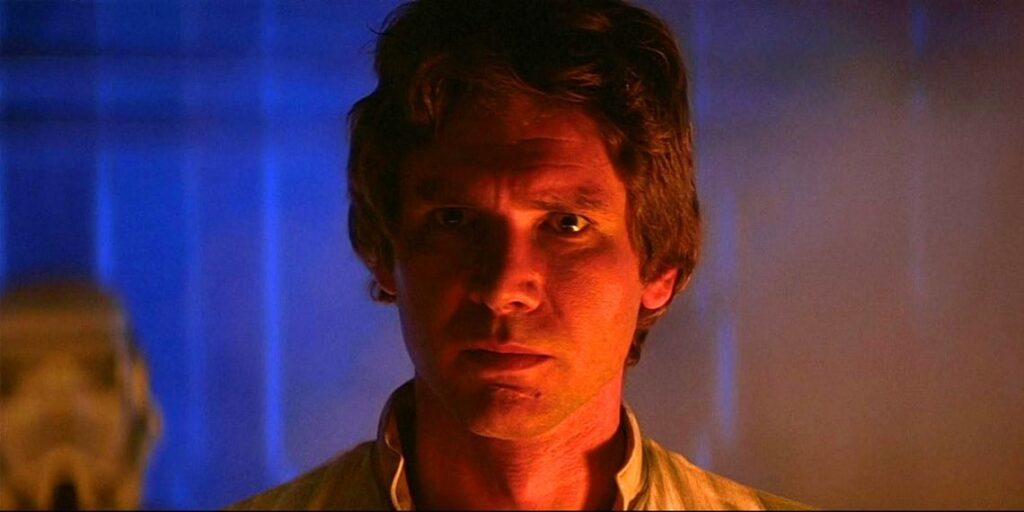 Today, we look at how Han Solo's "I know" line in The Empire Strikes Back epitomizes how convention-breaking the character was.
This is To Quote a Phrase, a spotlight on notable pop culture quotes.
October is a Month of To Quote a Phrase, both here and at Comics Should Be Good!
One of the most amusing things about the whole "Han shot first" debate about Star Wars is that George Lucas is actively misunderstanding the appeal of his own character.
The debate, of course, centers around a scene early in the first Star Wars film where Han Solo is accosted by a bounty hunter named Greedo. Greedo holds Solo at gun point and the two sit down together. They talk about the bounty that is on Solo's head from Jabba the Hutt and Han explains that he can get Jabba the money he owes him. Greedo, being surprisingly greedy, asks for the money for himself. Han tells him he doesn't have it yet. Greedo then expresses his interest in killing Han. Han, who has secretly readied his own gun under the table, blasts Greedo and kills him.
It is a famous scene and much beloved among Star Wars fans since it breaks from convention – it establishes Han as a bit of a rogue. This makes his becoming a hero of the rebellion all the more sweeter later in the film. Lucas recently argued that it did not make sense for Han to shoot first:
Han Solo was going to marry Leia, and you look back and say, 'Should he be a cold-blooded killer?' Because I was thinking mythologically — should he be a cowboy, should he be John Wayne? And I said, 'Yeah, he should be John Wayne.' And when you're John Wayne, you don't shoot people [first] — you let them have the first shot. It's a mythological reality that we hope our society pays attention to.
Lucas later also weirdly said, "The controversy over who shot first, Greedo or Han Solo, in Episode IV, what I did was try to clean up the confusion, but obviously it upset people because they wanted Solo to be a cold-blooded killer, but he actually isn't." Now, looking beyond the fact that Lucas is obviously mistaken (something I pointed out in an old Movie Legends Revealed), but it's shocking just HOW MUCH he misreads that scene by saying Han shooting first makes him a "cold blooded killer." If Greedo didn't shoot at right that second, he was obviously ABOUT to shoot. It's just nonsense.
Han shooting first was so distinctive that it really made him stand out as a character, and the same was true for his iconic "I know" scene in The Empire Strikes Back.
The whole idea of the middle film in the original trilogy is that it was supposed to have a bit of a downbeat ending to set up the eventual triumph in the trilogy's final film. The heroes are betrayed when visiting one of Han's old friends, Lando Calrissian, and Han is taken prisoner by the bounty hunter Boba Fett (working with Darth Vader). Han is then encased in carbonite for his trip back to Tattooine, where Jabba the Hutt is waiting for him (thereby completing the bounty on Han referenced in the original film in the Greedo sequence).
The big debate was how to play the scene where Han is encased in carbonite. Is it a death scene, or is it something more hopeful than that?
The script originally had Han and Leia kiss, and then she says, "I love you. I couldn't tell you before, but it's true." Han replies, "Just remember that, 'cause I'll be back." Director Irvin Kershner Kershner at first believed "I'll be back" was of paramount importance, as it would set up fans for the final film in the trilogy. However, ultimately, Harrison Ford convinced him it was TOO hopeful, so instead, Ford suggested just a simple "I know" to Leia's "I love you" (so yes, as I noted in an old Movie Legends Revealed, Ford did not improvise the line. He DID come up with it, though, which pissed Carrie Fisher off, because Kershner didn't tell her right away, freaking her out that the scene was changing a half hour before filming)
https://www.youtube.com/watch?v=VU3vYa_mBDQ
The scene again breaks conventions, making Han Solo such an unusual character. He kills before he is fired on, he says "I know" when the woman he loves says "I love you" right before he basically DIES? He's such a fascinating character, and all because of the ways in which he breaks conventions, so it is so weird that Lucas wanted him to go back to fitting in conventions with the Greedo scene.
Okay, folks, if you have notable quotes from TV, movie or music that you'd like to see me spotlight this month, drop me a line at brian@poprefs.com!