The 'Indiana Jones Has No Impact on the Plot of Raiders of the Lost Ark' Theory is Dumb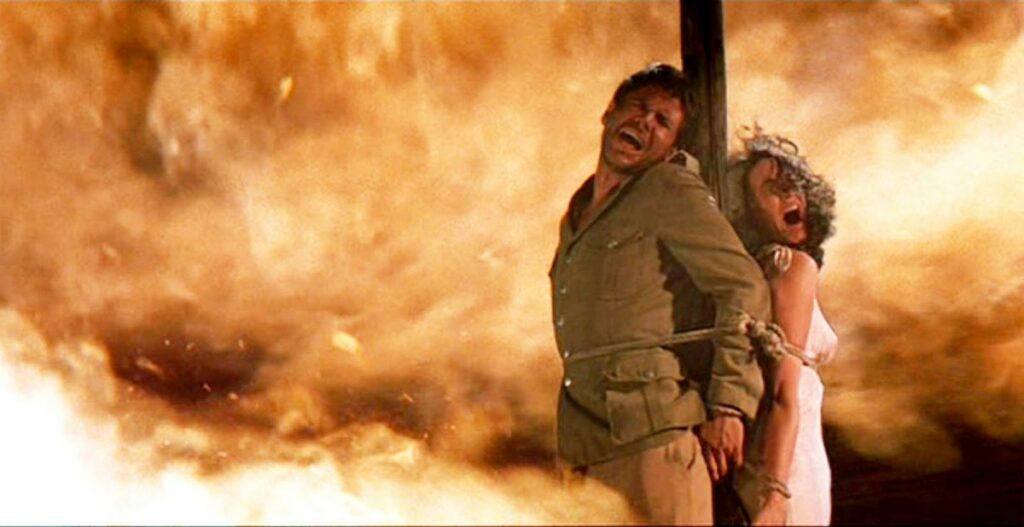 Today, we look at how dumb the "Indiana Jones doesn't affect the plot of Raiders of the Lost Ark" theory is.
Knowledge Waits is a feature where I just share some bit of pop culture history that interests me that doesn't quite fit into the other features.
Recently, I wrote about how you shouldn't take contrarian fan takes seriously, as they almost always are just intended as jokes that have taken on a life of their own (like "Daniel LaRusso is the REAL bully of The Karate Kid"). I was originally going to include the fan theory that Indiana Jones had no impact on the plot of Raiders of the Lost Ark, but it really didn't fit that post, so I figured I'd just do a separate post on the Indy theory.
The theory has been around for quite some time, but it gained a good deal of popularity when it was included in an episode of the The Big Bang Theory, where Sheldon Cooper gets his girlfriend, Amy Farrah Fowler to watch Raiders of the Lost Ark and she noted that she enjoyed it, but that there was a "glaring story problem." When he asks what it is, she explains that "Indiana Jones plays no role in the outcome of the story." She notes that Indiana Jones doesn't actually stop the Nazis from getting to the Ark and he isn't able to stop them from opening the Ark, which then kills them all. She ends with, "If [Jones] weren't in the film, it would turn out exactly the same."
First off, before we even get into the factual disagreements about the theory, let me note that it is not necessarily a "glaring story problem" if Indiana Jones did not, in fact, have an impact on the overall journey of the Ark. One of the great movies of the last quarter decade is the Coen Brothers' The Big Lebowski, which pointedly didn't have much of a plot period, it was just a character study in a fascinating character, The Dude, who specifically DOESN'T change in the story (he perhaps inspires others to change, but he doesn't himself). So I reject the notion that if Indiana Jones did not affect the overall arc of the Ark (pun unintended, but that's a good pun, right?) then that would be a "glaring story problem."
On that same note, Indiana Jones himself obviously has a few different character arcs during the film, with the most famous one being skeptic to believer (or else he wouldn't insist that he and Marion close their eyes at the end of the film when the Ark is melting the Nazis) and a lesser one being him conquering his fear of snakes. So even if Indiana Jones did not affect the arc of the Ark, there is still character growth in the story and that is important in and of itself. But really, my main point here is that there is no "one size fits all" approach to storytelling that if a film does X instead of Y, it has failed. There are other ways a film can fail, of course, like by not making sense or just being unengaging, etc. but "the story didn't work the way that I wanted it to" is not one of them, I don't believe. It reminds me of that infamous Vox review of Midnight Mass that kept taking these weird black and white positions about what horror is and is not that I didn't feel were truisms at all.
So that's really what gets me about stuff like this, how "this theory ruins Raiders of the Lost Ark!" DOES it? I mean, hey, if you feel that this theory ruins your enjoyment of the film, then fair enough, but it sure doesn't seem like it's as definitive as they somehow treat it. This is no shot at The Big Bang Theory, by the way. It's totally fine for a fictional show to have it be this shocking thing and have Sheldon spiral out and try to ruin his girlfriend's favorite book and TV show in retaliation before he realizes that that's not how people in relationships are supposed to act. That's fine (I mean, you can argue that Sheldon is unreasonably dense, but whatever, it's close enough to fine for horseshoes, hand grenades and sitcom plots), but real life people buy into this stuff way too easily (just like the contrarian hot takes that I mentioned before).
Okay, so that's sort of my philosophical objection to this sort of thing, now, the factual counter-arguments are as follows…
1. The Big Bang Theory even acknowledged this but tried to downplay it, which is that if Indiana Jones was not involved, the Ark would not have been taken by the United States, it would have been on some secret Nazi base with a bunch of melted Nazis, making it clear that this WAS the powerful weapon it was believed to be. I don't know how effective of a weapon it really is, but however effective it is, you don't want the Nazis to have it and they would had Indy not been on that base to get it to the Americans (originally, there were plans for the return of the Ark to be a whole thing, as well, but they smartly realized that the film didn't need an extra beat after the flesh-melting section).
2. The Nazis find Marion BY FOLLOWING INDY in the beginning of the film. If Indy doesn't go to Nepal, the Nazis don't find Marion and then they never get the medallion (by the way, Indy also saves Marion's life in the movie, for whatever that's worth, "affecting the plot-wise") and don't know where to dig for the Ark. You could argue that they would eventually hit the right place, but that's a big enough leap that you're getting into pedantry territory. Also, even if you want to believe the Nazis would eventually find Marion no matter what, then, again, they would kill her and only Indy keeps her from dying.
So, yeah, either way, it doesn't work.
Drop me a line at brian@popculturereferences.com if you have any other interesting bit about pop culture that you'd like me to discuss!