When Did NYPD Blue Jump the Shark?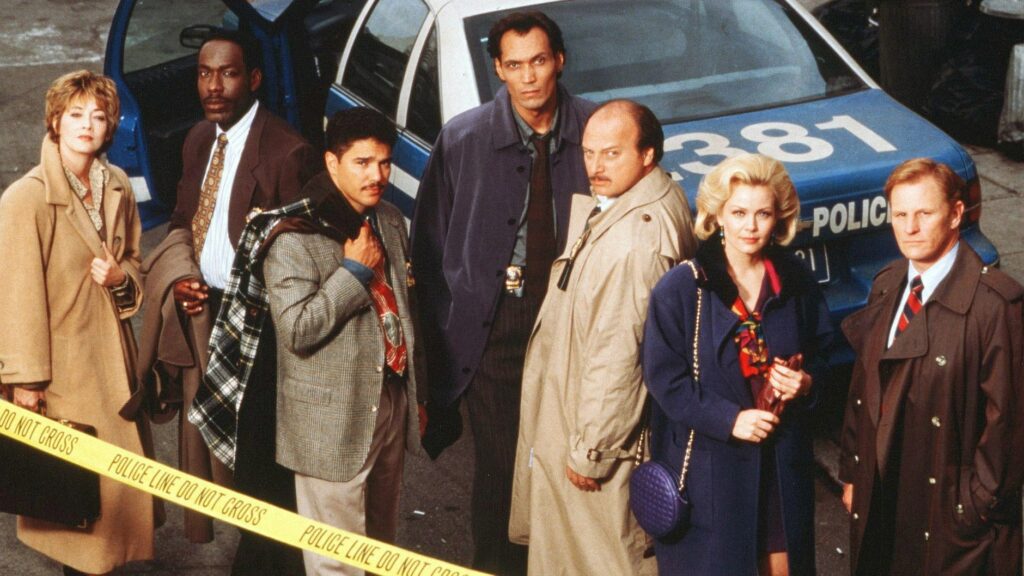 Today, we look at when (or if) you folks believe that NYPD Blue "jumped the shark."
This is "Just Can't Jump It," a feature where we examine shows and whether they "jumped the shark." Jumped the shark (coined by Jon Hein) means that the show had a specific point in time where, in retrospect, you realize that show was going downhill from there. Not every show DOES jump the shark. Some shows just remain good all the way through. And some shows are terrible all the way through. What we're looking for are moments where a show that you otherwise enjoyed hit a point where it took a noticeable nose dive after that time and if so, what moment was that?
NYPD Blue was an acclaimed police drama following the detectives in the fictional 12th Precinct in downtown Manhattan, both in their lives on the job and also their lives at home (there were so many butts shown on this show! It seemed like showing the butts of the actors on the show was, like, its whole deal for a while!). The series initially starred David Caruso and Dennis Franz, however, Caruso left after one season, and his successor, Jimmy Smits, left after five seasons, so Dennis Franz had to go with two younger partners in the final six plus seasons of the series, Ricky Schroder and Mark-Paul Gosselaar, at which point the series became ALL about Franz (he was already the co-star, and the winner of the Emmy for Best Actor in a Drama Series four times in the show's first six years, nominated for each of the first EIGHT seasons of the show).
So first…DID IT JUMP THE SHARK? It's tough, but I say no.
WHEN DID IT JUMP THE SHARK The show lost its co-creator and main writer, David Milch, left the series after Season 7, so it was probably never quite as good as it was in those first seven seasons, but writer Bill Clark had been heavily involved in the series to that point, so when Clark took over for the final five seasons, he made sure to keep the quality level higher than most other shows. In other words, a low-level episode of NYPD Blue was still better than most other show on TV. So while the loss of Milch was definitely a major blow, I really don't think the show ever truly jumped. At the same time, the show was a lot worse in its final season or two than it was early on. But "Much worse than an outstanding TV series" is not really jumping, ya know? So I'm sticking with never jumped.
Let me know what you think in the comments or on social media!
Feel free to e-mail me at brian@popculturereferences.com for suggestions for shows for us to do in future installments!