When Did The A-Team Jump the Shark?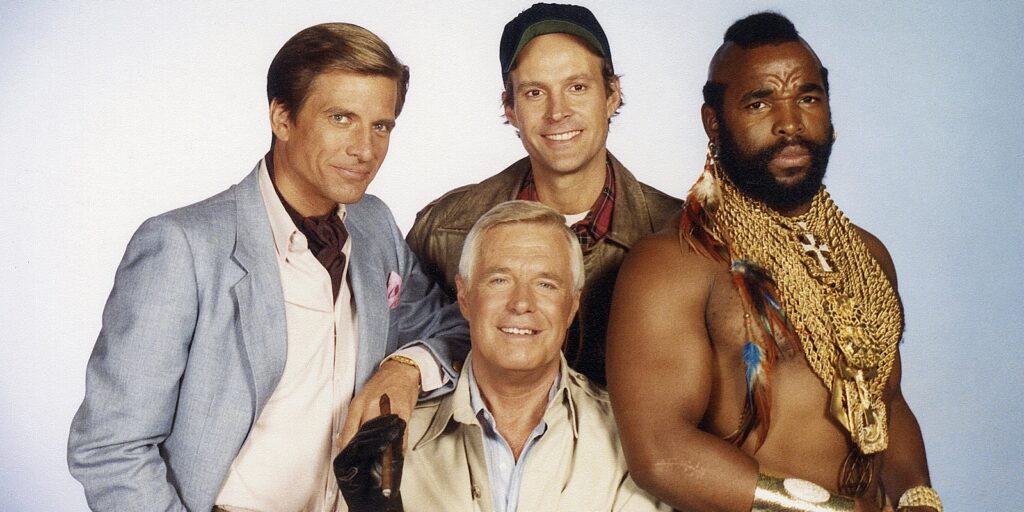 Today, we look at when (or if) you folks believe that The A-Team "jumped the shark."
This is "Just Can't Jump It," a feature where we examine shows and whether they "jumped the shark." Jumped the shark (coined by Jon Hein) means that the show had a specific point in time where, in retrospect, you realize that show was going downhill from there. Not every show DOES jump the shark. Some shows just remain good all the way through. And some shows are terrible all the way through. What we're looking for are moments where a show that you otherwise enjoyed hit a point where it took a noticeable nose dive after that time and if so, what moment was that?
The A-Team was one of a number of famous TV shows that "Burned bright and burned fast," like Batman, The Monkees, Glee, and other shows that were huge hits right out of the gate before faltering. The A-Team lasted longer than most other similar shows, still going a full five seasons, but it is still shocking to see a show hit the top ten in its first season, #4 in its second, #6 in its third but then #30 in its fourth and canceled after season five landed outside the top 60. The series followed a special commando unit that was falsely accused of a crime that they didn't commit. So they went on the run, and now work as mercenaries. Despite them being soldiers, they tended to keep the violence G-rated for the sake of network television. Lots of machine guns that never actually hit anyone. Stuff like that.
So first…DID IT JUMP THE SHARK? I would say so, yes. In fact, this is one of the rare shows where I think you could at least argue it jumped on Day 1.
WHEN DID IT JUMP THE SHARK Some might say Day 1, but I say it was Season 4's "Body Slam," where Hulk Hogan guest-starred, coinciding with a string of high profile, cheesy guest star episodes (the Boy George one was actually pretty good). If not Season 4, then the revamp in Season 5 (where they go to work for a mysterious dude played by Robert Vaughan) would probably be the point.
Let me know what you think in the comments or on social media!
Feel free to e-mail me at brian@popculturereferences.com for suggestions for shows for us to do in future installments!