Classic 1960s Christmas #7 – The Avengers "Too Many Christmas Trees"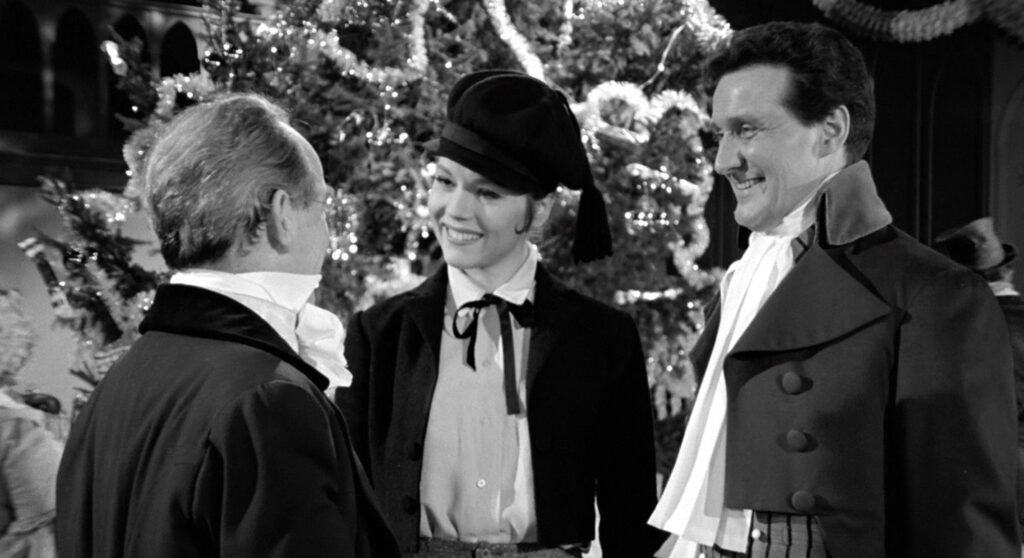 We continue our countdown of Brian's favorite 1960s Christmas TV episodes with 1965's "Too Many Christmas Trees" from The Avengers
This one was funny, because when I went to check the airdate on IMDB, it said August 1966, and I was stunned, but then I realized that it was showing when it first aired in the United States, not when it first aired PERIOD. It first aired in England on December 21, 1965. So phew, it was eligible for this list (I don't know what I would have done had it been ineligible, so I'm lucky it isn't).
The Avengers, about British spies, is fascinating because after doing a two guy partnership in Season 1, it moved to its now more famous male/female pairing in Season 2, and the combination of Patrick Macnee as John Steed (he was also in Season 1) and a female partner, Cathy Gale, played by Honor Blackman. Blackman was amazing, and this is the fascinating thing. She left after two seasons to try her lot at movies and then her replacement….was an even bigger sensation than her! That VERY rarely happens, but Diana Rigg's Emma Peel was an even bigger deal than Blackman's Gale, and even to this day, the Season 4-6 pairing of Steed and Peel is the most famous version of The Avengers (Rigg eventually left to ALSO pursue a career in films. Both Rigg and Blackman became "Bond girls").
In any event, the episode involves a band of telepaths trying to delve into Steed's mind to get the secrets that he has access to. In the end, Steed, being a badass, is able to outfox them, but not before he and Peel have to go to a Charles Dickens-themed Christmas celebration at some rich evil guy's house (Peel as Oliver Twist is certainly quite the sight).
This episode is famous among Avengers fans for an especially strong mixture of sexual innuendo between Steed and Peel, like when Peel notes Steed's fancy bed at the mansion they're staying in and says, "I've always rather fancied myself in one of these," Steed replied, "So have I—I mean, I have, too."
The episode might also end with them kissing, but probably not. Macnee has said that this was one of his personal favorite episodes.
I'd have it higher, as it IS a well-done episode, but despite the festive setting (the Christmas trees in Steed's dreams as the bad guys mess with his head), it really isn't all THAT Christmas-y, all said and done. Not much Christmas spirit, as it were.