When Did Three's Company Jump the Shark?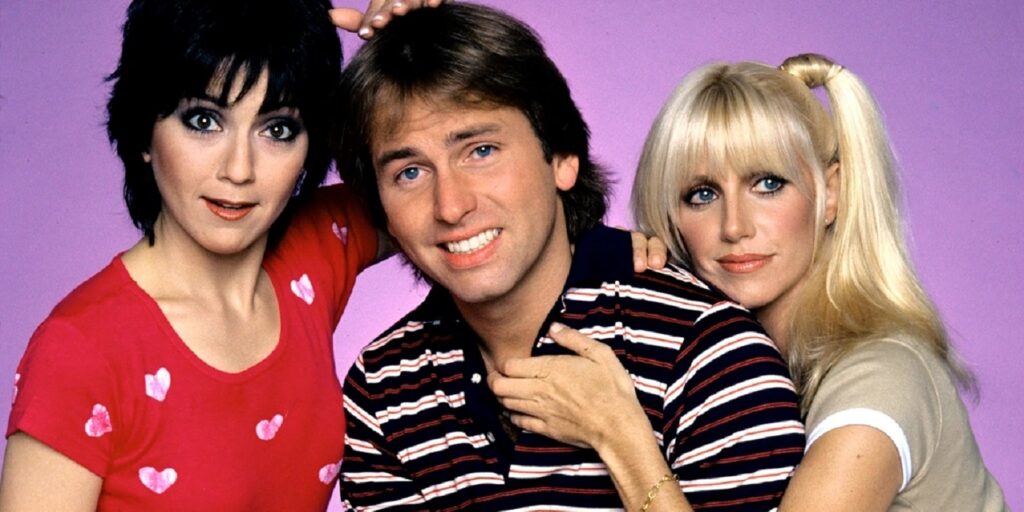 Today, we look at when (or if) you folks believe that Twin Peaks "jumped the shark."
This is "Just Can't Jump It," a feature where we examine shows and whether they "jumped the shark." Jumped the shark (coined by Jon Hein) means that the show had a specific point in time where, in retrospect, you realize that show was going downhill from there (even if, in some rare occasions, the show later course-corrected). Not every show DOES jump the shark. Some shows just remain good all the way through. And some shows are terrible all the way through. What we're looking for are moments where a show that you otherwise enjoyed hit a point where it took a noticeable nose dive after that time and if so, what moment was that?
Three's Company was a TV series about a man, Jack Tripper, living with two female roommates (back when something like that would have been seen as quite…if not scandalous, then certainly not normal), while trying to pretend that he was gay so that his crusty old landlord would let him stay in the apartment. It initially starred John Ritter as the guy, and Suzanne Somers and Joyce DeWitt (Chrissy Snow and Janet Wood), with Somers later being replaced by first Jenilee Harrison and then Priscilla Barnes.
So first…DID IT JUMP THE SHARK? Definitely.
WHEN DID IT JUMP THE SHARK Okay, here's where it gets tricky. Naturally, people think that the show took a dive when Suzanne Somers left, and surely, the show was never as good as it was in the first three seasons, but the show WITH Somers had already gotten worse before she left, so you could make a strong argument that it jumped before she even left at the start of Season 5. However, I think the quality didn't drop enough to merit "jump the shark," and really, the initial season with Cindy Snow (instead of Chrissy Snow) was not that bad, nor was the first season with Terri Alden (Barnes), where the show tried to zig when people thought it would zag by bringing in an intelligent blonde roommate to replace the dimwitted Chrissy and the klutzy Cindy. No, for me, it's Season 7's "Jack Gets His," when Jack gets his own restaurant. The show was always a Ritter starring vehicle, but it REALLY became ALL about Jack when he got his own restaurant. It also strained the whole "still living with two roommates" deal when the guy owns a restaurant. The show also clearly got bored with Terri, and she became a non-entity, and even Don Knotts as the replacement building manager really had no purpose on the show anymore, as he was too charming to really lean into the crusty ol' homophobe like the previous landlord, Mr. Roper. So I think that's when the show jumped.
Let me know what you think in the comments or on social media!
Feel free to e-mail me at brian@popculturereferences.com for suggestions for shows for us to do in future installments!