Perfect Strangers' Rebeca Arthur Speaks Out Against Bronson Pinchot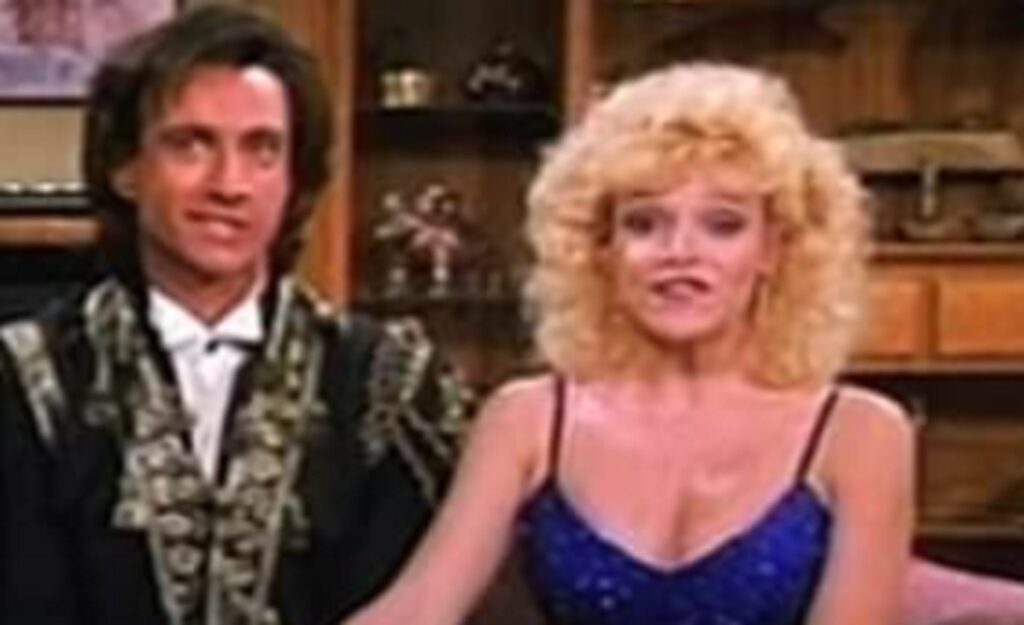 Today, we look at Rebeca Arthur (Mary Anne on Perfect Strangers) talking about her problems with Perfect Strangers star, Bronson Pinchot, including some shocking allegations about his conduct during the series.
This is Quite a Story, a sort of catch-all feature where I share short, interesting anecdotes from interviews or books that don't really fit into any other feature.
Perfect Strangers was a star vehicle for Bronson Pinchot, whose Serge character was a standout part of the 1984 hit film, Beverly Hills Cop. ABC basically took the "foreign man" character that Pinchot did in that film, dropped the gay aspect of the character and gave him his own sitcom where he plays a man coming to America from the fictional island of Mypos. He moves to Chicago where he stays with his distant cousin, Larry Appleton (played by Mark Linn-Baker). The two are very different from each other (perfect strangers, you might even say). Melanie Wilson and Rebeca Arthur played Larry and Balki's love interests, respectively, for most of the show (they eventually had a double wedding and even had kids at the same time).
Arthur talked to the very interesting Perfect Strangers Reviewed blog a couple of years ago and when Arthur was asked about her castmates, she spoke volumes in what she DIDN'T say. She explained to Casey (the person who runs the blog):
Melanie and I were, and still are, very close. She is one of my dearest friends. We leaned on each other through those years of standing behind a door waiting to knock and we are still leaning on each other in life! Mark is the consummate professional and just a doll. He's a man of very few words but very quick to laugh and a pure delight to work with. If you can't tell, I just love him. Sam Anderson is the sweetest guy and so funny! He could take anything and make pure comic gold out of it. I love when I see him pop up in films or TV. Belita Moreno is also hysterically funny and such a great gal. She got pregnant during season 3 or 4 and I remember they just kept hiding her behind stuff and she was a riot. Jo Marie [Payton, who was spun off into Family Matters] was also a hoot to work with could pull down a laugh with just a look. It's really too bad they weren't utilized more in the show because they always delivered brilliantly.
Sort of speaking volumes with who she DIDN'T mention, right?
However, Arthur then later DOES discuss Pinchot, and she explains why she didn't talk about him while then making a shocking accusation about the actor:
If you have wondered why I haven't said anything about Bronson, it's because I adhere to the old adage that if you can't say anything nice about someone then don't say anything at all.

But the truth is there are some nice things I can say about him.

He was a true Jekyll/Hyde. In the beginning, he was so sweet and fun to work with but as we got further into the success of the show, he morphed into a monster. I was the one member of the cast that seemed to draw his wrath. It was quite the paradox living my dream of being on a sitcom but subjected to being sexually assaulted by him regularly. At the time, there was nothing I or anyone else could do about it. He held all the cards.
It's fascinating that I haven't seen anyone follow up on those accusations since 2020.
If you see any interesting anecdotes from interviews or books that you think would be worth spotlighting, drop me a line at brian@popculturereferences.com.