2022 PCR Star Trek Tournament- Round 1, Day 1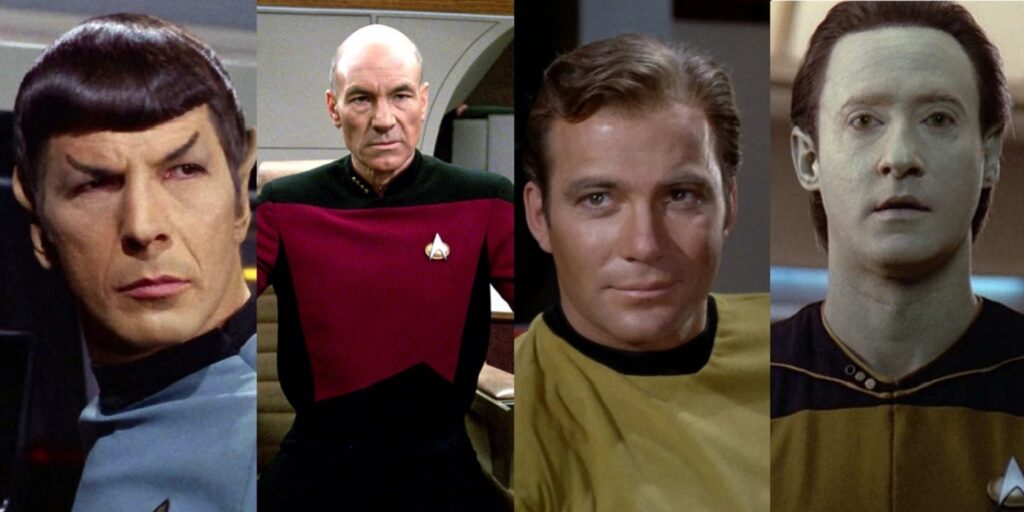 Today, it is our second annual Pop Culture References Tournament! This year, the tournament is Favorite Star Trek character!
Looking through all of the Star Trek live action TV shows (sorry, animated shows! Not enough room!), I eliminated any actor who wasn't a main character on a show for more than a single season (so we lose Tasha Yar, Dr. Pulaski, Captain Lorca and more that way), and that got us down to 63 (once I decided that Isa Briones' various Star Trek: Picard shouldn't count), so I added in Lt. Saavik from the films. I ranked everyone by my best approximation of how Star Trek fans view the characters (not my personal rankings). I asked my buddy, Star Trek expert Rich Handley, and he helped massage my rankings a bit here and there until we were both pretty happy with the order.
And now, you all just vote!
We'll start with the first two regions today and then the next two tomorrow.
Vulcan Region
Here's the Pop Culture References Star Trek Tournament! We begin with the Vulcan Region! 1. Commander Spock vs. 16. Travis Mayweather

— Pop Culture References (@poprefs) March 16, 2023
2. Worf vs. 15. B'Elanna Torres

— Pop Culture References (@poprefs) March 16, 2023
3. Benjamin Sisko vs. 14. Erica Ortegas

— Pop Culture References (@poprefs) March 16, 2023
4. Pavel Chekov vs. 13. Jett Reno

— Pop Culture References (@poprefs) March 16, 2023
5. Odo vs. 12. Wesley Crusher

— Pop Culture References (@poprefs) March 16, 2023
6. Saru vs. 11. Neelix

— Pop Culture References (@poprefs) March 16, 2023
7. Kira Nerys vs. 10. Joseph M'Benga

— Pop Culture References (@poprefs) March 16, 2023
8. Jonathan Archer vs. 9. Phlox

— Pop Culture References (@poprefs) March 16, 2023
Omicron Theta Region
Omicron Theta Region begins! 1. Data vs. 16. Hoshi Sato

— Pop Culture References (@poprefs) March 16, 2023
2. Leonard McCoy vs. 15. Adira Tal

— Pop Culture References (@poprefs) March 16, 2023
3. Kathryn Janeway vs. 14. Chris Rios

— Pop Culture References (@poprefs) March 16, 2023
4. Montgomery Scott vs. 13. Nhan

— Pop Culture References (@poprefs) March 16, 2023
5. Miles O'Brien vs. 12. Tom Paris

— Pop Culture References (@poprefs) March 16, 2023
6. Saavik vs. 11. Nyota Uhura (Strange New Worlds)

— Pop Culture References (@poprefs) March 16, 2023
7. Julian Bashir vs. 10. La'an Noonien-Singh

— Pop Culture References (@poprefs) March 16, 2023
8. T'Pol vs. 9. Christine Chapel (Strange New Worlds)

— Pop Culture References (@poprefs) March 16, 2023