A Guide to the Unique Versions of Popular Phrases in the Ghosts Universe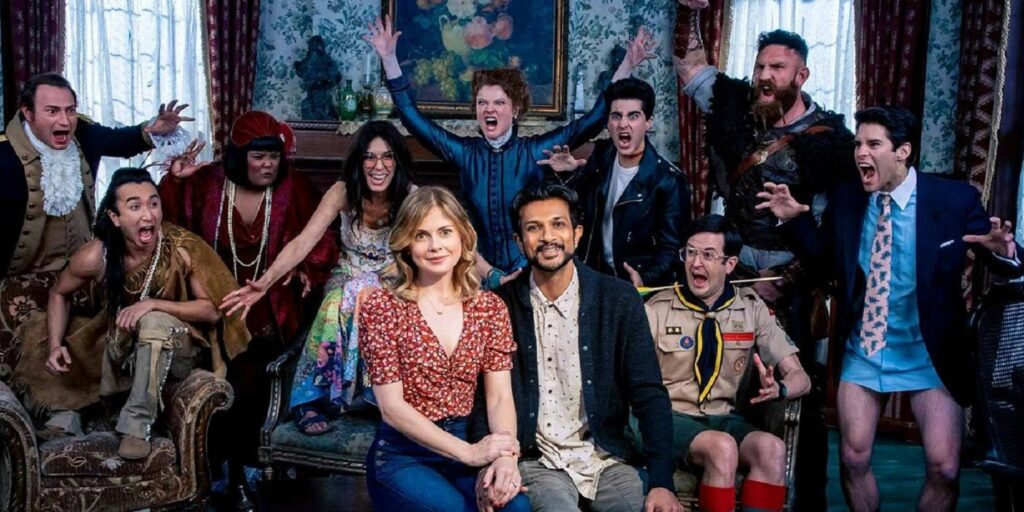 Today, we look at the distinctive versions of popular phrases that the ghosts on Ghosts use.
In this feature, Too Much Information About Nothin', I detail lists of information about stuff that you really don't need to know, but it might be fun to know!
On the excellent TV series, Ghosts, one of the recurring bits of humor is that the ghosts on the series have obviously been cut off from society since they died (one of the big advances now for them is that they can communicate with Rose McIver's Samantha, who, due to a near-death experience, can now see and talk to ghosts, so she helps make their afterlife as pleasant as possible, and so they've caught up a lot on history and popular culture since she first started communicating with them on the show), so they don't know that some of their common ghost phrases have a completely different meaning in modern society.
Here, in order of their first appearances, is a list of the distinctive ghost phrases that have other meanings in our society (I'll update as more appear over the series' run):
"Sucked off" (Season 1 Episode 4's "Viking Funeral") This is the most common one on the show. When people die at the mansion in the show, the ghosts see their spirits, and then people who make it into Heaven are seemingly sucked into Heaven. So the ghosts have come to refer to anyone who makes it into Heaven once they did as being "sucked off." The goal for all of the ghosts is to ultimately be sucked off themselves (Samantha meets the ghost of her mother in one episode, and after they come to terms with their estranged relationship, her mother is then sucked off).
"Going down on us" (Season 1 Episode 13's "The Vault") This is, of course, the opposite of going to Heaven. When we meet Elias Woodstone (Matt Walsh), the robber baron husband of Hetty (Rebecca Wisocky), who had been trapped in a vault (whose walls are impenetrable for ghosts) after starving to death, he was eventually sent to Hell when he made it clear that he would never be redeemed. When it happened, the others all noted that he was "going down on us."
"Friend zone" (Season 2 Episode 4's "The Tree") In this episode, Sassapis (Román Zaragoza) convinces Sam to keep a tree from being cut down because he convinces her that it had sacred meaning to his tribe, the Lenape. However, when Sam successfully gets the tree saved, a Lenape representative calls Sam out for completely lying about the meaning of the tree. In reality, it was a tree that Sassapis had marked in the past every time the girl he had a crush on said hi to him. When the tree was, of course, cut down, they used seeds from the tree to plant a number of new trees. The others explain that this is now the "friend zone," and they celebrate being in the "friend zone."
"The carrot and the stick" (Season 2 Episode 19's "Ghost Father of the Bride") When trying to convince the family of Pete to have the wedding of his daughter at the bed and breakfast so that Pete could see his daughter get married, Sam first tried to entice Pete's widow through offering the use of the bed and breakfast for free. When that didn't work, they fight dirty by reporting them for a non-permitted deck (they were going to get married on the deck at Pete's old house). Thorfin (Devan Chandler Long) explains that the stick didn't work, so they had to use the carrot. Sam explains that that's the opposite of the phrase, but Thorfin insists that the phrase refers to the stick of peace that you give to foes for a truce, and when that doesn't work, you stab them in the eye with a frozen carrot.
Let me know if I've missed any other examples, and I'll be sure to add more as the series continues!
Okay, folks, I'm sure there are lots of other pieces of information that you'd like to see detailed online so you don't have to remember it yourself, so feel free to drop me a line at brian@popculturereferences.com and I'll see what I can do!