Ray Liotta and Every Other ER Guest Star Who Was Nominated for an Emmy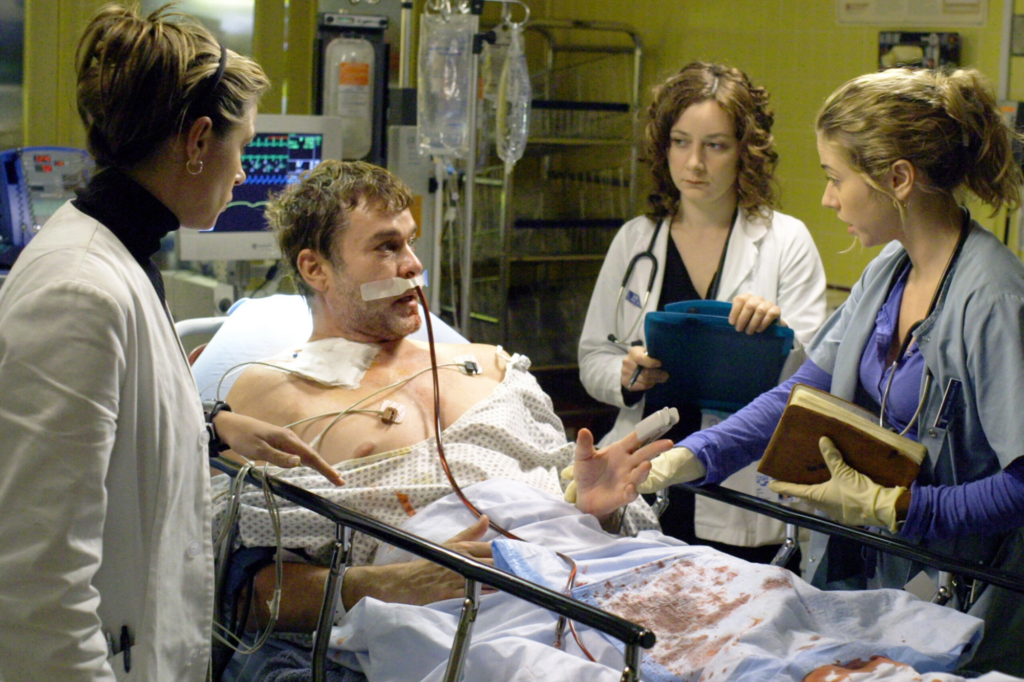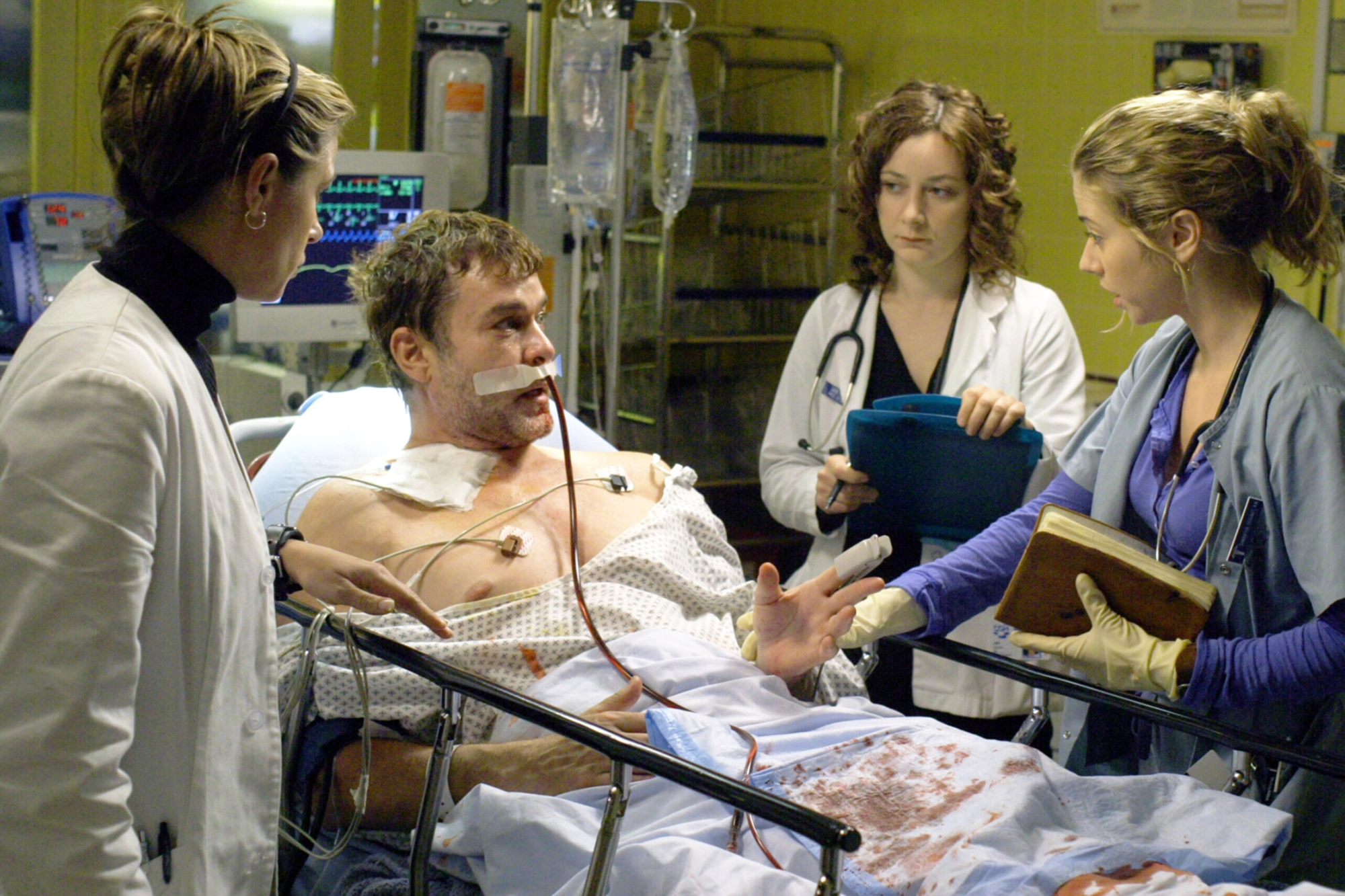 Today, we detail every ER guest star who was nominated for an Emmy Award for Best Guest Actor in a Drama Series and Best Guest Actress in a Drama Series.
In this feature, Too Much Information About Nothin', I detail lists of information about stuff that you really don't need to know, but it might be fun to know!
The excellent actor, Ray Liotta, tragically passed away yesterday. Liotta was the only male actor to ever win an Emmy from a guest spot on ER, the long-running hospital drama. He won for Best Guest Actor in a Drama Series. It was a category that ER did well in over the years. I thought it would be interesting to detail all of the actors who received Emmy nominations for their guest spots on ER.
SEASON 1
ALAN ROSENBERG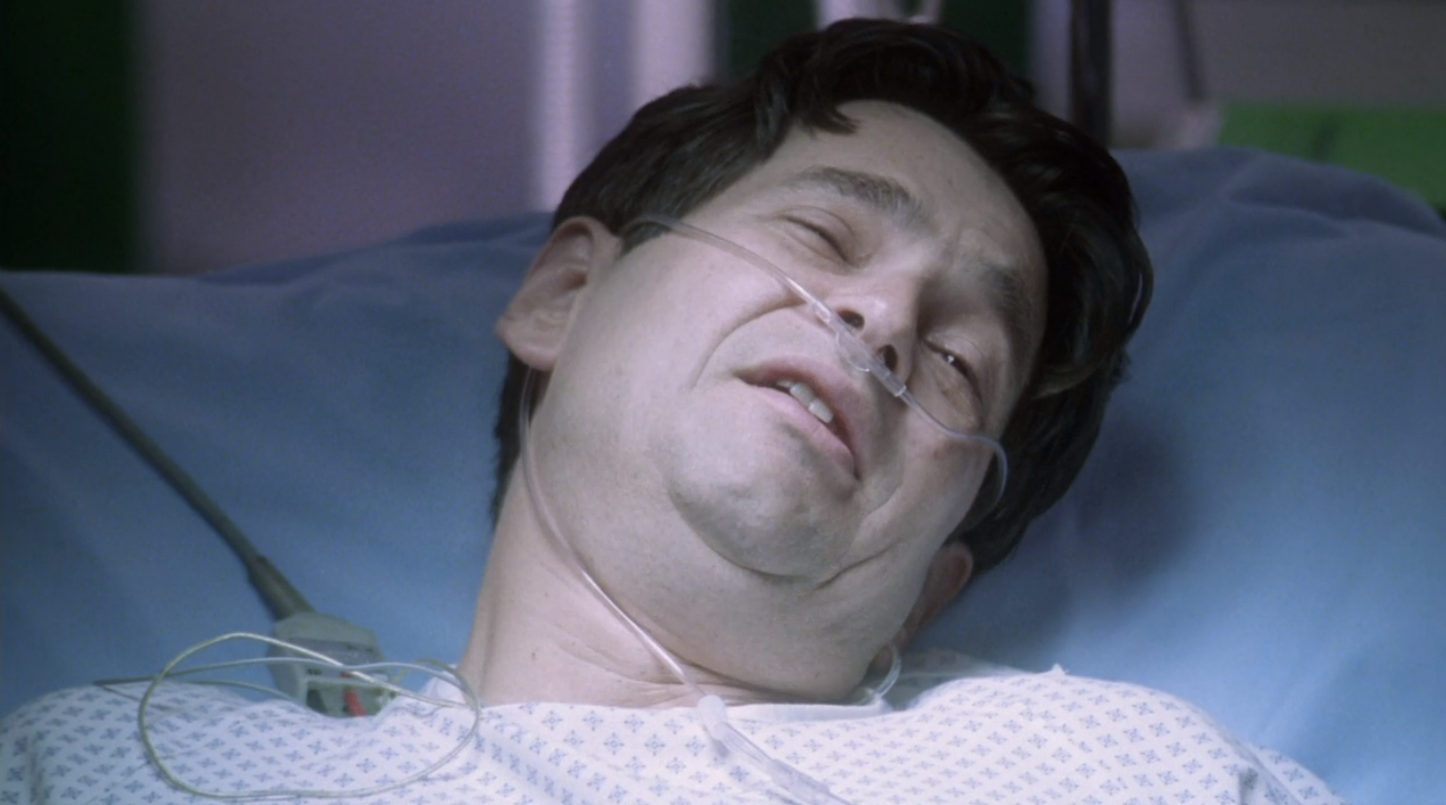 Alan Rosenberg, the longtime head of the Actors union, played a man slowly dying of heart failure while hoping for a heart. He had a lot of sage wisdom about not having regrets in your life.
VONDIE CURTIS-HALL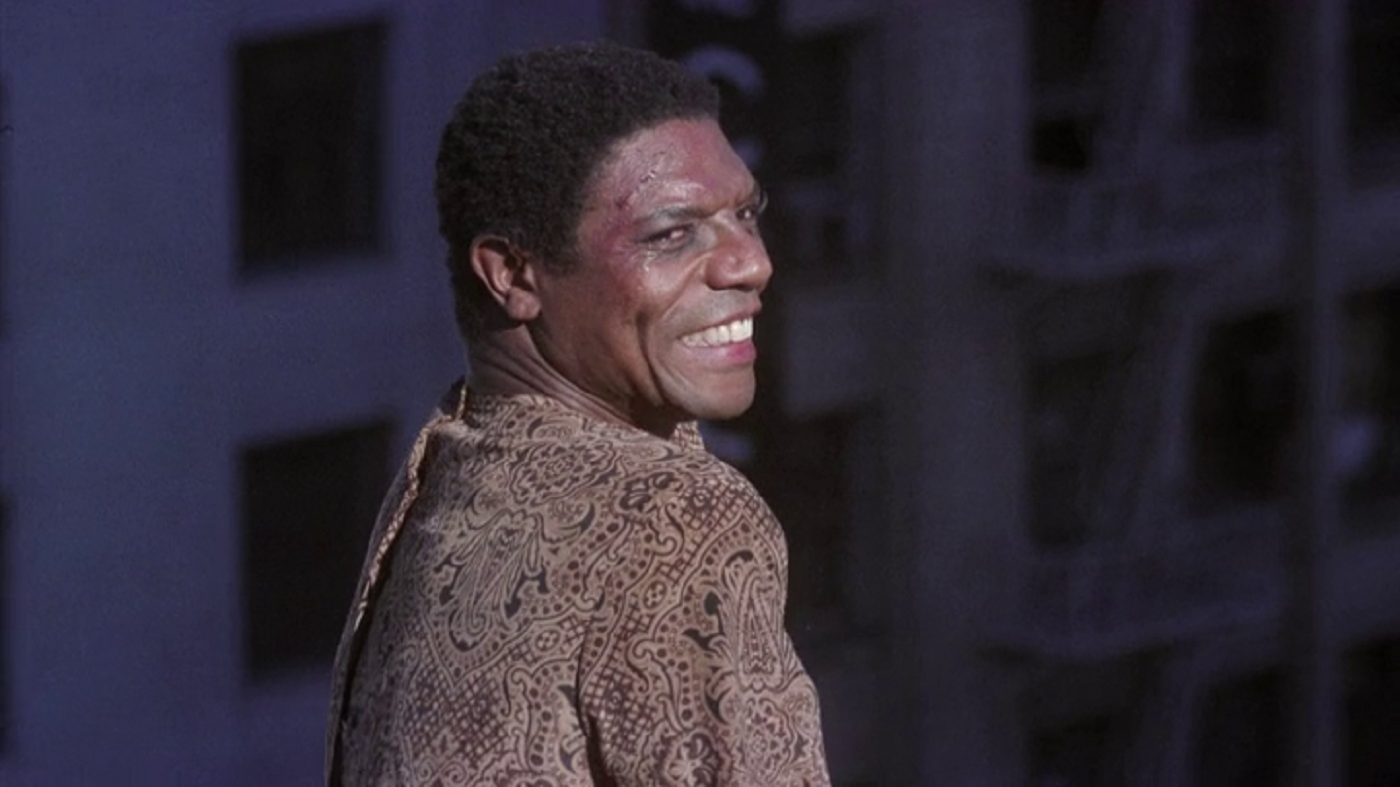 Vondie Curtis-Hall would later have a regular role on ER's rival, Chicago Hope, and then would return after that series ended to become a recurring character on ER. Here, though, he plays a trans woman who tried to kill herself. When Benton and Carter discover that she's trans, they're dicks about it, which ultimately leads to her killing herself in front of Carter later in the episode.
ROSEMARY CLOONEY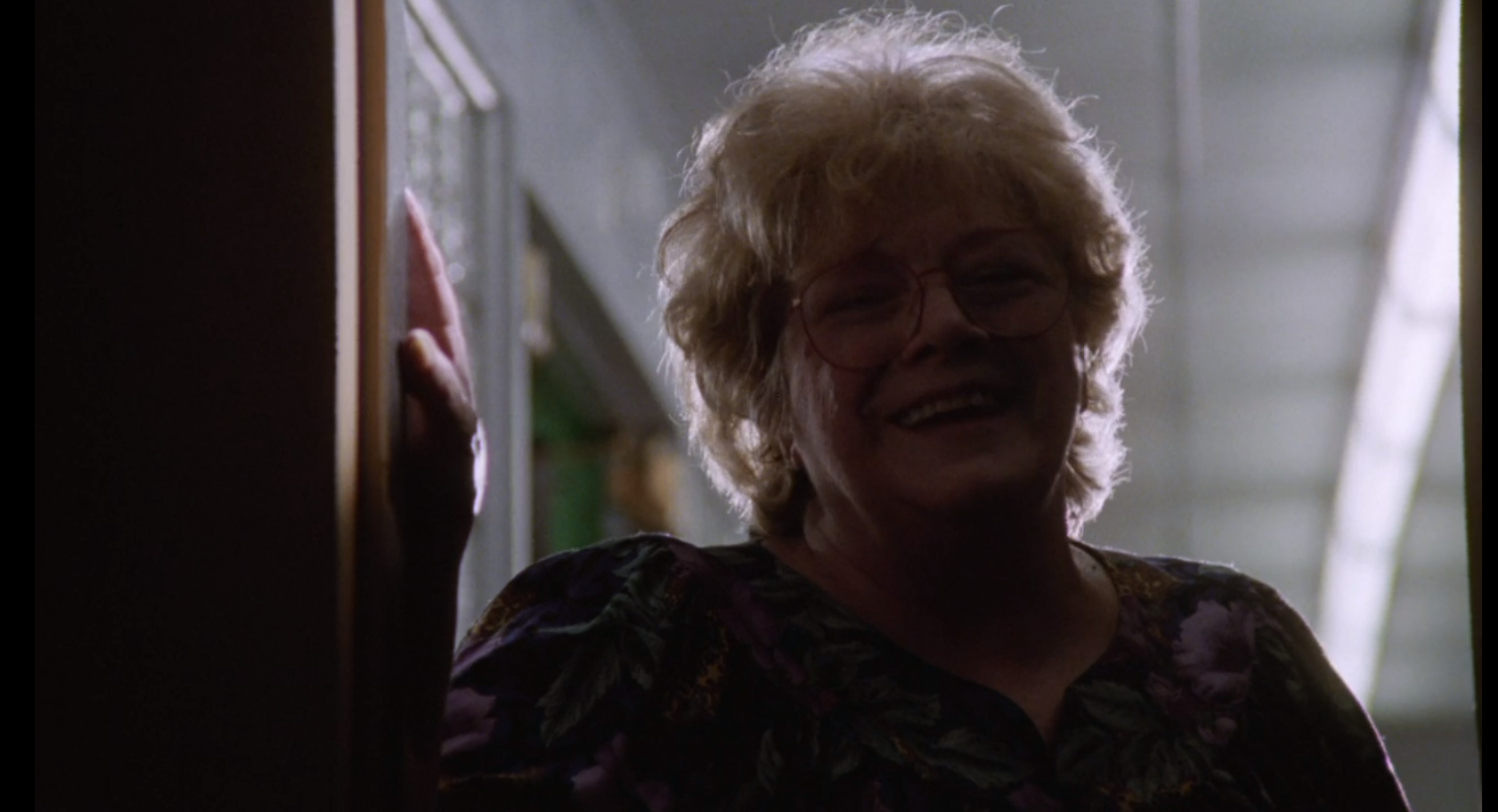 George Clooney's aunt, Rosemary Clooney, had a memorable turn as a woman with dementia who wandered the ER singing showtunes.
COLLEEN FLYNN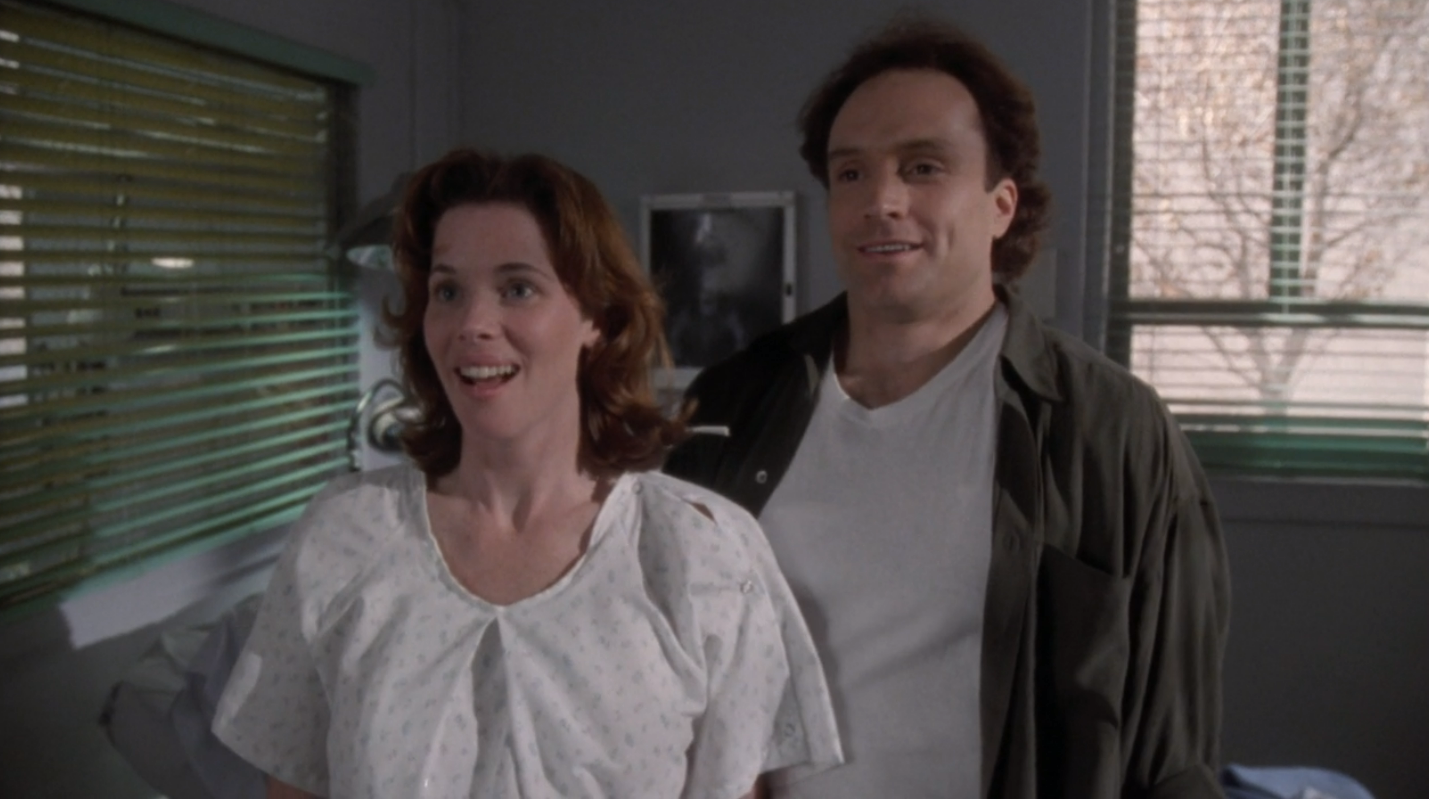 It is shocking to me that Colleen Flynn didn't WIN the Best Guest Actress Emmy for her excellent performance in probably the most acclaimed ER episode of all time, "Love's Labor Lost," as a charming young woman who dies after her pregnancy goes horribly wrong (I also don't get how Bradley Whitford, her husband, didn't get a nomination. He was a lot more memorable than Rosenberg).
SEASON 2
PENNY FULLER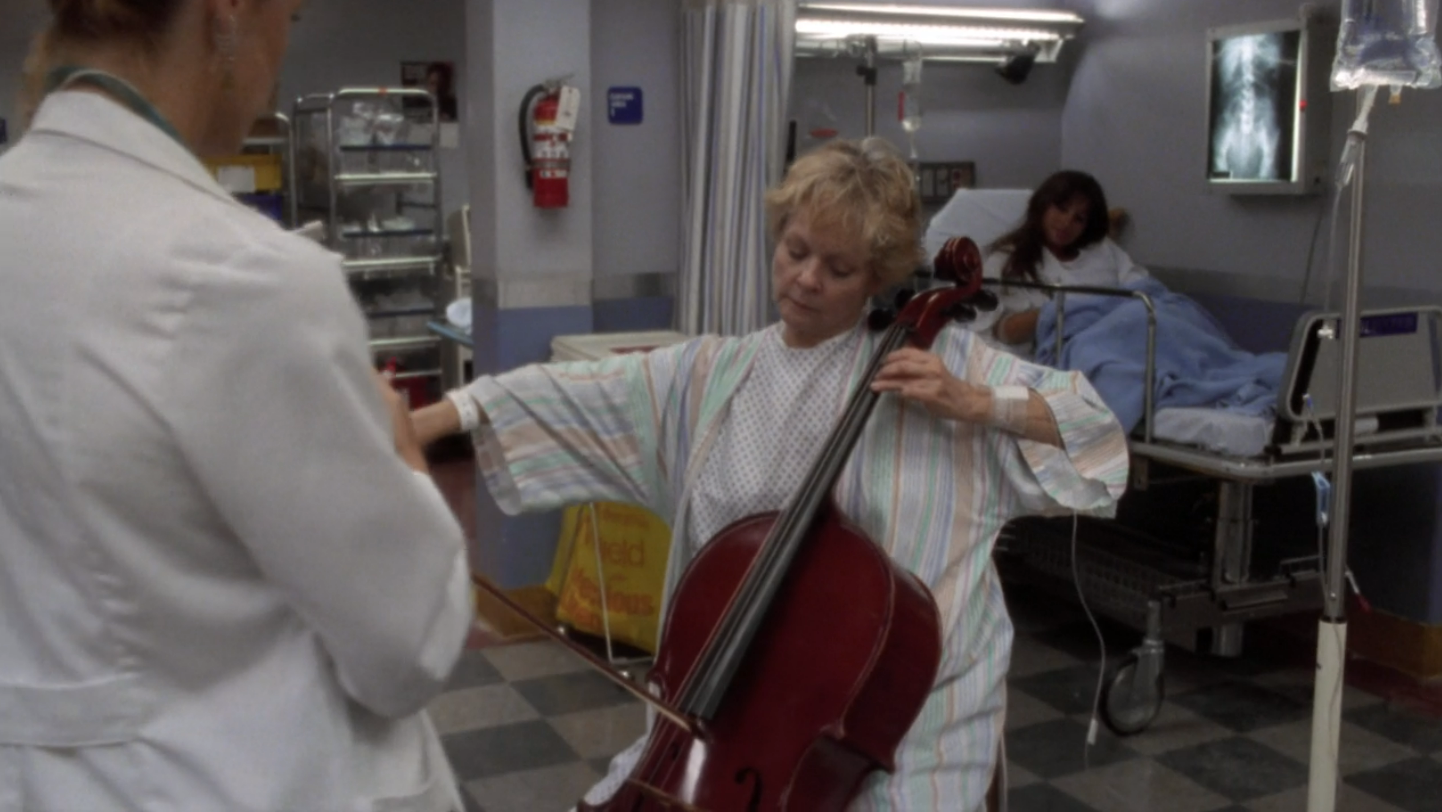 After four guest actor nominations in the first season, the show only netted one in Season 2, Penny Fuller as a bi-polar woman being treated by an ER student who then plays a beautiful song on her cello for the whole ER.
SEASON 3
WILLIAM H. MACY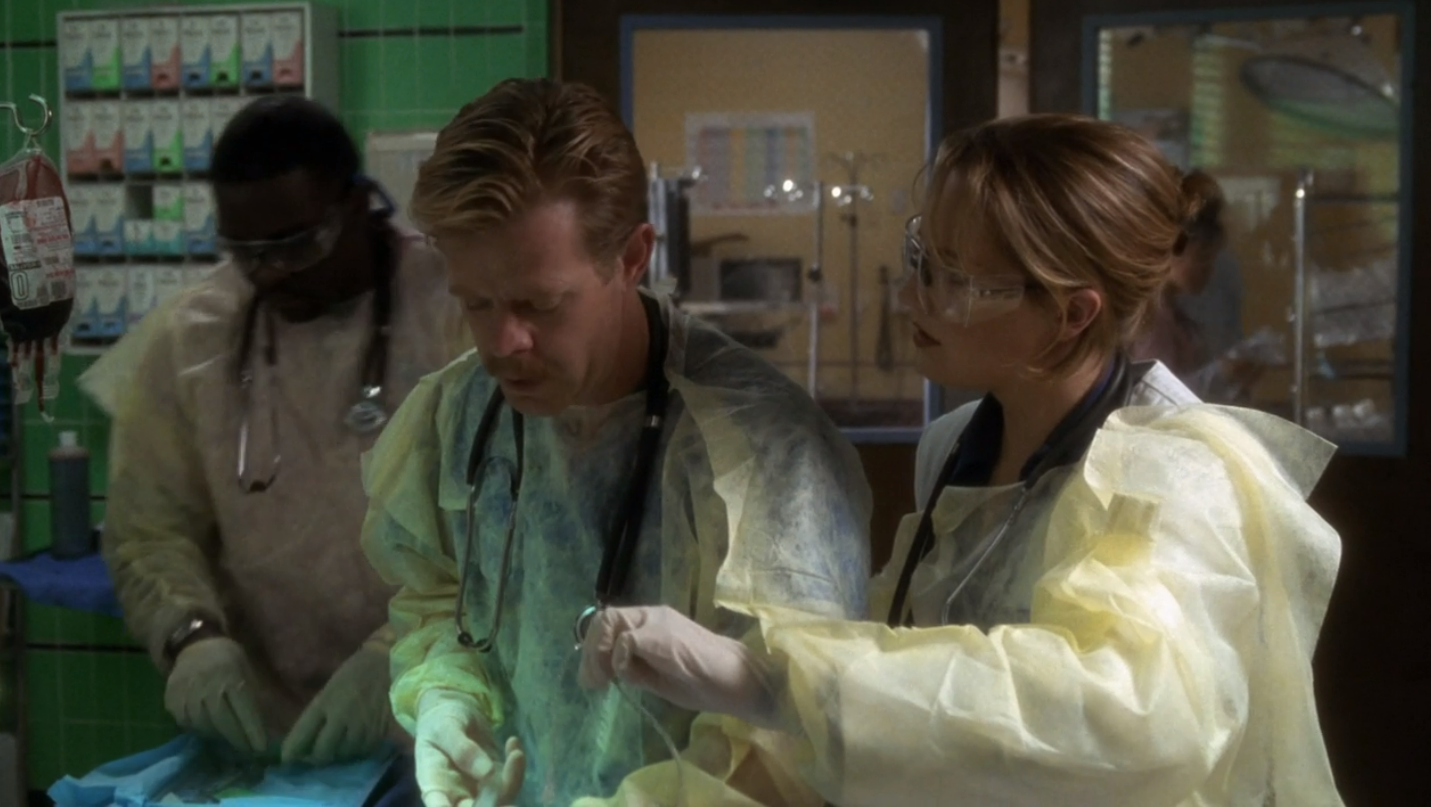 I am not sure, but I think William H. Macy would probably be ineligible for this category nowadays, as he was a fairly regular guest star as David Morgenstern, the Chief of both Surgery and Emergency Medicine (is that even a thing? Can one doctor be the chiefs of both departments?), but he probably never hit 50%, so I guess he'd still be eligible.
In any event, Macy was excellent as the quirky, but beloved Morgenstern (he's the one who famously told Dr. Greene in the first episode that he has to "set the tone" for the ER). He was written out in a scandal (where he tried to force Benton to be the scapegoat for a screwup he made during a surgery, but then came clean and resigned).
VERONICA CARTWRIGHT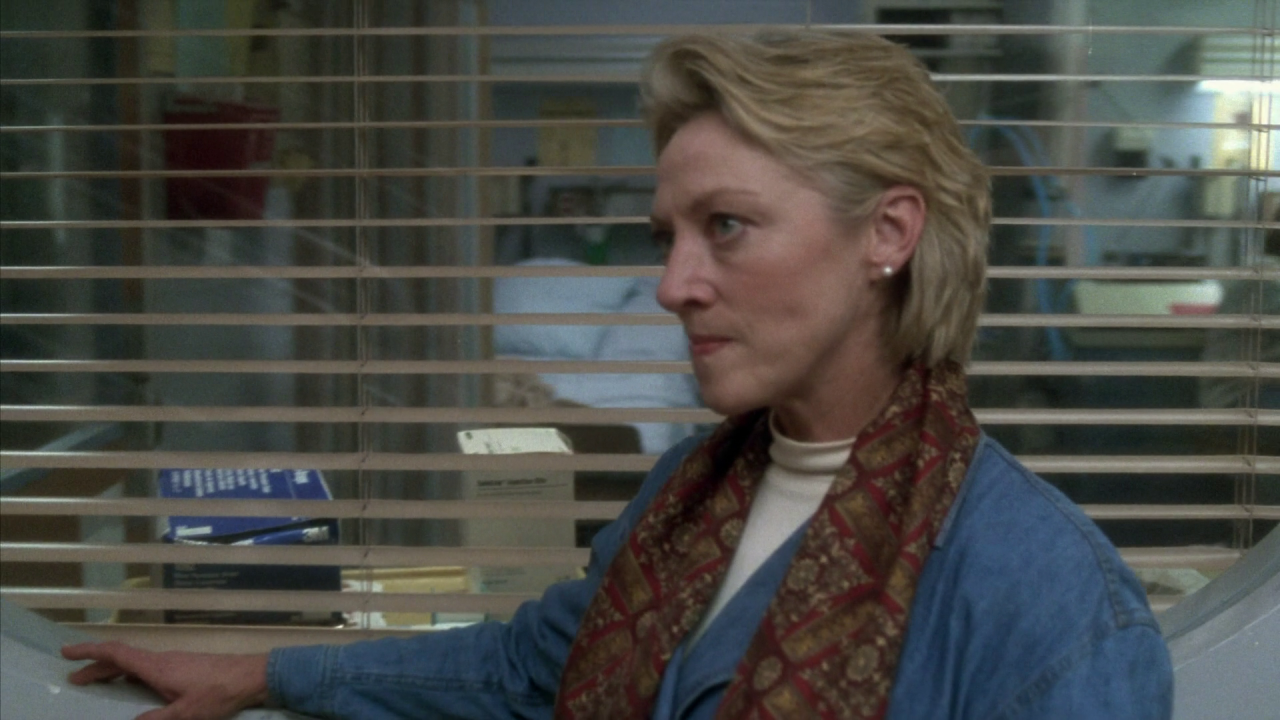 The always compelling Cartwright played the mother of a teen with cystic fibrosis who is about to turn 18 and as soon as they become a legal adult, they want a "Do Not Resuscitate" order placed in their file, which their mother obviously doesn't agree with.
EWAN MCGREGOR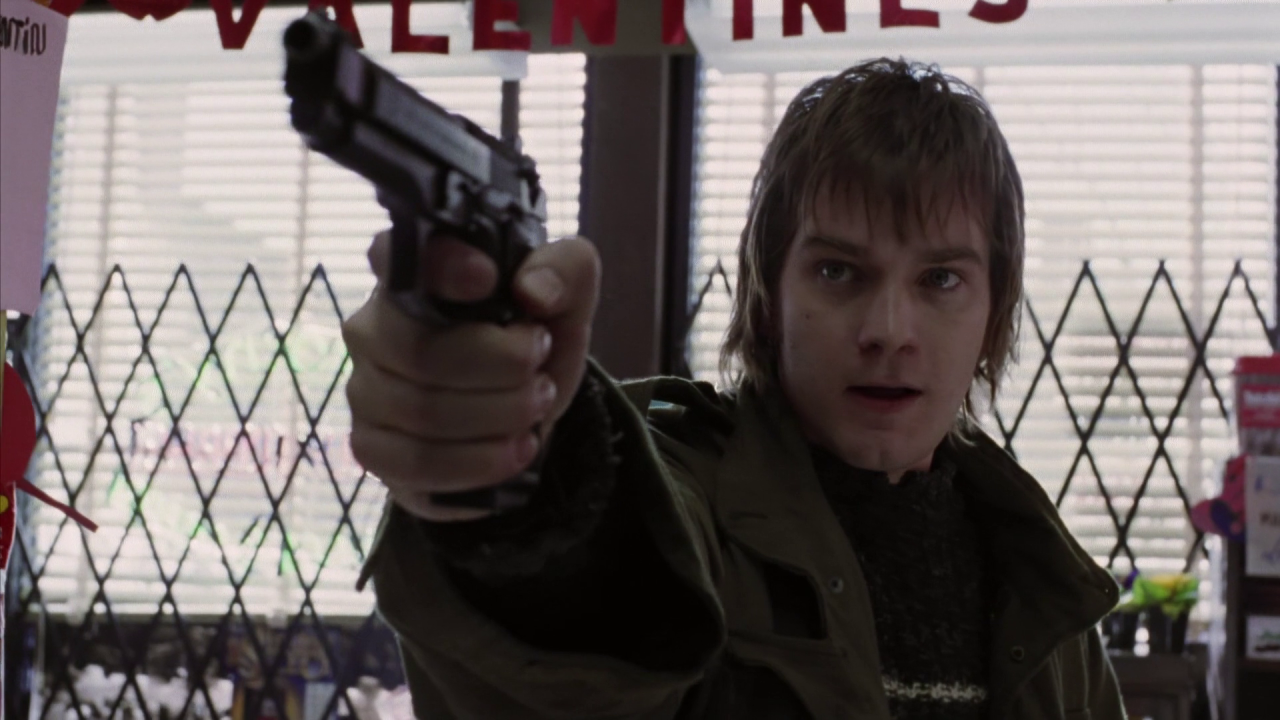 Remember how TV movies and TV miniseries were really big deals and you could get really big names to do them? Well, in the 1990s, doing a guest spot on ER was like that and Ewan McGregor famously played a doomed robber who held Julianna Margulies' Nurse Hathaway hostage in a bodega.
SEASON 4
SWOOSIE KURTZ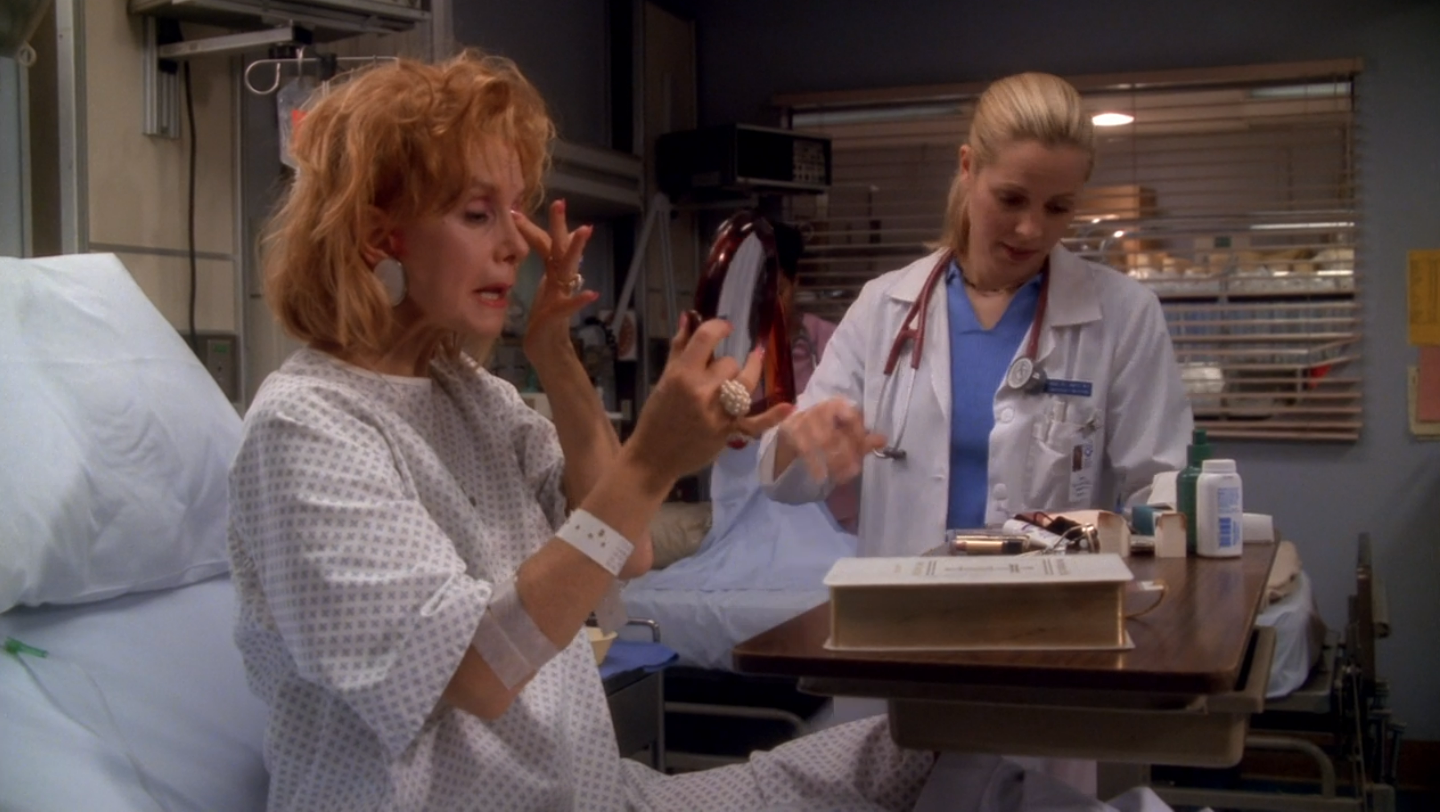 After a bump to 3 in Season 3, Season 4 was back down to one, with just Swoosie Kurtz nominated for playing a televangelist who tries to use her ER stint to raise some money.
SEASON 6
ALAN ALDA
Season 5 was the first (and only) season with no nominations at all! In Season 6, Alda played a brilliant doctor who was a mentor to Laura Innes' Kerry Weaver, but he turned out to be suffering from Alzheimer's Disease and had to be forced to retire.
SEASON 7
JAMES CROMWELL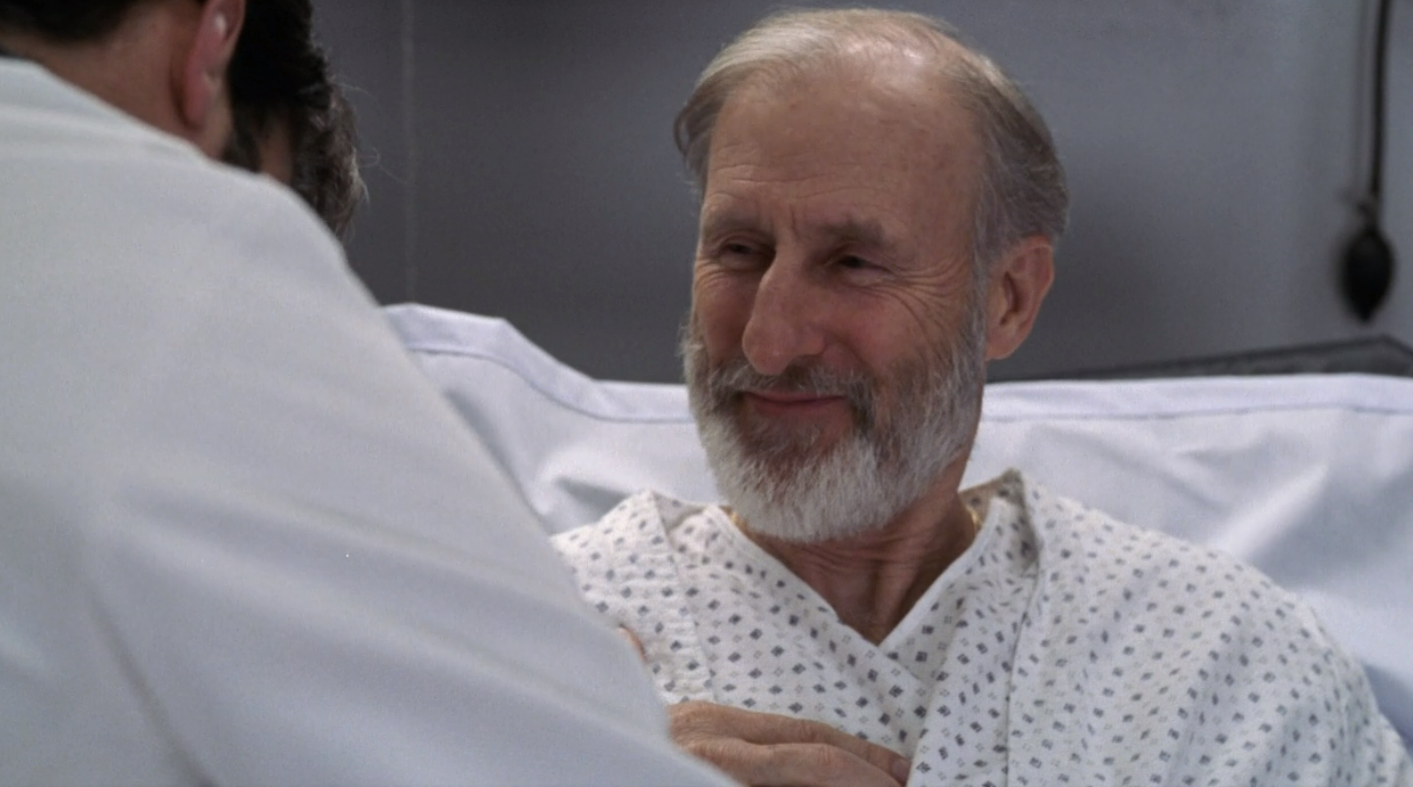 This is around the time when big-name actors would show up for much-hyped arcs that would typically have to do with character arcs of the main characters on the show. Here, James Cromwell plays a dying Bishop who helps Goran Višnjić's Luka Kovač deal with his loss of faith after the death of his wife and children in Croatia.
SALLY FIELD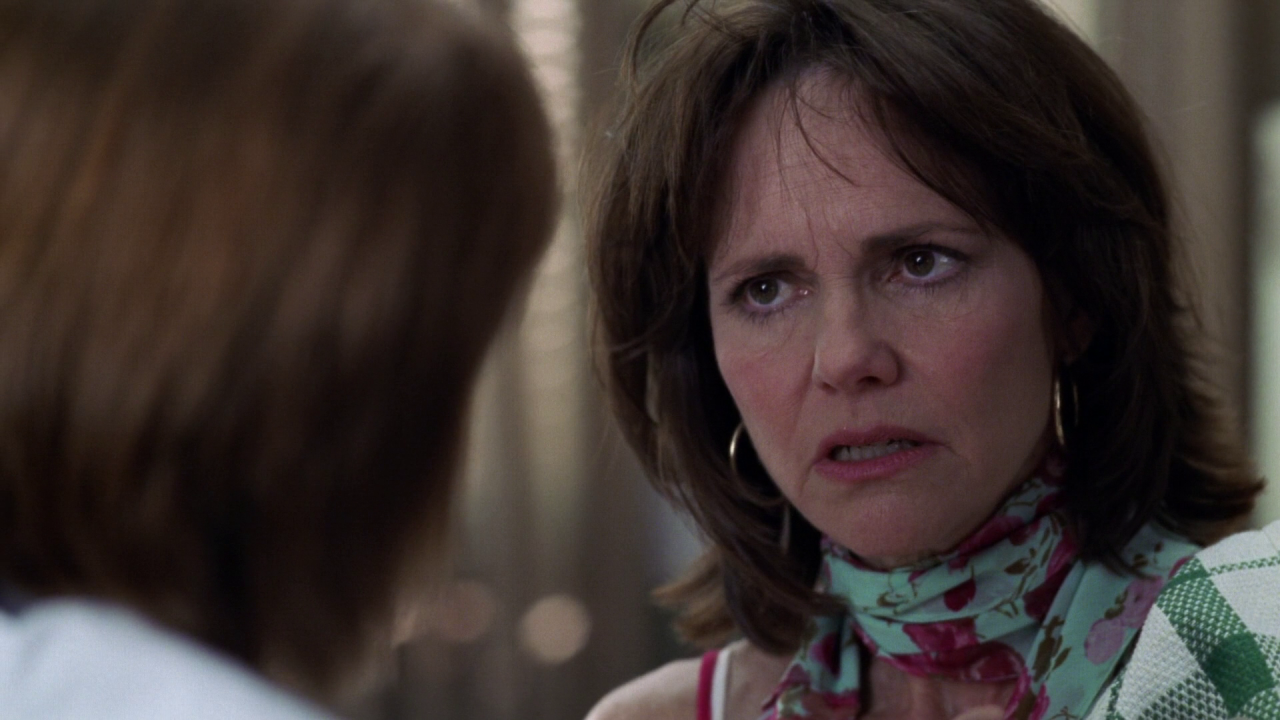 The first time an ER guest star actually WON an Emmy! Sally Field won an Emmy for her memorable role as Abby's bipolar mother.
SEASON 8
MARY MCDONNELL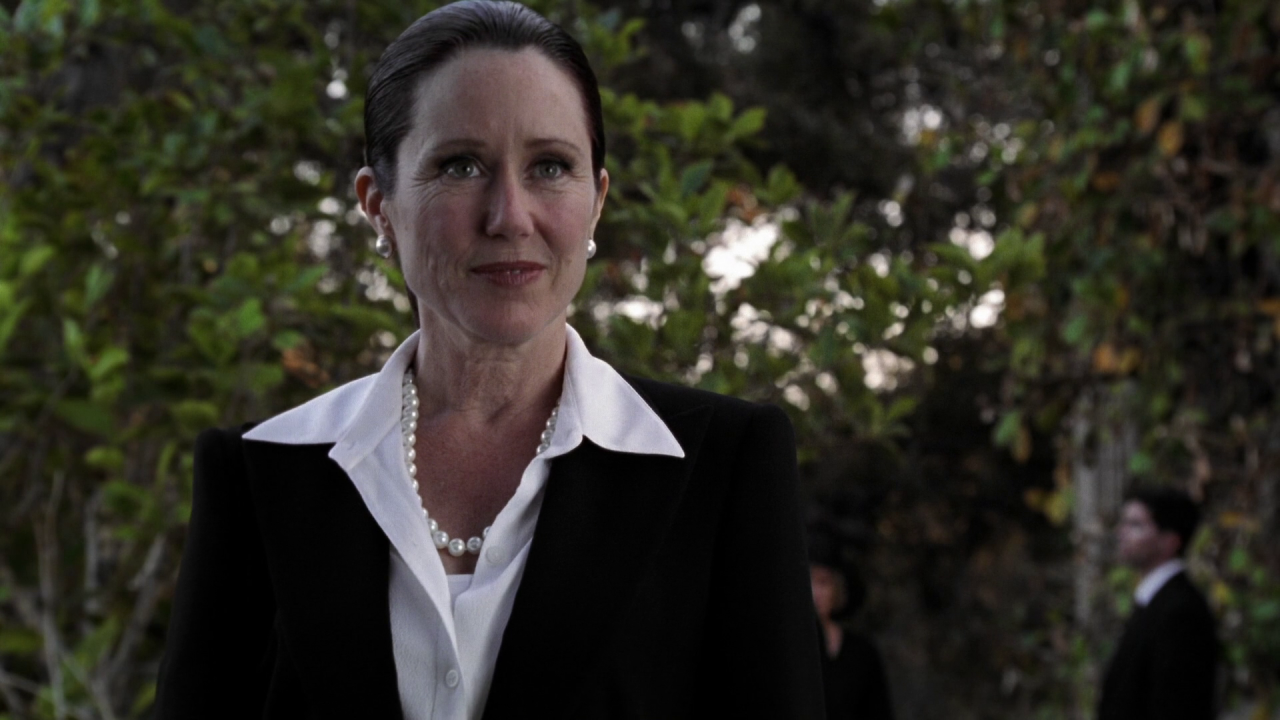 Mary McDonnell earned a nomination for playing John Carter's distant and cold mother, Eleanor, who was having trouble with her divorce from Carter's father as well as the death of Carter's grandmother, the matriarch of the Carter clan.
SEASON 9
DON CHEADLE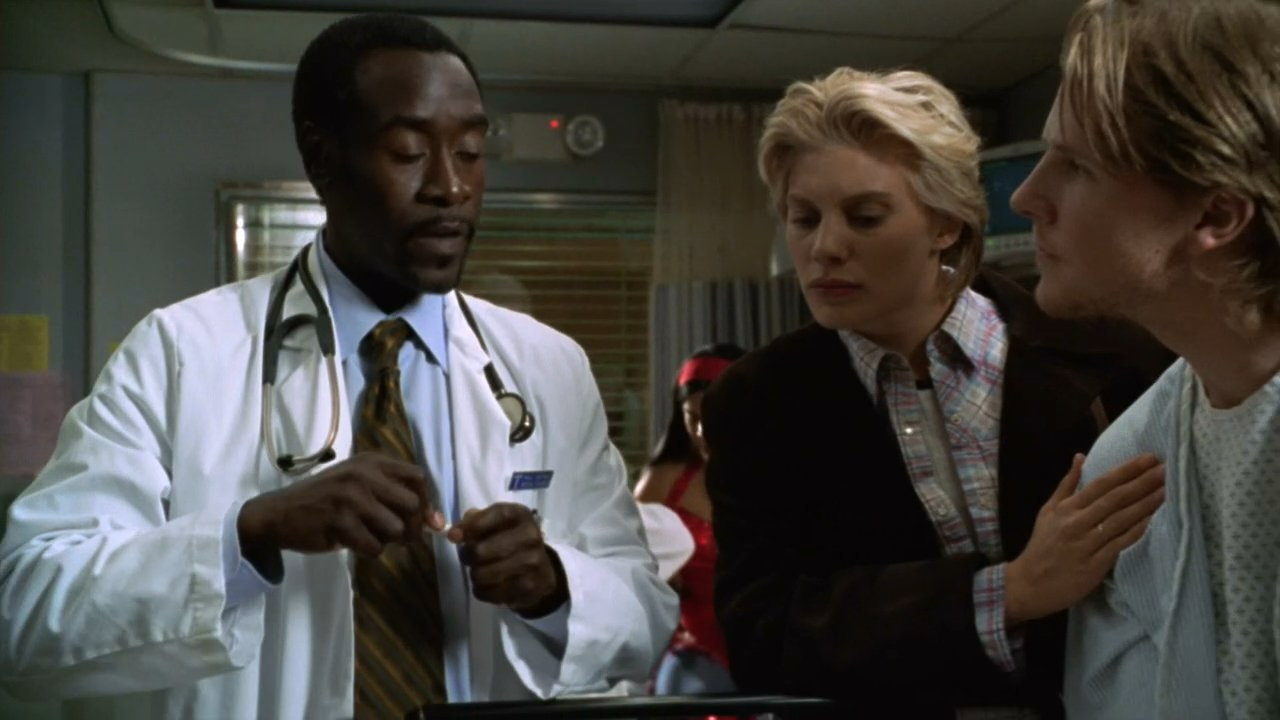 Don Cheadle played a surgical resident with Parkinson's Disease. He tries to cover it up, but it is too obvious and eventually Alex Kingston's Elizabeth Corday offers to pass him so long as he promises to never practices medicine on people. He refuses and she fails him.
SALLY FIELD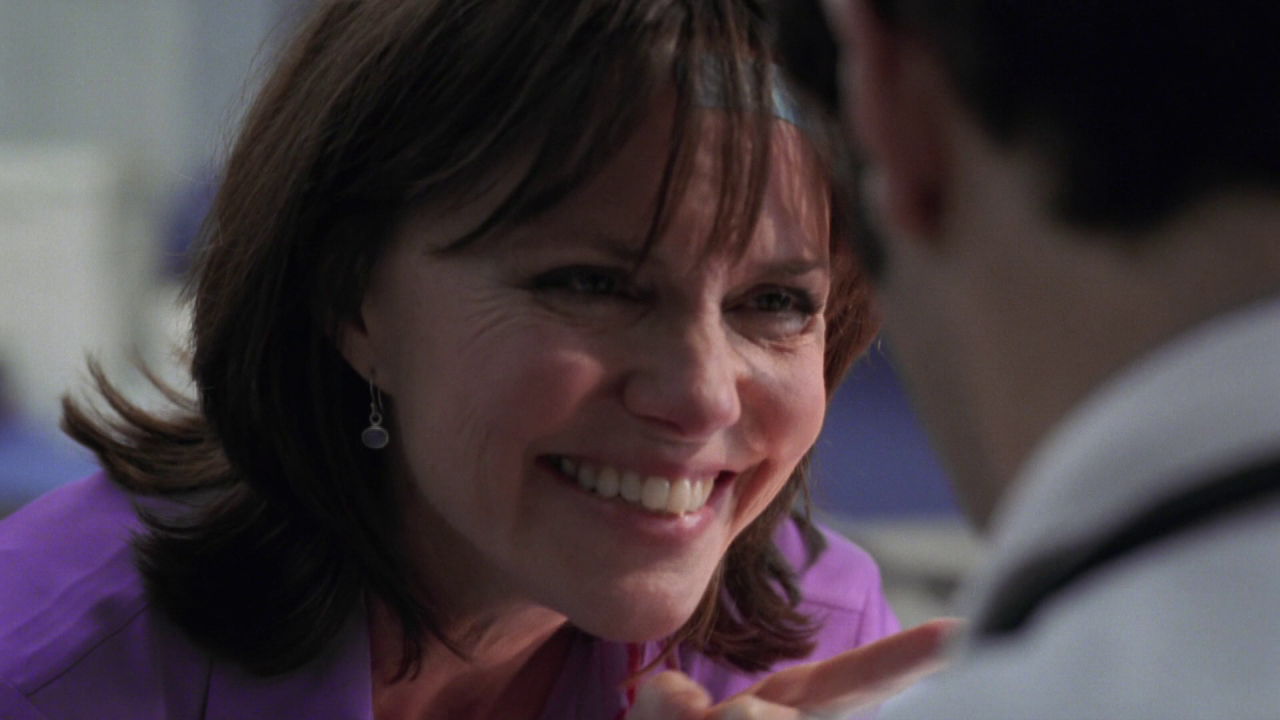 Field netted another nomination when she returned to the series, now in a much better place in her life and here to help Abby deal with her brother, who is ALSO bipolar.
SEASON 10
BOB NEWHART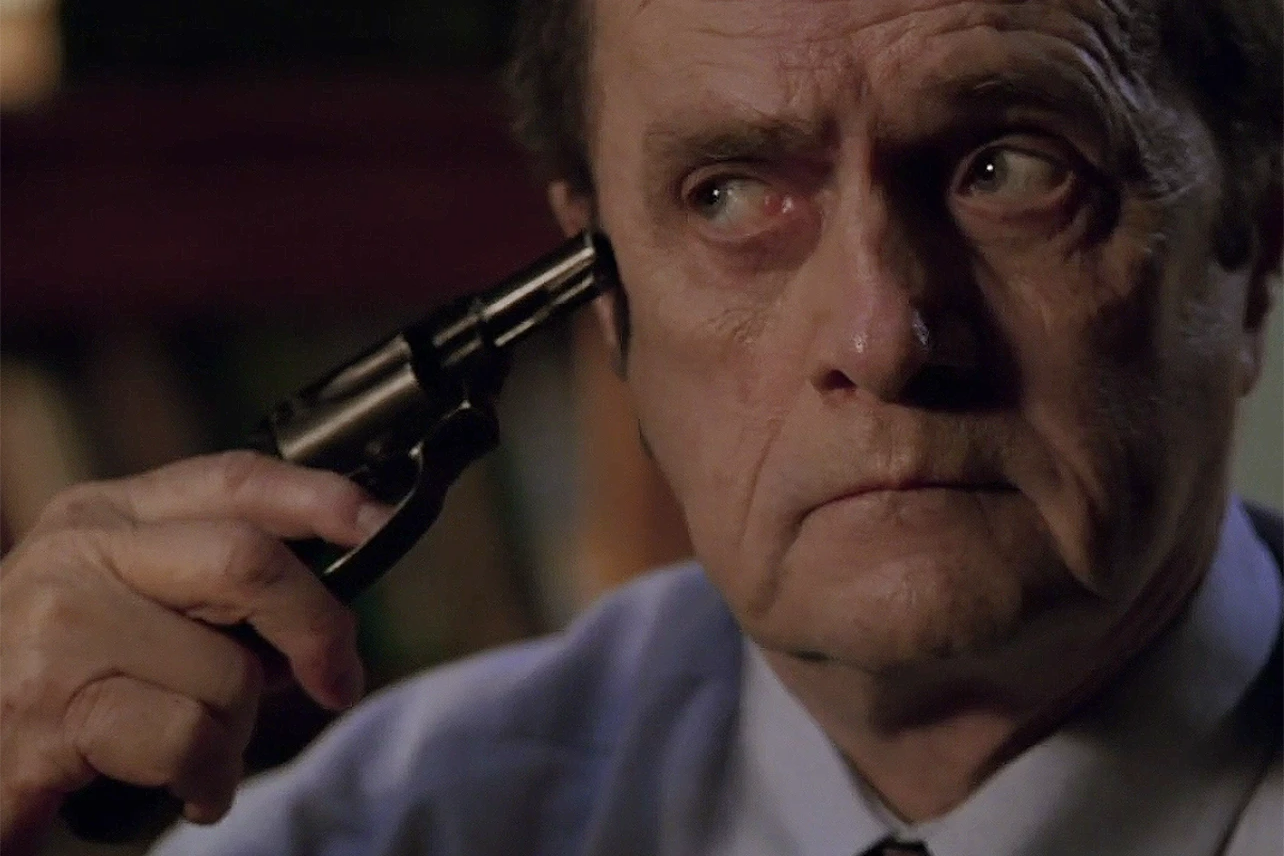 Bob Newhart had a dark arc as a man who befriended Sherry Stringfield's Susan Lewis while he is dealing with eyesight loss. Eventually, he kills himself.
SEASON 11
RED BUTTONS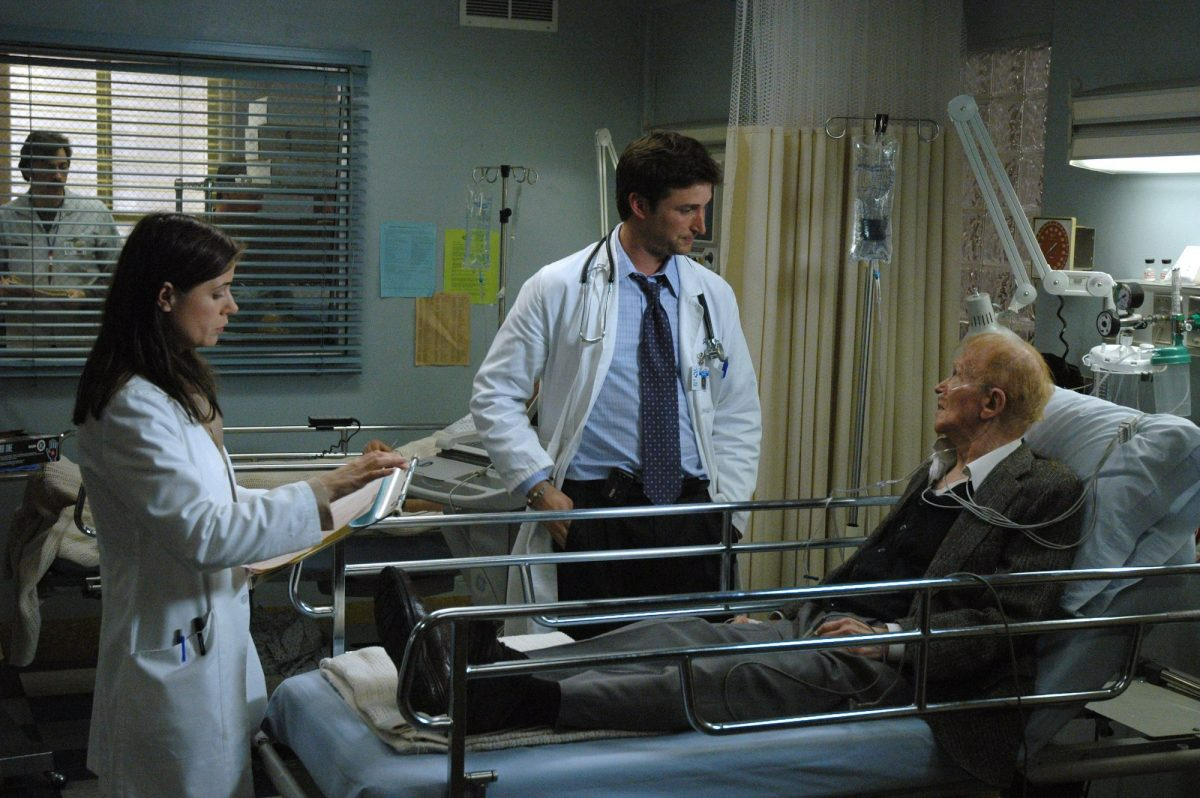 In a fascinating bit, Red Buttons returned to the ER as a character he first played in Season 2. In that episode, Carter convinced him to take his wife out of a study when her likely death would have messed with their stats. Carter tells him she's better off in a nursing home. He is not thrilled with Carter when she then dies soon after. He is back in the ER for himself and doesn't want Carter to treat him. They eventually come to terms with each other.
RAY LIOTTA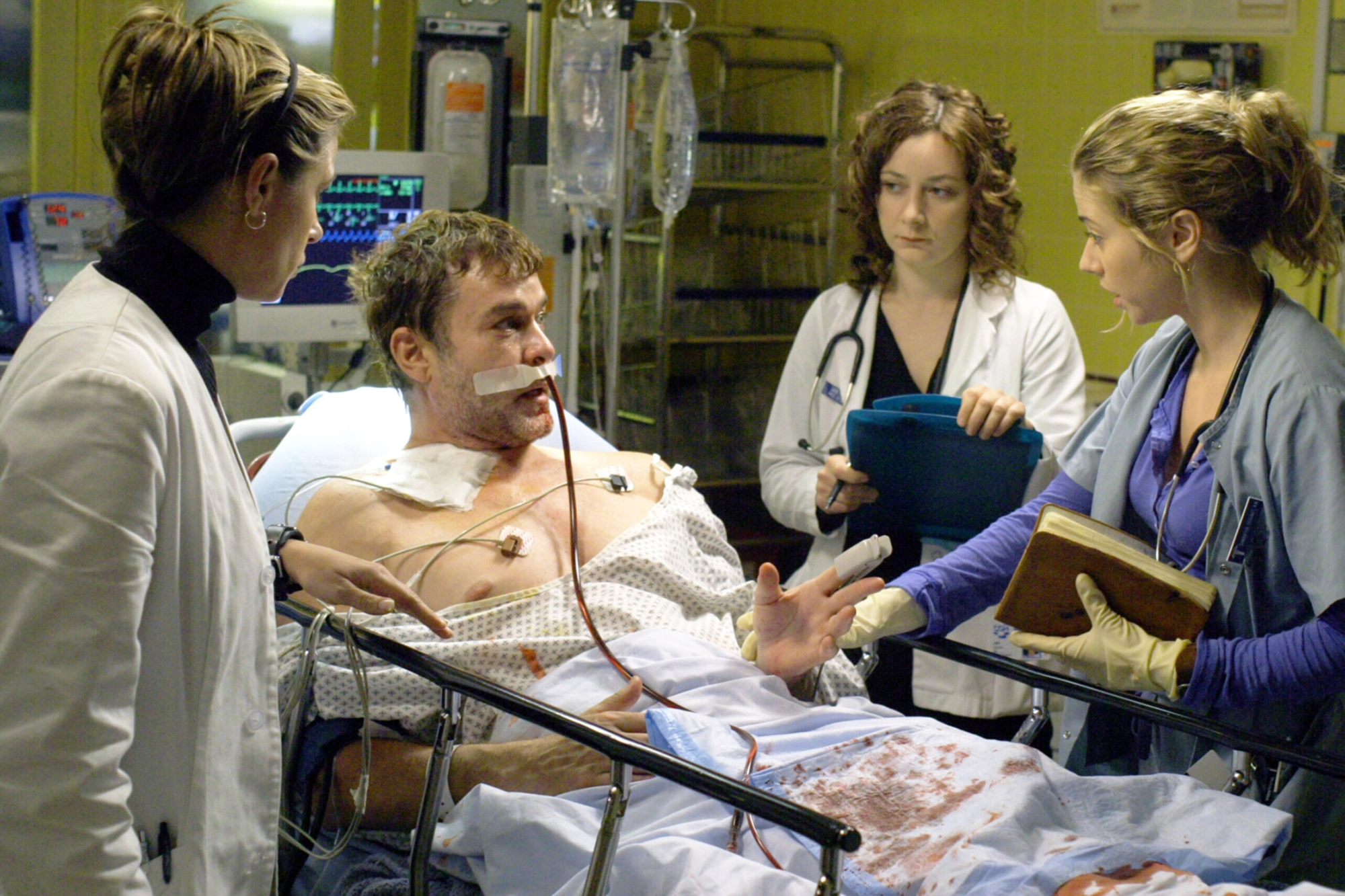 Ray Liotta won the second Guest Actor Emmy for ER and the ONLY Acting Emmy for a male actor in the history of the series. In a striking episode set in real time, Liotta plays an ex-con whose drinking problem has left him at death's door. Liotta does an amazing job as a guy you want to hate, but you can't help but feel pity for as he dies.
SEASON 12
JAMES WOODS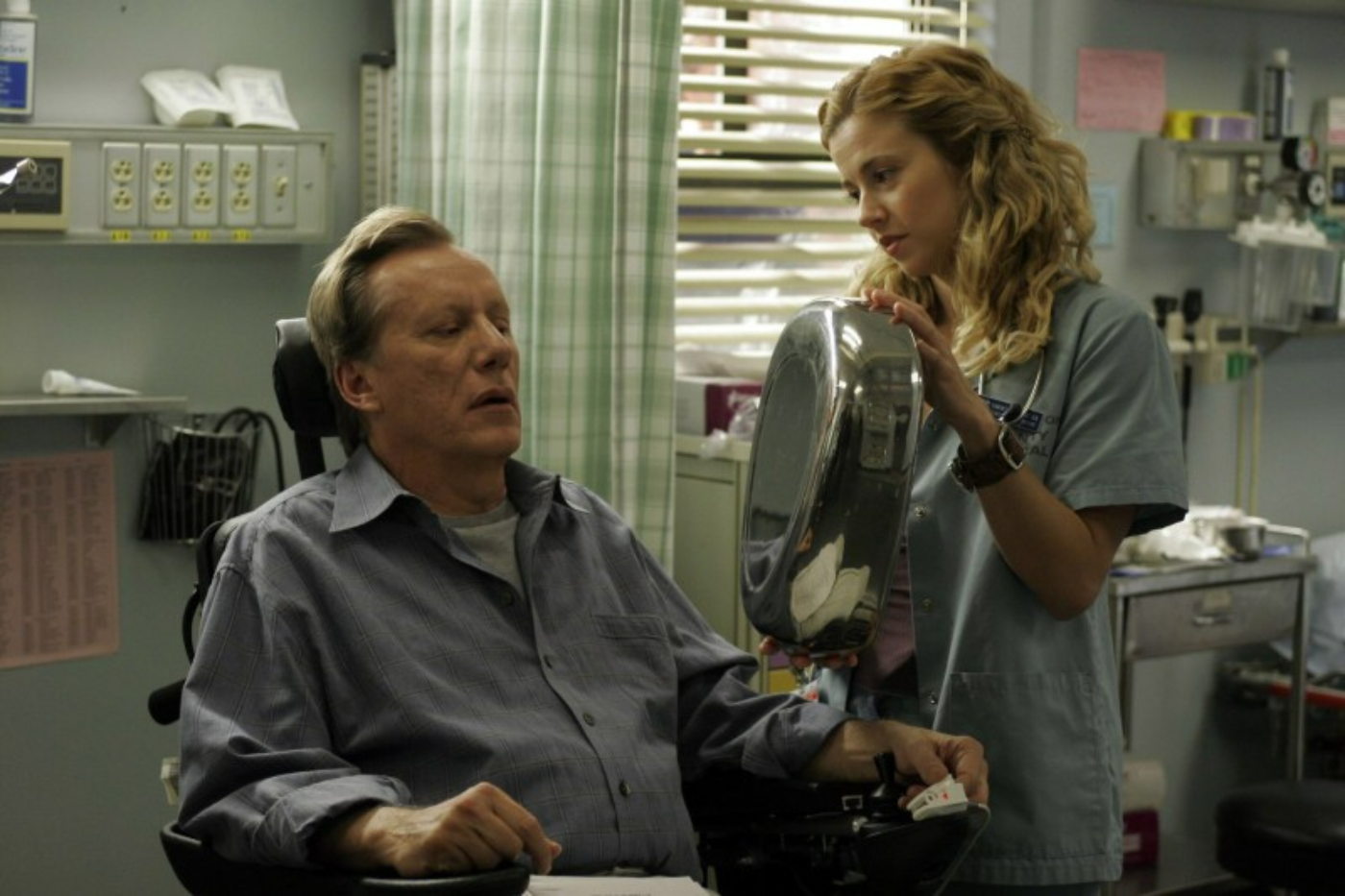 Woods plays one of Abby's medical school teachers who is dying from ALS. We flash back to follow the progression of his illness over the previous years, to show the vibrant, charming teacher end up in the end states of ALS.
SEASON 13
FORREST WHITAKER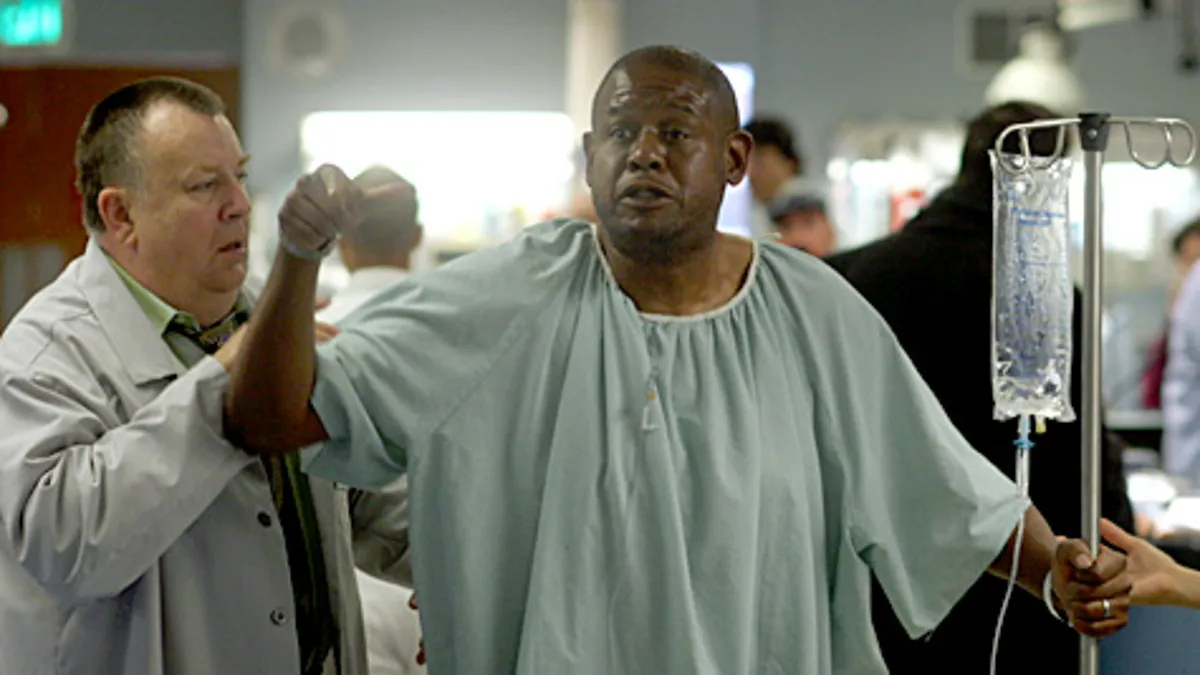 Things got really crazy with Forrest Whitaker's Season 13 arc, as a guy who sues Kovac for malpractice and then becomes obsessed with him, to the point of taking Abby hostage and then killing himself in front of them. It was a nonsense plot, but Whitaker is too good of an actor to suck at it.
SEASON 14
STANLEY TUCCI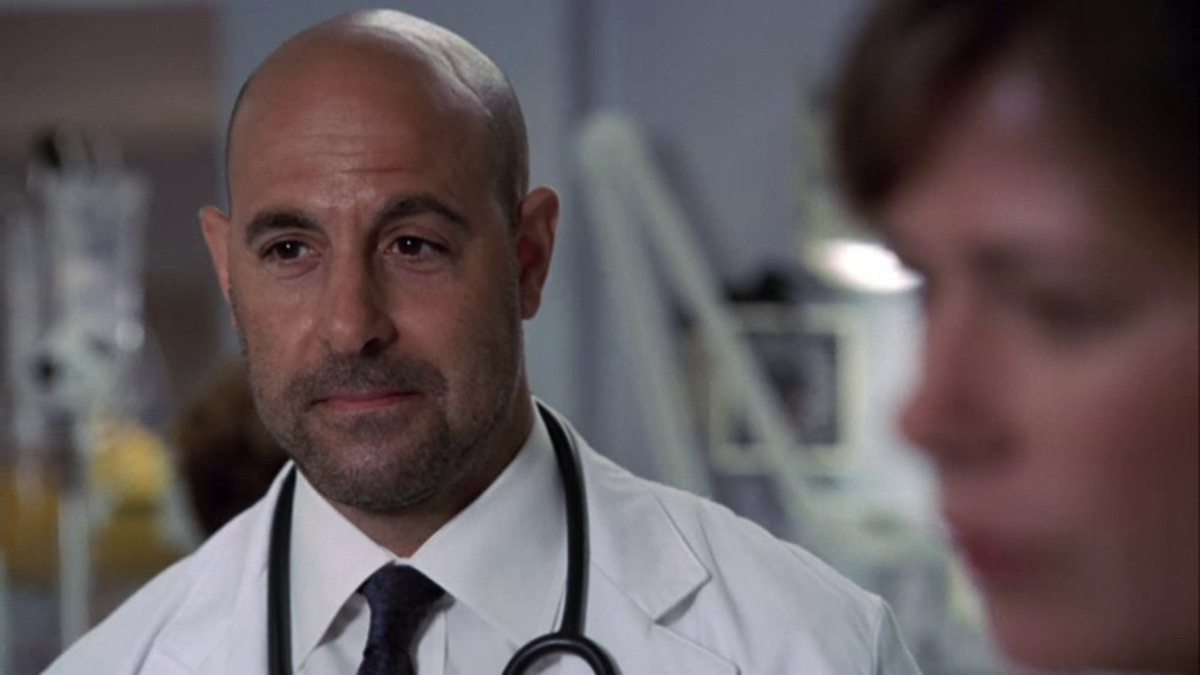 This one comes REALLY close to breaking the 50% rule, as Tucci played the new head of the ER in Season 13-14 for 10 episodes in a row, and Season 14 only had 19 episodes, but only 9 of the episodes were in Season 14. Moretti plays the awful new head of the ER who Abby hits rock bottom when she has a drunken one-night stand with Moretti right before he's fired.
SEASON 15
ERNEST BORGNINE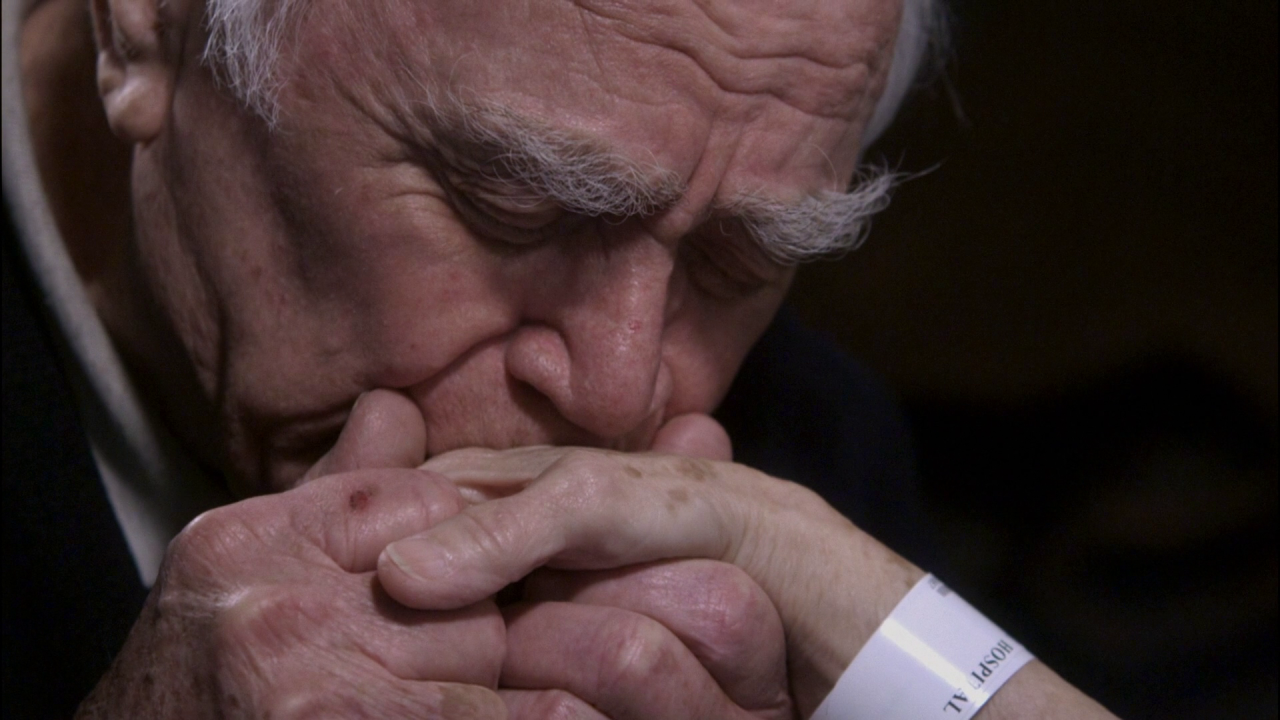 In the series finale, Borgnine gave a sweet performance as a man who has to let his wife go. It's kind of an oddly non-showy role for a Guest Actor nomination, but I guess a lot of people watched the finale? It WAS a really good episode.
Okay, folks, I'm sure there are lots of other pieces of information that you'd like to see detailed online so you don't have to remember it yourself, so feel free to drop me a line at brian@popculturereferences.com and I'll see what I can do!
RIP, Ray Liotta