The Hilarious Absurdity of Jack's Girlfriend Moving In Temporarily on Three's Company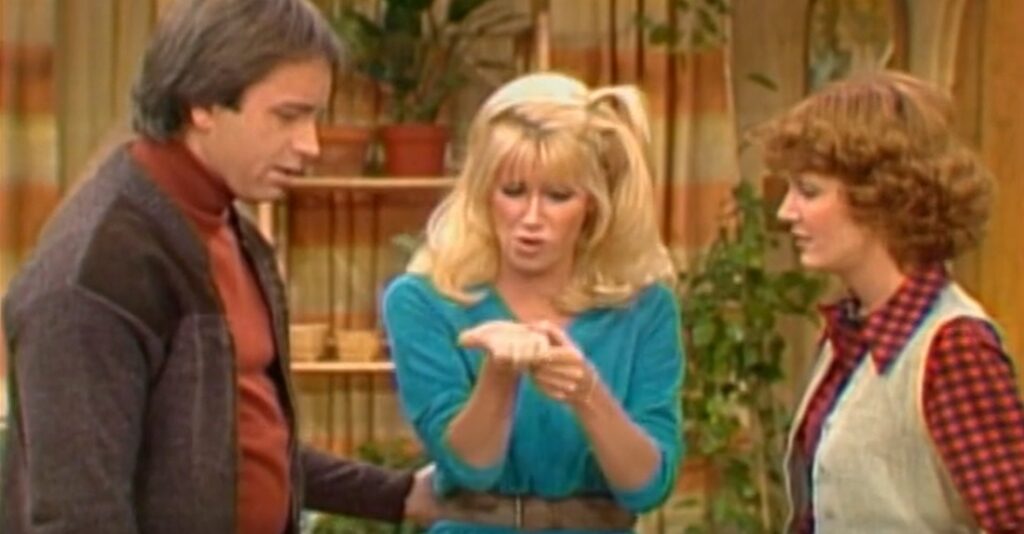 Today, we look at how it didn't make any sense when Jack's girlfriend temporarily moved in with him and Chrissy on Three's Company.
This is "How Can I Explain?", which is a feature spotlighting inexplicable plots.
Sometimes TV shows have to have to suddenly deal with a missing actor and other characters have to step in to take the spot of the missing star (I should do a Drawing Crazy Patterns on that topic, actually), often saying lines that were clearly meant for the missing actor. That's normal, it happens all of the time, but sometimes, these rewritten scripts just don't make any sense and "Stanley's Hotline" from the third season of Three's Company is one of those times that the rewritten script just doesn't make any sense.
Joyce DeWitt missed the episode because the producers felt that she didn't have enough time to prepare after a brief conflict between DeWitt and the producers that was technically resolved in time for DeWitt to tape the episode, but since she missed most of the week, the show felt that they should stick with the rewritten script.
One of Jack's most memorable girlfriends on the series, Linda, was played by Anne Schedeen (who was later the mom on ALF). Linda stood out because she was a much more subtle character than most of Jack's romances. She was a great straight woman. Honestly, the woman Jack ends up with when the series ends, Vicky, really seems to have been influenced by Linda. In any event, Schedeen was brought in to take DeWitt's spot for this episode, with Janet's lines rewritten for Linda.
However, the end result just doesn't make any sense. First off, the explanation for why Linda moves in while Janet is out of town (they add in that Janet will be gone for a couple of weeks, perhaps giving themselves room in case DeWitt missed multiple episodes) is that it wouldn't be reasonable for Jack and Chrissy to be alone in the apartment without a third person which, well, already that's kind of disturbing as why WOULDN'T Jack and Chrissy be able to share an apartment without a third person?
But let's even allow for that to be the case, then we get the real kicker, Linda moves in while Janet is gone, but while she is here, she and Jack must remain platonic, which, well, come on! It is completely absurd. The show needs Linda to fill the role of one of Jack's platonic roommates, so it just does that, despite it making no sense! There's even a bit about Jack hitting on another girl and when Chrissy takes issue with it, Jack explains that it is okay because he and Linda are on a break so long as she is staying there. Again, that doesn't make any sense! That is not how actual people work!
It's a fun episode and Schedeen does a great job and obviously, they were just trying to do their best with what they had to work with, but boy, it didn't make any sense.
If anyone else can think of a good inexplicable plot, write me at brian@popculturereferences.com!