Five Actors Who Did Two TV Pilots at the Same Time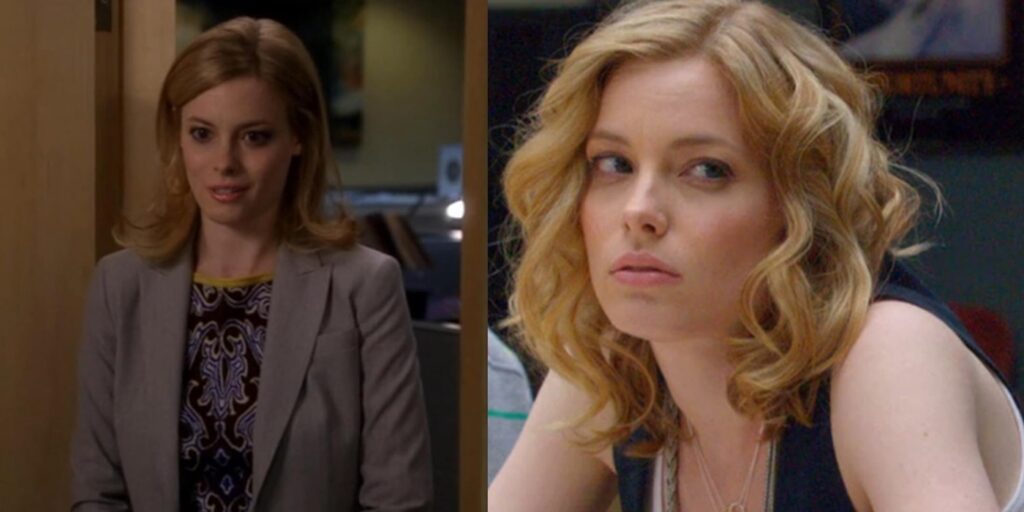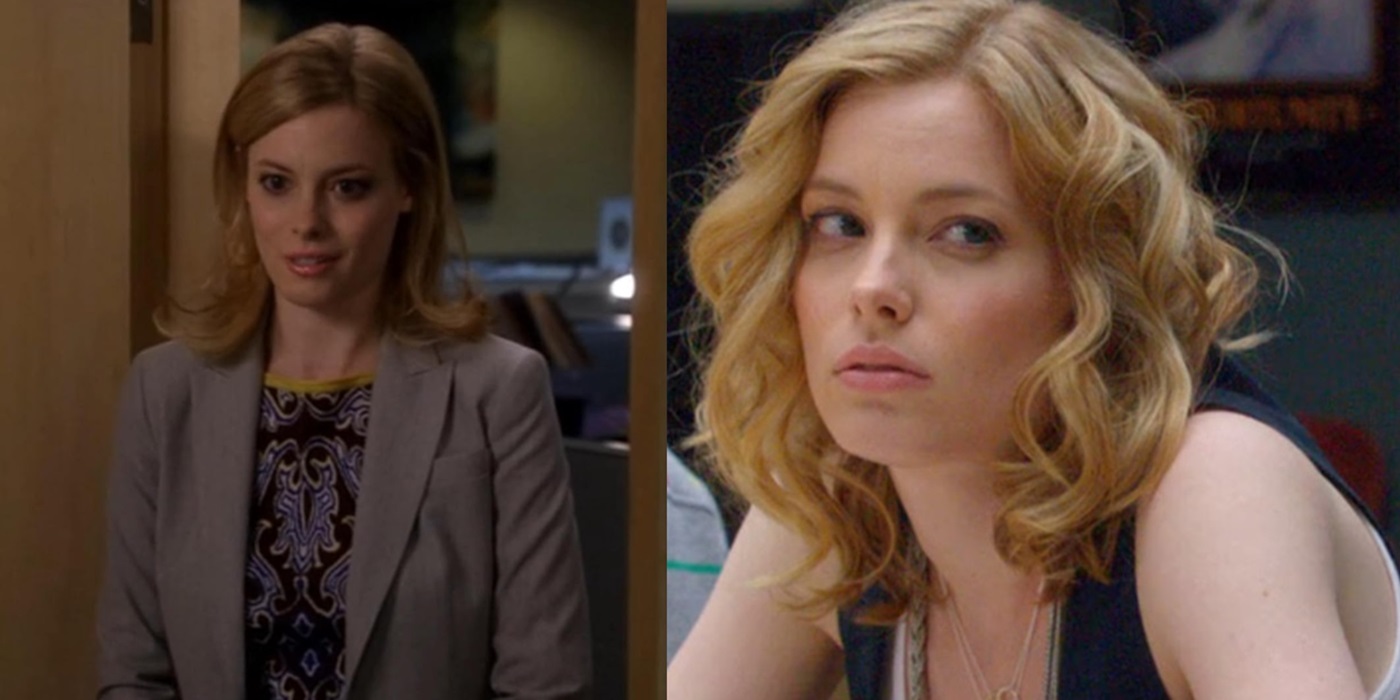 Today, we look at five actors who did two TV pilots at the same time.
In Drawing Crazy Patterns, I spotlight at least five things from pop culture that fit under a specific theme (basically, stuff that happens frequently enough to be worth pointing it out). Note that these lists are inherently not exhaustive. They are a list of five examples (occasionally I'll be nice and toss in a sixth). So no instance is "missing" if it is not listed. It's just not one of the five examples that I chose. You can always feel free to suggest ANOTHER example that fits the theme, if you'd like, but nothing is "missing" from this list.
A very common thing in the world of TV pilots (a world that is becoming less and less of a thing within the cost-cutting modern TV world. "Us pay YOU to make an episode for us to decide whether the show is worth being made? But what if we just didn't spend ANY money and you just write us an entire season's worth of scripts on your own dime and THEN maybe we'll make three episodes of your show and then cancel it") is the idea of "Second position" actors in the pilot. This means actors that are already committed to another TV show, but are hesitant enough about the other project that they are willing to gamble on a second project, with everyone knowing that if the first project continues, the actor will not be available for the second project. Obviously, this is not something you should try with stars on shows that are clearly not getting canceled, but if it's a show struggling in the ratings (or a new show that hasn't debuted yet), then it can be worth the risk to get a quality actor. However, this sometimes means actors will appear in the pilots of two shows in the same pilot season. Here are five times that that has happened (amusingly enough, these examples all literally come from five consecutive years, 2008-2012. That's just a weird ass coincidence).
Jane Lynch on Never Better and Glee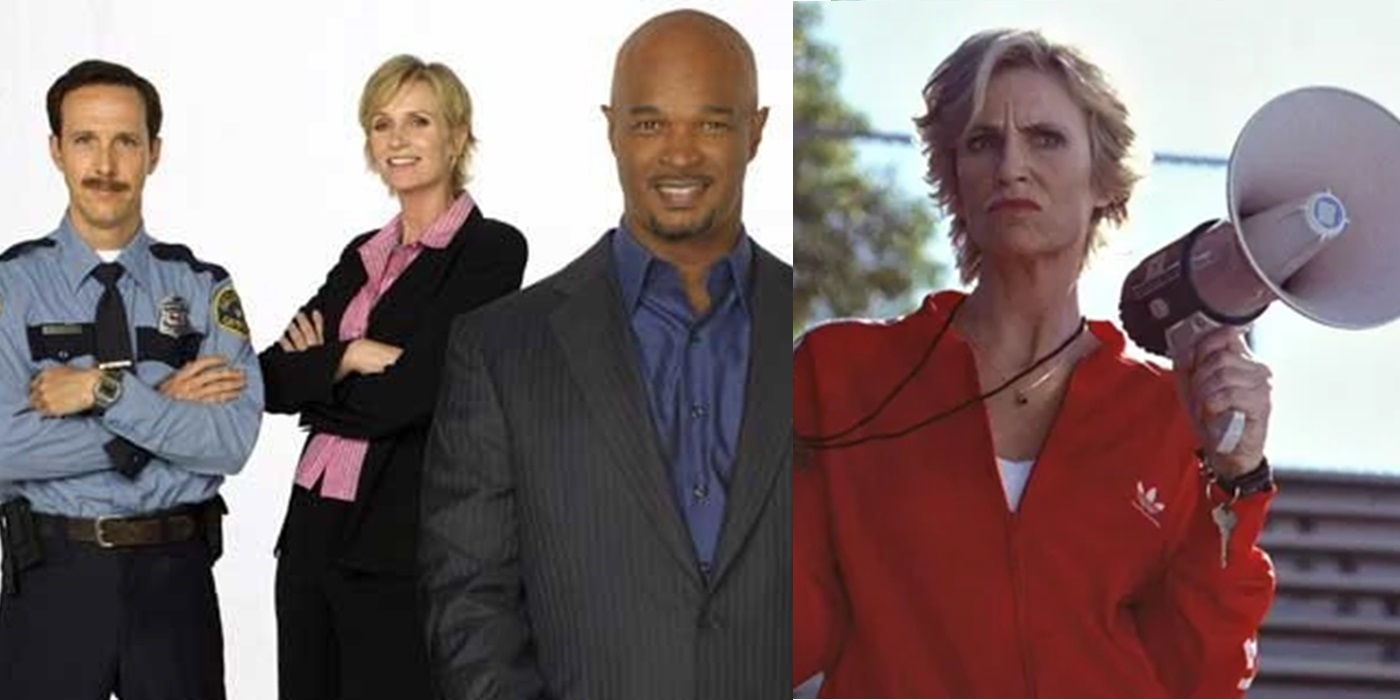 Jane Lynch was in HIGH demand in the 2008 pilot season, as she was not only cast in the British comedy adaptation, Never Better, about a man (Damon Wayans Jr.) struggling with his alcoholism (with the other cast members being the other people in his AA group), with Lynch as his no-nonsense sponsor, but also in the musical comedy, Glee.
The thing is, Lynch was ALSO a cast member on the yet-to-debut Party Down, which hadn't even finished filming its first season at the time (the pilot of Party Down was done a year before the other shows, done on a shoestring budget).
In fact, since Party Down took so long to get picked up, it was Glee that had first position for Lynch! Never Better didn't get picked up, but awkwardly, Party Down WAS renewed, and Glee, of course, was a red hot pilot (it was so good that Fox just decided to air it pretty much as soon as they got it, as a preview for the incoming fall season, THAT's how hot it was, as that is SUPER unusual), so Lynch had to leave Party Down before even finishing the first season (thank to my pal, John Trumbull, for reminding me she didn't even finish the first season).
Gillian Jacobs on The Good Wife and Community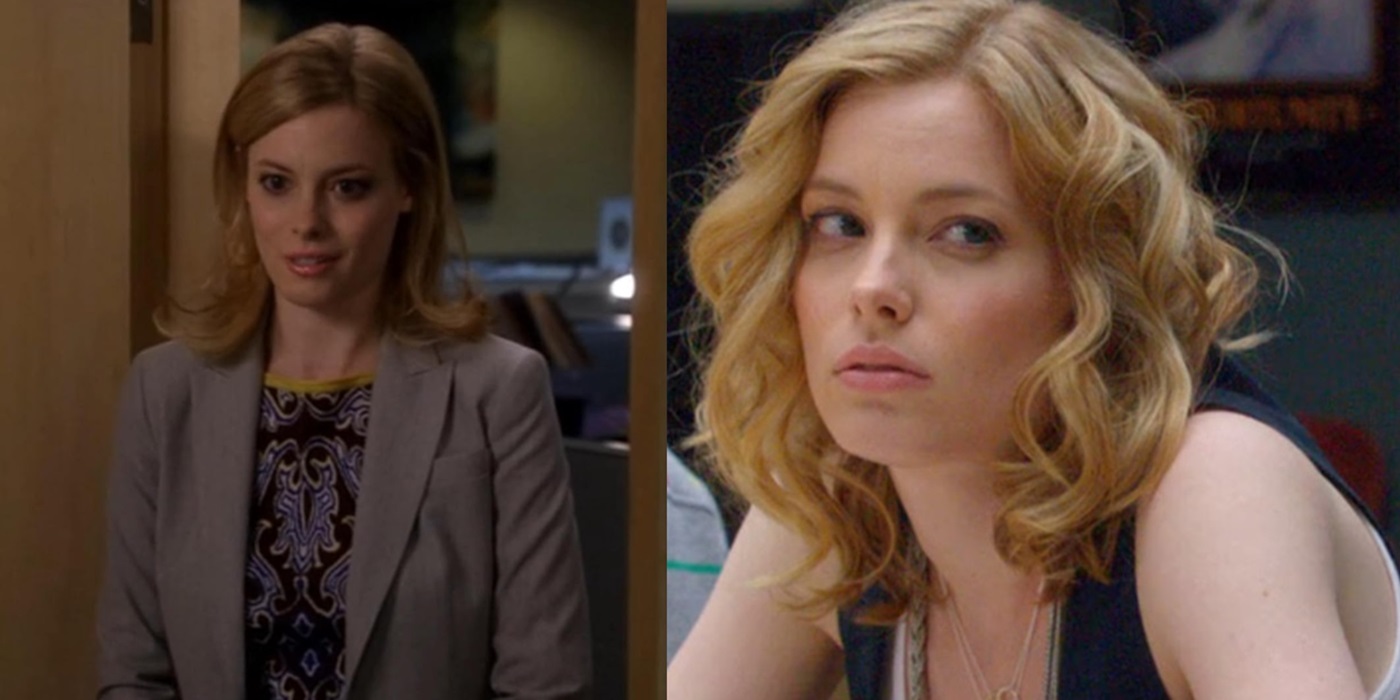 My buddy, Alan, had a podcast called Too Long, Didn't Watch, where he and a celebrity would watch the pilot episode of a series (that the celebrity had never watched) and the finale of the series, and then discuss the experience of only seeing the first and last episodes of a show. Well, when he had Gillian Jacobs on, she amusingly chose The Good Wife. Why is that amusing? Well, because Jacobs was originally going to be a CAST MEMBER on The Good Wife, playing an assistant in the first episode who seemed to be being set up as a possible love interest for Cary (Matt Czuchry). Instead, though, the OTHER pilot she shot that same pilot season, Community, was also picked up, and obviously Jacobs was going to the one where she was a lead cast member than the one where she would have just been a recurring character.
Sarah Chalke on Freshmen and Team Spitz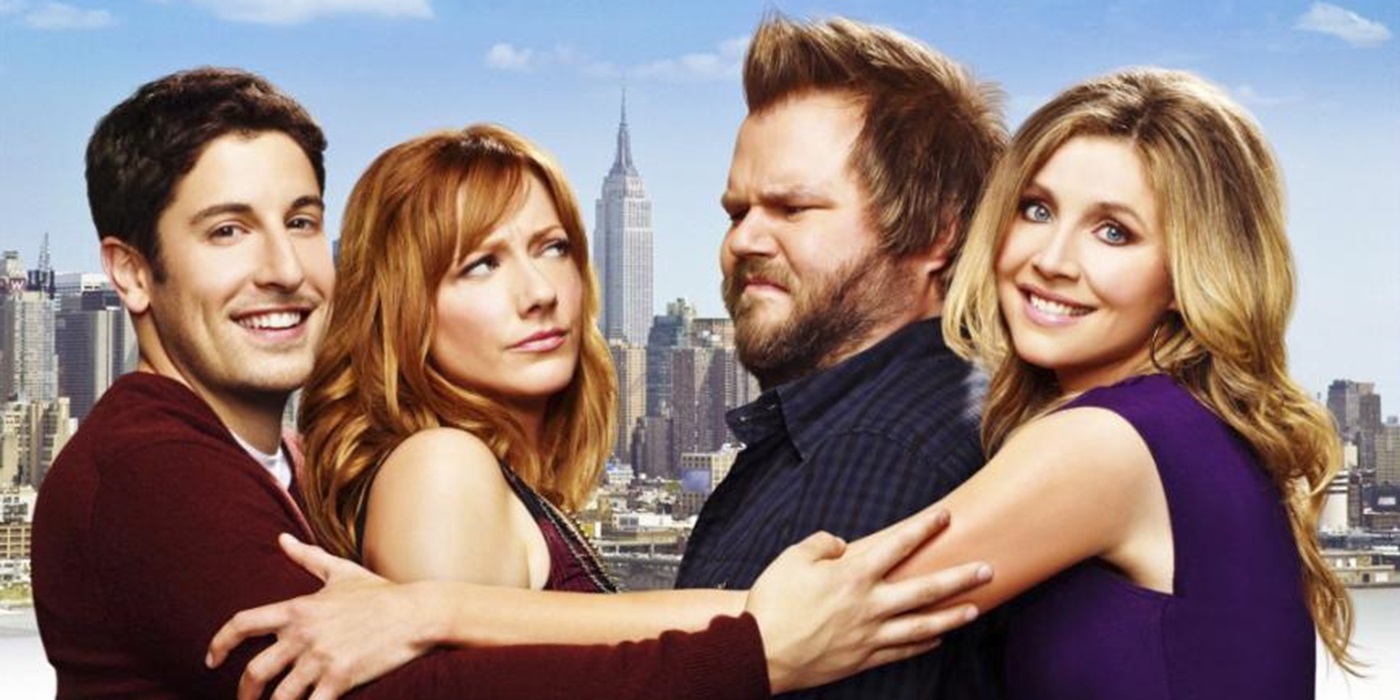 For the 2010 pilot season, Sarah Chalke was cast as the lead character on an ABC pilot called The Freshmen, where Chalke would play a young first term congresswoman who lives with two other first term representatives as they navigate their first experience as part of Congress. Taran Killam would have co-starred and I belieeeeeeeeve Phil LaMarr would have been the third freshmen congressman. At the same time, Chalke was also cast in Team Spitz, a Rob Riggle comedy vehicle for CBS about Riggle being a popular coach/teacher at a high school. I assume she would have been his love interest (amusingly, five years later, she would play Riggle's wife in ANOTHER failed pilot, 48 Hours to Monday). The good thing for Chalke is that while both pilots weren't picked up, CBS had a pilot initially intended for the fall season that was pushed back to midseason, and thus Chalke became free to be cast in it, and she was the star of Mad Love, which at least had a full first season (interestingly, Tyler Labine, one of her co-stars on the show, was starring in a new show, Sons of Tucson, when he was given the offer to be on Mad Love. He turned it down at Fox's request, but Tuscon was obviously quickly canceled, and when Mad Love was pushed back, he was free to join it).
Nancy Travis on Hart of Dixie and Last Man Standing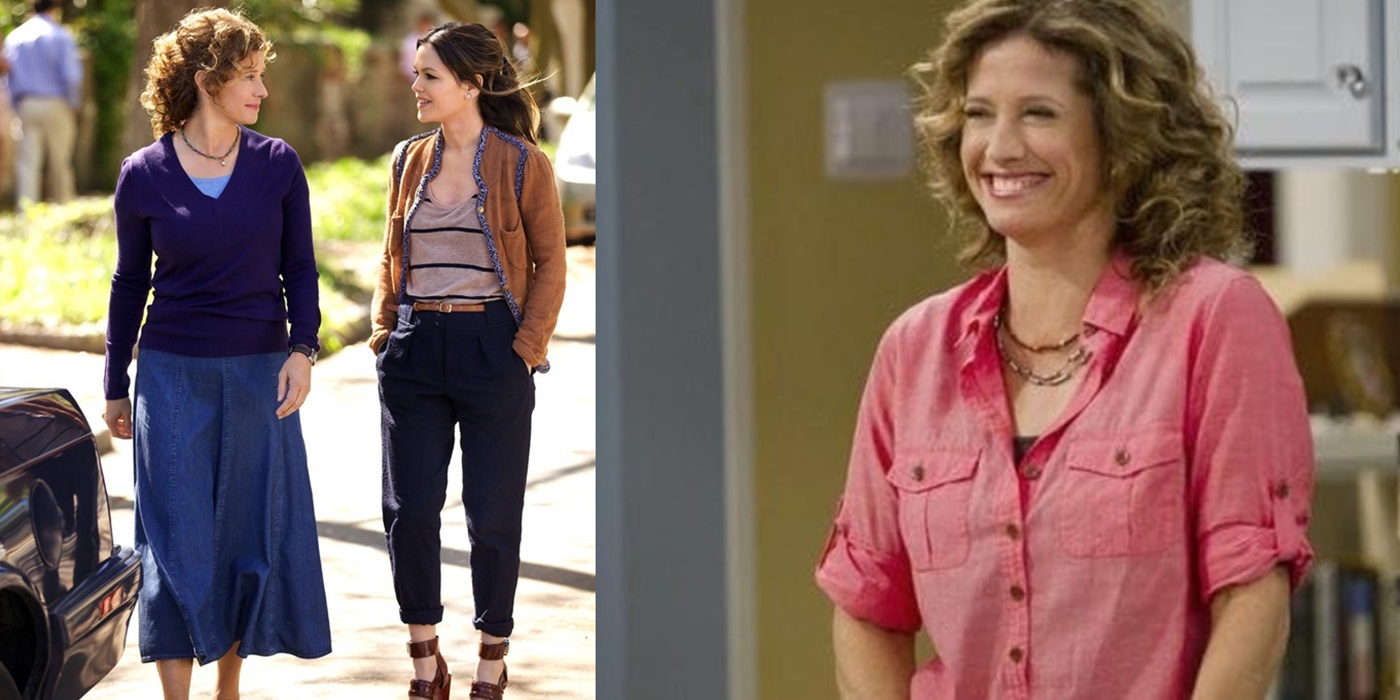 Nancy Travis was a key part of the pilot of Hart of Dixie, a CW show about a young doctor, Zoe Hart (Rachel Bilson) who inherits half of a general practice in a small Alabama town and finds herself compelled to move there for the summer in order to gain a prestigious fellowship back in New York (the higher-ups feel that she doesn't connect to her patients enough, so they'd like to see her be a GP for a time). Obviously, she falls in love with the town, and stays. Travis was the nurse/office manager for the practice, and Zoe's guide to the town. It is also LIKELY that she would have been the mother to Rose, a cute teenager who hung around Zoe a lot (when Travis couldn't continue, Rose became her NIECE, so Rose could remain on the show when her "aunt" moved away after the second episode. I could be wrong about that, and she was always going to be her aunt). Travis' character had to move away because Travis was also the wife of Tim Allen's character in the pilot for Last Man Standing, and obviously when that was picked up, she was going to be doing the show she was the female lead on (it also ended up running for many years). It was nice of Travis to do the second episode of Hart of Dixie to write her character off, at least.
Sara Rue on Guys With Kids and Malibu Country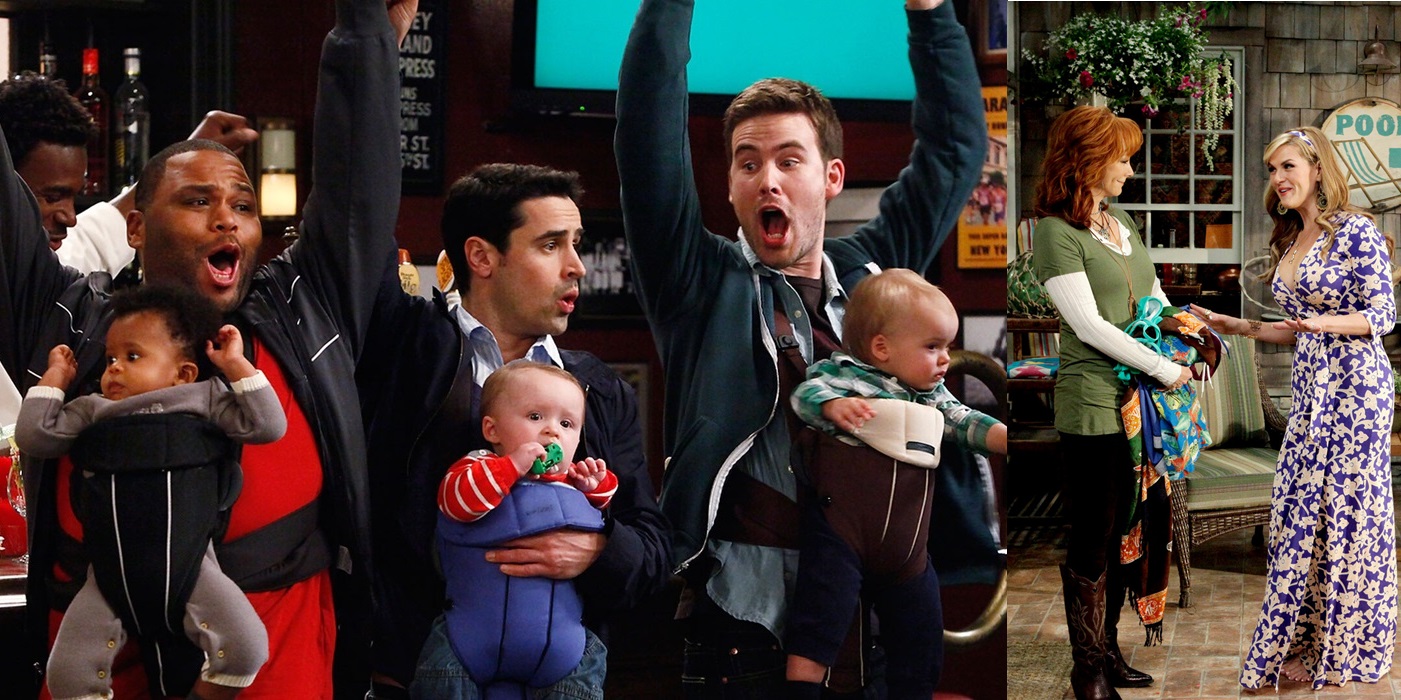 Finally, Sara Rue was both cast as a regular on the NBC sitcom, Guys With Kids, about a group of dads with young children (she played the ex-wife of one of the main characters), and also on ABC's Reba McEntire's comeback sitcom, Malibu Country, about a former Nashville country star who moves to Malibu with her teen children after discovering her country star husband had been cheating on her. Rue played her wacky neighbor. Both were picked up for series, but Malibu Country had Rue in first position, so she had to leave the other show. Erinn Hayes was recast in her Guys With Kids role (I don't know if the entire pilot was reshot with Hayes, or if they just reshot Rue's scenes). Hayes, of course, would infamously later be killed off in a retooling of the Kevin James project, Kevin Can Wait.
Okay, folks, if you have suggestions for a future Drawing Crazy Patterns, drop me a line at brian@poprefs.com!