How Hamilton Somehow Makes Angelica's Life LESS Feminist Than Reality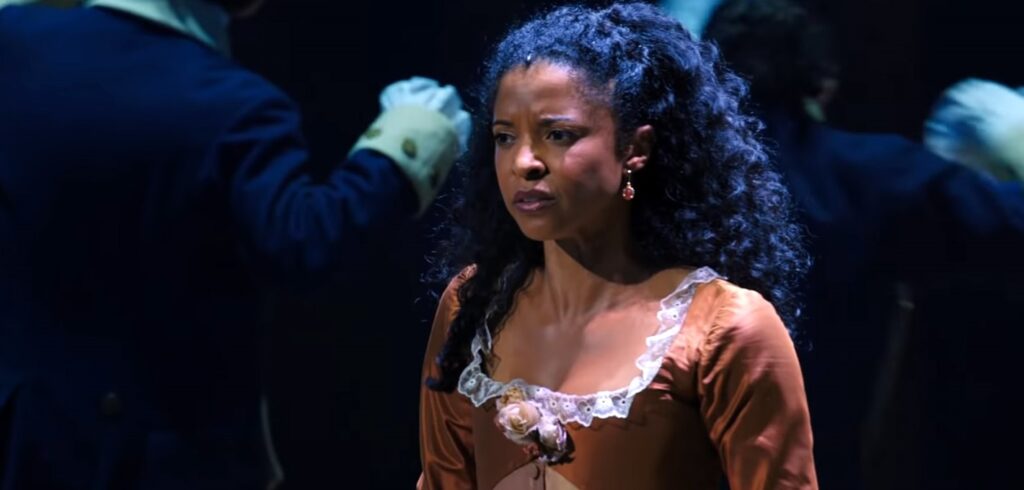 Today, we look at how the real life of Angelica Schuyler was somehow more feminist than the 21st Century Broadway musical based on her life.
This is Politics of Ancient History, where I compare history with how it is portrayed in popular culture based on historical events.
A common thing for modern retellings of historical stories is to try to highlight the aspects of the story that were downplayed in the past due to the various prejudices of history. You know, like trying to beef up the roles for women and minorities, in particular. I think that that is a no-brainer to do, as obviously women and minorities were involved in actual reality and were just sidelined by the people who reported on this stuff in the past (like how having a Black person being depicted nowadays as a 19th Century cowboy is seen as being "woke" when it is simply correcting the PREVIOUS lie that cowboys in the old West were all White dudes).
That is why Angelica Schuyler in the hit Broadway musical Hamilton (music and lyrics written by Lin-Manuel Miranda, along with a book by Mirannda based on Ron Chernow's biography of Alexander Hamilton) is such a curious character.
Hamilton is obviously a very good musical. It has well-earned all of its plaudits, but one of the areas where it doesn't exactly excel is in its treatment of its female characters, especially the odd re-imagining of Angelica Schuyler to make her somehow LESS feminist than she was in reality, and when your depiction of a historical figure is LESS feminist than an 18th century woman's life then, well, that is very strange.
Played by the brilliant Tony Award-winning actor Renee Elise Goldsberry, Angelica's biggest song in Hamilton is "Satisfied," where she bemoans the fact that she didn't pursue Alexander Hamilton for herself, choosing to allow her sister, Eliza, to marry him instead…
In the song, she notes three "truths" in her life…
And I realize
Three fundamental truths at the exact same time
Let's take a look at these "truths"…
Number one
I'm a girl in a world in which my only job is to marry rich
My father has no sons so I'm the one who has to social climb for one
So I'm the oldest and the wittiest and the gossip in New York City is insidious
And Alexander is penniless
Ha! That doesn't mean I want him any less
First off, while the three oldest Schuyler children WERE women, by 1776, Philip Schuyler also had two sons, 11-year-old John and 8-year-old Philip Jeremiah. So, well, that's weird to change that in and of itself, right?
But whatever, the general "expected to marry a rich guy" isn't untrue, of course, that's a pretty standard deal for socialites like the Schuylers, but it avoids the fact that Angelica Schuyler actually married a man her father DISapproved of. She met John Church, a British merchant, in 1776. Church had left England after going bankrupt and was trying to find his fortune in America. He actually used a pseudonym in the states, John Carter. Eventually, after some successful business deals in the late 1770s, Church became in charge of supplying the French with provisions and then also the Continental Army, at which point he became extremely wealthy, but that wasn't until 1780 (and the other business deals that led to the big one were not until 1778ish). At the time that he met Angelica, he was working as an auditor of the Continental Army, and he certainly wasn't poor, but he wasn't some super rich guy and besides, due to his sketchy past (the bankruptcy and the fake name), Philip Schuyler was not a fan of their romance. So Angelica ELOPED with Church in 1777! They used the last name Carter for the first eight years of their marriage before he was finally successful enough to reclaim his birth name.
Isn't that badass? And yet it's not present in Hamilton.
Number two
He's after me 'cause I'm a Schuyler sister, that elevates his status
I'd have to be naïve to set that aside
Maybe that is why I introduce him to Eliza, now that's his bride
Nice going, Angelica, he was right, you will never be satisfied
I'm not saying that Alexander Hamilton WOULDN'T have pursued Angelica Schuyler because of her political and financial status, but it is important to note that Angelica was MARRIED by the time that Eliza met Hamilton in 1780 (although apparently he briefly met the Schuylers at a dinner in 1778, still after Angelica had married Church. By the way, Philip relatively quickly got over his anger at Angelica and accepted John as a son-in-law pretty quickly. Perhaps John's business success helped smooth things over).
That pretty much belies the next one…
Number three
I know my sister like I know my own mind
You will never find anyone as trusting or as kind
If I tell her that I love him she'd be silently resigned, he'd be mine
She would say, "I'm fine"
She'd be lying
But when I fantasize at night it's Alexander's eyes
As I romanticize what might have been if I hadn't sized him up so quickly
At least my dear Eliza's his wife
At least I keep his eyes in my life
In reality, all of the flirting between Angelica and Alexander (which WAS legit, including the bit where she asked her sister if perhaps she could share Alexander with her) happened AFTER Alexander married Eliza and he and Angelica became acquainted over letters (Angelica moved to Europe with her husband in 1783).
However, Angelica had a similar letter-writing flirtation with Thomas Jefferson. She was a charming, witty woman who was a great writer.
The musical, though, centers all of her existence around Hamilton, which is really the biggest criticism of the portrayal of the women in Hamilton, that they all exist only in relation to Hamilton, but what makes Angelica so odd to me is that Miranda had to ALTER HISTORY to do so, and in the process, basically made Angelica LESS feminist than she was in real life.
It's a weird choice.
Okay, folks, I'm sure you have other suggestions for Politics of Ancient History, so drop me a line at brian@popculturereferences.com with your suggestions!