How Does And Just Like That Not Get That Carrie and Aidan's 'Five Years' Plan Makes No Sense?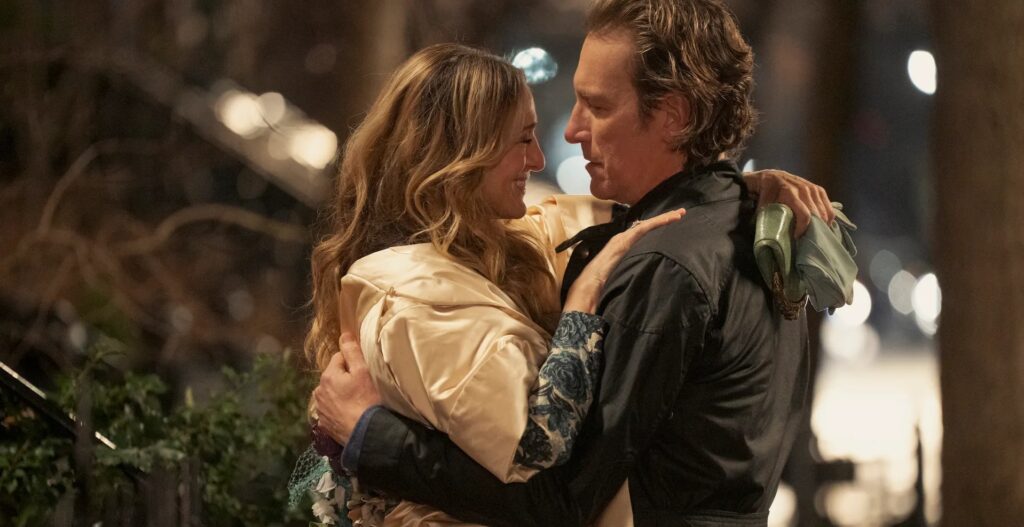 Today, I explain how the finale of And Just Like That Season 2 didn't make any sense.
In Remember to Forget, we spotlight pop culture stories that I wish I could forget, but I can't, so I instead share them with you all, so you're stuck in the same boat as me!
SPOILERS FOR THE SEASON 2 FINALE OF AND JUST LIKE THAT
In the second season of And Just Like That, the sequel series to Sex and the City, Carrie Bradshaw (Sarah Jessica Parker) has reunited with her old boyfriend, Aidan Shaw (John Corbett), and he plans to move in with her to a new apartment (Carrie sells the brownstone she had for YEARS, even while being married to someone else and not living in the brownstone, she kept it) because he has too many bad memories in Carrie's old apartment. However, Aidan's plan to split time between New York and Virginia, where his three children with his former wife live, gets complicated when his youngest son, upset about his father not being around as much, gets into a drunk driving accident.
I think everyone in the world was watching these scenes and saying, "Oh, okay, Aidan is going to break up with Carrie because he doesn't want to be away from his kid." However, the show threw a monkey wrench into those assumptions by instead revealing that Aidan DOES want to have time apart from Carrie while he helps his kid adjust, but he wants that time apart to be FIVE YEARS, until his youngest son is no longer a teenager.
Carrie accepts that deal, and at the end of Season 2, they're nominally still together, but taking a five year hiatus.
I mean, come the heck on, who in the world comes up with something like that and thinks it makes ANY sense? Human beings do not interact like that. They do not agree to take five year breaks of not interacting with each other. Now, do they agree to wait five years before Aidan is willing to move in with Carrie? Sure, that's fine. But that's not taking a FIVE YEAR BREAK.
Right after Aidan makes his pitch, Carrie does the normal thing that any human would do, and says something along the lines of, "Oh, okay, so we'll meet up less often." Nope, Aidan must have COMPLETE DISTANCE from Carrie for FIVE YEARS for him to somehow…raise his son? What in the what? Just break up! Just. Break. Up. This doesn't make any sense as a request. Long distance relationship is fine, but complete radio silence for five years so that he can raise his son? How does that even HELP his son to teach him that this is how you solve a problem?
That whole thing was bizarre, and all because the writers didn't want to have Aidan break up with Carrie again, so instead, he just…doesn't, despite obviously actually breaking up with her! It's the stupidest thing. Characters have to have SOME sort of reality to them for them to work!
If you have a suggestion for a Remember to Forget, drop me a line at brian@poprefs.com!