Why Did Blofeld Offer James Bond a 'Delicatessen – in Stainless Steel!' Before Bond Killed Him?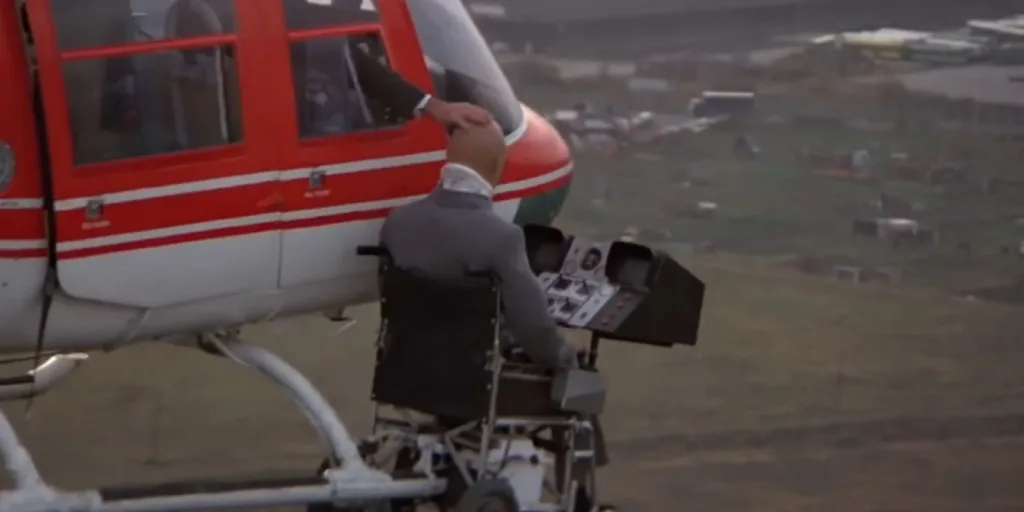 Today, we look at the extremely weird line that Blofeld said to James Bond before Bond seemingly killed him For Your Eyes Only?
In Pop Culture Questions Answered, I answer whatever questions you folks might have about movies, TV, music or whatever (feel free to e-mail questions to me at brian@pop culture references.com).
Recently, I wrote about how the opening sequence of 1981's For Your Eyes Only was designed to kill off Ernst Blofeld because Eon Productions was in the middle of a rights dispute over whether it could actually use the character. So to show little they needed him, they had an actor made to look like Blofeld (from behind, of course) try to kill Bond only for Bond to kill him…
My friend Emmet wanted to know what was the point of the weird part of the scene where "Blofeld" tries to bargain with Bond for his life by promising "I'll buy you a delicatessen – in stainless steel!"
The line was specifically added by longtime James Bond producer, Albert "Cubby" Broccoli, who was born in Queens, New York in 1909, so he came of age in the 1930s, and so the reference is to an old bit that the Italian Mafia used to do in the old days, which was to bribe people with delicatessens (which were often used by the Mafia as business fronts for their illicit activities), and the best delicatessens were those that had stainless steel counters so that you could cut the meat and wipe it clean easily (as opposed to a wooden cutting board).
EDITED TO ADD: My friend Avash wanted to know what a delicatessen was. My apologies, Avash, I forgot how American-centric delicatessens really have become. Delicatessens originated in Germany as a place where people would sell exotic foods and meats. So, you know, like mangos in Germany weren't something you could just go to the local grocer to get. The United States, of course, is famously a "melting pot" of immigrants from different countries, so delicatessens became popular in the United States for people to get a taste of the home country. As it turned out, though, Italian food, in particular, became VERY popular (and has REMAINED popular), so most delicatessens in the United States specialize in Italian foods (and since the Mafia was Italian, that was the connection). It has gotten to the point where most U.S. supermarkets have "deli" sections where you can buy sliced and prepared meats.
In his autobiography, When the Snow Melts, Broccoli explained that he wanted to show that, in his final moments, Blofeld was no more than a typical mob boss, and not this oversized villain (in part, of course, because Broccoli was getting rid of him due to rights issues. Had that not been the case, I doubt Broccoli would have wished to undermine Blofeld in such a way).
Thanks for the question, Emmet!
If anyone else has a pop culture question, drop me a line at brian@popculturereferences.com