One Line Helped Define Parks and Rec's Ron Swanson as a Character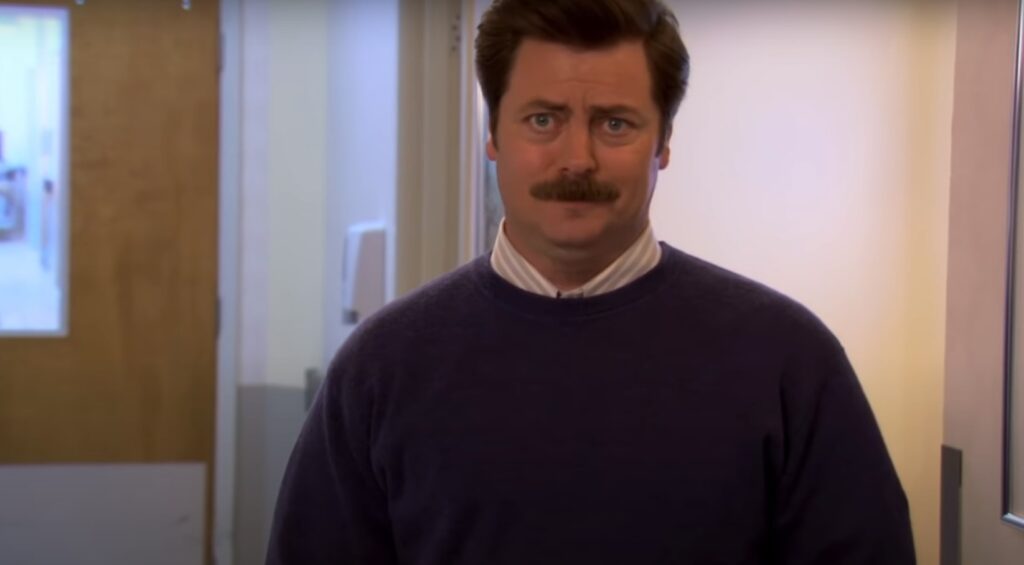 Today, we look at how one line in Parks and Recreations helped to define Ron Swanson perfectly.
This is To Quote a Phrase, a spotlight on notable pop culture quotes.
October is a Month of To Quote a Phrase, both here and at Comics Should Be Good!
One of the best characters on the long-running, acclaimed sitcom, Parks and Recreation, about the parks department in a small town in Indiana, was Nick Offerman as Ron Swanson, the long-running head of the parks department who ironically hated government interference, so his role as the head of the department was for it to do as little as possible. Of course, throughout the series, Ron gets sucked more into the idealism of his deputy, Leslie Knope (Amy Poehler), who also slowly but surely becomes a good friend to him.
In Season 3's "Flu Season," Ron discusses his stance on caring about people…
"The less I know about other people's affairs, the happier I am. I'm not interested in caring about people. I once worked with a guy for three years and never learned his name. Best friend I ever had. We still never talk sometimes."
Now, on the one hand, it is perfect because it shows how much Ron hates other people, but the MAIN thing about it is that he smirks when he makes his little joke about how they "still never talk sometimes," and that's Ron to a tee. He seemingly hates people, but he, when you get right down to it, is a goofball who clearly DOES love interacting with people…just on HIS terms. It's a fascinating scene.
Okay, folks, if you have notable quotes from TV, movie or music that you'd like to see me spotlight this month, drop me a line at brian@poprefs.com!