That Time Martial Law's Sammo Came to Help Out Gary on Early Edition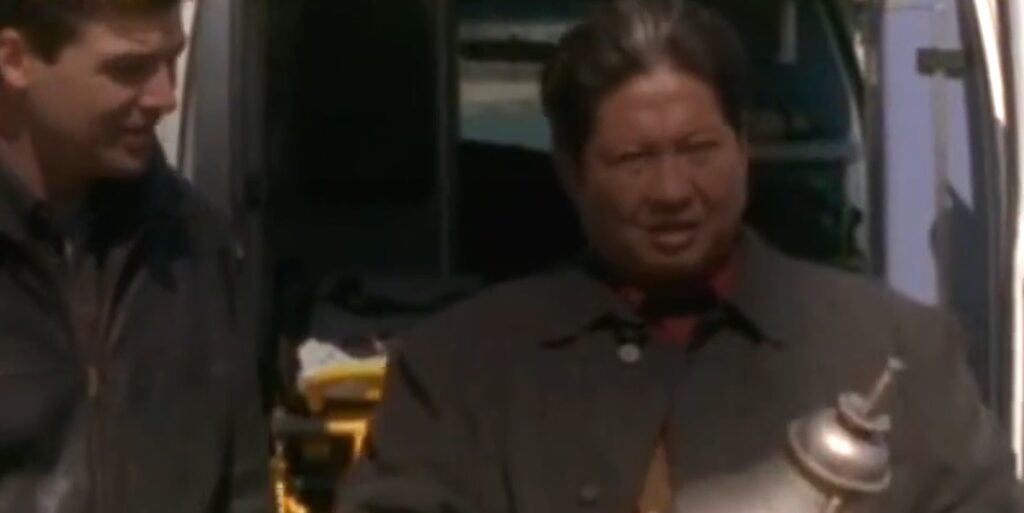 Today, we look at the time that Sammo from Martial Law stopped by Chicago to lend a hand to Gary on Early Edition.
This is Somewheres in This Universe, a feature examining when characters from TV shows make guest appearances on other TV shows (in non-crossover stories), thus establishing that the two shows share a universe.
November is Someewheres in the Universe month!
Early Edition was a series about a man named Gary (the always great Kyle Chandler) who suddenly started receiving tomorrow's newspaper today. Gary would then try to use the information in the stories to save the lives of the people before they are killed (or whatever bad thing might happen to them).
During the third season of Early Edition, it aired on Saturday nights at 8pm. CBS launched a new series at 9pm called Martial Law, which CBS wanted Jackie Chan to star in, but he was too busy doing movies, so instead, Chan's old friend (and sort of the precursor to Chan in Hong Kong martial arts movies), Sammo Hung, was cast as Sammo Law, a Chinese police officer who came to Los Angeles on an assignment tracking down an old nemesis of his. Through a special arrangement, Law is allowed to work alongside the Los Angeles police department. Hung was a whiz at martial arts, and the show was filled with him doing amazing fight scenes. He didn't speak English that well, though, so his scenes were mostly action.
In any event, in the penultimate episode of Early Edition's third season, Gary saves the life of a Chinese man who smuggled a priceless Chinese artifact into the United States from some bad guys who want to kill him. Sammo (who is on the case to find the stolen artifact) then shows up to save Gary from the bad guys when they turn their sights on Gary, instead. Sammo discovers Gary's powers, and in a cute bit after they save the day in the end, Sammo offers to spend the time until his flight home helping Gary out with his missions for the day. Gary, instead, offers to have some Chicago style pizza with him.
Cute bit. Martial Law also had an outright crossover with the show that IT preceded on Saturday night, Walker, Texas Ranger.
Feel free to e-mail me at brian@poprefs.com for suggestions for other good non-crossover guest appearances by TV characters!