That Time Paul Gave Kramer From Seinfeld His Apartment on Mad About You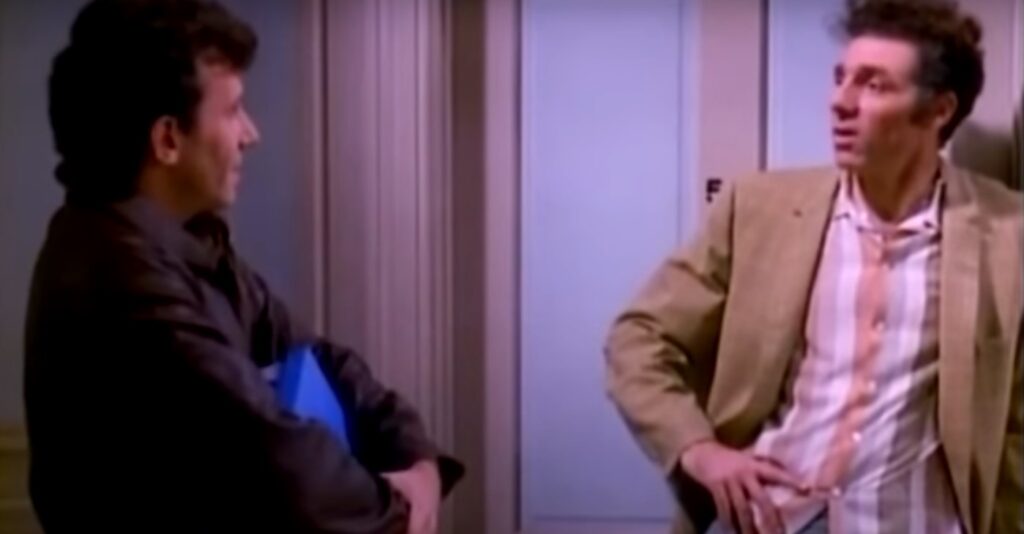 Today, we look at the time that Paul Buchman on Mad About You gave his apartment away to Cosmo Kramer from Seinfeld.
This is Somewheres in This Universe, a feature examining when characters from TV shows make guest appearances on other TV shows (in non-crossover stories), thus establishing that the two shows share a universe.
November is Someewheres in the Universe month!
When Mad About You launched in 1992, Seinfeld was entering its fourth season, and so the producers were able to work out a prominent cameo from Michael Richards' Cosmo Kramer in an early episode of Mad About You. Mad About You, of course, was about a newly married couple, Paul Buchman (Paul Reiser) and Jamie Buchman (Helen Hunt). Well, in Season 1's "The Apartment," Jamie discovers that Paul still has the lease on his apartment that he had before they moved in together and got married. She is displeased with the implication that Paul is still holding on to his old apartment "just in case" he and Jamie don't work out.
She asks him to get rid of the apartment, and after some hemming and hawing, he agrees. He then visits the apartment to get the last of his stuff that he has in the apartment (why he had anything in the apartment still is beyond me. You'd think they could have come up with a better reason for why he had to go to the apartment) and it turns out that he has sub-leased his apartment to Cosmo Kramer from Seinfeld.
He then tells Kramer that the apartment is all his, and there's a fun bit where Paul asks what his old neighbor, Jerry, is up to, and Kramer tells him that Jerry is writing a sitcom for NBC (a plot at the time on Seinfeld), and Paul is quite dismissive of the idea…
Of course, a later Seinfeld episode showed George and Susan watching an episode of Mad About You, so that contradicted this episode's continuity, but whatever, things like that happen a lot.
Feel free to e-mail me at brian@poprefs.com for suggestions for other good non-crossover guest appearances by TV characters!