What Was the Most Well-Constructed TV Farce Episode?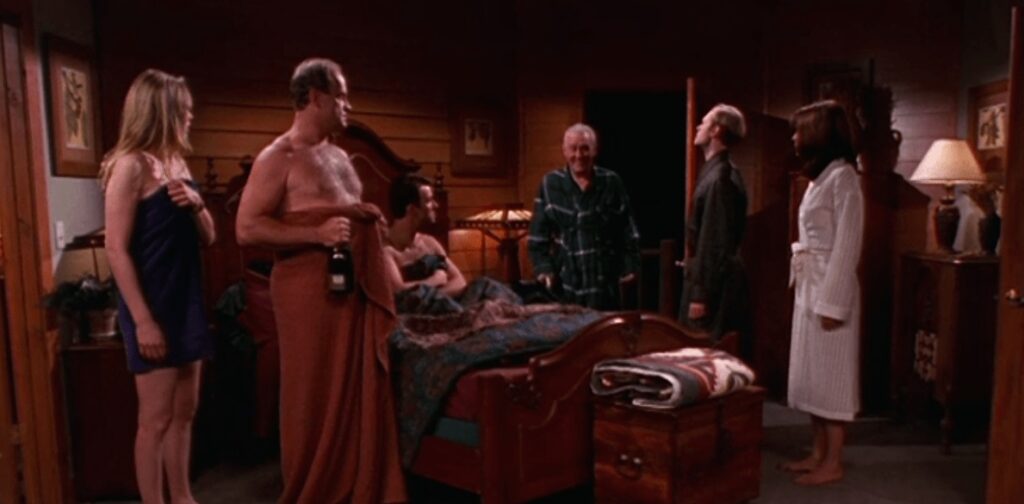 Today, I want to know what you think was the most well-constructed TV farce episode.
Pop Culture Theme Time is a feature where I put a question to you to see what you think about a particular theme. I might later revisit the theme for a future Drawing Crazy Patterns or Top Five.
A standard plot in TV sitcoms is the farce, where characters are maneuvered into comedically ludicrous situations for the sake of laughs. Farce is EXTREMELY common in sitcoms, but because it is so common, TV shows typically seem to grow tired of actually setting the farce up well. Characters will do stuff just because they need to do them for the farce to work, and that's just poor writing. A classic farce is constructed in such a fashion that you legitimately can believe that a reasonable person could actually find themselves caught up in the absurd position in the episode.
However, even good farces tend to take a few leaps here and there, moments where you're, like, "All Character X has to say to clear this entire confusion up is one very normal thing, and they just don't get to that point for…reasons."
So I want to know what you think was the BEST constructed TV farce episode, an episode that both combined a hilariously ludicrous situation with one that was completely supported with a setup where everything actually made sense.
For me, I'm going with the classic Frasier episode by Joe Keenan, Season 5's "The Ski Lodge," where Frasier, Niles, Daphne and a swimsuit model friend of Daphne's, Annie, go to a ski lodge where there is a handsome ski instructor. Frasier is trying to woo Annie, but Annie has her eye on (newly single) Niles, who has his eye on Daphne, who has her eye on Guy, who has his eye on Niles. The trick is that Frasier and Niles' father, Martin, is also on the trip, but he recently had a blockage in his ear that is messing up his hearing, so he inadvertently tells everyone involved that the person that they are interested in is also interested in them, leading to hilarity.
Keenan put so much meticulous effort into making everything make perfect sense in how people react to each other, setting up the dominos and then they all fall in one epically hilariously bedroom romp, with the perfect capper of how, when the dust has settled, Frasier realizes that he's the only one there that NO ONE had their eye on!
Okay, that's my pick. How about you?
And feel free to suggest future Pop Culture Theme Time topics to me at brian@poprefs.com!