Classic 1950s TV Christmas #8 – The Donna Reed Show "A Very Merry Christmas"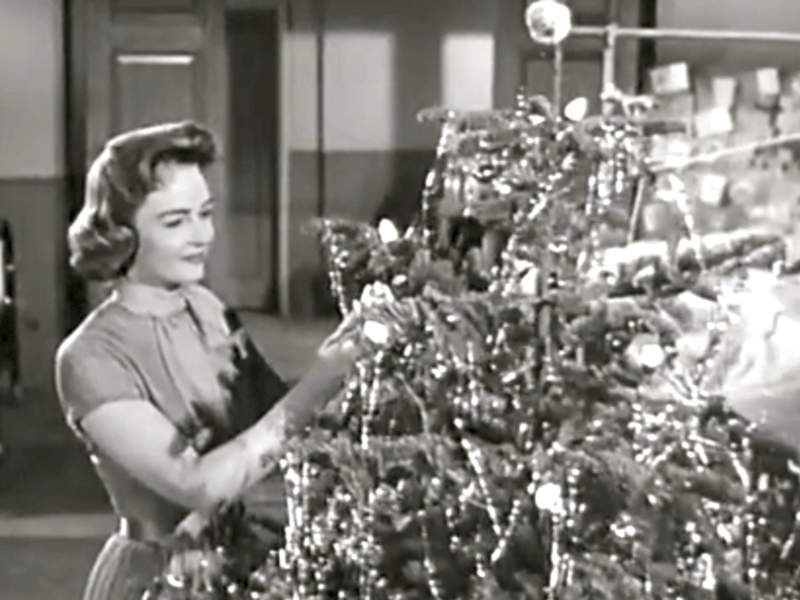 We continue our countdown of my favorite 1950s Christmas TV episodes with 1958's "A Very Merry Christmas" from The Donna Reed Show.
The Donna Reed Show was a very notable series when it launched in 1958 for being a family sitcom centered on the MOTHER of the family, which was a rare thing for the era (that was the main reason why Donna Reed was convinced to do the series).
Quality-wise, it's essentially a knockoff of Father Knows Best (some episodes were literally just Father Knows Best scripts adapted for the series), but Father Knows Best was such a good show that even warmed over Father Knows Best is still pretty good. The show is also well remembered for the oldest child on the show, Mary, was played by Shelly Fabares, who became a singing star during the series and eventually left to also do movies (Fabares planned on leaving the show after Season 5, but when the show was renewed for three more seasons, she agreed to do occasional guest spots with her character visiting from college, which was nice of her, I think).
This episode is very much a Father Knows Best-esque plot (you will be seeing multiple Father Knows Best episodes on this countdown. It was a really well-written show) where Donna Stone is bemoaning how commercialized Christmas has become (while also giving out fruitcakes as tips to the mailman and the paper boy, much to their dismay) until she discovers that no one seems to have planned a Christmas part for the kids who are stuck in the hospital for the holidays (Donna's role as the wife of a prominent doctor is one of her major roles in the series, as there's always some sort of charity function for her to run or attend). Seeing the kids in the hospital for the holidays makes the Stone kids realize that they are being too caught up in commercialism, as well, and they donate their time and gifts to help the kids.
It's a very adorable, well told story. Bonuses for no "maybe Santa Claus IS real" moments!