Bob Hearts Abishola Put Christina on a Journey to Nowhere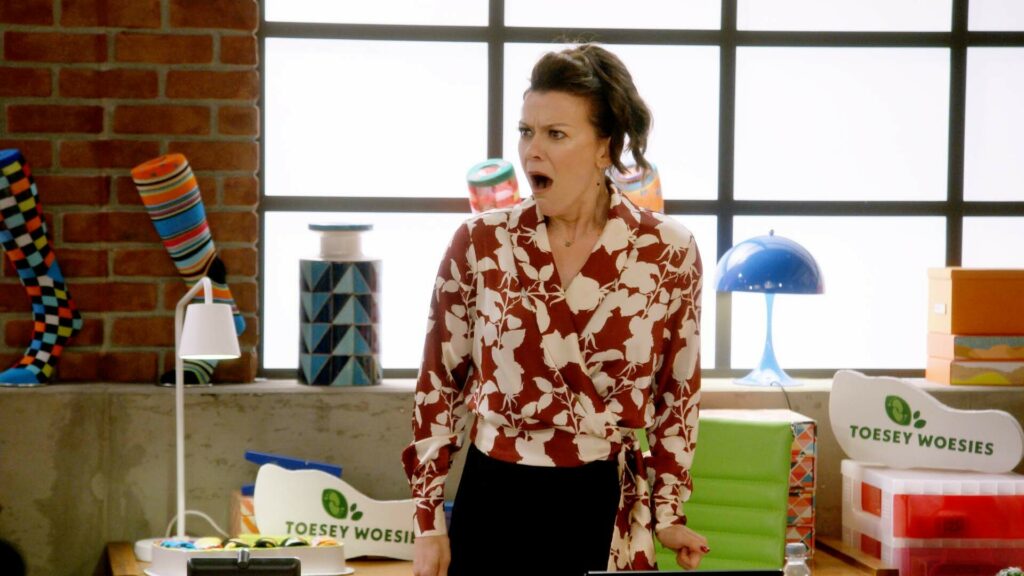 Today, we look at how Maribeth Monroe's Christina Wheeler was sent off on a journey to nowhere on Bob Hearts Abishola.
Abandoned Love is a feature examining stories, plots and ideas that were abandoned by a later writer without actively contradicting an earlier story (so the more passive definition of retcons as being anything that is retroactively added to continuity, even if there is no specific conflict with a past story).
In Season 3 of Bob Hearts Abishola, Christina Wheeler (Maribeth Monroe) decides that the company at the heart of the series, MaxDot (who make compression socks), is not taking her seriously enough, so she quits to pursue other career opportunities. It was a normal enough idea to see Christina try something different, but then a few episodes later, it turns out that her new opportunity is working at a rival sock company, Toesies Woesies.
At the end of the season, Christina then poaches Goodwin Olayiwola (Bayo Akinfemi), one of the senior members of MaxDot who Bob Wheeler (Billy Gardell) had promised would take over the company when Bob retired (but then Bob revealed that he had no active plans of retiring). So that's the big season finale cliffhanger, Godwin leaving the company.
Then Season 4 started and…Godwin is fired by Toesey Woesies by the end of the first episode, he comes back to MaxDot after Bob says he will make Godwin the President of the company NOW, with Bob moving up to CEO and more of a hand's off role. Okay, fair enough, no concerns there.
Now, though, in the latest episode, Christina is tricked into an affair with a worker at her company, as he lies and says she coerced him into the affair, and so she is terminated.
Soooo….Christina's time at Toesey Woesies really didn't achieve ANYthing from a narrative standpoint. Had she used her job to negotiate a return to MaxDot with more power, then fair enough, but she didn't. She got fired after being a dummy. I just don't get it. There's no character growth here. It seems like the most basic "illusion of change" situation you'll see.
Obviously, there is still time, and we don't know if Christina will actually be returning to MaxDot, but boy, this really does not feel like anything but circular storytelling.
If you have a suggestion for a future Abandoned Love, drop me a line at brian@popculturereferences.com.