The Truth About Football Legend and War Hero Jack Chevigny's Engraved Pen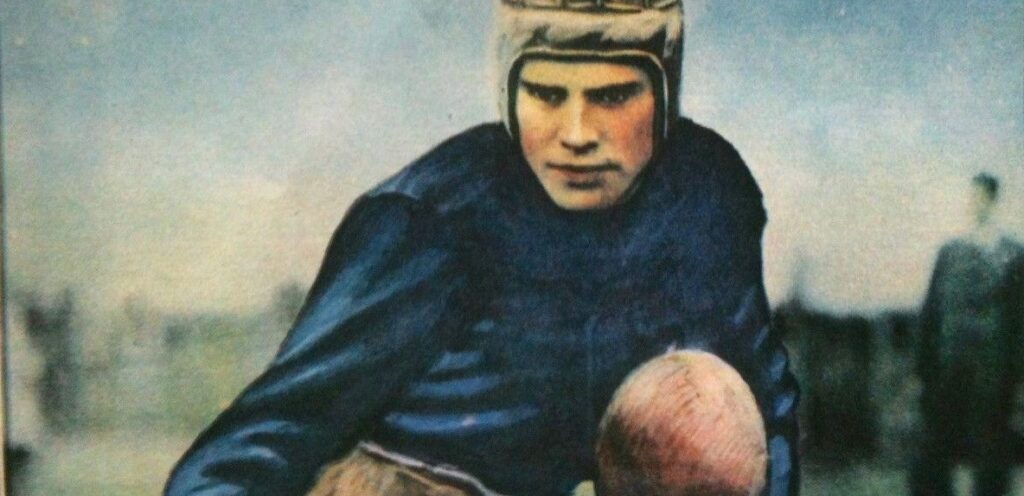 In a new approach for Pop Culture References, I'll now be debuting new Entertainment and Sports Legends Revealed posts here before eventually putting them on legendsrevealed.com later on, just like how I do it on CBR, only with more than just Movie and TV Legends here.
FOOTBALL LEGEND: An engraved pen belonging to football legend Jack Chevigny, who died at the Battle of Iwo Jima, was used during the signing of the Japanese surrender agreements in World War II.
It's often interesting to note the legends that come about from people who were inherently ALREADY pretty darn legendary, as it is almost, like, "What's the point? Their ACTUAL life is already so interesting, why make up stories?" In any event, one of those instances involved the football legend and war hero, Jack Chevigny.
Chevigny played for Notre Dame in the late 1920s under iconic coach Knute Rockne. You might have heard of the famous story of Rockne rallying his team for a big game against Army at Yankees Stadium in 1928 using something that a former star Notre Dame player, George Gipp, allegedly told Rockne before he tragically died in his senior year in 1920 (from pneumonia) about how if Rockne ever needed to get his players to give it something extra some day, to tell them to win one for him. Chevigny then scored the game-tying touchdown and allegedly shouted, "That's one for the Gipper!" I did a Football Legend years ago on that game, which has been misremembered in history a lot. Chevigny then went to work for Rockne as an assistant coach, while also studying to get his law degree from Notre Dame.
After Rockne shockingly died in a plane crash in 1931, Notre Dame had a tricky situation. Chevigny was obviously Rockne's heir apparent, but he was also just 24 years old, so Notre Dame tried a bizarre dual-coach system, with former Notre Dame great Heartley "Hunk" Anderson being the senior coach and Chevigny the junior coach. It failed miserably, and Chevigny left to take over coaching duties for the NFL Chicago Cardinals.
That didn't work out well, either, so Chevigny took over as the coach of St. Edwards in Texas. He did so well there in his one season that he was hired to coach the University of Texas. He won his first two games, including a win over his former team, Notre Dame.
His second and third seasons were less successful, and Chevigny resigned to concentrate on his law career. He was appointed Deputy Attorney General of Texas.
When the United States entered World War II, the 34-year-old Chevigny tried to enlist, but a knee injury he had suffered in college disqualified him. Two years later, admission standards were relaxed and Chevigny was drafted into the Army. He then was allowed to transfer to the United States Marine Corps, so he was discharged from the Army and enlisted in the Marine Corps. The Marines used him for publicity purposes a lot, like being the football coach at Camp Lejeune in New River, North Carolina. However, Chevigny wasn't content with just coaching football and being used for publicity, not when his fellow Marines were dying in combat. So he requested to be sent overseas for combat duty. His request was granted and he was one of thousands of Marines who tragically lost their lives in the Battle of Iwo Jima.
After the war ended and Japan surrendered, there was a popular story that made the rounds in 1945. Here's a version from Jack Proctor of Galvaston Daily News from November 23, 1945:
When the Japanese envoys came abord the United States battleship Missouri to sign the terms of surrender Sept. 2, there was a minor ceremony in the matter or pens.

One of the pens used by the Japanese envoys was discovered with this inscription, "To Jack Chevigny, a Notre Dame boy who beat Notre Dame."
According to the Crusader, the story behind this fountain pen began more than ten years ago. After the death of Knute Rockne in 1931, Chevigny was named junior football coach at Notre Dame with Hunk Anderson.

Later, Chevigny went to St. Edward's University in Texas, made a fine record as coach there, and was hired as head coach at Texas University. As the first game of his first season there he took his team back to his alma mater, and won 7-0.

At the close of the season he was given a gold fountain pen at the banquet for the team and on the ben was incribded, "To Jack Chevigny, a Notre Dame boy who beat Notre Dame."

After several years at Texas, Chevigny practiced law at Austin, then went into the oil business in Central Illinois. Came the war and he joined the Marines to die on Okinawa, where the pen was aparently picked up by the Japanese.

After the discovery, his buddies sent it home, but the inscription was changed to read, "To Jack Chevigny, a Notre Dame boy who gave his life for his country in the spirit of old Notre Dame."
In Jeff Walker's The Last Chalkline: The Life and Times of Jack Chevigny, though, he debunked the story.
Steve Wulf of ESPN.com covered the topic with Walker's input back in 2014:
For one thing, that's a pretty long inscription to put on a pen. For another, nobody in the Chevigny family had ever seen or heard of such a pen. For one more, Jack was killed behind the lines, and the Marines buried all of their own.

As best as Walker can best surmise, the pen story came from Bill Stern, the radio commentator given to outlandish stories. Writes Walker, "The legend still taken as truth, is continually reprinted by legitimate publications and continues to herald Jack's message of courage and sacrifice. Given the result, Stern can be exonerated for his lie." He's right. The fable has led many people to learn about Jack Chevigny.
While the pen story was false, Chevigny WAS a true hero.
The legend, though, is…
STATUS: False
Thanks to Jeff Walker and Steve Wulf for the information!
Be sure to check out Sports Legends Revealed for more urban legends about the world of sports. Here is the archie for just legends about football.
Feel free (heck, I implore you!) to write in with your suggestions for future installments! My e-mail address is bcronin@legendsrevealed.com.