The Truth Behind Some Awful Rumors About Christina Applegate and River Phoenix's Death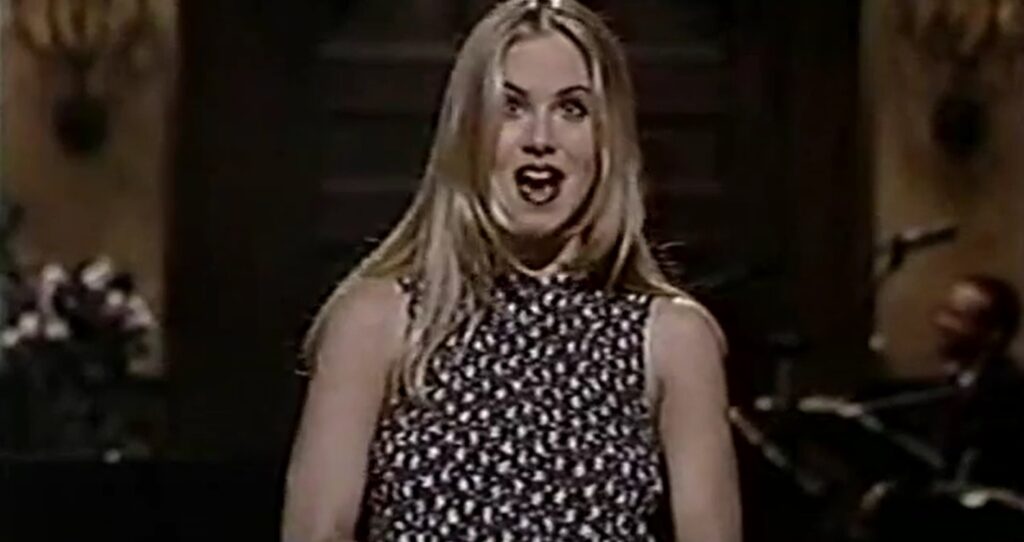 TV LEGEND: Christina Applegate was at the Viper Room the night that River Phoenix died and mocked his death.
One of the strangest things about River Phoenix's tragic death in October 1993 at the Viper Club in Los Angeles is just HOW MANY famous people were there the night that he died. The Viper Room was partially owned by Johnny Depp, and Depp was performing that night with the band P, which was made up of Depp along with Flea and John Frusciante from the Red Hot Chili Peppers, Gibby Haynes from the Butthole Surfers and Al Jourgensen from Ministry. Phoenix had actually brought his guitar that night to perform with the band, but didn't get a chance to take part, and he apparently was a bit upset about not being able to do so (it sounds like it more a matter of the stage being crowded with such a big band more than anything else).
So Phoenix drank a speedball, meaning a mixture of uppers and downers. The drink had cocaine, heroin, Valium and morphine in it. Since it was all dissolved into a drink, the drugs took longer to hit Phoenix's system, but when they finally did, it was obviously very bad news (and ultimately fatal). The other problem with the drugs being delivered through a drink is that the other people around Phoenix didn't really understand what was going on, since he was walking and talking well after downing the drink, so there was far too long of a delay in calling an ambulance. Had one been called early on, he almost certainly would have lived, but it was a very confusing situation, so understandably, people were delayed in their reactions. By the time his younger brother Leaf (now better known as Joaquin) called 911, it was too late to save the young actor.
Among the MANY famous people there that night was Christina Applegate (the header image is from her hosting Saturday Night Live earlier that year), who had become friends with Johnny Depp after spending time with him at their various Fox publicity and charity appearances (Applegate for Married…with Children and Depp for 21 Jump Street). For years, there has been an awful rumor about Applegate that claimed that she had seen Phoenix having a seizure on the sidewalk outside of the Viper Room and then went inside to mock Phoenix's seizure to her friends. Presumably, in these stories, the idea is that she didn't realize she was seeing someone literally in their death throes.
However, that appears to be a fairly malicious falsehood. In a Spin magazine article soon after Phoenix's death, Martha Frankel gave a "he said/she said" take on the Applegate rumor, stating:
Christina Applegate, who had been inside the club, came out and nervously watched Phoenix shaking. When she went to report what was going on to one of her girlfriends, someone said that they were laughing and making fun of Phoenix's soon-to-be-fatal condition. But others say that Applegate was genuinely upset, and that the stories about her laughing are simply untrue.
In his book on Phoenix's death, though, Last Night at the Viper Room: River Phoenix and the Hollywood He Left Behind, Gavin Edwards wrote about Applegate, "As River was dying on the sidewalk, an unsuspecting Christina Applegate walked out of the club and onto the horrific scene. Christina Applegate had no idea that it was River Phoenix dying on the sidewalk. She saw this and was sort of horrified, walked around the corner and burst into tears."
In an Entertainment Weekly article on the incident in 1993, a photographer who was outside hoping to get some celebrity shots to sell, noted that nobody seemed to know what to do, specifically mentioning Applegate in saying that "other patrons, including actress Christina Applegate, also behaved like deer caught in the headlights, unsure of what to do."
In his auto-biography, I'm the Man, Scott Ian of Anthrax recalled that night, and he described seeing Applegate:
Before we had a chance to leave, Christina Applegate walked up to me. "River's dead," she sobbed. It took me a second to realize who she was talking about, because I didn't see River Phoenix at the club and I had never met him before. She repeated, "River's dead." "River?…Oh, River Phoenix," I said. "He's dead! He's dead!" she cried then took off.
In Christopher Heard's biography of Johnny Depp, he wrote, "Actress Christina Applegate came out of the club and witnessed what was happening – she immediately burst into tears and ran back around the corner."
The best that I can guess is that Applegate explained what she saw to other friends that night and someone took that as her mocking Phoenix's death, as otherwise, there doesn't seem to be any indication that Applegate was anything but just as freaked out and upset as anyone else watching a man die in front of her.
Interestingly, Applegate would later have another legend come up about a connection to that night, that I'll write about in the future.
The legend is…
STATUS: False
Be sure to check out my archive of TV Legends Revealed for more urban legends about the world of TV.
Feel free (heck, I implore you!) to write in with your suggestions for future installments! My e-mail address is bcronin@legendsrevealed.com (or you can use brian@popculturereferences.com).