When Did That '70s Show Jump the Shark?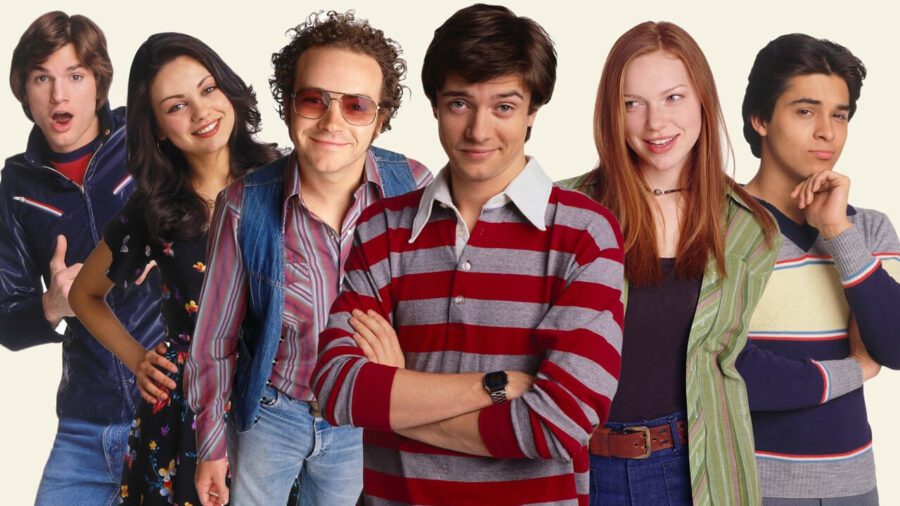 Today, we look at when (or if) you folks believe that That '70s Show "jumped the shark."
This is "Just Can't Jump It," a feature where we examine shows and whether they "jumped the shark." Jumped the shark (coined by Jon Hein) means that the show had a specific point in time where, in retrospect, you realize that show was going downhill from there (even if, in some rare occasions, the show later course-corrected). Not every show DOES jump the shark. Some shows just remain good all the way through. And some shows are terrible all the way through. What we're looking for are moments where a show that you otherwise enjoyed hit a point where it took a noticeable nose dive after that time and if so, what moment was that?
That '70s Show was a long-running sitcom about a group of teenagers in the suburbs of Wisconsin in the late 1970s (because the show ran a lot longer than expected, the first season took place from May 1976 to May 1977, but then the next seven seasons took place from May 1977 to December 1979).
So first…DID IT JUMP THE SHARK? Definitely.
WHEN DID IT JUMP THE SHARK The final season of the show was BEYOND awful, as both Topher Grace (the star of the show, Eric Forman) and Ashton Kutcher (Michael Kelso) left the show, and Josh Meyers had the most awful task of becoming the new love interest for Eric's girlfriend, Donna Pinciotti (Laura Prepon). It was SO BAD. However, as bad as it was, I think the show actually jumped at the start of the previous season. Season 6's finale, "The Seeker," saw Eric run away from his wedding to Donna, and he then snuck into her window at the end of the episode to apologize. She forgave him (she had realized that she didn't want to get married yet, either), and they fell asleep together, with Big Star's "Thirteen" playing (Big Star's "In the Street" was the theme song of the series),.
Great ending, and it would have been a pretty decent ending of the series, but instead, they had another season that was SUPER POINTLESS, as Eric and Donna just sort of…kept dating, like nothing had really changed, and no one had any real forward movement until the end of the season, when they write Eric off of the show. And then there was ANOTHER season WITHOUT Eric (he at least returns for the series finale). Oh man, it was stupid. So yeah, I say the start of Season 7, when they followed up that great ending with just…nothing.
Let me know what you think in the comments or on social media!
Feel free to e-mail me at brian@popculturereferences.com for suggestions for shows for us to do in future installments!