When Did Beverly Hills, 90210 Jump the Shark?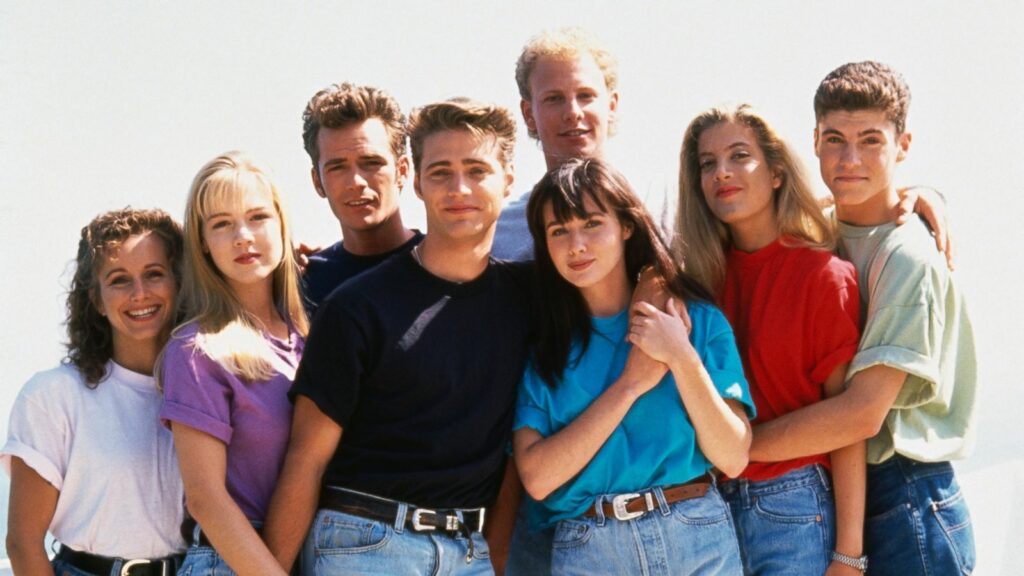 Today, we look at when (or if) you folks believe that Beverly Hills, 90210 "jumped the shark."
This is "Just Can't Jump It," a feature where we examine shows and whether they "jumped the shark." Jumped the shark (coined by Jon Hein) means that the show had a specific point in time where, in retrospect, you realize that show was going downhill from there (even if, in some rare occasions, the show later course-corrected). Not every show DOES jump the shark. Some shows just remain good all the way through. And some shows are terrible all the way through. What we're looking for are moments where a show that you otherwise enjoyed hit a point where it took a noticeable nose dive after that time and if so, what moment was that?
Beverly Hills 90210 was a teen drama about two teen twins (Brandon and Brenda Walsh) from Minnesota who move to Beverly Hills with their parents that ran for so many years that, by the end, the parents and both of the twins eventually left the show. It ran a total of ten seasons, and it definitely hit the zeitgeist a bit in the early 1990s, but then ran for, you know, ten seasons, so by the time it ended, only the true diehards were still on board (but they had a lot of true diehard fans).
So first…DID IT JUMP THE SHARK? Yes, I would say so.
WHEN DID IT JUMP THE SHARK I know that there are people who would say that it jumped when Brenda (Shannon Doherty) left the series, but I think that's unfair. I think the show did a surprisingly deft transition from the original concept to a new one, in great part due to Jennie Garth making a fairly smooth transition to the female lead of the series. When the show then lost Brandon (Jason Priestly) after Season 8, it was done (despite running two more seasons), but I think the shark-jumping moment came even sooner. I think you could argue the gang graduating from college at the end of Season 7 should have been the moment it jumped, and I'm receptive to that, but I think the two-part Season 8 premiere in Hawaii was still pretty fun, but then Kelly is shot in her stomach in a drive-by shooting…and gets amnesia…and, just, nope. You could barely SEE the shark anymore, that's how far it jumped over it.
Let me know what you think in the comments or on social media!
Feel free to e-mail me at brian@popculturereferences.com for suggestions for shows for us to do in future installments!