Why Did Michael Jackson Sing on Eddie Murphy's 'Whatzupwitu'?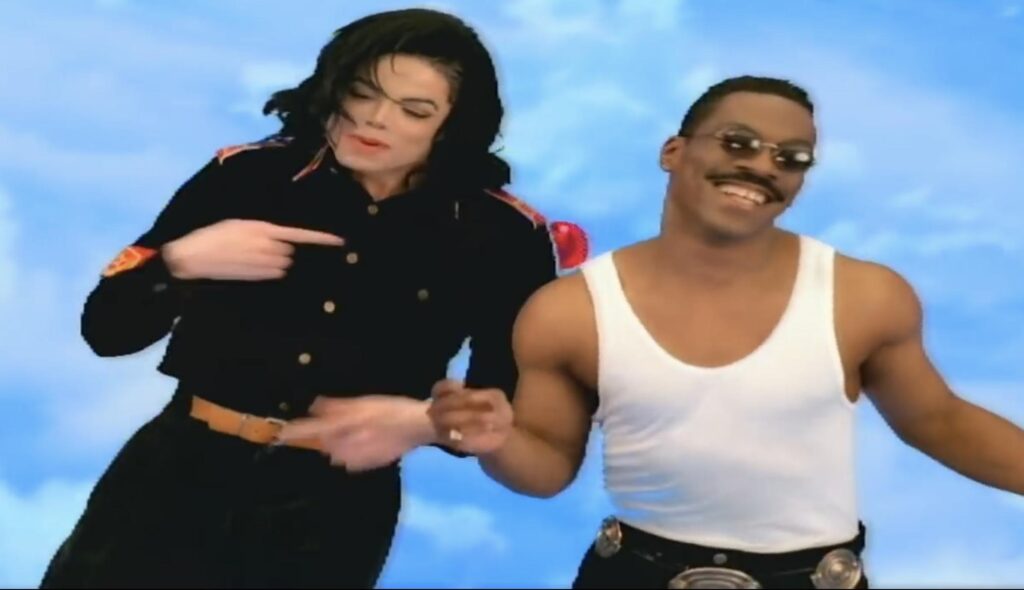 Today, I explain why in the world Michael Jackson co-sang Eddie Murphy's hilariously bad "Whatzupwitu."
This is "Took Me By Surprise," about surprising cameos in TV shows, movies and songs. I'm talking both literal surprises (like pranks and spur of the moment stuff) as well as official cameos where we try to figure out why the famous people made the cameos in question (so not stuff like appearing on The Simpsons or on Sesame Street, where celebrities regularly make appearances, but cameos that are, well, surprising).
In 1993, Eddie Murphy released his second music album, Love's Alright, which featured the bizarre pop tune, "Whatzupwitu," written by Murphy and Trenten Gumbs and sung by Murphy and…Michael Jackson, hot off of his hit album, Dangerous.
So…to borrow a phrase, whazupwit that?
It's not like it was a Michael Jackson song, after all, so why did he do this song, which Jackson really does his best to try to save?
Interestingly, it was because of a bit that Murphy used to do in his standup act where he would mock Jackson, doing an impression of the pop singer…
Jackson got a real kick out of the routine, as it wasn't THAT common at the time for standups to be doing impressions of Jackson like Murphy did, so Jackson and his brothers sought Murphy out and they became good friends.
Here's Murphy giving Jackson a lifetime achievement award in 1989 (there's a great bit where Jackson tells Murphy to fix his microphone stand and Murphy goes to do it before realizing that, wait, huh?)…
Back in 2015, Murphy was asked about his music and he explained that he wasn't apologizing for his surprise hit song "Party All the Time" (written by Rick James), and he was then asked if he would apologize for his later music:
Q: What about the later music you put out?

A: A lot of critics also s–t all over "Whatzupwitu," which I recorded [in 1993] with Michael Jackson. But 20 years later, Michael Jackson is gone, and not a lot of people have footage of them dancing around in the clouds with him [as in the video for "Whatzupwitu"]. That's part of my history, now.

Q: How did you get him to be on that song?

A: I asked, and he did it! I knew Michael since he was 19. The whole Jackson family was really warm to me. I was just hanging out with Jermaine a couple of months ago.
So that is that (in the future, I'll address another super weird Eddie Murphy song).
Okay, folks, if you're curious about or have a suggestion for a good surprise cameo in a TV show, film or song, drop me a line at brian@popculturereferences.com and we'll see if we can get to the bottom of it!