A League of Their Own Succeeds By Showing That Everyone is the Star of Their Story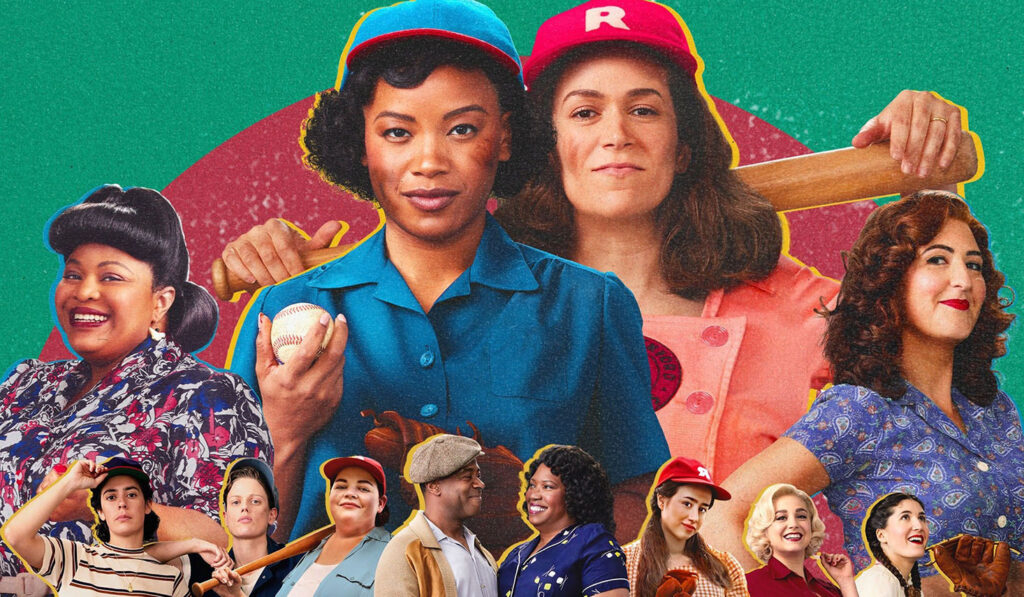 Today, I explain how A League of Their Own on Amazon Prime succeeded by showing how the stories outside of the spotlight are often the best.
This is "Reason to Get Excited," a feature where I spotlight recent pieces of pop culture that I think are worth getting excited about. Basically, a sort of narrower form of a review in the form of a spotlight.
Okay, let me say off the bat, I enjoyed the original 1992 A League of Their Own. I'm not here to crap on that film in comparison to the superior television revamp that is currently airing on Amazon Prime. However, the main reason why this new TV series succeeds is because it specifically tells the stories that the original film actively chose NOT to tell.
The original film told the story of the formation of the All-American Girls Professional Baseball League (AAGPBL) during World War II. However, outside one powerful scene that hinted at a whole other story, that film didn't touch on the lives of Black women at the time. Furthermore, in a world filled with LGBTQ players in real life (and even using a number of openly lesbian actors), the original film not only avoided any LGTBQ content, it went out of its way to specifically give each character an "I'm straight!" scene.
Thus, the call to action, as it seems, from the start for show creators Abbi Jacobson and Will Graham was to adapt this story to television while making sure to make the people who WEREN'T covered in the original film given their time in the spotlight. The two leads of the series, married housewife turned star catcher/manager in love with her own teammate, Carson Show (Jacobson), and struggling with racism, gender identity and just getting to pitch, Maxine "Max" Chapman (Chanté Adams), both absolutely LIVE in the areas where the original film never dreamed to even touch (again, the original film barely touched on African-American culture and actively ignored gay culture, so imagine a Black person dealing with their gender identity? It would have blown the original film's mind).
So that, already, is an interesting hook. However, the show does a wonderful job of exploring the idea that everyone is the star of their own story, even beyond the idea of showing the stories the first film would never tell. For instance, the key romance of the film is between Carson and her teammate, Greta Gill (D'Arcy Carden), while the key relationship period is between Max and her best friend (and comic book creator), Clance Morgan (Gbemisola Ikumelo). Greta is introduced with her best friend, star hitter, Jo DeLuca (Melanie Field), who has been with her since they were kids and both had to deal with the fact that being lesbians in the early 1940s was not something you could actually do openly, and so they live their lives by a series of set rules, rules that Greta inevitably butts up against, leading to the two of them having to constantly go on the move. Max is introduced with her own longtime best friend, the ultra-supportive Clance, who has just gotten married, with the supportive Clance totally in the dark about her friend's gender identity issues (she doesn't even know that Max has been fooling around with the preacher's wife for some time).
Naturally, then, there is a key moment in the series where both Jo and Clance have to stand up for themselves and explain that they have a lot of stuff going on in their lives, that they are far bigger than the sidekick roles that it seems like they inhabit (a forced trade allows Jo to flourish as the star player in the league and Clance is dealing with her husband being drafted into the war). The show has a wonderful sense of showing the bubble that Carson, Greta and Max sometimes find themselves in, while at the same time, it doesn't really judge them, as, again, we all see ourselves as the stars of our own stories, it is just that we often forget that other people are the stars of theirs, as well.
That same idea goes along with the other Rockford Peaches. There's a great moment where Carson tracks her rival on the team, Lupe García (Roberta Colindrez) to an underground gay club, where she accuses her of trying to get traded to another team. As you might imagine, a woman shouting "This is so wrong, I can't believe you're trying to play for the other team!" in a gay club has a whooooooole other meaning than Carson's intent. Lupe is there with her best friend, Jess McCready (Kelly McCormack), whose sexuality is such a given that there is really no such thing as her "coming out" in the story, since she was clearly were never in, but they were having their whole other story together with Lupe (including a sort of de facto family being forced on the two friends with their young teammate, Esti González, played by Priscilla Delgado, who reminds Lupe of the daughter she was forced to give up when she was younger).
This is a rich, detailed world, filled with rich, detailed characters, who all have so much going on under the surface (like Carson's husband, played by Patrick Adams, who is hiding a mental breakdown he suffered overseas during the war, or Carson's roommate Shirley, played by Kate Berlant, who is highly homophobic, or Max's mother Toni, played by Saidah Arrika Ekulona, who is an enigma wrapped in a mystery when it comes to how she handles Max's gender identity, especially since Toni's brother is a trans man). It is great to see all of these well-developed characters given the chance to shine together. The acting is amazing.
Molly Ephraim is another standout, as a mother of a bunch of kids who just takes to the chance to shine for a summer without her kids to the same way that a sailor would take to weekend leave. Her stuff isn't as deep as the others, but damned if Ephraim isn't one of the sharpest comedic actors around. I can't get over how well the casting on Last Man Standing was with the daughters on that show between Ephraim, Kaitlyn Dever (already a standout in Justified, but still) and Krista Marie Yu (currently killing it on a thankless role on Reboot on Hulu), who played a foreign exchange student who lived with the family on that longrunning Tim Allen sitcom.
This is a heartfelt and joyful series that I think you really should check out.
Okay, this feature is a bit less of a reader-interactive one, as I'm just spotlight stuff in modern pop culture that specifically impressed ME, but heck, if you'd like to send in some suggestions anyway, maybe you and I have the same taste! It's certainly not improbable that something you found cool would be something that I would find cool, too, so feel free to send ideas to me at brian@popculturereferences.com