Abbott Elementary's Stunt Casting Was One of the Best Ever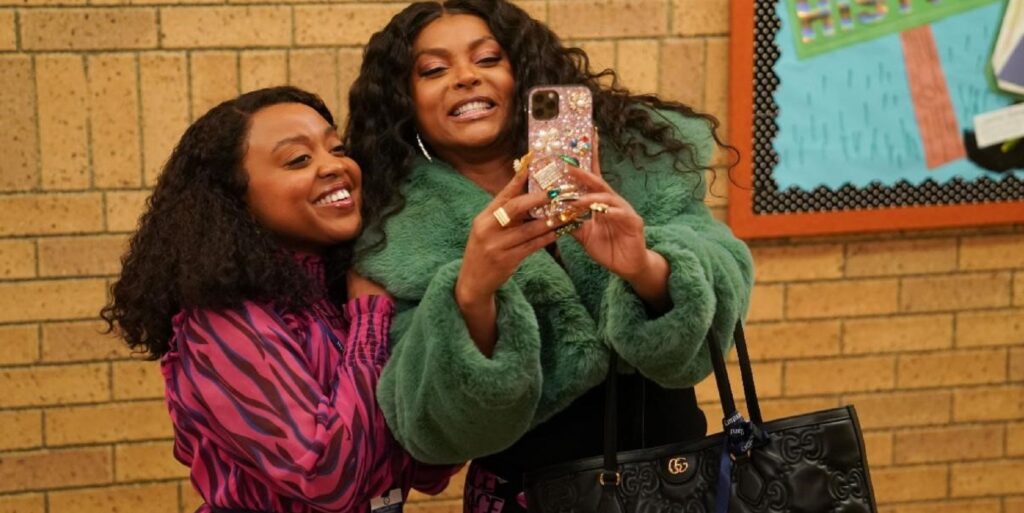 Today, we look at how good Abbott Elementary's stunt casting of Taraji P. Henson was.
Knowledge Waits is a feature where I just share some bit of pop culture history that interests me that doesn't quite fit into the other features.
Stunt casting is a long tradition in the world of television. From just outright celebrity cameos (think Davy Jones on The Brady Bunch) to appearances by people connected to the cast of the show (think Brad Pitt on Friends) or to appearances by famous fans on series (think Britney Spears on How I Met Your Mother). However, rarely is ever used as well as Taraji P. Henson's guest spot on this week's Abbott Elementary.
Henson, the iconic former star of Empire (among her many other credits, including an Academy Award nomination for The Curious Case of Benjamin Button, but let's face it, she's mostly known for being Cookie on Empire nowadays), met Quinta Brunson (the star and creator of Abbott Elementary) while filming an episode of Jimmy Fallon's That's My Jam! TV series, and she explained on The View that she asked for a role on the series, "I love it. I was a fan. Actually, I requested to be on the show. Quinta and I were competing on Jimmy Fallon's That's My Jam, and I was singing her praises and telling her how proud of her I was. I was like, 'Girl, you know, any time you need me, call me.' And she called! I was like, 'Absolutely, I'll do it.'"
That's astonishing to me, because Henson's appearance as the mother of Janine (Brunson's role) on the latest episode of Abbott Elementary was excellent, and Henson's character illuminated Janine's SO MUCH that it is astonishing to think that Brunson came up with this stuff on the freaking FLY after learning that Henson wanted to be on the series.
Throughout the series, we know Janine to be a people-pleaser and a bit of a doormat, with her ex-boyfriend, Tariq, walking all over her before she finally broke up with him at the end of Season 1. Meanwhile, she has a tense relationship with Janelle James' Principal Ava Coleman, and in this episode (written by Ava Coleman, the real life namesake for the TV Ava), it all fits perfectly, as her own mother (played by Henson) is basically an older version of Ava (to the point where she even shut Ava up quickly, as Ava realized that Janine's mother was not someone to mess with), while also an extremely manipulative person who comes to her daughter's school for the first time ever just to get some money from Janine because her phone service was about to be turned off.
It was brilliantly brutal to watch, as we see her toxic mother make Janine's "work-mom," Barbara (Sheryl Lee Ralph) become so distraught at what she was doing to Janine that she offered to pay for the phone bill herself so that Janine wouldn't do it (as Janine had saved up enough money to take herself on a short vacation to the oceanside in Maryland). Janine overhears the conversation, and she puts the kibosh on that plan.
In the end, she gives her mother enough money to pay for the first two installments on a payment plan with the phone company (a payment plan that Janine will set up), but that's it. She's still going on her vacation, and it is great to see her put up ANY sort of firm boundary, but at the same time, she's still locked in with this toxic mother. But the good thing about that is that the show isn't pulling one of those "You should always stick with your mother" nonsense that TV shows often pull, but rather a "For THIS PARTICULAR CHARACTER, this is as far as she can go right now," and that's totally fine. Know your characters, don't write in generalities, it's perfect.
It was a great episode, and I can't even remember a show that used stunt casting this well. Bravo.
If anyone has any pop culture bit that you'd like me to discuss, drop me a line at brian@popculturereferences.com.