What Was the First Movie or TV Show to do a Computer Dating Plot?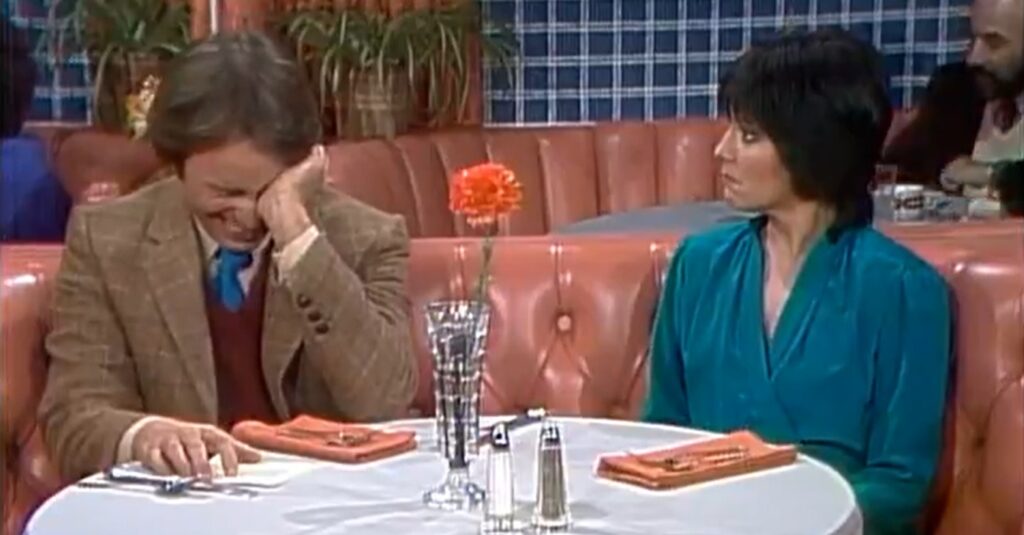 Today, we figure out what is the first TV show or movie to do a plot involving computer dating.
In "When We First Met", we spotlight the various characters, phrases, objects or events that eventually became notable parts of pop culture lore, like the first time that JJ said "Dy-no-MITE" or the first time that Fonzie made the jukebox at Arnold's turn on and off by hitting it.
June will be When We First Met Month!
A regular plot for over a decade in TV sitcoms was a computer dating plot, where a computer makes an unlikely match, like Jack and Janet being paired with each other on an episode of Three's Company (hence the featured image). However, reader Don S. wanted to know when this sort of plotline was first used in either a movie or a TV show. Let's see what we can see!
Now, as soon as computers became practical things in the 1940s, they were used for computer dating, but only as a sort of gimmicky thing. For instance, one of the earliest TV appearances where computer dating was discussed was an episode of People Are Funny in 1956, where Bill Harper and Dorilla Dufresne appeared as a couple matched by UNIVAC.
However, it was not until 1964 that the first commercial computer service began in London, called the St. James Computer Dating Service. Some Harvard students launched the first American version the following year.
Okay, so that's really where we're looking, as when computer dating went COMMERCIAL, that's when it really became a "thing" for TV shows (movies took longer, but in 1960, there WAS a movie involving a computer choosing the new head of the science department at a college, and it chose a former stripper-turned-scientist in Sex Kittens Go to College, a Mamie Van Doran vehicle).
First off, though, let me note that there was a 1961 episode of My Living Doll (a short-lived sitcom starring Bob Cummings as a Bob McDonald, a psychiatrist who is given control of a robot, played by a young Julie Newmar, to protect her from the government) where Bob uses Newmar's robot brain to find the perfect date for his best friend, Peter (played by Jack Mullaney, who was obsessed with the robot, "Rhoda," so Bob needed to find him a new date) (here is Peter and Rhoda in the episode)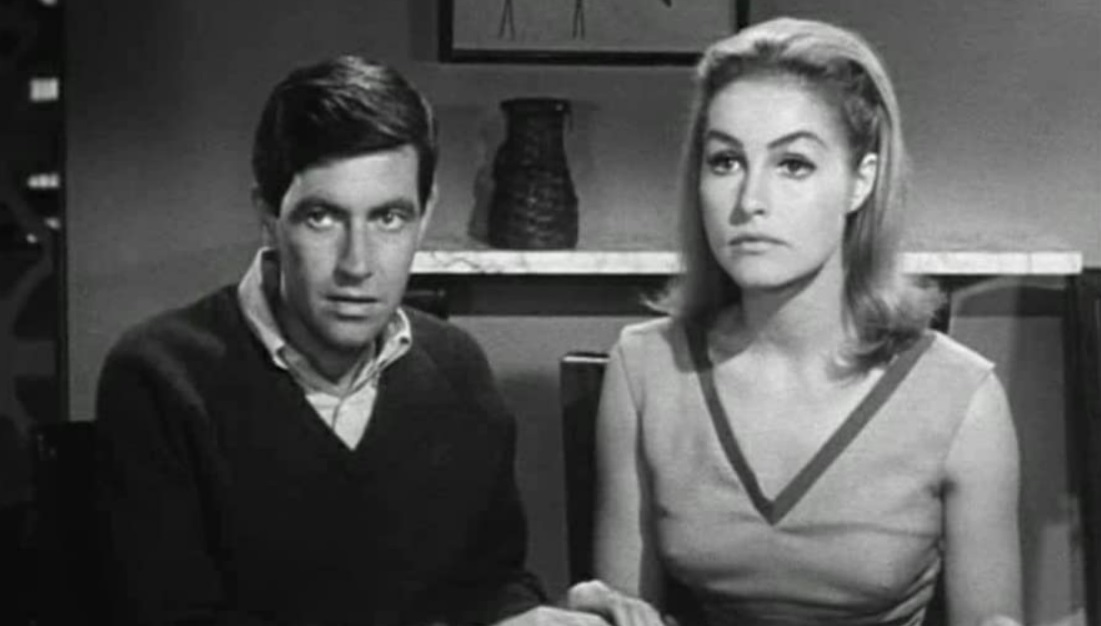 That episode, dubbed "The Love Machine," is sort like computer dating, but not REALLY, right? I think we all know what we're thinking when we say computer dating plots, and that wasn't until 1965's My Three Sons episode, "Steve and the Computer," where the engaged eldest son on the show, Mike (Tim Considine) and his fiancée, Sally (Meredith MacRae) are dismayed to see that a computer dating service didn't pair them together.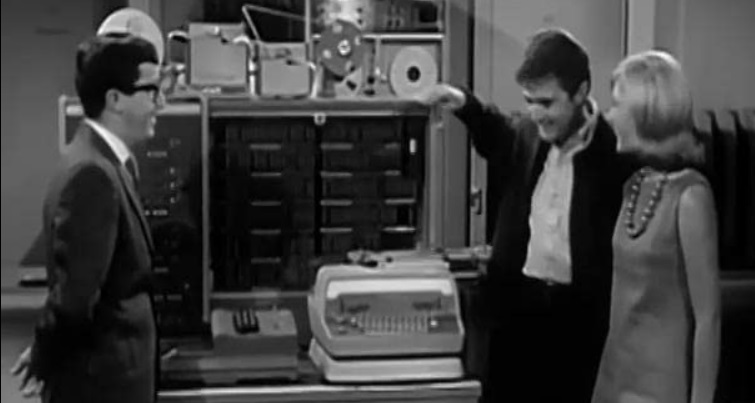 Steve (Fred MacMurray) then has a dumb dream about machines telling everyone what to do. My Three Sons would go back to the computer dating well in Season 8.
A couple of months after the My Three Sons episode, Bob Newhart starred in a TV movie about a guy using a computer to pick out a wife.
By 1968, literally half a dozen TV shows had done computer dating plotlines.
EDITED TO ADD: My pal Neil below noted that there was an unaired Archie pilot in 1964 that used a computer to work as a dating service (here is Betty, Archie and Veronica trying to convince teens to pick a card that could then be punched out with their dating data)…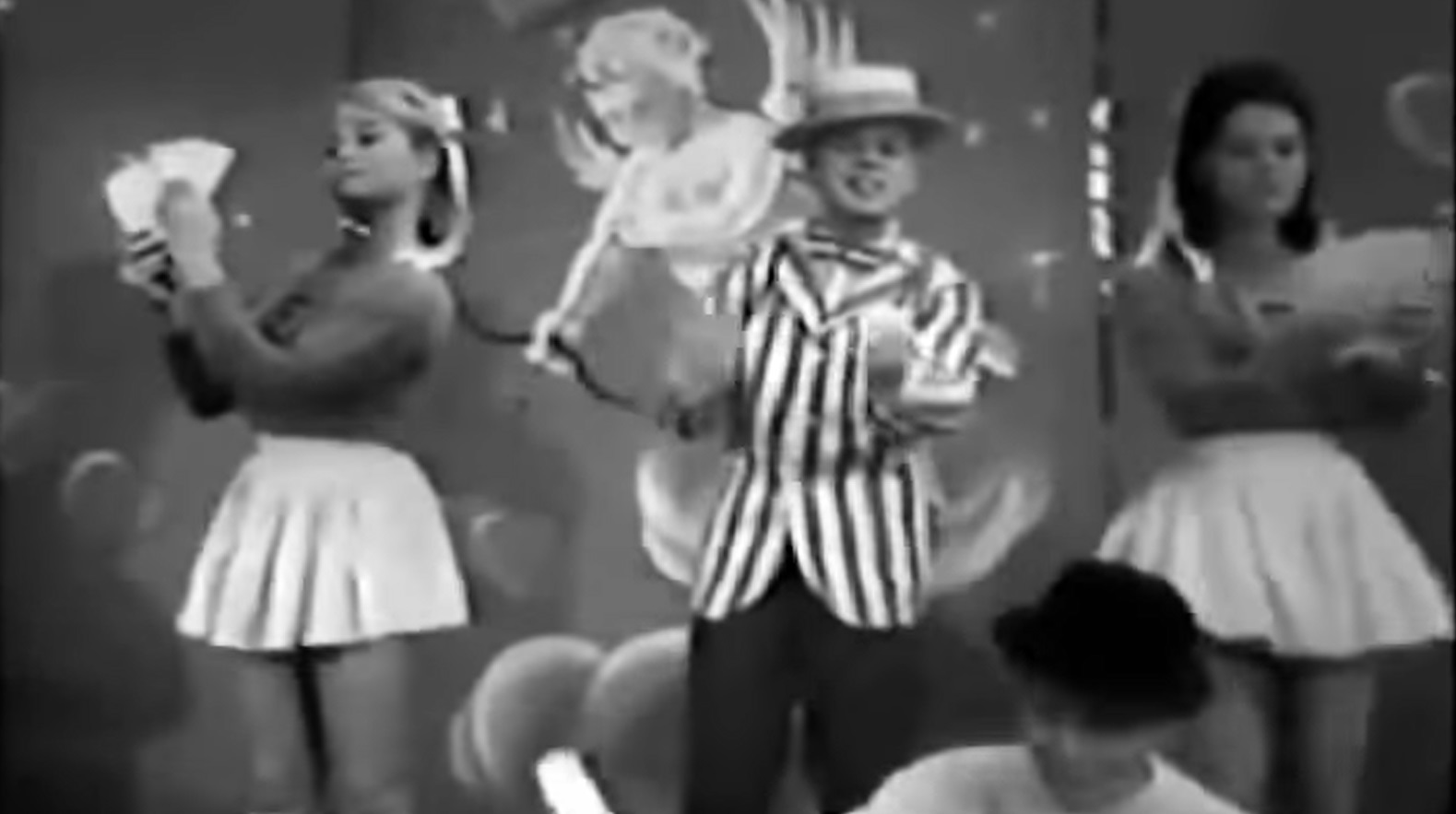 It didn't actually AIR in 1964 (which is how I missed it), but I think you could easily argue that it should count over the My Three Sons episode. I'll let you folks figure that out for yourself!
Thanks for the question, Don!
Okay, folks, I'd love to hear your suggestions for this month of pop culture firsts. If you have a suggestion for a future edition of When We First Met, drop me a line at brianpoprefs.com!